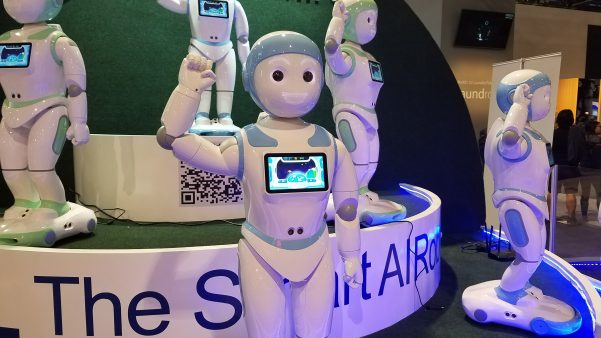 CES (Consumer Electronics Show) is one of the most anticipated events of the year for those of us who are into technology.
The latest gadgets and innovative technologies are showcased each year in Las Vegas, NV. The event is attended by over 180,000 industry professionals and I was thrilled to be able to attend the show this year.
I already wrote about new medical alert systems being showcased at CES, lets move on to innovative products that address other areas of senior life.
CES Tech for Seniors: Product Roundup
I was impressed with the sheer amount of innovation at the show! I especially loved the wide range of products that have the potential to make life much easier for seniors. Here were my favorite highlights:
Gyenno Spoon: Quieting hand tremors for those with Parkinson's
Eating can be stressful for people who suffer with hand tremors due to conditions such as Parkinson's or the side effects of medication. Enter the Gyenno spoon.
This clever little piece of electronic cutlery measures and responds to hand tremors in order to stabilize the spoon (or fork – the Gyenno comes with different attachments) so eating is easy and spill-free once more.
ADT Pulse Home Automation
ADT's new Pulse technology makes it easy for seniors to control and automate their home security, all from their smart phone. Users can control door locks, lights, thermostats, garage doors, door bells and cameras and other devices using the ADT Pulse app.
Pulse integrates with Alexa so users can tell her when to arm or disarm their security system, or control door locks or lights. Pulse also lets seniors view, stream and download live video from their security cameras.
Oticon Smart Hearing Aids
Oticon's aim is to stop hearing aids from being an inconvenience and instead turn them into smart devices that make life better for the wearer in more ways than one.
Oticon's Opn hearing aids are able to receive phone calls or stream music. The devices even work with smart home systems in a wide variety of ways, such as turning on lights whenever the hearing aids are switched on, or notifying the wearer through the device when someone is at the door.
Whill Personal Electric Vehicles
Personal electric vehicles are usually on the slow and clunky side. They're great for older adults who cannot walk far but want to retain their independence, but until now they haven't exactly been modern or streamlined.
That is until Whill came along. Whill personal mobility vehicles are innovate, streamlined and modern.
Designed with optimum stability in mind and built with all-wheel drive and intuitive omni controls, Whill vehicles are effective outdoors, indoors, and wherever you need to go.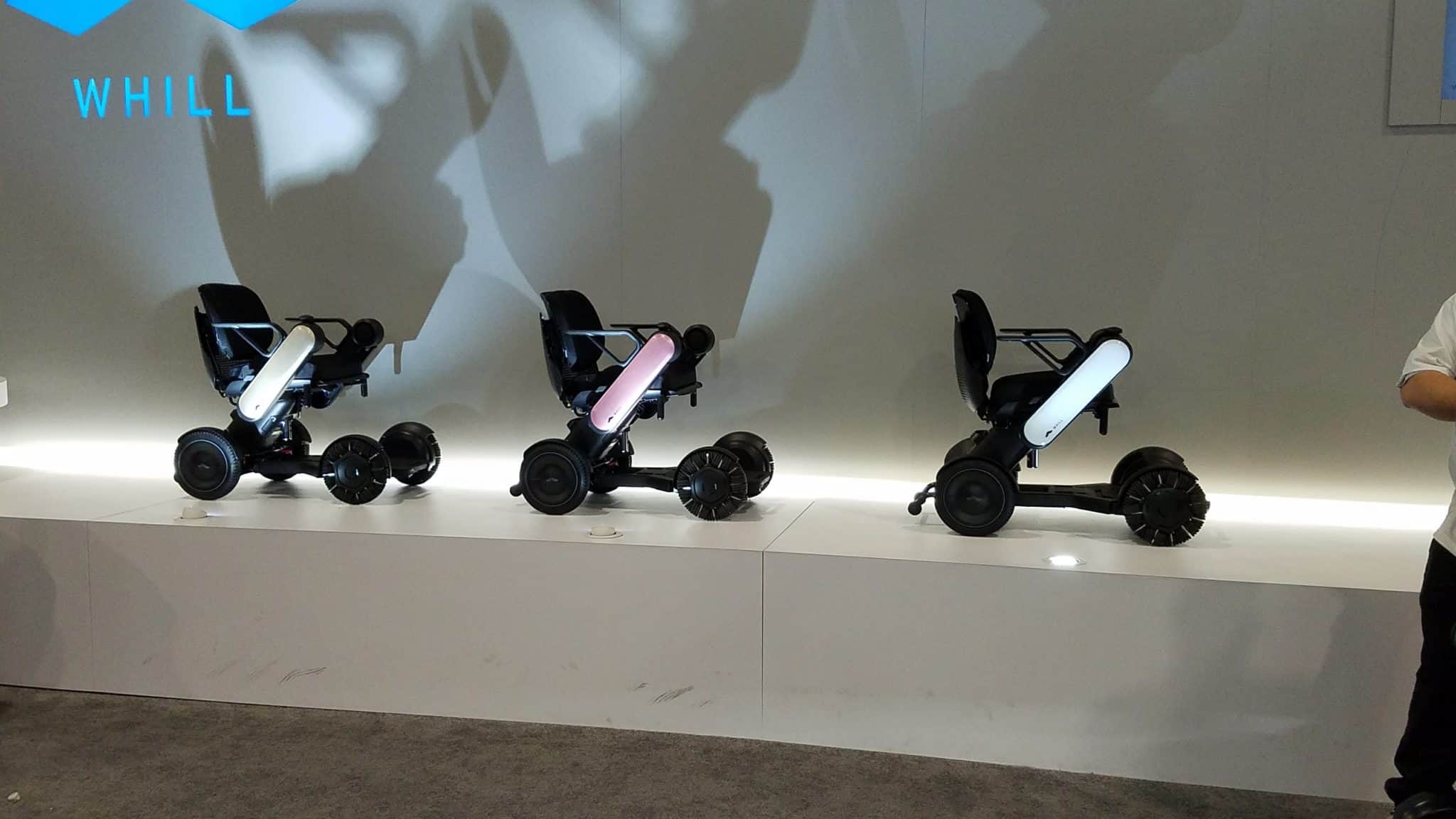 Silent Beacon Personal Safety Systems
Silent Beacon is an innovative new wearable safety device designed for anyone who might need to get help in a dangerous situation, such as children, or women traveling alone. However, we also think it's a wonderful idea for seniors. The small device is easy to wear or carry, and just one quick button press sends out an alert.
Users can use the beacon to call loved ones, dial 911, or send out email, SMS or push notifications with their location. Silent Beacon tracks wearers' location in real time and best of all, there are no monthly fees! Simply use your existing smart phone or tablet to set up the device and app.
Reliefband Wearable Nausea Relief
Nausea or sickness from illness, drugs, or even motion sickness, makes life difficult for senior sufferers. Reliefband provides a safe, natural treatment with no drugs. Reliefband works by directing gentle pulses to the inside of the wrist where it is being worn.
These signals travel through the body's nervous system to the part of the brain that causes nausea and vomiting, bringing balance and relief from symptoms. Reliefband is FDA-cleared.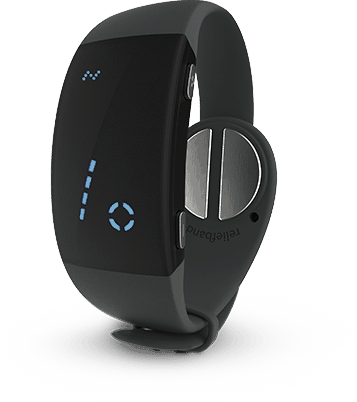 Orcam Support For Visual Impairment
Orcam's mission is to improve life for the visually impaired, using the latest visual technology. Orcam MyEye 2.0 is a tiny device, no bigger than a finger, that can support visually impaired seniors in a variety of ways.
MyEye 2.0 can be used to read text, identify faces of known people, recognize money notes, or identify thousands of different grocery store products, making it easier for visually impaired people to navigate the world and retain independence.
Infinity Massage Chairs
Quite honestly the most amazing massage chair I've ever seen (and had the pleasure of sitting in)! Infinity's big, comfortable chairs envelop the user and create a relaxing whole-body massage experience that is good for aching muscles and sore bodies, promoting deep relaxation.
Each chair comes with a range of pre-set massage programs, and can also be individually programmed to target specific areas of the body. An easy to use remote control and the ability to stream music from your favorite MP3 player complete the experience.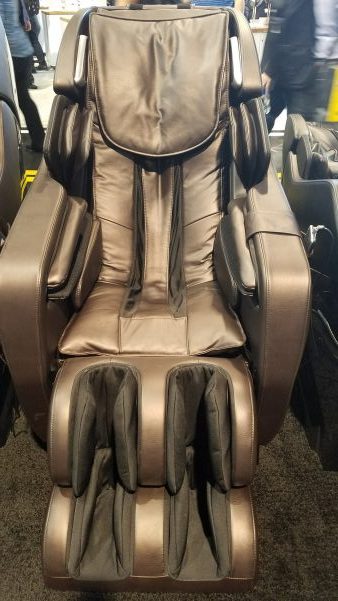 Phone Soap Phone Sanitizer
There's one thing we all know should never happen to a phone- a trip through the washer! Yet during cold and flu season we are constantly handling our phones and using them while out and about in places where infection is all around us.
Even outside of flu season, every time you touch money, a door, a shopping cart, a surface or another person, any germs your hands pick up can get transferred to your phone when you use it – an unpleasant thought indeed! You can't get a phone wet, so just how do you sanitize it?
The answer is Phone Soap. Phone Soap sanitizers use UV-C light to cleanse your phone of 99.99% of germs for a much more sanitary handset.
iPal Robot
iPal looks like something out of a sci fi show – but it's here now, and its makers intend for it to be widely available soon. iPal is a 3.5 feet high humanoid robot that runs on the Android operating system, and has a friendly, playful demeanor.
iPal can be programmed as a senior companion. This amazing little robot can keep track of things like medication doses, appointments or meals and can reach out to emergency contacts should a loved one fall or require medical attention.
Apollo Stick: A walking cane with a brain
Gone are the days when a cane was just a cane. The Apollo Stick is not only a cane (with great color options), but it's also loaded with several life-saving features. It has a SOS button (with loud siren), is GPS and Wi-Fi enabled and comes with fall detection.
It's made with carbon fiber, so it's very light and sturdy. The tips at the end are interchangeable, depending on how stable it needs to be for the user and terrain.
My favorite part of the cane is the LED flashlight at the end, this should come standard on every cane! The battery lasts for 5-7 days with usage and up to 2 months on a charge if it's not being used.
It's currently available on Alibaba for wholesale purchase, this post will be updated once it's being sold for retail in the U.S.
We love innovative products geared towards older adults that are coming to market.  Companies are focusing on innovative tech for seniors that enriches the quality of life for all, and that's a mantra we always get behind.
We will check back to see if these products stand the test of time and update this post as needed.