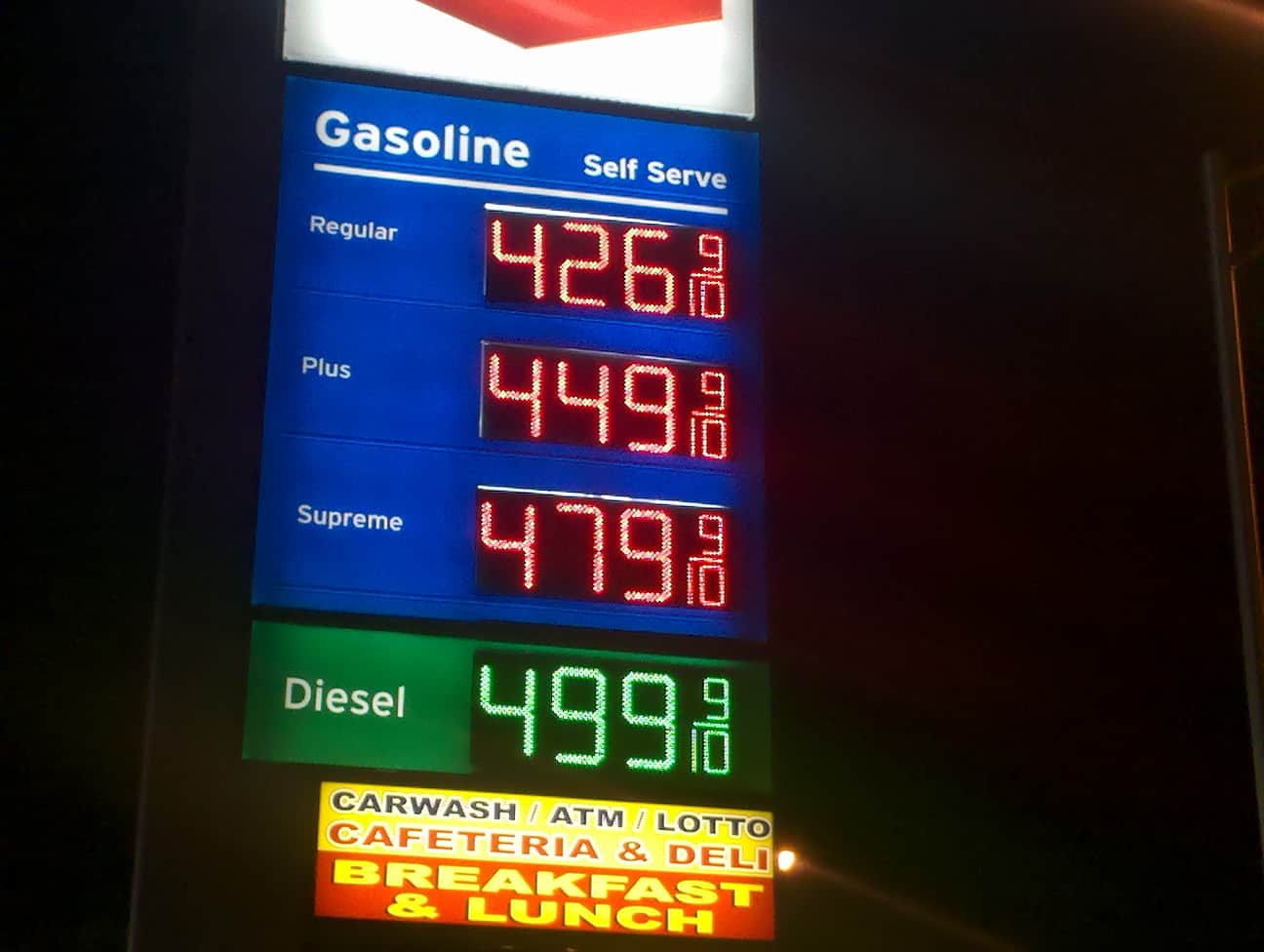 Gas prices are slated to rise as we head into summer, with the national average already sitting around $3.62, according to AAA. The nation experienced a dramatic hike in prices following Russia's invasion of Ukraine, and the average cost of fuel rose from $3.10 in 2021 to $4.06 in 2022 — though it has since come down a bit.
However, gas prices vary across the country, with many states exceeding this average due to location, higher labor costs, and state-based taxes. The following 10 states have the highest gas prices in the country.
Gas prices aren't the only costs that negatively impact retirees. To learn which states have the least favorable taxes, read our guide to the worst states for retirees.
#10 Washington, D.C. ($3.75 per gallon)
Our nation's capital is supposed to exemplify its constituents, so it's fitting that Washington, D.C., has some of the highest gas prices in the country. While not technically a state, the District of Columbia has its own jurisdiction and separate gas taxes, so we're including it.
While the gas tax in Washington, D.C., is only $0.24 (making it the 16th lowest in the country), its gas prices currently sit at $3.753 per gallon for regular and $4.448 per gallon for diesel. The main reason for these high prices is limited supply stemming from conflicts in the Middle East and Russia.
The District is more susceptible to these changes than most states due to its lack of oil reserves and refineries. It has to transport every drop of oil it uses.
#9 Pennsylvania ($3.74 per gallon)
Besides "Rocky," "The Office," and being the birthplace of Hershey's Chocolate, Pennsylvania is famous for its large Amish community. Considering the state's gas prices, they might have the right idea.
Pennsylvania leads the nation in state gas taxes at $0.58 per gallon. Its prices currently sit at $3.742 per gallon for regular and $4.666 per gallon for diesel. For this reason, many Pennsylvanians hop across the border to Maryland just to buy gas, as the $0.22 gas tax translates to savings at the pump.
#8 Alaska ($3.86 per gallon)
Alaska's state motto is "North to the Future," which sounds ominous if it means that gas prices are going to be this high everywhere someday.
Unsurprisingly, Alaska's location factors into its high gas prices, since it costs so much to ship in oil from the lower forty-eight states. Prices currently sit at $3.863 per gallon for regular and $4.323 per gallon for diesel.
Refineries in Alaska are smaller due to environmental restrictions and high energy costs. Though Alaska has the lowest gas tax in the entire nation at $0.09 per gallon, individual cities levy their own gas taxes to make up for that.
#7 Oregon ($4.01 per gallon)
While known for the natural beauty of Crater Lake and Silver Falls State Park, Oregon has also been featured in a few of those "Weirdest State Laws" lists for banning self-service gas stations (though this could change soon). It should come as no surprise that the resulting increase in labor costs trickles down to drivers.
On top of that, Oregon taxes gas at $0.39 per gallon, the eighth-highest gas tax in the nation. Individual counties and cities like Portland also levy their own taxes, some as high as an additional $0.10. This results in gas prices at $4.010 per gallon for regular and $4.607 per gallon for diesel at the time of writing, and puts Oregon at #7 on our list.
#6 Illinois ($4.06 per gallon)
Illinois is nicknamed "The Prairie State" for its rolling farmlands. However, it's also home to Chicago, which is frequently voted the most awful city in the entire United States to take a drive. Whether or not those lists factored in gas prices, you won't want to fill up your tank in Illinois if you don't have to.
Gas prices in Illinois are currently sitting at $4.060 per gallon for regular and $4.203 per gallon for diesel, putting it at #6 in the country for cost. The state also has the fifth-highest gas tax in the nation at $0.39 per gallon. Separate municipalities pile on their own gas taxes as well, keeping prices high no matter the supply.
#5 Nevada ($4.25 per gallon)
Everyone expects to lose money in Las Vegas, but not before they get there! The gas prices in Nevada just keep going up, and California's stringent rules on fuel production are partly to blame.
Despite its low $0.23 gas tax, Nevada's regular gas is up to $4.250 per gallon, and diesel sits at $4.883 per gallon. It'll only go up for summer when the production costs of summer blend gasoline trickle down from California — a yearly event that has traditionally caused price hikes.
Nevada's gas prices may be high, but it's still a great place to retire. To learn more, read our guide to the most tax-friendly states for retirees.
#4 Washington ($4.43 per gallon)
The motto of Washington state is "Alki," a Native American word meaning "bye and bye." That's what you'll be saying when you see the state's gas prices.
Gas in Washington currently sits at $4.437 per gallon for regular and $4.997 for diesel, with a state tax of $0.39 per gallon. California's restrictions on oil refining are partly to blame, as they've forced neighboring states to rely on expensive transportation to get their gas.
But there are problems unique to Washington, too, including high snowfall, which increases maintenance and transportation costs. Additionally, the state's new carbon tax charges companies for their carbon dioxide emissions — a cost they pass down to their customers through higher gas prices.
#3 Arizona ($4.53 per gallon)
Arizona is known for its natural beauty, particularly that of the Grand Canyon. Even its state motto means "God Enriches." Well, God also charges a pretty penny for sightseeing, because gas will set you back if you decide to visit his riches here.
With prices up to $4.527 per gallon for regular and $4.586 for diesel, Arizona earns its #3 spot on this list despite having one of the nation's lowest gas taxes ($0.18).
Federal regulations make Arizona one of only a few states required to use three proprietary fuel blends to maintain clean-air standards. Most states have one or two. This makes keeping up with supply more difficult, and puts more pressure on refineries to distribute the correct types of fuel to the correct regions.
#2 Hawaii ($4.79 per gallon)
Hawaii may be the honeymoon paradise of the country, but don't plan on getting much driving in. Hawaii's ocean-locked location secures its gas prices at #2, despite having the second-lowest gas tax in the entire country at $0.16.
It's so expensive to transport goods to Hawaii that a necessary import like oil is unsurprisingly hard to procure. Prices currently sit at $4.786 per gallon for regular and $5.919 per gallon for diesel — the nation's highest price for diesel.
Unfortunately, Hawaii gets nearly a third of its oil from Russia. Following the invasion of Ukraine, the supply-chain issues have only further divorced the state from a reliable fuel economy.
#1 California ($4.89 per gallon)
California is the nation's longest state, but no matter where you travel within it, you'll be in for the most expensive gas prices in the country. The average cost of gas in California is currently $4.892 per gallon for regular and $5.337 for diesel.
Unsurprisingly, the state's gas tax is high. At $0.51, California's tax is rivaled only by Pennsylvania's. But this isn't the state's only problem.
Due to the smog in its high-density cities, California levies harsher fuel-refinement regulations than most states — and those regulations cost money to fulfill. Furthermore, California has no major pipelines to bring in gas from other states. Its supply relies on the dwindling refineries within its borders, in addition to costly truck transports.
Bottom Line
Until the situation with Russia and Ukraine normalizes, gas prices in the United States (and around the world) will likely keep increasing. However, domestic supply-chain issues and taxes unique to each state make certain areas worse than others. Hopefully, this list of the 10 heaviest hitters at the pump will help you plan ahead for the next time you're on the road.
To learn more about saving money in retirement, read our helpful guides: