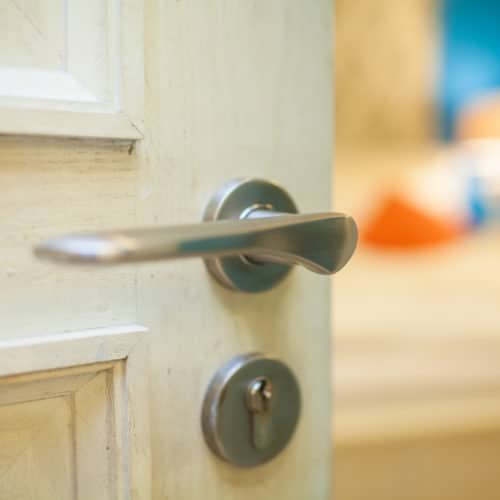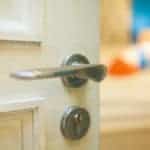 Are the doors in your home sticky, narrow or just plain unwieldy? For most of us, this can be a big annoyance. However, for seniors, it can be a significant impediment to mobility in the home and overall home access for seniors.
Fortunately, there are many things you can do to improve the situation to make daily life a little easier and protect seniors from a medical emergency.
Here are some ideas:
Door Knobs – Consider replacing door knobs with door levers. These are simply easier for seniors to open than a traditional round door knob. Internal door hardware is affordable and relatively easy to replace. Entry door locksets are more expensive, but won't necessarily break the bank if you shop around.
Misaligned Doors – When doors are out of alignment, they can rub on the frame and become difficult to open and close. There are a few quick tricks you can try before you resort to re-framing the door.
If the problem is very minor, you can sometimes just sand the edge of the door that is rubbing. This is permanent and is not recommended if the problem is seasonal or if too much material must be removed.
Use shims to move the upper or lower hinge out from the door frame slightly. While you may be able to use cardboard or washers to accomplish this, it's probably better to purchase door shims that are specifically designed for this purpose.
Another trick is to slightly bend one or both of the door hinge knuckles. Crescent wrenches are frequently used for this, but there are now knuckle bender tools to make it easier.
Narrow Doorways – Some doorways are too narrow to provide access for a walker or wheelchair. You have a few options:
'Swing clear' hinges are a great way to improve access. As the name implies, these hinges allow the door to swing completely out of the door opening. In some cases, this can add a couple inches of badly needed clearance.
If you don't need to close that particular door, consider removing the door and hinge altogether. You can also remove the innermost strip of trim that functions as a door stop. If the doorway needs to be even wider, you can try removing the entire door frame and trimming out the opening with thin sheet-rock.
Depending on the location in your home and the wall framing surrounding the door, you may be able to replace the existing door with a wider pre-hung door. While this may not be a DIY job, a good contractor can probably do it for a reasonable price.
Garage Doors – Not only can garage doors be difficult to open and close, they can be downright hazardous for some seniors. While most problems with garage doors can be easily fixed, it is recommended that you hire a licensed contractor for significant improvements. Garage door springs are dangerous to work with and some municipalities may even require building permits.
If you have a slab garage door, check into getting a roll-up door. These should be much safer and easier for seniors to manage.
Remove dirt and debris from the garage door and the areas around it.
Lubricate your door hardware. If you are unsure of the best type, look for a lubricant specifically labeled for garage door hardware.
Replace your garage door springs. If the springs are old, they may not be functioning as well as they should. They could also be dangerous in the event of a failure.
If you don't have one already, consider purchasing an automatic garage door opener. The quality of these continues to improve and they are more affordable than ever.
Sliding Doors – Sliding doors are inherently more difficult to open than swinging doors and can be even more of a challenge for seniors. These generally require more ongoing maintenance to function smoothly.
Clean out the tracks regularly.
Lubricate moving parts.
Although it can be tricky, many sliding doors have screws to adjust alignment. If needed, replacement parts are generally available as well.
Consider replacing a sliding door with a pair of swinging French doors. Because the sliding door opening is typically wide, replacement with French doors is generally easier than many other installations.
Keyless Entry Systems – Some seniors have difficulties when using keys. Door locks with combination buttons and remote key fobs are now available. Some of these can even be activated by other remote devices such as cell phones or security systems.
While these are all great improvements for the doors themselves, don't forget to address the lighting near your doorways. For example, motion detectors can automatically turn on the lights when approaching the door. This will free up both hands for opening the door, carrying groceries or even stability. Now all you need is a friendly welcome mat!