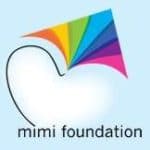 Myriam Ullens de Schooten founded The Mimi Foundation to help cancer sufferers fight for their health and wellness.  Myriam calls herself Mimi, and as a former cancer patient, she knows a lot about this process.  During cancer treatments, Mimi was fortunate enough to have resources that helped her maintain a sense of dignity throughout the difficult treatment process.  Her resources included close friends and family members, a psychologist, a beautician, and a good wig!  Myriam believes that when cancer patients feel good about themselves they're able to more effectively fight the disease, and in 2004 she turned her this passion into action.
"You know what I miss the most? Being carefree." – Katy; Diagnosed 2 years ago
The foundation recently put together a wonderful example of what they do on a daily basis.  They invited 20 cancer patients to a studio for a makeover (and more).  A photographer captured the event as well as THE MOMENT… That moment when the patient forgets they're a patient "if only for a second".  This wonderful video captures that moment, and the result is magical!
From the Mimi Foundation on their Mission:
"The Mimi Foundation is convinced that cancer must be fought on all fronts, not only on the medical front. The well-being of patients during their treatment plays a decisive role in their struggle to survive, to give them both courage and strength.  The Mimi Foundation has made it its mission to contribute to the improvement of the quality of life of people affected by cancer, more specifically during the entire period of their chemotherapy/radiotherapy treatment.  The physical suffering and emotional stress associated with cancer can be enormous and often originates from the side effects of the treatment.  The Mimi Foundation is available to patients during these difficult times in order to provide both physical and moral support."
For information on how you can help support the Mimi Foundation, click here.