Both Consumer Cellular and Lively allow seniors to connect with friends and family using simple phones and stress-free plans. What's more, each of these providers has a flip phone available for under $100, a far cry from the high-tech smartphones popularized in recent years.
In terms of basic phones, Consumer Cellular offers the Link II, and Lively offers the Jitterbug Flip2. Let's take a closer look at each of these devices.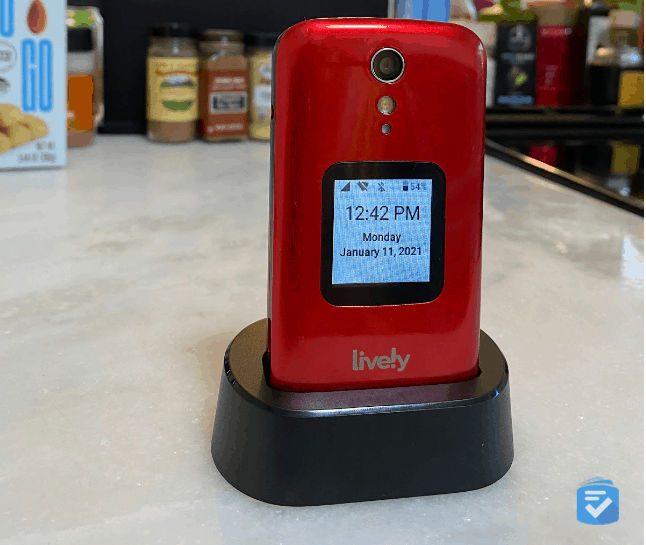 The Link II's biggest advantage is the price. You can purchase the phone from Consumer Cellular for $30. While the phone isn't as sturdy as some of its other counterparts, the keyboard offers several advantages. The keyboard is backlit, making it easy to see in the dark. The buttons have a rounded surface with sturdy buttons that are firm to the touch and click when pressed. AT&T cell service has paired with Consumer Cellular to provide customers nationwide coverage. There is also an emergency contact button on the back of the phone that can be programmed for 911 or a family member.
Lively's Jitterbug Flip2, while simple in its design, packs in some impressive features, including both rear and front cameras, 16 GB of memory, and a built-in Alexa voice assistant, allowing you to simply ask your phone questions in order to receive answers. The Jitterbug Flip2 can also be used with one of Lively's health and safety packages, which give your phone some features of a medical alert system.
Link II vs. Jitterbug Flip2 Similarities
The Link II allows for both phone calls and text messaging. You can purchase your phone
up front and only pay the monthly fee for your cellular service. The Link II is easy to use and can store phone numbers, making it easy for you to connect with friends and family by pushing just two or three buttons.
The Jitterbug Flip2 is also designed for those who do not want all of the bells and whistles of a smartphone. Voice calls and texts are both possible with the basic plan, and, depending on the cellular service you choose, the Jitterbug Flip2 can also be used to contact emergency responders with the press of the urgent response button. Lively offers nationwide coverage that extends to 50 states, though calls to Puerto Rico and international calls will cost extra.
Phone Features
The Link II is offered by Consumer Cellular. Its buttons are easy to use and make a clicking sound that lets the user know the button has been pushed. There is an emergency button located on the back of the phone that will immediately dial 911 or any other number programmed into it.
The Jitterbug Flip2 allows only for phone calls and texts, which means no data plan is required. With that said, I loved the addition of Alexa's voice assistant. This makes it easy to place calls, send messages, or even set reminders — simply by using your voice.
Costs and Contracts
The Link II costs approximately $30 for the device; however, you'll also need to purchase an accompanying cellular plan. Consumer Cellular offers two main plans: The first costs $20 per month and includes 250 minutes; the second option costs $25 a month and offers unlimited minutes.
The Jitterbug Flip2 costs approximately $75 while the Lively smartphone costs just over $110. With Lively, you can get 200 minutes for $15 and 300 texts for $3, with incremental increases up to 3,000 minutes for $39.99 and 2,500 texts for $15.
Here is an overview of what's offered with each provider.
Lively and Consumer Cellular Plans Comparison
Consumer Cellular
Lively
Price Range
$15-$40 per month
$14.99-$49.99 per month
Unlimited Plans
$20 per month for unlimited talk and text
$39.99 for unlimited talk and text
Overage Charges
None (Lively will automatically upgrade your plan in the event of an overage.)

$0.35 per minute

$0.10 per text

Cancellation Fee
None
None
Contracts
No long-term contract required
No long-term contract required
International Coverage
Yes

$0.20 per minute for Mexico, Puerto Rico, and the U.S. Virgin Islands
$1 per minute for other international calls
Our Conclusion
The Link II is the most affordable of the two phones, but it offers a reasonable solution for seniors who are on a fixed income and may not want a more technologically advanced cell phone.
The Jitterbug Flip2, on the other hand, offers a robust set of features that undoubtedly outshine those of the Link II. Between the higher resolution camera, the Alexa integration, and the potential for medical alert features, the Jitterbug Flip2 is our choice for the best phone for anyone looking for a modern yet simple device.