The 2016 presidential election shoved a wedge deep between political parties. A year into Trump's presidency, the opposing sides continued to grow further apart – yet neither knew just how far it would go. Three years of racist rhetoric, sexual assault allegations, and a special counsel investigation later, America became divided into people sporting a red and white hat and others holding up signs in protest. But under the hats and behind the signs were people fighting for deeper issues than just the man in office.
Changing abortion laws sent women and allies to the streets, climate change had scientists speaking out against the government, and health care had voters running to the polls. However, these aren't the only issues Americans are continuously debating, and the topics of conversation differ on each side. What issues are most important to each party, and how do they measure up for different age groups and ethnicities? We surveyed over 1,000 Americans to get their take on the most significant issues facing the country and which topics are sure to sway their vote. Keep reading to see what the American people had to say.
United States of Issues
Health care has been a long-standing issue in America – in 1965, President Johnson signed the Social Security Act Amendments (perhaps better known as Medicare) into law, providing hospital insurance and medical assistance to those over the age of 65. When viewed through the political lens, as well as by race or ethnicity and political party, almost all Americans (73%) said the topic of health care in America was an important or even essential priority.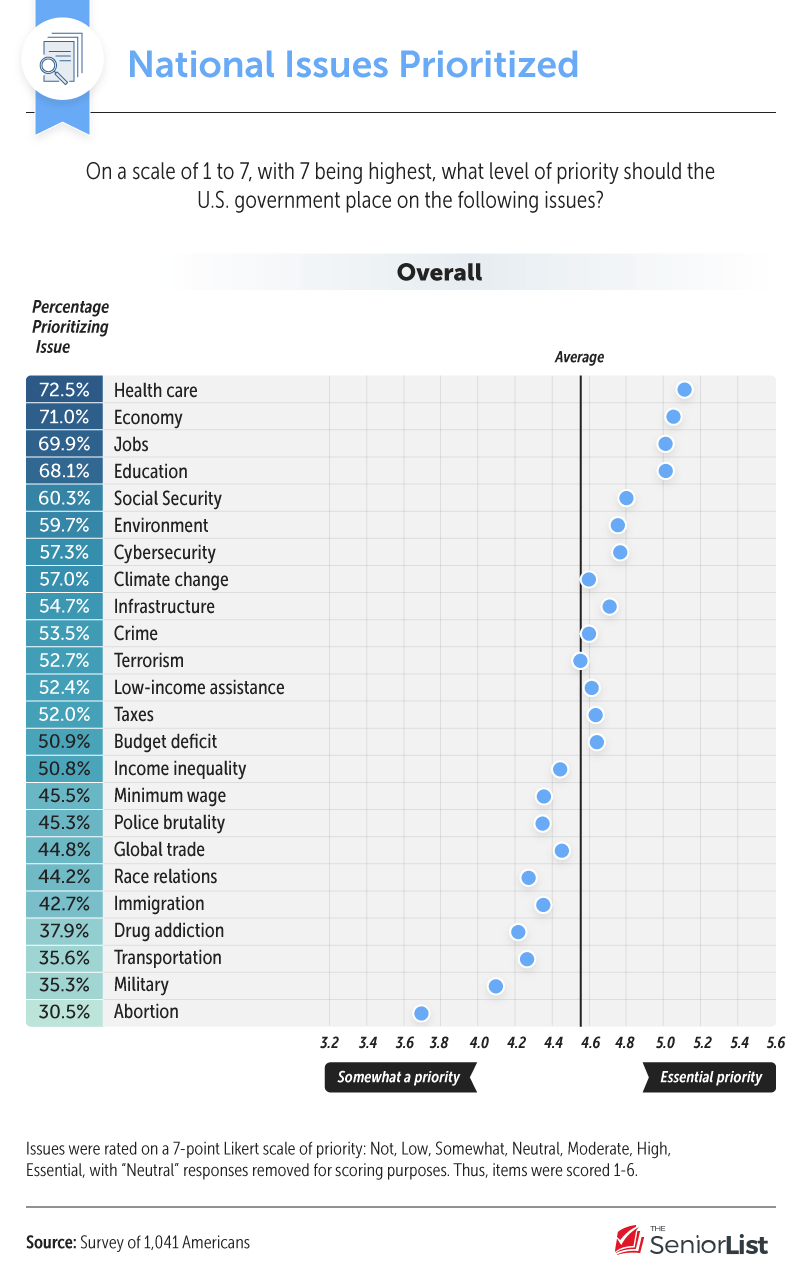 A score lower than 4 meant that Americans thought this particular issue was moderately to somewhat important, a contrast to scores between 5 and 6 which, which meant those issues were viewed as a high or essential priority for our government. For the purposes of identifying our nation's priorities, we removed those who felt "neutral" about any of these subjects in scoring. Our study found that health care ranked as the most important issue to Americans in general, and 72.5% of Americans said it should be high on the list of our national priorities.
Our study also found that Americans are least concerned with turning our government's attention to abortion, which ranked lowest on the list of national priorities. Interesting contrasts in concerns included heightened attention to cybersecurity, outranking concern for crime and terrorism.
Most Pressing Issues in Politics
According to our previous visualization of how American priorities may vary based on politics, race, or generation, the populace disagree on a fair amount of issues. Surprisingly, if you look at everyone's top concerns and compare them side by side, we don't look that different at all. Our health care system, the economy, and jobs are top of mind for Americans right now, one of which made the top three list for Americans based on almost every demographic we sampled.
Nearly 70% of the youngest generation cited education, health care, and jobs as their top priorities, likely because they are struggling with student loan debt, medical bills, and finding adequate-paying jobs.
The top-priority issues across race and ethnicity were remarkably similar as well – health care, jobs, the economy, and education ranked highly for all respondents. However, the least important topics were slightly different. While abortion and the military were among the least concerning to all races aside from white people, compared to the other demographics, Asian Americans were the least concerned with drug addiction, black or African Americans were the least concerned with immigration, and whites were the least concerned with race relations.
Taking a Single-Issue Stand
Considering the majority of Americans from all political parties, generations, and racial backgrounds named multiple issues as a top priority, single-issue voters among our respondents were rare. Nevertheless, 26.4% of Americans surveyed voted based off a candidate's stance on one particular issue. The most popular single-issue vote revolved around health care, but this changed yet again when looking at specific demographics.
Women were more likely to be single-issue voters than their male counterparts, and their decision was based mainly around one's stance on abortion. Considering the issue is surrounding women's rights to their reproductive health, it makes sense that a candidate's stance on the topic would make or break their support.
Republicans were also the most likely of the political parties to be single-issue voters, with abortion and the economy as the most popular single-issue vote. Of the nearly 26% of Independents who voted based on one issue, health care and immigration were the most popular, while climate change was the dominating issue for the 24% of single-issue voting Democrats.
Regardless of the issue voters are using to determine their support, single-issue voters have the power to sway elections. During the 2016 presidential election, single-issue voters with a primary concern about abortion played a significant role in Trump's win. However, not voting can have the same effect. Despite all of the issues Americans take a hard stand against or show full support for, and the crucial role voting plays, 10% of all respondents said they would not vote in the 2020 U.S. presidential election.
Come Together
America is a melting pot. And with millions of people from different backgrounds, cultures, religions, and political beliefs, there are bound to be different views on issues facing the country. Health care, the economy, and jobs ranked as the highest priorities for the overall American public, but Democrats and Republicans viewed numerous issues with dramatic difference. However, even with many issues perceived as important or not, people are still staying away from the polls. Whether it's because voters feel their voice isn't being heard or they can't choose an issue worth voting for, nonvoters impact the outcome of an election more than they think. In a time of polarizing politics, the only way to tackle the main issues is to come together and speak as one.
Methodology and Limitations
We surveyed 1,041 Americans ranging in age from 18 to 74 on their views on national issues. We asked our respondents to rank each issue based on the level of priority they'd like the government to give each. Our survey had 434 respondents who identified as Democrats or leaning Democrats, 328 people who were Independents or leaning toward Independents, and 279 Republicans or leaning Republicans. We had 189 baby boomers, 212 Gen Xers, and 598 millennials. We surveyed 189 Asian Americans, 207 blacks or African Americans, 199 Hispanics/Latinos, and 446 people identifying as white. We had 459 male respondents and 582 female respondents as well.
Certain survey limitations apply, such as exaggeration and telescoping. We did not statistically test our hypothesis. This project was an exploratory study on the current political climate and American opinions on the biggest issues facing us.
Fair Use Statement
Interested in sparking a conversation (or perhaps a debate)? Feel free to link to our study about national priorities, but do so for noncommercial purposes only. Please give us proper credit for our work by linking back to this study.