As anyone who's ever worked with a lawyer can attest to, legal services are typically very expensive. Rocket Lawyer is an online service meant to provide people with legal documents and expertise without the high price tags. There are many reasons an older adult would need a lawyer, from writing their last will and testaments to giving family members power of attorney, which is why I tried out Rocket Lawyer for myself. I've worked with older people for most of my career, so I know that they're looking for legal services that are reliable, affordable, and flexible. Rocket Lawyer has served over 20 million people, a number higher than the population of Romania, but just because something is popular doesn't mean it's a quality service. Let's see if Rocket Lawyer makes the cut.
Rocket Lawyer: What's Included?
No matter which membership I ended up choosing, the same services were available for both non-members, those who don't pay anything monthly, and premium members, those who pay $39.99 monthly; the only thing that changed is the cost of the specific services. Here's what Rocket Lawyer offered me:
Legal forms and documents: I have children, so naturally I wanted to create a last will and testament so I could make sure they're set up if something happens to me, God forbid. It was pretty easy to search for a document in Rocket Lawyer's legal library, customize it to my needs, download and print it, minus some tech issues that occurred along the way. To see exactly what kind of documents Rocket Lawyer offered, keep reading below.
Ability to sign documents online: Especially for seniors that may not be as comfortable with technology as the younger generations, printing and scanning a document can be an arduous task. Fortunately, Rocket Lawyer let me sign documents online using an e-signature, which certainly made the process much more seamless.
Legal consultations and work: Aside from their legal library, Rocket Lawyer employs actual lawyers who could answer my questions, either in a 30-minute consultation or beyond.
Many people may not be sure if these services are necessary for them, or even what elder law is in the first place. To learn more, check out my article on elder law, specifically what it is and how an elder law attorney can help you out. Considering the fact that by 2060, people over the ages of 65 will make up a quarter of the population of the United States, elder law isn't going away anytime soon.
Tip: Rather than printing, signing and scanning, use Rocket Lawyer's e-signature feature to sign your documents and forms.
Types of Legal Forms and Documents
Although they didn't list the exact number, I was very impressed with the variety of legal documents and forms that Rocket Lawyer keeps in their legal library. Here's an overview:
Business: Leasing agreements, business plans, partnership agreements, employment contracts, minutes, etc.
Employment: Anything for hiring or being hired, including reference requests, disciplinary letters, invites to formal meetings, job offers, and more.
Property: Mainly for landlords, these documents include renters agreements, inventories, breach of contract notices, house rules, cohabitation agreements, etc.
Family: Last will and testament, power of attorney, affidavits, cohabitation agreements, separation agreements, etc.
Personal: Change of address, declarations of trust, affidavits, promissory notes, bill of sale, etc.
While the idea of getting a lawyer online may feel a bit funny at first, Rocket Lawyer is great for straightforward legal tasks. Since even the most affordable lawyers typically cost around $100- to $200 an hour, at $39.99 a month, Rocket Lawyer's membership is definitely good news for your wallet; but more on the memberships later.
FYI: Rocket Law can work for you even if you're not based in the United States. They also offer services in the United Kingdom, Spain, France, and the Netherlands.
Pros and Cons
I had a good experience with Rocket Lawyer overall, but before I go into specifics, I want to give you a general overview of their best and worst features.
Pros
I loved how easy it was to find the proper form, which for me was a last will and testament. I was also impressed with the customer support I received as well as the affordability of their legal consultations. With my Premium membership, my first consultation was completely on the house.
Cons
However, Rocket Lawyer was not without its cons. Although they offer a week-long free trial, it requires a credit card, so many people have told me that they accidentally signed up for a Premium membership. I also experienced a few small technical glitches, like my document not saving my most recent work or needing to sign up for an account before a membership, which the website did not make clear.
Signing Up and Using Rocket Lawyer
After a few minutes perusing Rocket Lawyer's website and seeing what they had to offer, I was ready to sign up for my free trial.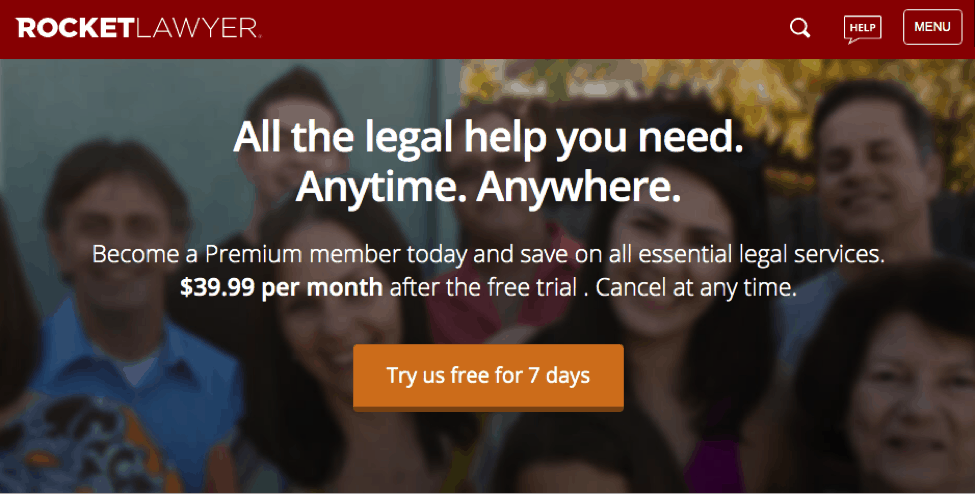 Like most free trials, I had to enter in my credit card information, but even after trying multiple credit cards, the website wasn't accepting anything, so I called the number they listed. A woman on the phone answered quickly and told me that I needed to create an account first; that was a bit odd, as nothing had prompted me to make an account, but entering in my email address and created a password only took a few seconds. From there, I started the sign-up process again and entered my card information again— success! However, I was a little disappointed that the sign-up process wasn't the smoothest in the world.
Now, it was time to customize my first legal document. Rocket Lawyer's legal library made finding the proper form really simple. I could either click on one of their options or search for my own. My first task was to make a last will and testament for myself. Of course, it's not pleasant to think about what will happen to my family after I've gone, but considering that nearly 60% of adults in the United States lack wills, I definitely want to fall into the minority on this one. After all, I want to make sure that my money goes to my family and specific charities I support, which is why having a will is essential.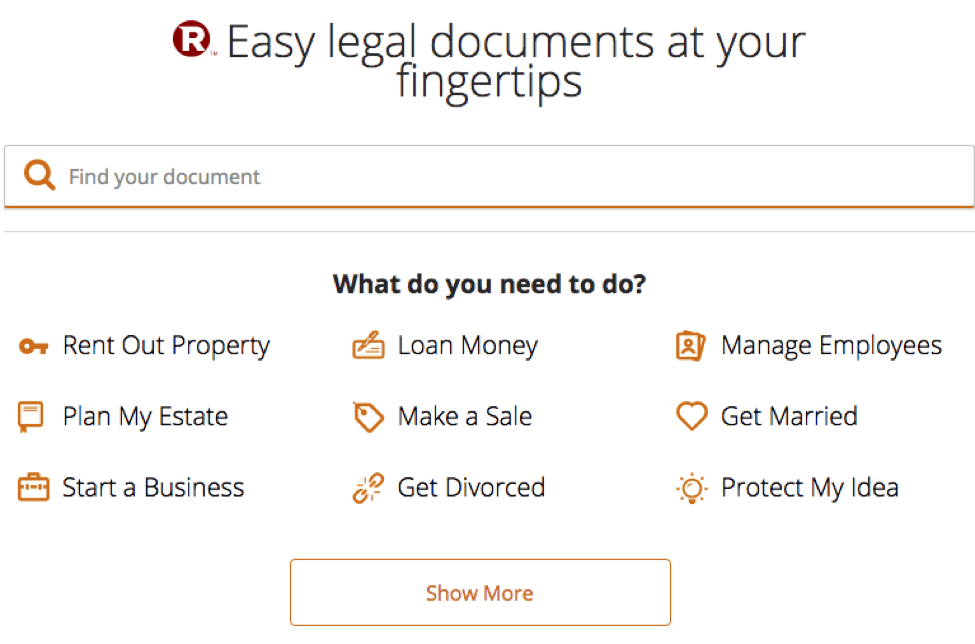 After doing a search for "last will and testament", I was quickly brought to the proper form, where I selected my state and began filling it out to my wishes.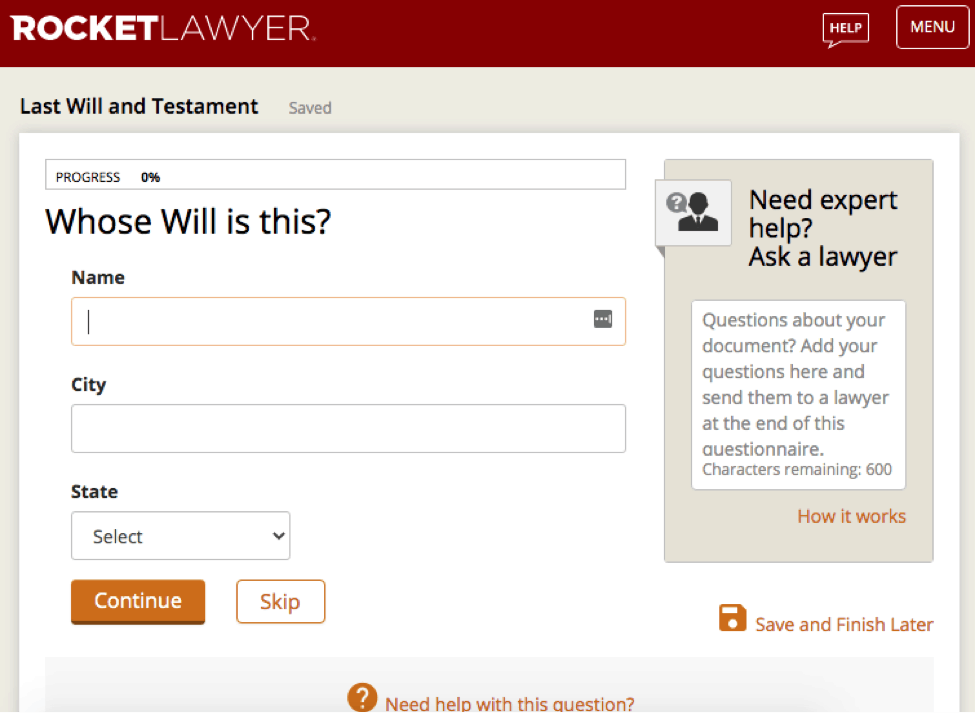 As you can see on the right side of the above screenshot, if I had any questions at any time, I could easily contact a lawyer. Now, in theory, if I had to get up in the middle of filling out the form to pick up my kids, the document would save so I could return to it. But when I tried to click on it after a break from my activity dashboard, I wasn't able to open the document back up. This was a bit annoying, as I had already spent some time filling it out and had to start from scratch.
In filling out the form, Rocket Lawyer asked me about myself, including my:
Name
Email address
Marital status
Whether or not I have children
Specific bequests.
My Advice: If you have the time, fill out your form or document in one sitting; I had some issues with saving my will and ended up having to start over.
This process took about 20 minutes from start to finish, and I didn't even have to ask the lawyers any questions; the directions were very clear and not written in legalese, fortunately. But since my membership included a free 30-minute consultation with a real lawyer, I wanted to take advantage, so I filled out a form in my activity dashboard with my question, which was to just look over my will and make sure that everything was kosher. I could choose whether I wanted the response in the form of an email or phone call, and within one day, I received a really nice email from a lawyer assuring me that I had filled it out correctly.
Despite the technical glitches, I was really happy with Rocket Lawyer's service, and it definitely didn't break the bank, either. Considering that a quarter of retired people in the United States live on only less than $20,000 a year, older adults will appreciate how much money Rocket Lawyer will save them versus using a traditional lawyer.
Rocket Lawyer Membership Options
Another area that Rocket Lawyer keeps it simple is its membership options. Technically, there's only one option for a paid membership, but you could still get their services as a non-member; they're just more expensive.
| | Non-Member | Premium Member |
| --- | --- | --- |
| Legal Documents | $39.99/ document | $0.00 |
| Document Defense | $9.99/ document | $0.00 |
| Ask Lawyer legal questions | $49.99/ question | $0.00 |
| 30 minute consultation on every new legal matter (not included in trial) | $59.99/ consultation | $0.00 |
| Discounts when hiring their lawyers | n/a | Up to 40% off |
| Incorporation filing for businesses | $99.99 (does not include state fees) | Free for new members, 25% off after (does not include state fees) |
| Registered Agent service | $149.99 | 25% off |
| Monthly Cost | $0.00 | $39.99 |
Their paid option costs $39.99 a month, and it got me free legal documents, Document Defense from their lawyers, if any of my documents were contested, legal questions, and 30-minute consultations on all new legal matters. If I needed a lawyer, I would've gotten a discount of up to 40% off, but for my purposes, I didn't have to spend an extra penny after I paid for the membership. Plus, since it was monthly, I could cancel at any time without incurring any harsh cancellation fees.
Rocket Lawyer Customer Support
As I said, I got quick and straightforward help when I called Rocket Lawyer's phone support line, but they have pretty much every available way of contacting them for help, such as:
Live chat
Phone line available weekdays from six AM until six PM PST
Online help center including a legal directory, help articles, FAQs and a legal dictionary
Email
Online form
Snail mail.
Many online companies skimp on their customer support, but Rocket Lawyer isn't one of them. If you have questions like I did, you'll appreciate the speedy and helpful response from their support team.
The Rocket Lawyer App
Contrary to popular belief, there are a number of apps for seniors that can actually make their lives less complicated, so I figured out I would test out Rocket Lawyer's mobile application for the more tech-savvy among us. Now, I have an iPhone, so the app was called Rocket Lawyer: Legal Documents, both for Android-users, search for an app called Rocket Lawyer: Documents, Forms, Lawyer, Attorney.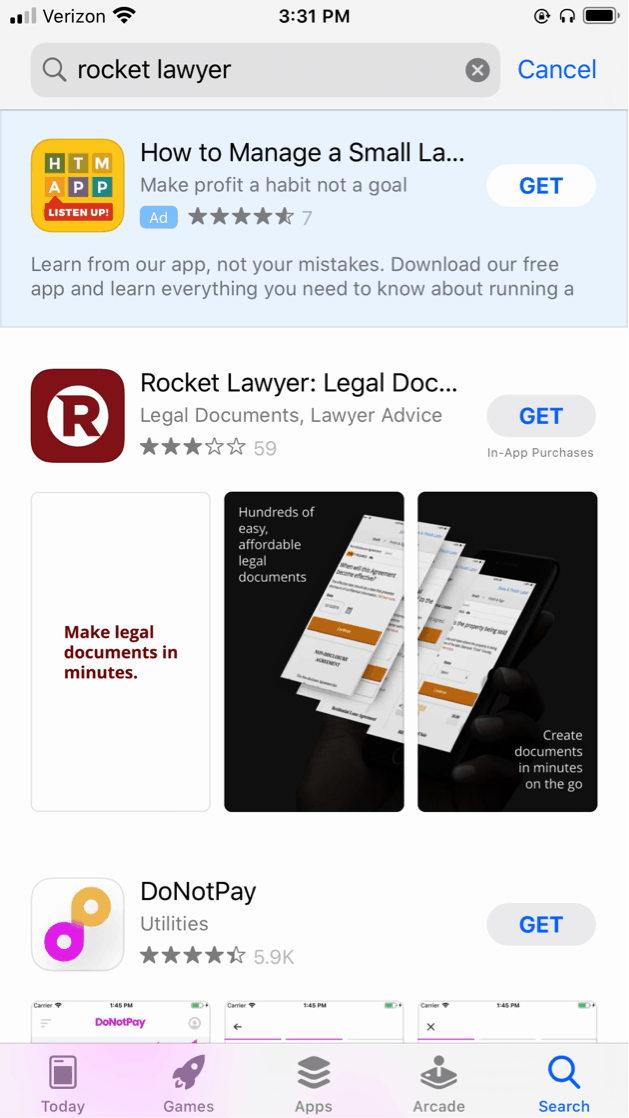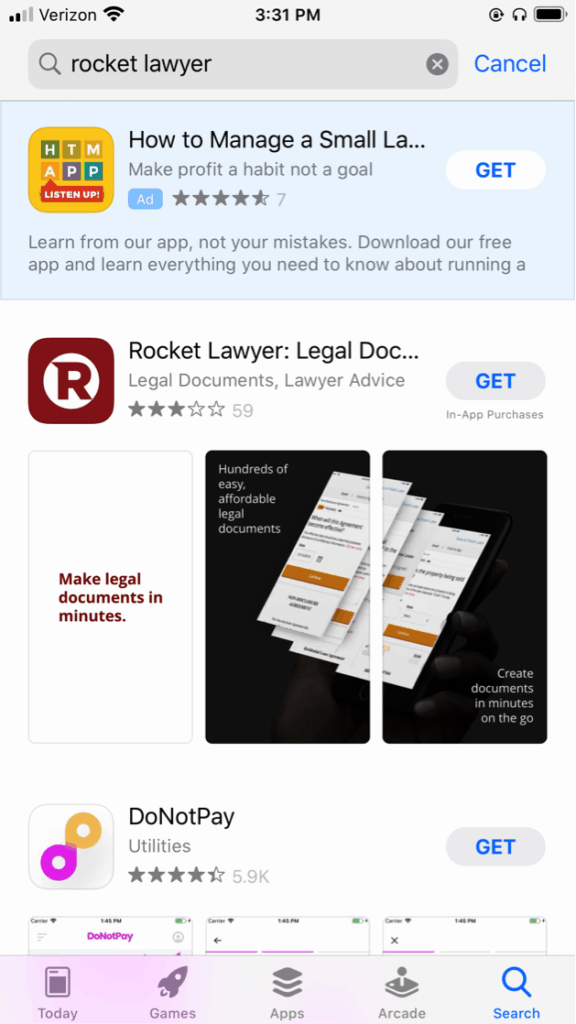 Finding and downloading the app from the Apple store only took a few seconds. Next, I logged into my account and was brought to my Dashboard, where I saw my last will and testament.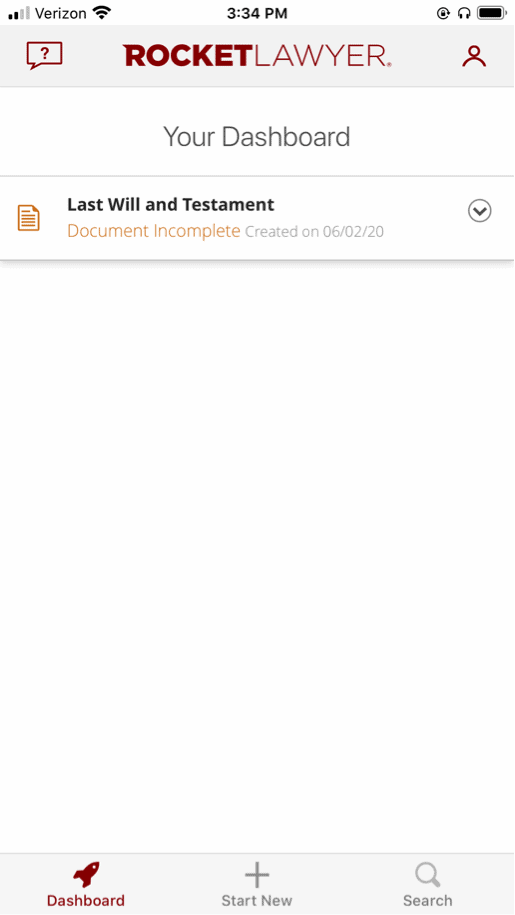 But unlike on their website, Rocket Lawyer's app actually had saved my document and let me work on it later; although I think it's easier to fill out these types of forms from a computer if you prefer using a phone, then Rocket Lawyer's app certainly does the trick. Plus, I had access to the same help that I did on the desktop site.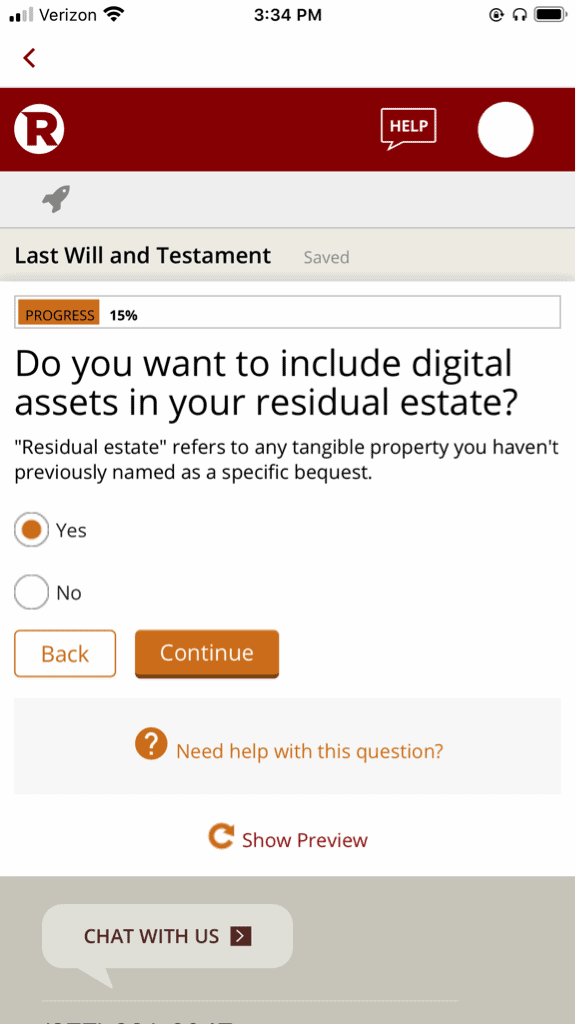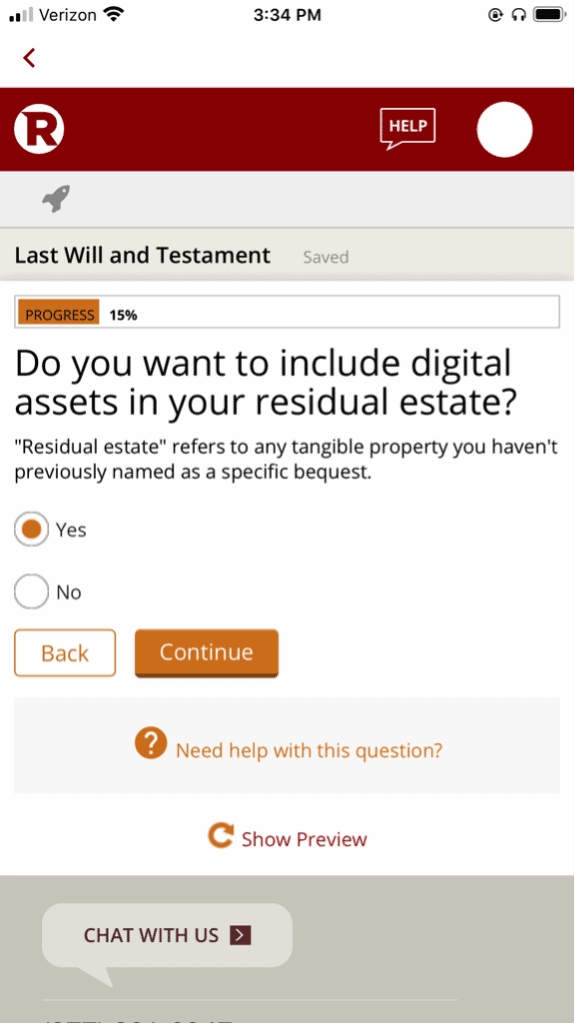 The app, overall, was easy to use, and other iOS-users generally agreed with me, as it has a 3.1 rating on the Apple store. However, Android-users weren't as happy, as the app only has a 2.8 rating on the Google Play store. So if you or the older adult in your life uses an Android device, you might not have the best experience with the app.
Can I Cancel Rocket Lawyer?
The short answer is yes, I could cancel Rocket Lawyer for free. After a quick Googling, I found in Rocket Lawyer's Terms and Conditions that I could easily cancel my Premium membership in my account settings.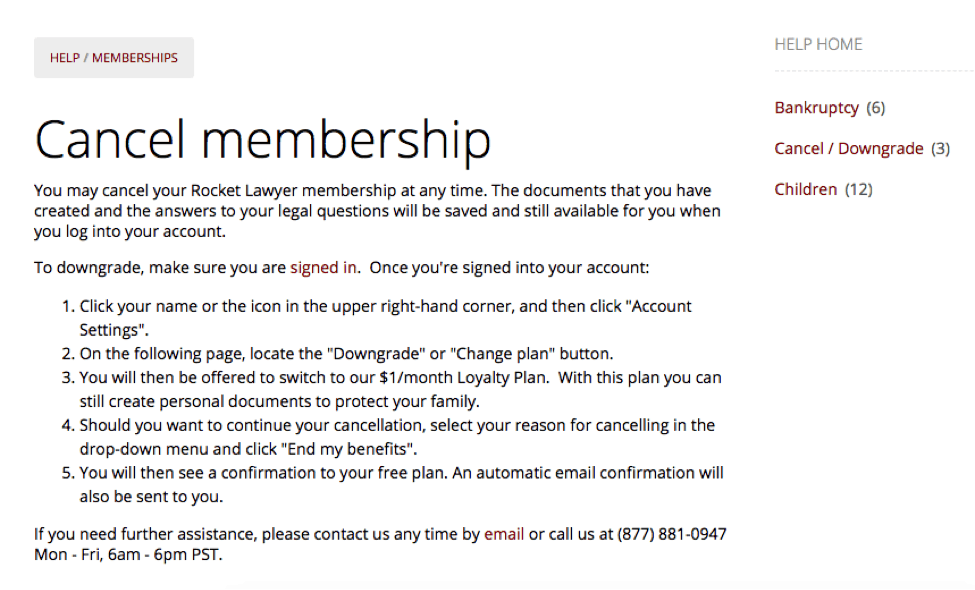 The downgrade button was highly visible in my account settings, so canceling my membership only took a few seconds. Unlike other companies who have made me call them to cancel, I appreciated how easy it was to try out Rocket Lawyer for free.
Recap
Sure, Rocket Lawyer's website had some technical issues, but overall, I think their service can be really useful to seniors. If you have a very straightforward legal task, it's incredibly affordable to handle it through Rocket Lawyer versus a traditional law firm that'll charge hundreds if not thousands of dollars. Hopefully, the company can fix its website and Android app to make the process more seamless, but overall, I think Rocket Lawyer is still a great choice for Elder Law.