Audicus Hearing Aids
As a professional caregiver, I have seen how hearing loss can prevent older adults from living their lives fully. When hearing doesn't come easily, people tend to avoid conversations altogether, becoming isolated. This, in turn, causes feelings of loneliness and frustration. Additionally, hearing loss can be quite dangerous for those who live on their own, preventing them from hearing alerts to danger, such as the fire or burglar alarm.
To combat these issues, I'd recommend looking into purchasing a hearing aid. And when it comes to hearing aids, Audicus is likely to provide one of the best values on the market today. Their hearing devices are perfect for older adults who wish to continue living independently, hearing intact. Audicus hearing aids will not only allow you to hear conversations comfortably, but they can even be used to stream from your TV and smartphone. Let's dive in.
Who Is Audicus?
Founded in 2012, Audicus is a privately-held hearing health company that focuses heavily on affordability and customer experience. It sells FDA-registered hearing aids on its website and seeks to make hearing more accessible to the older adults in America.
This brand partners directly with leading manufacturers to save on costs related to mediators, office overheads, and markup cuts. This is how it maintains prices well below competing products from brands such as Widex, Signia, and Phonak, without sacrificing quality.
Pros and Cons of Audicus Hearing Aids
It turns out that just 16 percent of adults who need hearing aids have worn them. This statistic, while unfortunate, is likely driven by the fact that hearing aids are so expensive. Typically, the costs hover around $2,000 to $2,500 per unit. Double this cost if you want it for both ears. That brings us to the biggest advantage of Audicus hearing aids—their affordability.
Ranging from $499 to $899, the brand offers one of the cheapest medical-grade hearing devices in the country. And the best part is if you are not satisfied with the new device, you may return it within 45 days for a full refund. Since the brain takes some time to adjust to hearing aids, you have a bit more than a month to decide if an Audicus device is right for you.
To make it even more affordable, Audicus even has a membership plan that lets you rent the hearing aids at a fraction of the cost ($39 to $59 per ear per month). It also has a very responsive customer care team that will guide you at every step on your hearing improvement journey.
Note: The Audicus membership can be canceled anytime. All users need to do is return the devices.
On the flip side, this complicated piece of machinery isn't waterproof. Accidentally wearing them in the shower can permanently destroy them. Also, Audicus charges some hefty fees for devices with rechargeable batteries. With that said, to save you the cost and bother of dealing with battery replacements and other maintenance activities, Audicus offers a Care subscription that costs an additional $12 per month. This plan ensures that replacement batteries, domes, tubes, and cleaning wires are delivered to your doorstep every three months for optimum performance from your hearing aids.
How to Purchase Audicus Hearing Aids
If you call Audicus's customer care team or visit their store, you will be asked to take a free 15-minute hearing test. If you already have an audiogram from a third party, you may even send or upload your results to the Audicus website. From there, an Audicus audiologist will review the test results and recommend the device that will best fit your hearing needs.
Next, you buy the hearing aids customized or pre-programmed to your hearing test results. Instead of purchasing the device, you could also rent it out by signing up for an all-inclusive Audicus membership. With this membership, apart from the hearing aid, you'll receive loss and damage protection, a free device trade-in every 18 months, accessories, and access to Audicus's 5-star support team.
Note: You will be charged a one-time setup fee of $100 when signing up for an Audicus membership.
Audicus Hearing Aids at a Glance
Audicus is one of the best discreet hearing aids in the market today. If you are seriously considering purchasing from the brand, here is a low-down on the three major devices that they offer.
The Dia II
The Dia II is Audicus's most basic and affordable hearing aid, a behind-the-ear device that retails for $499 per unit (rented at $39 per ear per month). It has a microphone that picks up sounds and a speaker that amplifies them. Its processor filters out ambient noise (ex: passing cars or distant conversations) while picking up the speech happening closest to you.
It also has a button that lets you increase or decrease the volume. The Dia II comes with eight programmable channels and 140 hours of battery life. It is also available in color options such as beige, grey, and silver so that the device can discreetly blend into your hair or ear areas.
The Clara
This compact "receiver in canal" style hearing aid has the speaker built into an insertable ear dome and two directional microphones. This significantly improves the sound quality offered by Clara over that of Dia II. If you choose to add-on a classic remote control ($199), you can adjust the volume and switch between Clara's four default programs suited to different situations: Auto-adapt, Conversation in Noise, Auditorium, and Telephone.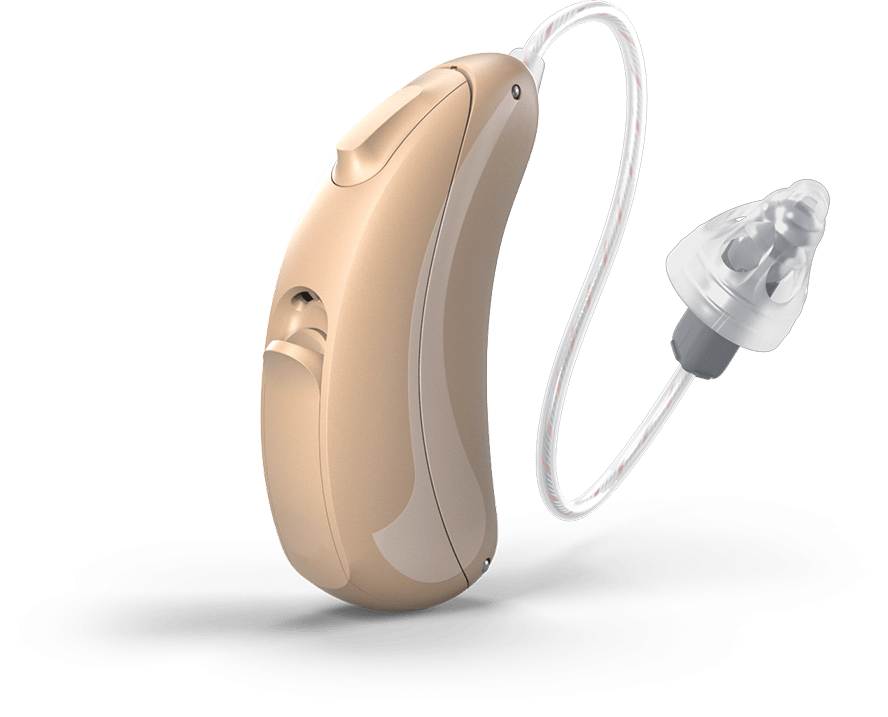 For each ear, you need to spend $699 or $49 per month with the membership. If you pay an extra $200 per ear ($10 per ear per month) you can get yourself a rechargeable option that is compatible with the Audicus Rechargeable Dock. I highly recommend this upgrade, so that you won't have to worry about having extra batteries on hand.
Top Tip: For an extra $50, you can get 10 programmable channels on the Clara (instead of eight) for enhanced clarity. This feature comes free with the Audicus membership.
The Wave
The Wave has built-in Bluetooth capabilities that let you directly connect your hearing aid to other devices (TV's, smartphones, smart cars, etc.) to make calls, watch shows, and listen to music. Featuring two directional microphones, an eight-day rechargeable battery, and ten different volume settings, the Wave can be purchased for $899 per ear (or $59 per ear per month).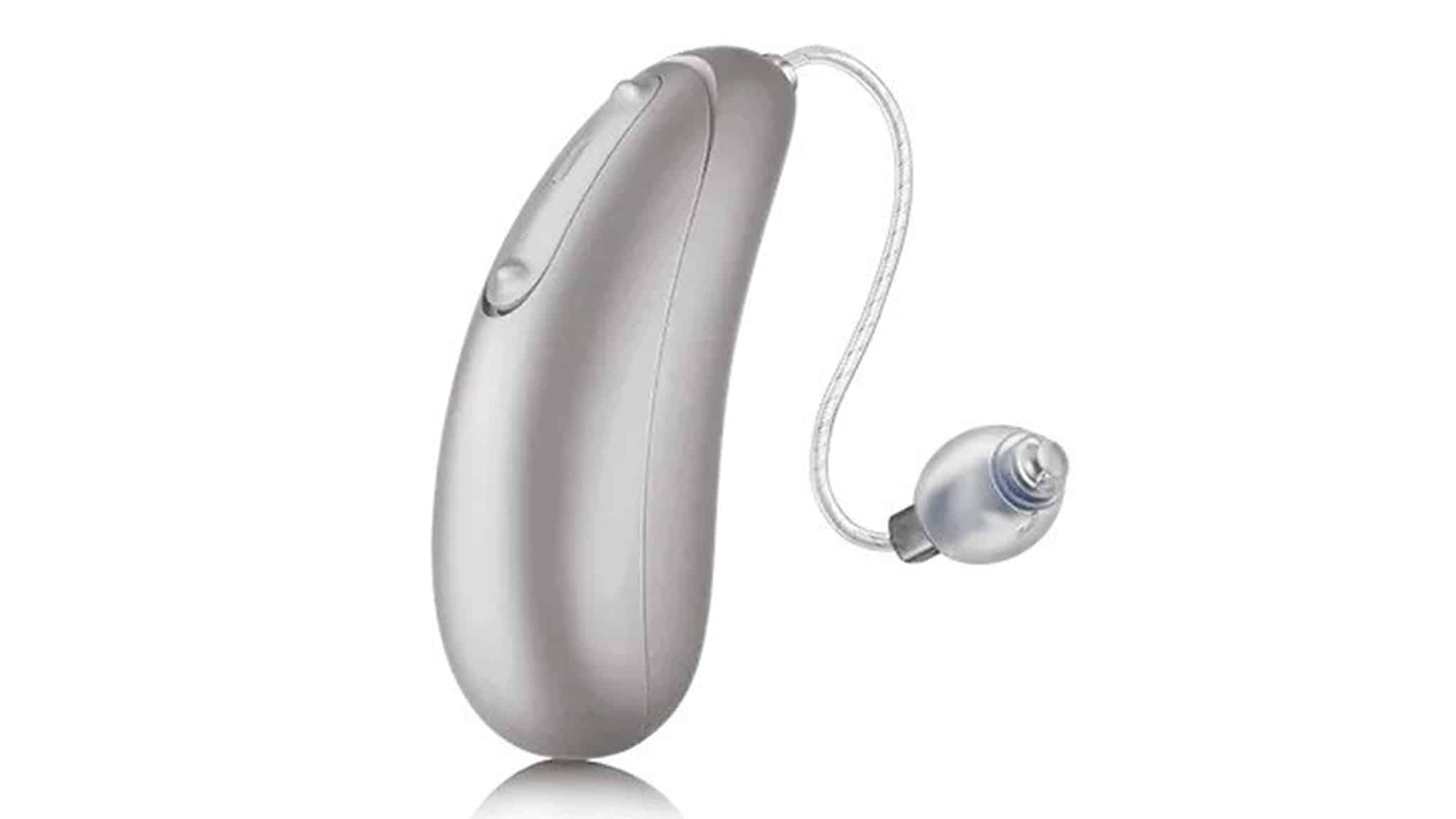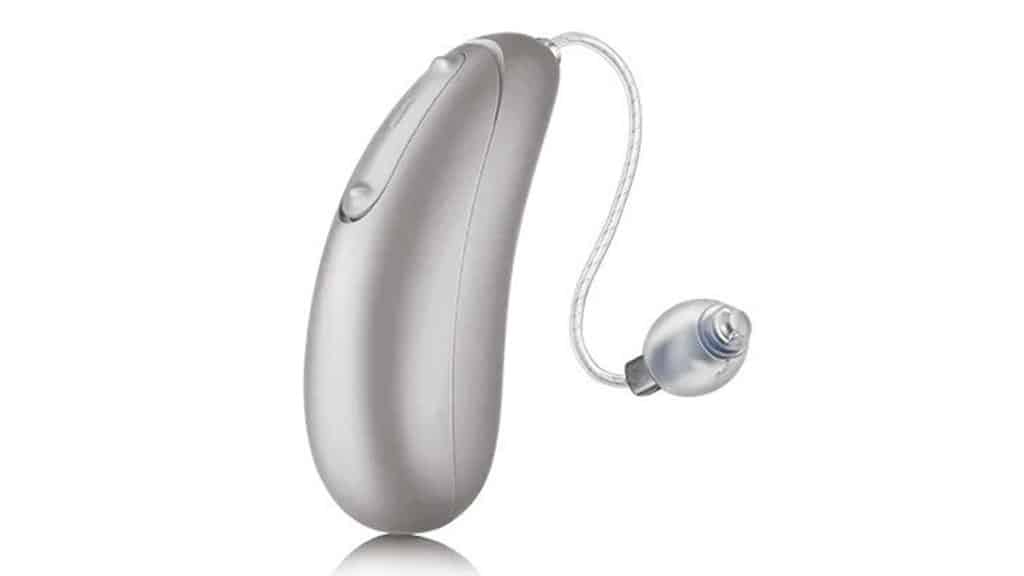 The Wave is also one of the first devices to have both Bluetooth compatibility and a rechargeable battery, the latter of which can be upgraded to for $300. You may further control and customize your hearing experience with Audicus's mobile app that acts as a remote control to your hearing aid. You may toggle the volume and choose programs such as 'Conversation in Noise' and 'TV/Music.' Here, too, an Audicus membership gets you the enhanced clarity upgrade by boosting the count of channels to 12.
The Dia II
The Clara
The Wave
Color Options
Beige, gray and silver
Beige, black, grey and silver
Beige, black, grey and silver
Cost Per Ear (Starts At)
$499
$699
$899
Membership Cost Per Ear Per Month
$39
$49
$59
Remote Control
Optional
Optional

No

Key Features
Affordable hearing aid
Premium and customizable hearing aid
Direct Bluetooth streaming
Fit Type
Behind-the-Ear
Receiver-in-Canal
Receiver-in-Canal
Best Suited For
Those with mild to moderate hearing loss.
Those with mild to severe hearing loss
The tech-savvy with mild to severe hearing loss
Maximum Decibels
56dB
47dB to 57dB
111 dB
Built-in Bluetooth Compatibility

No

No

Yes

Rechargeable Option

No

Yes

Yes

TV Connector Option

No

No

Yes

Included in Box

Hearing aid
Battery
Domes
Cleaning wire
Cleaning brush

Hearing aid
Cleaning brush
Domes
Earwax guard and replacement tool
Charging case or batteries

Hearing aid
Charging case or battery
Cleaning brush
Desiccant drying capsule
Domes
Earwax guard dispenser tool
Which Audicus Hearing Aid is Right for Me?
If you ignore your hearing loss, even at the early stage, you might begin to forget about those sounds altogether. It's likely that you won't ever hear them again. So, even if you have been diagnosed with a mild case of hearing loss, be sure to get yourself a medical-grade hearing aid in order to preserve your overall hearing.
If you're looking for a basic and economic hearing aid, then the Dia II is a great option. For greater auditory clarity in a more discreet body, you can go with Clara. It has rubber domes in different sizes and shapes, helping to seal out any excess sounds. It also has an auto-adapt program that ensures the sound quality is maintained in different environments.
Audicus's most premium option, the Wave, is for older adults who enjoy using smart devices to stay connected with the outside world. It can easily connect with your TV, laptop, or smartphone to stream content in real-time, and it also can be purchased with rechargeable batteries.
Maintenance Tip: Invest in the maintenance of the Clara and Wave as their in-ear speaker can easily get damaged from moisture and ear-wax accumulation.
Audicus Accessories
To further improve the quality of the Audicus hearing experience, the brand has a range of useful add-ons that can be purchased through their website.
Classic Remote and Bluetooth Remote
The Classic remote, which you can pair with Dia II and Clara, lets you control your hearing aid's volume and programs. This device costs $199, and for an extra $349, the Bluetooth remote lets your hearing aid connect to smart TVs, laptops, and smartphones.
TV Connector
This $200 device automatically connects your Audicus Wave to any TV, stereo, or laptop in your vicinity. There is no need for the audio source to have Bluetooth capability. And it's more reliable and energy-efficient than using a Bluetooth connection.
UV Dry Box
If you wish to sanitize and remove moisture from your battery-powered hearing aids, this UV-powered dry box ($65) is the perfect option.
Other accessories sold on the e-platform are domes, ear tubes, ear wax guards, audio wipes, retention guards, desiccant drying capsules, Bluetooth charging docks, power packs, and charging cases.
Audicus Returns and Warranties
You can easily return all Audicus hearing aids within the 45-day trial period and get a full refund. The device even comes with a 12-month manufacturer's warranty that covers all manufacturing defects. Lost hearing aids will be replaced by Audicus for a one-time fee of $199 per device. What's more, you can trade in damaged hearing aids towards a new purchase (worth $300+) and get $50 to $100 per device.
For complete coverage, however, you need to subscribe to Audicus Protect, costing $12 per month per ear for members or $259 every two years per ear. This covers one-time loss replacement, one-time damage replacement, and unlimited cleaning services.
In Closing
Typically, medical-grade hearing aids are expensive, and even though hearing is central to the wellbeing of older adults, these devices are seldom covered by health insurance. This is why Audicus's range of hearing aids, priced under $900 per ear, are ideal for older adults on pension or retirement income. Alternatively, if you would like to try out their hearing aid for a few months, choose the Audicus membership that lets you rent out the device for as low as $39 per month per ear.
Audicus Frequently Asked Questions