Founded in 2011, Embrace Hearing is a direct-to-consumer hearing aid company that offers top of the line hearing aids at affordable prices. In this review, I'll let you know everything needed to decide if Embrace Hearing aids are right for you. We'll also take a closer look at some of the benefits of purchasing hearing aids online, how much the hearing aids cost, and how easy it was to go through the purchasing process with Embrace. Keep reading for all the ins and outs.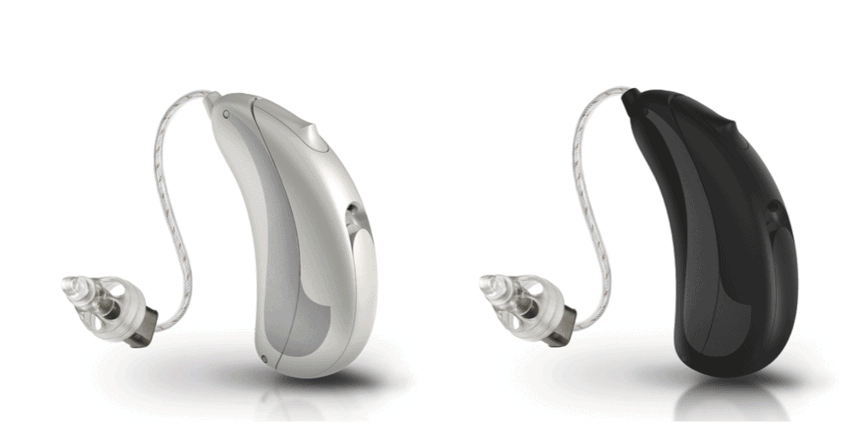 Pros & Cons of Embrace Hearing Aids
For those of you who just want a quick overview, here are my main takeaways when it comes to Embrace Hearing Aids.
The Pros
Affordable: Hearing aids are one of the more expensive medical devices, and the cost is the main reason why people who need hearing aids decide not to purchase them. Compared to other hearing aids, Embrace Hearing is one of the more affordable providers. The average cost of hearing aids is between $1,000 and $4,000, with some costing closer to $6,000. Embrace hearing aids, however, cost anywhere from $599 to $949.
Payment Plans: Embrace Hearing offers a few different payment plan options, so you don't have to shell out as much money at one time. To take advantage of the payment plan, you will have to sign up for CreditCare, which provides interest-free plans and was a simple process that can be done right on the company website. Embrace offers three different payment plans: a 12-month, 24-month, or 36-month financing option.
45-Day Money Back Guarantee: Having more than a month to test out the hearing aids was something I found appealing. Since different places have different sound levels, I wanted to make sure I had the chance to experience a variety of locations. For example, when I'm home in a quiet space, I have an easier time hearing than when I'm at a restaurant because of the additional surrounding noise. Therefore, having time to test these out while knowing I could get a refund made it easier for me to pull the trigger on purchasing.
Bluetooth Capabilities: Two of Embrace Hearing's models, the X-series and the A-series, have Bluetooth capabilities. The X-series has Bluetooth built into the hearing aids, while the A-series require a remote, which can be purchased and hearing aids. Bluetooth was one of my favorite features because it allowed me to connect my hearing aid to my phone and television so I could better hear those devices.
The Cons
No Local Repair Options: One of the ways Embrace Hearing gets prices down without sacrificing quality is through selling online. That being said, the only way to get the hearing aids repaired is by shipping them back to the manufacturer. If your hearing aid breaks during warranty, shipping is free for repairs, and if it happens after your warranty expires, Embrace Hearing will provide an estimate for the repair work. While this may seem like a pain, the good news is as long as you take care of your hearing aids, they usually don't require major repairs.
No Retail Facilities: Because there are no retail facilities, Embrace Hearing doesn't offer in-person hearing tests with audiologists. To figure out which hearing aid is best for you, you should go to a local audiologist and get a hearing test in a soundproof room. If you contact Embrace Hearing, they will help you find a local audiologist. Additionally, Embrace Hearing offers customers the opportunity to take a hearing test within the comfort of their own homes. While I do recommend getting a hearing test by an audiologist, this can be time-consuming and appointments are sometimes hard to come by, so an online hearing test through Embrace is another option.
Buying Embrace Hearing Aids
The Embrace Hearing website was the first stop in my purchasing journey. When I arrived at the website, I could tell it was going to be user friendly and straightforward.
Embrace Hearing's Online Hearing Test
Age-related hearing is one of the most common ailments that come along with getting older, with approximately one in three Americans ages 65 to 74 experiencing hearing loss. While I'm not in that age category, most of my clients are, and as a caregiver, I can see how difficult it is when my client is struggling to hear what I'm saying. This is why I always stress the importance of finding a high-quality hearing aid.
When it came to purchasing my hearing aids, the first step was to take a hearing test. Embrace Hearing recommends seeing an audiologist for this, but for those who can't get to one, they also offer an online hearing test.
The free hearing test was simple to access. I had to input my name, email address, and phone number, and it took me to the beginning of the test. Once I completed it, which I did in a quiet room with headphones, I was able to upload the results to the Embrace Hearing website.
A couple of hours after I uploaded my results, I got an email with personalized recommendations. Because I had a few questions, I decided to call the phone number that was at the top of the website, and the customer service representative helped me navigate through the next steps. I got my results around 7:00 pm, but because Embrace hearing has 24/7 customer support, I could get my questions answered that night—I didn't have to wait for them to open during regular business hours. This gave me peace of mind that if I had an issue with my hearing aid once I got them, Embrace could assist me at any hour.
It's important to mention, mild to moderate hearing loss is often a result of older age, but occasionally, it can be a result of something more serious, such as an infection, and that won't be diagnosed through an online hearing test. Therefore, if you are experiencing hearing complications, I recommend trying to get into an audiologist. If you do get a hearing test from an audiologist, you can upload those results to Embrace Hearing and still purchase your hearing aids through this company.
Purchasing My Hearing Aid
I ended up picking the X-series X-920 hearing aid model, which is Embrace Hearing's mid-line model. Before purchasing, I was able to compare the features and pricing of that model to the A-series and C-series, so I knew I was making the right choice.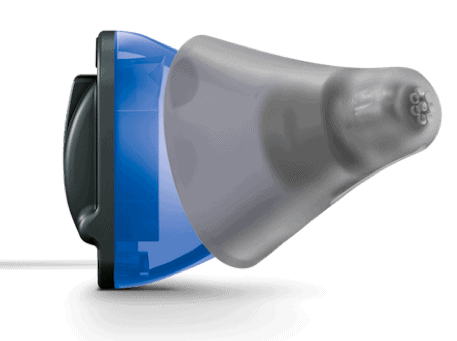 In addition to comparing the models of Embrace Hearing, I was also able to compare the X-series to other similar hearing aids on the market through the Compare Embrace With the Competition tab on the website. I ended up comparing Embrace Hearing's X-series to Beltone and Lively hearing aids; Embrace was the least expensive out of the three.
Once I finalized my choice, I went through the online process of picking a hearing aid for both ears (you can buy for just the right or just the left if you don't need both), the disposable battery power option, and the color. I then added the hearing aids to my cart and checked out, paying a total of $2,398. I decided to pay in full, but if I wanted to apply for a payment plan, that would have started at $84.19 per month, depending on the plan I picked.
Embrace Hearing Aid Models
Like I said, I went with the X-series, which is one of three series offered by Embrace Hearing. Before I get into the details about my model and my experience with the hearing aids, let me give you a glance at the three models Embrace offers.
Embrace Hearing Aids Comparison
| | A-Series | X-Series | C-Series |
| --- | --- | --- | --- |
| Description | High-quality performance without Bluetooth integration—wraps around the ear | Exceptional clarity with two-way integrated Bluetooth—wraps around the ear | Top of the line hearing aid for mild to severe hearing loss—fits fully inside your ear, making it virtually invisible |
| Warranty | Two years | Three years | Three years |
| Power Source | Battery-powered(size 312 batteries) or rechargeable options | Battery-powered(size 312 batteries) or rechargeable options | Battery-powered (size 10 batteries) |
| Power/Volume Control | Button on hearing aid or optional remote | Button on hearing aid or smartphone app controls | Smartphone app or remote controlled |
| Bluetooth Capabilities | Optional remote to add Bluetooth | Integrated streaming—no remote needed | N/A |
| Price Per Ear | Starts at $599 | Starts at $899 | Starts at $949 |
X-series X-920 Hearing Aid
As soon as I opened the box, I immediately knew the quality of this hearing aid was up to par with the more expensive ones I've seen sold through audiologists. The hearing aid felt solid and sturdy so I knew it wouldn't fall apart, yet still felt light so I knew it wouldn't bother me when wearing them for long periods.
My X-Series hearing aids had 20 programmable channels; the company used these channels to program my hearing aids based on my hearing test. This was great for all kinds of hearing loss, but if you happen to have severe or profound hearing loss, you may want to consider one of these top choices for profound hearing loss.
Because the X-920 came with integrated Bluetooth, I could hear my friends and family when talking on the phone. I also watched my favorite sitcom, Schitt's Creek, at a reasonable volume because I could hear it directly through the hearing aid.
Since I already have a hard time remembering to charge my cell phone, I opted for the battery option of the model because I didn't want to get caught with a dead hearing aid, and it was slightly smaller than the rechargeable model. A year's worth of hearing aid batteries cost about $30, so this was an added cost I felt comfortable with. There is the option to purchase a rechargeable hearing aid in this model, but the hearing aids themselves are a little pricier, and the rechargeable battery is about an extra $100 per hearing aid. The batteries in the rechargeable model take about three hours to charge and last for about 24 hours.
Embrace Hearing Accessories
There are a handful of accessories that went along with the X-series models. Take a look at some of the add-ons you could get for both the X-series and the other Embrace models.
Domes: These are easy and necessary to replace every three to four months, so you get the best quality out of your hearing aids. Each pack of domes includes 10 replacements and costs $10.
Wax Guards: Like domes, wax guards should be replaced every three to five months, or whenever you notice your hearing isn't as clear. Wax build-up is one of the most common causes for hearing aid repair, so you must take care of this. Wax guards cost $12.
Batteries: These batteries are made by the same German manufacturer that the hearing aids are made by, and they're what the company recommends. That being said, you can get the same size hearing aid batteries elsewhere, like from Amazon, for example. The Embrace batteries cost $25 for a pack of 60 batteries.
TV Streamer: This is what allowed me to pair Bluetooth from my television to my hearing aids. The TV streamer, which costs $199, allowed me to adjust my hearing level without impacting the volume level those around me heard.
Smartphone App: The smartphone app is free for iPhones and Android users. It enabled me to make hands free phone calls and adjust the volume of my hearing aids.
Remote with Bluetooth: My model came with Bluetooth, so I didn't need this; however, this is necessary if you get the A-series model and want Bluetooth. It costs $299 and is compatible with all Bluetooth enabled devices.
Warranties, Shipping, and Returns
Shipping takes between five and seven days, and I got my package on day six. The company allows you to return the hearing aids at any point during the 45-day trial at no cost. They don't even charge for a restocking or programming fee, which is unique to Embrace and something you won't find with local clinics or some online retailers.
The warranty lasts anywhere from two to three years, depending on the model, and is the longest warranty for online retailers – Audicus, for example, only offers a one-year warranty. Embrace Hearing's warranty includes all manufacturer defects, battery replacements, and worn receivers. Additionally, during the warranty period, there is no extra cost for reprogramming or sound adjustments, and if I misplaced or irreparably damaged one of the hearing aids during my warranty period, I could get a new one at half price.
Final Thoughts
Overall, I was impressed with Embrace Hearing aids because of the high-quality and lower cost. With their up-to-date technology to include Bluetooth capabilities, their long warranties, and their variety of models, Embrace Hearing is a great option for those who need hearing aids but don't want to deal with the higher prices that come from purchasing from a clinic or retail store.
Frequently Asked Questions