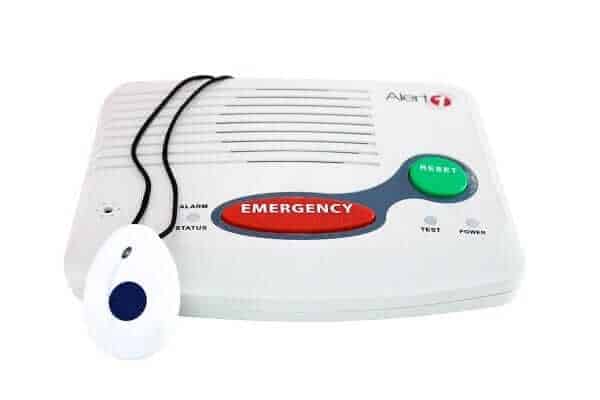 Alert 1 Medical Alert Systems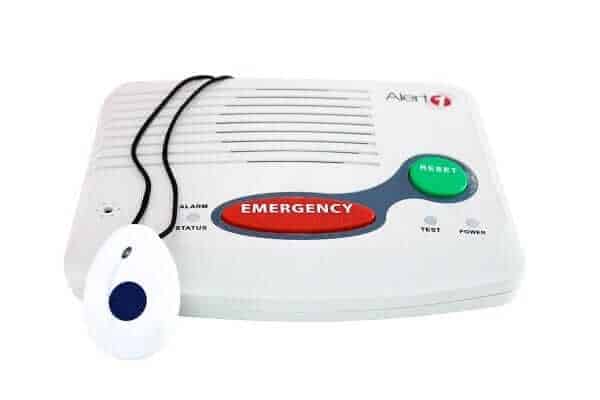 For more than 30 years, Alert1 has been one of the most innovative, decorated, and certified companies in the medical alert space. Perennially on the vanguard of new technology in the field, this Pennsylvania-based operation offers one of the most varied product lines in the field of medical alert devices. In short, Alert1 has something for everybody.
But what sets Alert1 apart from their competitors is a dedication to their customers. By avoiding long-term contracts, and offering multiple plan and shipping options, as well as fully certified 24/7 monitoring services in nearly 200 languages to all 50 states, Alert1 gives their customers the ability to customize their service to meet their unique needs. And, of course, all with the goal of protecting older loved ones by giving them the support they need to lead an independent life both in the home and on the go.
In this article, we're going to take a comprehensive look at Alert1. I'll discuss the company, their services and product offerings, and I'll even break down some of the unique features that set Alert1 apart from the pack. Let's get into it.
First Impressions of Alert1
For most customers (myself included!) the first point of contact with a medical alert company is their website. There are many times when I find myself struggling with a company's website; either the information provided is confusing, or there isn't quite enough information to make an informed decision about a product or to feel confident that I know they can deliver on their service.
Thankfully, Alert1 offers one of the most robust repositories of information among medical alert companies. From comprehensive buying guides, to extensive frequently asked questions sections, Alert1 does a lot of the heavy lifting necessary for customers to feel confident that they're getting the right system for them. Individual system product pages are descriptive, offering all the information necessary to know what you're getting when you buy.
Beyond just the website, Alert1 goes even further to help inform customers. With multiple help phone numbers for technical support, customer service, and sales, as well as email options and a live chat, I always had a way to reach someone at the company if I had a question or concern, which I found reassuring.
A Closer Look at Alert1's Systems
Alert1 offers five distinct medical alert systems, each for a different type of customer. One great thing about the company is that, no matter which system you choose, there are no long-term contracts required and no required equipment purchases. By offering flexible subscription plans, Alert1 keeps costs customizable and lower for customers willing to make longer-term commitments on their system. Not only are the plans flexible, but Alert1 is one of the few medical alert companies that offer discounts for buying two systems at once, which is a great option for couples who wish to use the same base unit.
Savings Tip: Alert1 offers multiple ways to save on their systems. From discounts on customer referrals to savings for AARP members and frequent daily deals, there are a number of options for keeping costs down on your purchase. Always check if you qualify for discounts by speaking to a sales representative.
Let's take a look at the different systems and see how they compare.
Home Medical Alert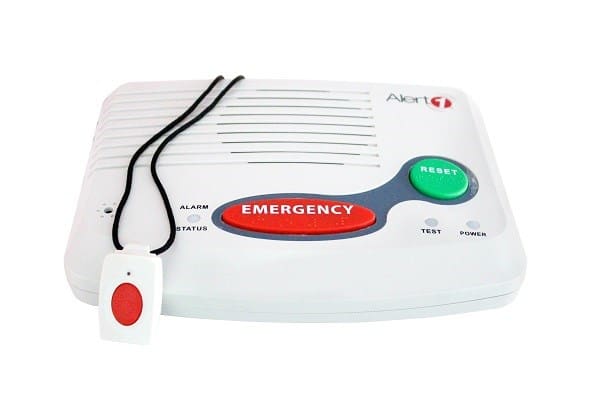 Alert1's Home Medical Alert is their most stripped-back, classic medical alert system option. Operating on a home's landline, this simple system comes with a base unit with a large emergency call button and a pendant to press in an emergency. Once pressed, the unit springs to action, connecting the user with an operator who can assess the situation and dispatch appropriate response teams. The showerproof, lightweight pendant can be used upwards of 650 feet from the base unit (based on a clear line of sight), which is ample room to cover most homes. This no-frills system is Alert1's most cost-friendly option, starting at $16.95 per month.
Home Alert Fact: Ten help buttons can be used with a single Home Medical Alert system, making it a great, cost-effective option for assisted living facilities looking to have multiple residents on one medical alert system.
Home Fall Detection Medical Alert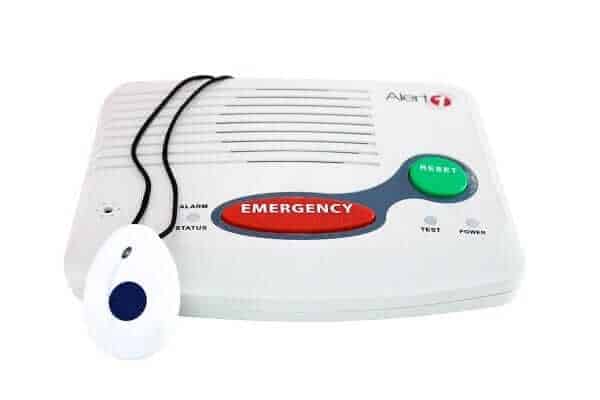 This system takes the Home Medical Alert System and expands upon it, offering fall detection, which contacts the monitoring center when a user falls. The center can also be called when the pendant button or the base unit button is pressed. Falls are the leading cause of injury in older adults, so this feature can be a real lifesaver. The larger upgrade, however, is the fact that the Home Fall Detection Medical Alert doesn't rely upon a landline to function, instead working on a cellular network. Starting at $27.95 per month, this system is slightly more expensive than the basic Home unit, and its range is slightly downgraded, offering only a 400-foot range, but the added features make it one of Alert1's most popular systems.
Kelsi: On-the-Go Medical Alert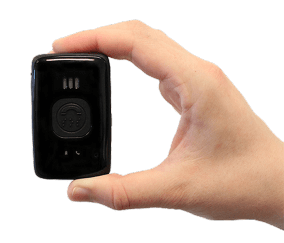 Some people demand more freedom from their medical alert system, and the Kelsi offers that in spades. This system works on a cellular network, with all of the functions of the medical alert system housed in a small pendant that can be worn as a lanyard or on a belt clip. Because it's a self-contained unit, it doesn't have range limitations. The two-way communication device is all contained within the showerproof mobile pendant, so there isn't a need to speak into a base unit to communicate with the monitoring center. What's more, the device has a 30-day battery life which is ideal for longer trips. Overall, the Kelsi is a great on-the-go system for any older person who needs a little extra assurance when running errands or spending time away from home. This system starts at $33.95 per month.
Kelsi Pro: On-the-Go Fall Detection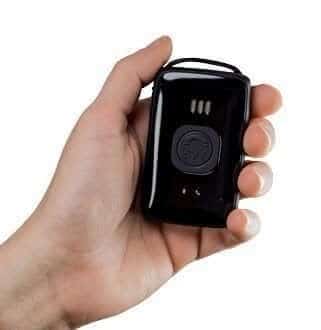 The Kelsi Pro takes the same mobile power as the original on-the-go system and adds fall detection, making it Alert1's most advanced system. The Kelsi Pro relies on cellular, GPS, and Wi-Fi connectivity to power its fall detection services, which allows the emergency response operators to ping the device's location in the event of a fall. Like the original Kelsi, the device features two-way communication directly from the unit, but unlike the Kelsi, the Pro only has five days of battery life between charges. Plans for the Kelsi Pro start at $43.95 per month.
On-the-Go + Home Fall Detection Bundle
While the other alert systems offered by Alert1 focus on either at-home or on-the-go service, this bundle has something to offer for each. The system features a Home Medical Alert landline unit with fall detection, as well as the Kelsi Pro mobile system with fall detection. Starting at $49.95 per month, this bundle is Alert1's most expensive system; however, it offers a great option for older people who may want an on-the-go system for running errands but still like the reliability of landline service while at home.
System Features Breakdown
Now that we've talked about the systems, let's see how they compare to one another based on their sets of features.
| | Home | Fall Detection | On-the-Go | On-the-Go Fall Detection | On-the-Go and Home Fall Detection |
| --- | --- | --- | --- | --- | --- |
| No Landline Required | No | Yes | Yes | Yes | No |
| 24/7 Emergency Coverage | Yes | Yes | Yes | Yes | Yes |
| Unlimited Button Presses | Yes | Yes | Yes | Yes | Yes |
| Free Equipment Use | Yes | Yes | Yes | Yes | Yes |
| Works In & Around the Home | Yes | Yes | Yes | Yes | Yes |
| Coverage in All 50 States | Yes | Yes | Yes | Yes | Yes |
| Call 9-1-1, Family, or Friends | Yes | Yes | Yes | Yes | Yes |
| Works On the Go | No | No | Yes | Yes | Yes |
| Fall Detection | No | Yes | No | Yes | Yes |
| Speaker in the Button | No | No | Yes | Yes | Yes |
Alert1 Plan Pricing
One of the more unique aspects to Alert1's approach to medical alert systems is their flexible pricing options. Each of the company's five systems has four pricing plans: 36 for 30, Annual, Quarterly, and Monthly.
Alert1's system plans reward longer-term commitments. So if you're a customer that envisions using a medical alert system for a year or more, you may want to consider a more extended plan to save on monthly costs. For example, their 36 for 30 plan is a three-year commitment to a system, but includes the equivalent of six months of free service. Their annual plan also features two free months of service if you're able to commit to the full year.
One nice benefit with Alert1 is that regardless of the plan there are no additional hardware costs, and there is free shipping and no activation fees on all plans beyond monthly commitments. Additionally, Alert1 offers frequent promotions that extend free shipping and waive activation fees to all of their plans.
Let's take a look at how their plans stack up among their different systems.
| | Home | Home with Fall Detection | Kelsi On-the-Go | Kelsi Pro On-the-Go Fall Detection | Kelsi Pro On-the-Go and Home Fall Detection |
| --- | --- | --- | --- | --- | --- |
| Monthly Rate with 30 Month Plan | $16.95 | $27.95 | $33.95 | $43.95 | $49.95 |
| Monthly Rate with Annual Plan | $19.95 | $30.95 | $36.95 | $46.95 | $52.95 |
| Monthly Rate with Quarterly Plan | $25.95 | $36.95 | $42.95 | $52.95 | $58.95 |
| Monthly Rate with Monthly Plan | $28.95 | $39.95 | $45.95 | $55.95 | $61.95 |
How Alert1's Monitoring Works
Alert1's medical alert systems work by connecting people with an emergency command center that can assess the situation and dispatch appropriate parties. The activation method can be the detection of a fall or the press of a button on the base unit or pendant.
One great feature of Alert1 is that the user isn't limited to simply calling emergency response teams in the event of an emergency. On setup, different contacts can be designated as call recipients in the event that the system is activated. So, if a person has a trusted neighbor or a caregiver living nearby, they can be the point of contact for the command center if the system is triggered. This feature is a great benefit because it can cut down on response times if a caregiver is closer than emergency response personnel.
All of Alert1's senior care specialists and command center operators are based in the US, and their service extends to all 50 states. Both of Alert1's command centers are UL listed and diamond certified, which means their operators are rigorously trained to handle most emergencies. What's more, Alert1 offers support in 190 languages, which is more than half of the 350 languages spoken in the US, and a great feature for older people who feel more comfortable speaking in a non-English language.
Alert1's Add-Ons and Accessories
In addition to Alert1's five systems, the company also offers a host of other products that customers can use to bolster their systems. Let's take a quick look at their varied product offering.
Medication Reminder and Organizer: This no-frills automatic medication dispenser can be easily configured to deliver 28 doses of medication and can be programmed to offer four alerts per day. The device is tamper-proof and includes a 48-hour rechargeable backup battery for travel.
Voice Extender: This voice extender is made for use with Alert1's Home model and Home with Fall Detection. The device relies on a landline, and works to offer a clearer line of communication to the operator from more remote parts of the home in the event of an emergency.
Fall Protection Package: For older people who want a little extra assurance in their homes but may not want to opt for a fall detection system, the fall protection package is that little something extra. This kit features two motion sensor lights that can help illuminate a dark home as well as two easily mounted emergency buttons which can be placed at high-risk points in a home to give the user more options to trigger the system in an emergency. Nearly 22% of people 65 and older are in fair or poor health, so having some extra points to trigger the system is never a bad idea.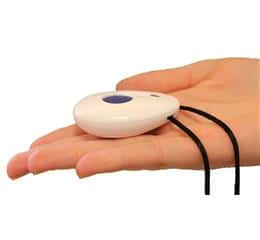 Mobile Fall Detection Pendant: This mobile emergency pendant features fall detection and two-way communication with emergency response. This pendant can be added onto your alert system and presents a great option for those looking for on-the-go monitoring but may have an at-home system.
Emergency Lock Box: An emergency lock box is an add-on that enables an older person to keep a set of keys on a home's entry point to assist medical personnel to enter the home in an emergency without having to leave doors unlocked all the time.
Wall-Mounted Emergency Button: This easily mounted button is used with Alert1's Home systems and can be placed at points of higher vulnerability in the home to trigger the system in an emergency.
Fall Detection Pendant: This additional button works with the Home Fall Detection alert system and can trigger the system when a fall is detected or the button is pressed.
PAX Plus Classic Wristband: This soft silicone wristband works with the Alert1 Mobile + Home Fall Detection System and can trigger the system with a push of the button.
Medical Alert Bracelet: This simple alert bracelet can be used with Alert1's home models to activate the system in an emergency.
Alert Pendant: Similar to the bracelet, this simple pendant connects to the Alert1 base unit and can activate the system when you need it most.
Advantage Plan: Since there is no requirement to purchase the equipment for Alert1's systems, the user is responsible for the devices. Alert1 offers quarterly, semi-annually, and annual protection plans on hardware which can cover costs of lost or damaged equipment without the user incurring out-of-pocket costs.
Surge Guard: A surge guard helps protect phone lines from electric surges that can affect the system's functionality.
Monitored Smoke Detector: For a monthly fee, this monitored smoke detector triggers your system in the event of a fire emergency, allowing response personnel to dispatch emergency response teams.
Kelsi Protective Case and Belt Adapter: This simple accessory enables Alert1's on-the-go models to be worn on a belt as opposed to wearing it simply as a lanyard.
Silicone Wristbands: In three colors, these stylish, silicone wristbands enable the alert pendant to be worn on the wrist, with a little added flair.
Medical ID Bracelets: Available in large and small, these bracelets hold patient information that could be vital for emergency response personnel.
Medical Alert Necklaces: Available in three styles, these pieces of jewelry are made the right size to fit Alert1's emergency button pendants.
Note: The Medical Alert Necklaces are not recommended for older people with pacemakers.
| Product | Price |
| --- | --- |
| Fall protection package | $200 |
| Medication reminder and organizer | $149.95 |
| Voice extender | $99 |
| Mobile fall detection pendant | $46.95 |
| Emergency lock box | $39.95 |
| Wall-mounted emergency button | $39.95 |
| Medical ID bracelet | $34.95 |
| Fall detection pendant | $30.95 |
| PAX plus classic wristband | $29.95 |
| Alarm bracelet | $19.95 |
| Alert pendant | $19.95 |
| Surge guard | $19.95 |
| Beaded necklace | $19.95 |
| Kelsi protective case and belt adapter | $9.95 |
| Silicone wristband | $9.95 |
A Couple Notes About Alert1's Terms
As previously stated, Alert1 customers don't own hardware outright, which makes the user liable for any damage that the system or its components undergo. That said, the company does offer protection plans which can help a user avoid out-of-pocket costs on damaged equipment.
One of the main selling points of Alert1 is that they don't lock customers into long-term contracts. Any of their services can be canceled at any time without incurring cancellation charges. There is a caveat, however, in that no matter the length of the plan the user chooses, the service must be canceled within 30 days of activation. So, for example, if a customer is paying for an annual plan and chooses to cancel the service three months in, they're still on the hook for the remaining nine months whether they want it or not.
Recapping Alert1's Medical Alert Systems
Alert1 is an established name in the medical alert system field for a reason. The company offers a customer-first approach to service that permeates through every level of their operation. Their website is full of great information to keep customers informed, they have multiple ways to reach the company if there are any questions, and their numerous, flexible plan options and wealth of products gives customers numerous choices to find the right system for their needs. While they may not have the same cutting-edge technology as a company like Medical Guardian, Alert1 offers high-quality, affordable systems for multiple types of customers.