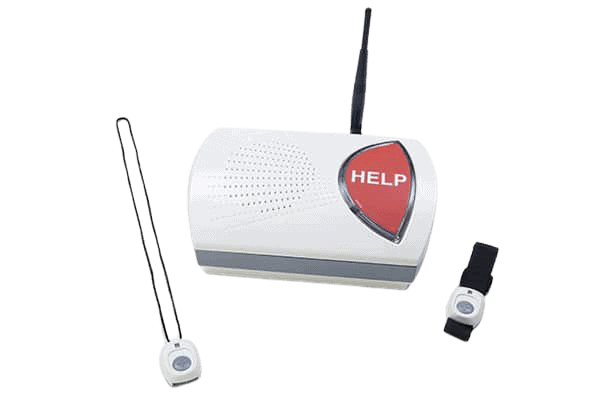 Connect America Medical Alert Systems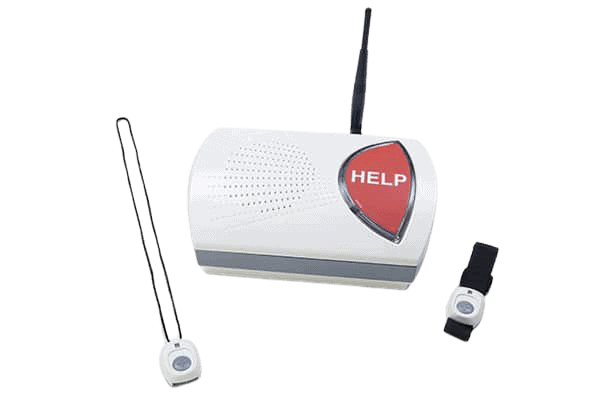 Headquartered in Philadelphia, Connect America is a health monitoring company that is trusted and recognized by the nation's healthcare providers. Having been in the business for over 35 years, it has grown to become the USA's largest independent provider of medical alert systems, with five regional and local field offices across the country. The company retails at-home and on-the-go devices that seek to keep the user safe in case of emergencies.
Want to know why there is considerable top of mind recall for Connect America when it comes to medical alert systems in the market today? Well, this is because of the significant experience the company has in personal emergency response systems (PERS). Being a pioneer in the space, Connect America has been working towards improving geriatric health since 1977. It also helps that the brand offers 24/7 nationwide support, via highly-trained USA-based agents.
Read on as I delve into the details of each of their medical alert systems. To offer a truly comprehensive guide, I will also compare Connect America's offerings with those of other medical alert companies. Together, we'll find out if Connect America has what you're looking for.
Why Choose Connect America?
One of the biggest reasons for the popularity of Connect America is that it offers a hassle-free product experience. Buying their products doesn't involve set-up costs, activation charges or long-term contracts. In fact, the equipment comes free of cost and you only need to pay a monthly, yearly, or semi-annual fee for the monitoring service.
The brand's full suite of offerings ranges from the basic landline-dependent PERS to devices that rely on an AT&T cellular connection. As an add-on service, you could also purchase the fall detection pendant that automatically alerts emergency call center agents in case the user falls and is unable to press the button on the medical alert device.
What's most unique about Connect America is that it is the go-to medical alert system for several hospitals and insurance providers. Their hardware is also the force behind medical alert companies of repute such as Medical Alert and CVS Medical Alert.
Things to Remember when Purchasing from Connect America
Connect America's services and devices can be purchased via authorized distributors and resellers. Several regional supermarket chains retail these devices, which is great for those who prefer to physically see the product before buying it. Connect America has also partnered with a network of insurance and senior service companies to make the medical alert systems more easily accessible.
Unfortunately, you cannot order directly from their primary website, nor does the portal share pricing details. However, you can always call their toll-free number to learn more and make a purchase.
Freebie Alert: With the annual subscription to any of their products, Connect America throws in a free lockbox and a month of monitoring. Also, shipping of the device comes at no extra cost with semi-annual and annual rate plans.
Connect America Systems
Connect America offers three different medical alert systems. Each of these options caters to a different level of independence in addition to different budgets. Here is a breakdown of these systems.
Pricing and Key Features
| Product variant | At Home Landline | At Home Cellular | On the Go |
| --- | --- | --- | --- |
| Monthly Plan | $22.95 | $32.95 | $37.95 |
| Semi-Annual Plan | $119.70 | $179.70 | $209.70 |
| Annual Plan | $219.45 | $329.45 | $384.45 |
| GPS | No | No | Yes |
| Two- way Speaker | Yes | Yes | Yes |
| Waterproof | Yes | Yes | Yes |
| Wireless connectivity | No | Yes | Yes |
| Key Features | Base unit and emergency button for the neck and wrist | Base unit and emergency button for the neck and wrist. | Base unit, emergency button for the neck and wrist, and a carrying case. |
Helpful Tip: Each of Connect America's devices comes with a lifetime warranty. Additionally, you can get a protection plan add-on for just $5, to help you save up to $350 in the event of a lost, stolen, or damaged system.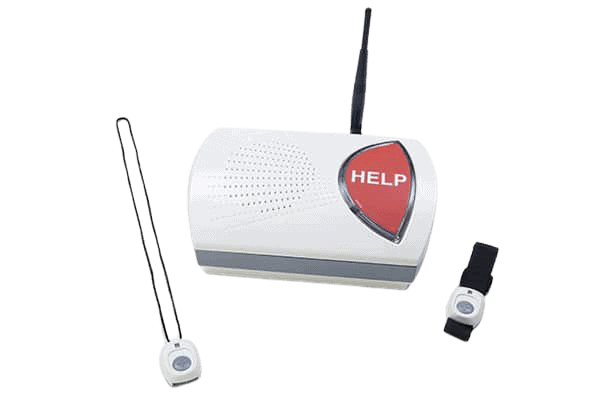 At Home Landline
All you need is a landline phone, digital phone or VoIP system to get started with the At Home Landline model. It functions within homes across all 50 US states, as well as Canada, Puerto Rico and the Virgin Islands. Offering a range of up to 400 ft, this is perfectly suited to those older adults who prefer to stay at home. This model comes with a base unit that needs to be directly connected to an electrical socket and has a backup battery that can last up to 36 hours. It also has an emergency button that can be worn with a neck or wrist-band. With packages starting as low as $18.29 per month, this product is the most affordable in Connect America's suite of medical alert options.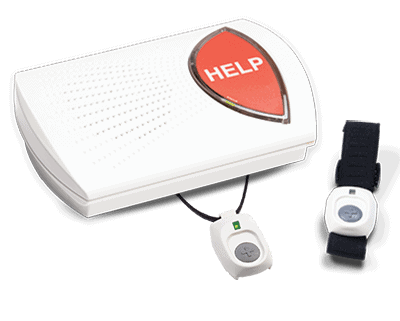 At Home Cellular
This model is for people who prefer to stay at home but do not have a landline phone connection. The At Home Cellular system, powered by an AT&T cellular connection, comes with a wall-mounted base with two-way speakers and a wearable transmitter (with panic button). The emergency button on the base device even has labels (emergency", "home" and "clear") written in braille. This system starts at $27.45 per month. Much like the landline option, this system also has a backup battery.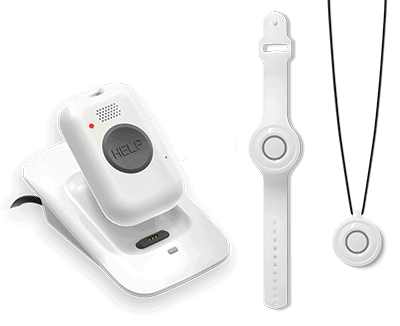 On the Go
For older adults who live a more active lifestyle, Connect America's On the Go system is an ideal option. As long as your travels fall within AT&T's cellular range, this medical alert system will keep you connected to emergency support. This waterproof wearable starts at $32.04 per month. Additionally, the cellular service is included with your subscription, meaning you won't need to apply for a separate phone connection.
This mobile system has a small, wearable base unit with two-way talk and GPS, allowing you to get in touch with the monitoring center in the event of an emergency. Your On the Go system can be worn on the wrist or around the neck, and the base unit can be placed in a carry pouch. The base unit has a user chargeable battery that lasts for five days after each charge, while the help button's non-chargeable battery needs to be replaced once it discharges. Luckily, this battery should last for a couple of years.
The device also comes with a charging cradle and power cord. You may choose to add fall detection option to any of Connect America's systems for a monthly extra cost of around $10. This price is similar to that charged by other popular systems such as Medical Guardian.
Remember: Connect America ships its devices really fast. Depending on the shipping option you choose, you could get the system delivered the very next day or within a maximum of seven days.
Additional Connect America Offerings
Connect America Monitoring
Connect America takes its monitoring quite seriously. Their subsidiary company Medical Alert offers UL certified and interlinked monitoring centers that ensure quality of the service is strictly maintained. These USA-based units are available 24/7 to answer users' distress calls, in case of falls or any other type of emergency. The moment you press the help button on your medical alert device, highly-trained and multilingual operators will be at your service. Thanks to Connect America's average response time of 20 seconds, you can be sure that help is made available immediately.
To make sure that communication is not a barrier, their care agents are trained to use an International Language Line that translates conversations into 140 different languages, in real-time! Once the agents assess your need, family members or emergency services are contacted. They will use GPS technology (in the 'on-the-go unit') embedded in your device to triangulate your location and send help. If necessary, the operators will also stay on the call until help arrives.
Automatic Fall Detection
As you age, you realize that falls can be quite dangerous and more frequent, especially since 80% of seniors have one or more chronic conditions. Even more dangerous is if the fall-related injuries are not looked into immediately. Understanding this fact, Connect America, for about $10 per month, offers a fall detection pendant that can be synced with your medical alert system. This device is waterproof too, which is important for slips or falls in the bathroom.
I would recommend paying the extra $10 for this pendant which can end up being quite handy when a loved one is unable to activate the emergency call by pressing the red button on the device. Programmed with sensors to identify the falling motion, the fall detection pendant immediately connects users to the emergency response center in the event of a fall. Thanks to this functionality, even if you live alone, your emergency contacts and medical response team will be alerted instantly in case of a fall.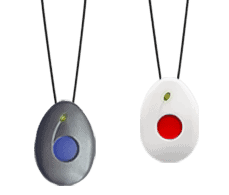 Medical Alert Connect Mobile App
Did you know that one-third of older adults live alone? From a healthcare perspective, this can be quite stressful for them and their loved ones. Caretakers who wish to bridge the geographical divide can make use of the Medical Alert Connect mobile app. This free app, available for both iOS and Android devices, will deliver regular updates about the wellbeing of the older adults in their care. Upon clearance from the medical alert system subscriber, the authorized caregiver gets access to the device's status, contact list and testing schedule.
The caregiver gets notified every time the user activates the emergency response or runs device tests. They can even get in touch with the emergency call center via the app. According to the brand website, Connect America plans to add location monitoring functionality to the app soon.
Know The Fine Print
The medical alert subscription can be canceled anytime, by just dropping an email to the Connect America customer care center. No cancellation fees will be charged. Those who are unsatisfied with the product can return it to Connect America, and take advantage of its 30-day money-back guarantee. You will receive a full refund minus the shipping cost, provided the device is returned without any damage. As with most other brands, for any returns after the trial period, the refund for unused services will be on a pro-rata basis.
Bottom Line
Functional and competitively priced, you can get a Connect America system for as low as $18.29 per month. The At Home and On the Go devices are quite sturdy and light, with all the basic features that are required of a medical alert system. All three models come with the option of adding on the fall detection feature. What's more, it's great that both the 'at home' devices have a 36-hour battery backup. This is great for times when the electricity supply is erratic.
Of course, there are some drawbacks. Unlike MobileHelp and Bay Alarm Medical, Connect America doesn't offer too many variants and add-ons. Even their caregiver app is quite simple in its functionality and doesn't even have location monitoring yet. Also, I would love to see future models equipped with the latest technology such as motion sensors, bed sensors, and door contacts.
Still, for those of us looking for a solid medical alert system at an affordable price, Connect America has got you covered.