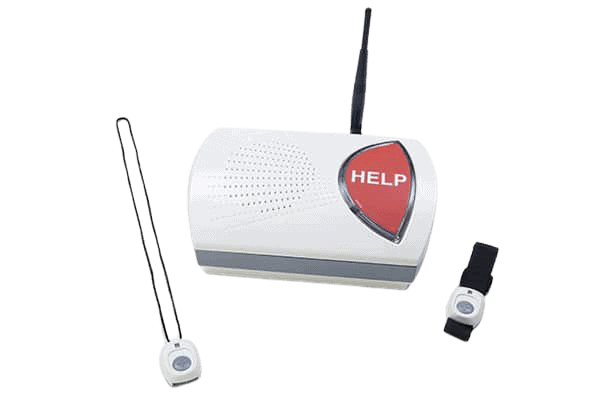 When it comes to a medical alert system, I don't want to take any chances, which is one of the reasons why I'm interested in Connect America. They've been in business for over 35 years and are the largest independent provider of Personal Emergency Response Systems (PERS), otherwise known as medical alert systems, in the United States. Medical alert systems are one of my favorite types of devices for seniors. They allow seniors to live independent lives while still retaining their physical safety by staying connected to emergency personnel at all times. That's especially important if you live in the United States like me, where seniors are more likely to live alone than in any other country on the planet. Let's see if Connect America has what it takes to keep seniors safe and sound, while still allowing for all their regular activities.
Connect America: What Are My Options?
Connect America divides its medical alert systems into two main categories, at home, for seniors that spend most of their time in their houses, and on-the-go, ideal for more active seniors that spend time outside of their homes.
At-Home Systems
Landline system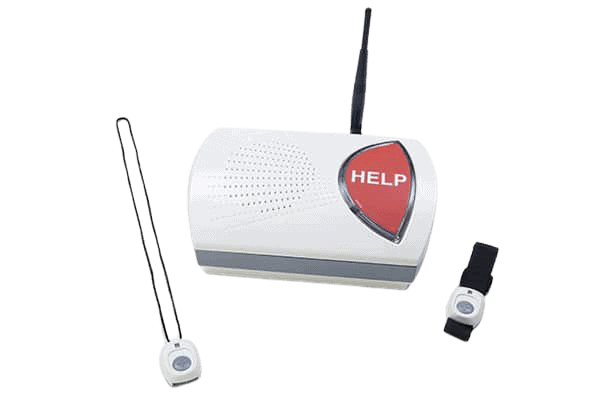 For those of us that still have landlines in our homes, this system is for you. It includes a base unit plus a wrist and necklace pendant, both of which are waterproof. Fall detection is an option, as well, which I recommend as one in three people 65 or older fall each year. Although the base unit plugs into the wall, if the power goes out, it will stay on, as it comes with a backup battery.
Cellular System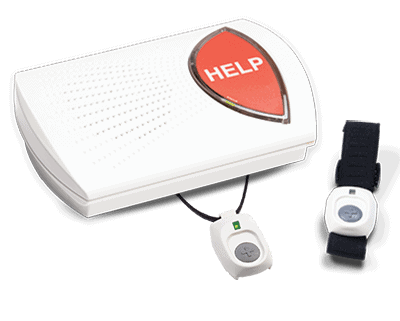 If you're like the majority of Americans who've done away with their landlines, the cellular at-home system is for you. It works on AT&T's wireless network and includes a base unit plus a wrist or necklace button, both waterproof. Of course, you can add fall detection if you want, and like the landline system's base unit, the cellular's system also has a backup battery.
On-The-Go Systems
Mobile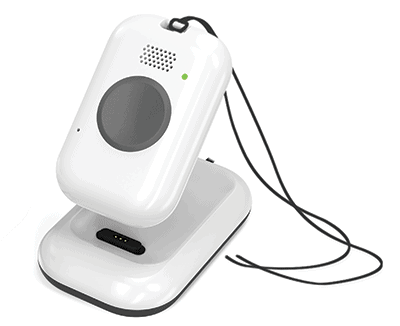 More active seniors will appreciate the mobile package, which consists of a necklace pendant and its charger. Like the at-home systems, it has optional fall detection, a two-way speaker, plus a waterproof design. The pendant lasts up to five days from a single charge and even comes with GPS so the emergency personnel can easily locate the senior. They'll be able to speak to the monitoring center via the pendant's speaker and microphone. Getting lost could be a sign of memory loss, so it's good to prepare for that sad possibility. The senior also benefits from AT&T's large cellular network.
Tip: You can't use the Mobile system if you have a pacemaker or a defibrillator; instead, opt for the Mobile LTE system.
Mobile LTE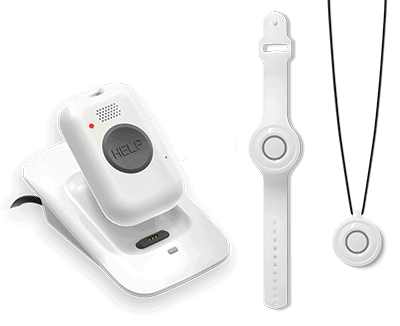 The LTE package is exactly the same as the Mobile package, except it adds on a watch and necklace pendant and works with someone who has a pacemaker or defibrillator.
On-The-Go Lite: Strangely, this system isn't on Connect America's website, but a saleswoman told me about it over the phone. She explained to me that if I wanted a smaller, more lightweight pendant that I could use anywhere, the Lite would be a good choice for me. The only disadvantage is that its battery life is two days compared to five days of the other mobile systems. But, she continued, if I charged my pendant every night, it shouldn't be a problem.
More Connect America Products
Connect America offers a few more products that, while they aren't directly connected to their medical alert systems, could also be super helpful for seniors. Here's what they had for me:
Fall Detection Pendant
To get fall detection from Connect America, I had to buy a separate pendant, which works with all of their systems. It's a waterproof necklace that can tell when falls have occurred, so even if the senior can't reach the button, emergency personnel will still be alerted. Note that no fall detection pendant works 100% of the time, but considering the likelihood of a fall, I definitely recommend investing in this pendant.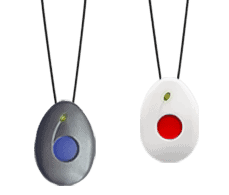 MedReady
Many seniors have trouble keeping track of their medications. That's a problem, as people 45 and above take an average of four pills per day. If you're worried about the seniors in your life accidentally skipping their meds, ask the representative on the phone about the MedReady, a device with 28 compartments for pills. With a tamper-proof lock, the MedReady only opens when the senior is supposed to take their medication, calling, emailing, or texting them at the proper times in addition to sounding reminder prompts. The MedReady connects to a cellular network and also has a backup battery in case of a power outage. I'm sorry to say that I couldn't get a price for this device, as it's not listed online, and the woman I spoke to wasn't even aware it existed. Hopefully, you'll speak to someone that's aware of MedReady, as it seems like a pretty useful device.
Lockbox
Another product not listed on their website, the annual plan throws in a free lockbox. Lockboxes are pretty self-explanatory. They go around a front doorknob, and they only open when you enter the correct code. Inside the boxes are keys to the door. This device prevents emergency services, like police officers, from having to break down doors, which is a nice touch.
Note: You'll need to buy a separate fall detection pendant from Connect America, but it'll work with any of their systems.
Special Note: Medical Alert
It's a bit confusing, but after reviewing Medical Alert, I realized it's a separate system available from Connect America, although it's not linked anywhere on their website. Although they're technically one in the same company, Medical Alert's monthly prices are higher, ranging from $32.05 to $37.95 a month compared to $19.95 to $44.95 from Connect America. Both websites have cellular and landline options with optional fall detection for $10 more per month, but while Medical Alert only offers monthly plans, Connect America tacks on quarterly, semi-annual, and annual plans (although the rate doesn't decrease with a longer contract).
Monthly
Semi-Annually
Annually
Free Shipping

No

Yes

Yes

1 Month Free

No

No

Yes

Monthly Price
$37.95
$34.95
$32.04
Total Amount Billed
$37.95
$209.70
$384.48
Total Savings in Billing Period
$0.00
$18
$70.92
Items Included in the Package
– MobileElite Bracelet
– MobileElite Button (Button Only)
– MobileElite Cradle
– MobileElite Lanyard
– MobileElite Pouch
– MobileElite Power Adapter
– MobileElite Bracelet
– MobileElite Button (Button Only)
– MobileElite Cradle
– MobileElite Lanyard
– MobileElite Pouch
– MobileElite Power Adapter
– MobileElite Bracelet
– MobileElite Button (Button Only)
– MobileElite Cradle
– MobileElite Lanyard
– MobileElite Pouch
– MobileElite Power Adapter
– Lockbox
But the big advantage of Medical Alert is that they have quite the website, with prices listed and even an extensive online help center. This information is crucial, as you can order your system or get help online and in a flash. They even have a mobile application in the Google Play store called Medical Alert Connect. On it, users can manage their care with their families, creating profiles for different family members and friends so that they can track the user through GPS. While I wasn't able to find an iOS version, Android users will love this aspect of Medical Alert. Connect America, on the other hand, doesn't have a mobile application at all, which is more typical of medical alert systems. But if you want friends and family to join in on a user's care network, the Medical Alert Connect app will make this easy, for Android users, at the very least.
Even though Medical Alert's monthly pricing starts at a higher rate than Connect America, I would check out their website before I did Connect America, as it's much easier to navigate with superior customer support, not to mention a great Android app.
How Much Does Connect America Cost?
Connect America doesn't make their pricing clear in the slightest. There are actually no prices whatsoever listed on their website, so to find out, I had to email, then call, then wait for a callback which never came, then call again. Fortunately for you, I've collected all the information straight from the source, namely the saleswoman I spoke to on the phone who explained everything.
| | Monthly Price | Monthly Price with Fall Detection |
| --- | --- | --- |
| Landline | $19.95 | $29.95 |
| Cellular | $27.95 | $37.95 |
| Mobile | $29.95 | $39.95 |
| Mobile LTE | $34.95 | $44.95 |
Note, I could choose between paying monthly, quarterly, semi-annually, or annually, although there were no discounts on the monthly rates if I signed up for an extended period. However, if I went with the annual package, I would get some nice add-ons, like a free protection plan, normally $5 a month, as well as free shipping, which would've cost me $14.99, and even a free lockbox. Plus, if I paid annually, I would get one month free.
However, for my testing purposes, I went with the monthly price, which for me was $34.95 a month. After I added fall detection, which costs $10 a month when added to any system, my final number was $44.95 a month, which wasn't bad. Paying $10 a month for fall detection is actually the industry average, although some companies like LifeFone charge half that. Overall, Connect America's prices are on par with the majority of the best medical alert systems on the market today. Learn more about what you'll pay on our pricing page for Connect America.
Pros and Cons
Let's cut to the chase. After ordering, setting up and testing out Connect America, here are my key takeaways:
What I Liked About Connect America
Cellular and landline options: You don't need a landline to use Connect America; if you don't have one, you can rely on AT&T's cellular network (even if AT&T isn't your cellular provider!).
Fall detection available: For $10 a month, I could've added fall detection onto any of my systems.
Waterproof devices: Stay protected even in the shower or bathroom.
My favorite things about Connect America were their systems themselves, along with the number of options I had. Whether you're a senior who stays at home or a more active senior who's out and about, Connect America has a system that will fit your needs.
Did You Know: Falls in the bathroom are twice as likely to result in injury as opposed to falls in the living room, making waterproof pendants or wall buttons a necessity.
What I Didn't Like About Connect America
Website: Connect America's website lacked a lot of basic information, like pricing, which forced me to email and call their customer support.
No online help center: My only options for getting help were calling or emailing; Connect America's site lacked user guides, FAQs, and user forums of any kind.
Buying process: I wasn't happy with my experience buying the Connect America system, which included speaking to pushy salespeople who weren't very straightforward about their pricing.
In a nutshell? Connect America's website made it challenging to parse out basic information about their systems, like their pricing, return policy and warranty, and ordering required speaking with salespeople over the phone, never a favorite activity of mine.
Customer Support, Or Lack Thereof
Not to be too negative, but I found Connect America's customer support to be completely underwhelming. When I had a question about their monthly pricing before I called in to order my system, I only had three options: either fill out a form on their website, call them, or email them. Feeling anti-social, I decided to email them and quickly received a response to call them. Well, I called them back, and they told me the person who emailed me originally was busy. I left my phone number but never received a callback, which was a bit frustrating. I really wish Connect America had an online help center with FAQs, setup guides, and user forums, as many of their competitors do. In all, their website is more than a bit lacking.
My Experience with Connect America
Like I said before, it wasn't the easiest process to buy from Connect America. Once I decided I wanted their Mobile LTE package on the website, I had to call the company to place an order. Again, there were no prices listed on the website, which was a bit annoying, and it took about 20 minutes on the phone before I was able to get basic pricing information, not to mention the representative had no knowledge of MedReady, their medication reminder device. I was also put on hold three times and told to add fall detection about four, so by the end of the call, I couldn't wait to get off the phone. About a week later, my box arrived in the mail.
When I opened up the box, I found the base unit, charger, necklace pendant, and watch pendant. After I plugged in the charger and powered up my base unit, I tested out my pendants by pressing the button, which connected me to emergency personnel through the pendant itself. I also tested out the fall detection pendant by dropping it off my staircase. I am happy to report that even without pushing the button, it still contacted Connect America's monitoring center just fine.
What Do Customers Think of Connect America?
So there you have it, my experience with Connect America from researching it online to ordering it over the phone and setting it up in my house. But I wanted to see what some more of their customers thought of their system, so I turned to the Better Business Bureau. While Connect America is an accredited business with the BBB with an A+ rating, their average customer review was only a little over one out of five stars, pretty dismal. When I clicked on the reviews, I saw that many people had issues canceling their service and were locked into long-term contracts they weren't aware of in the first place. Many people, like me, criticized their customer service. In fact, out of 21 reviews, 21 of them were negative, with the large majority at only one star.
Of course, I understand that many people come to the BBB specifically to complain, and the company had a better rating on Google of 3.1 out of five stars. Still, Connect America's lack of transparency and poor customer support is noticed not only by me but by a lot of their customers.
In Summation
Despite Connect America's obvious drawbacks, I would still recommend it overall as a medical alert system. My main reasons? I love that they have options for in-home and on-the-go, cellular or landline connections, fall detection or not, and contracts in monthly, quarterly, semi-annual or annual packages. Their prices are right, and although ordering it may be a bit of a slog, it's a lot easier if you go in knowing what you want, and hopefully, this review helped point you in the right direction!
However, Connect America, like any other medical alert system, is certainly not for everybody. If you're looking for transparent pricing, online purchases and a robust online help center, Connect America is definitely not the system for you. Some other options you might like instead are Medical Guardian, Bay Alarm, and Alert1; check out my best medical alert systems overview for more fantastic options.
Frequently Asked Questions