LifeStation is a medical alert company that has been around for decades. Consistently, they are near the top of our rankings of the best systems, all while maintaining the warmth and sincerity of a mom and pop shop. The family-owned company gained its footing on the coast of New Jersey in 1977 and has since provided medical alert systems to older adults across the country.
We at The Senior List know that there is more to a company than just its history. That's why we have compiled a comprehensive guide detailing all there is to know about LifeStation. Without further ado, allow us to present LifeStation: Our Family Watching Over Yours.
What Is LifeStation?
LifeStation has played an instrumental role in protecting senior citizens for well over 40 years. It has offered exceptional services throughout North America. This is due to the fact it was designed by veterans in the industry who know what seniors need for secured independence. The elderly can continue to live wherever they please, and their family members know they are safe with LifeStation.
When you need assistance, you will get in touch with a CSAA-Certified Care Specialist. LifeStation also only uses Underwriters Laboratories-listed monitoring centers. That means when you reach out, you can be certain someone will be there to answer the call. All this comes at one simple price; you do not have to worry about hidden fees.
The average response time is about 20 seconds. When you sign up for LifeStation, you provide the names and contact information of your friends or neighbors who will open the door for our professionals. Loved ones will know immediately when an emergency occurs. If you are concerned someone will not be able to open the door in time, then you can utilize the LifeStation Lock Box. This gives our specialist a lockbox combination. Personnel will be able to get inside your home without damaging the door.
Meet the Systems Part I: The Plans
There are two categories when shopping for a LifeStation medical alert device (At Home and On The Go). Each category then has three plans that customers can subscribe to: Standard, Select, or Supreme, each of which coming with its own additional benefits.
At Home
The At Home systems are, as the name implies, meant for older adults who spend most of their time in and around their homes; therefore, it is not surprising that a landline connection is required for all the basic systems. The system has a range of 500 feet, which is on the lower end in terms of distance. For example, the Mobile Help Classic system's range is 1400 feet, and Medical Care Alert's Home and Away system has an unlimited range.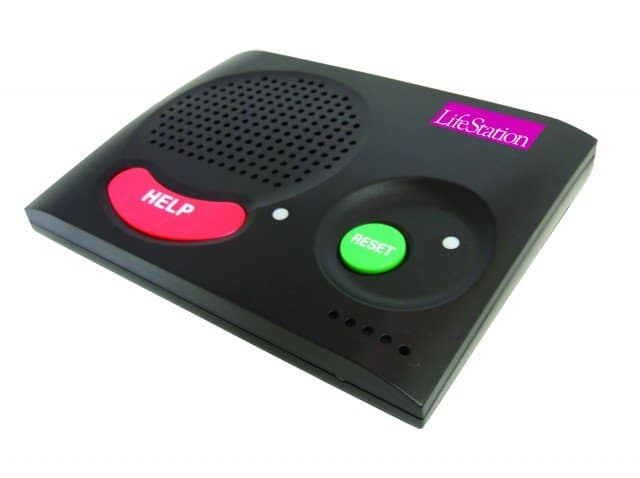 LifeStation steps up its game, however, with the No Landline option. This system offers all of the same features as the Landline options but can connect through AT&T's 4G network, and it has 600 feet of range. Don't worry, customers still have the chance to add on features, such as fall detection and protection plans. Let's get into the specifics.
Standard: The Standard system is the most basic of the systems, with a lightweight, waterproof pendant that offers 24-7 monitoring. This is also the most affordable of the systems, costing just $19.95 per month if subscribed to an annual plan.
Select: For those looking for a similar system but with fall detection, (which we deem a necessity) look no further than the Select option, starting at $24.95 per month when you enroll on an annual basis.
Supreme: The last At Home, landline option is the Supreme plan, which comes with everything in the Select system, but with a Protection Plan added in. This plan ensures that if the device gets sent back into the shop, repairs and replacement would not cost any extra. All of this is available for just $10 more, totaling $34.95 if subscribed to on an annual plan.
No Landline: Last, but definitely not least, there is the No Landline, At Home system available. As stated before, this option is essentially the same as the Standard plan but offers 100 more feet of range and functions solely on AT&T's 4G network. This plan starts at $30.95 if subscribed to on an annual plan.
| | Standard | Select | Supreme | No Landline |
| --- | --- | --- | --- | --- |
| 24/7 Monitoring | Yes | Yes | Yes | Yes |
| Fall Detection | No | Yes | Yes | Optional |
| Protection Plan | No | No | Yes | Optional |
| Monthly Price | $19.95 | $24.95 | $34.95 | $30.95 |
On The Go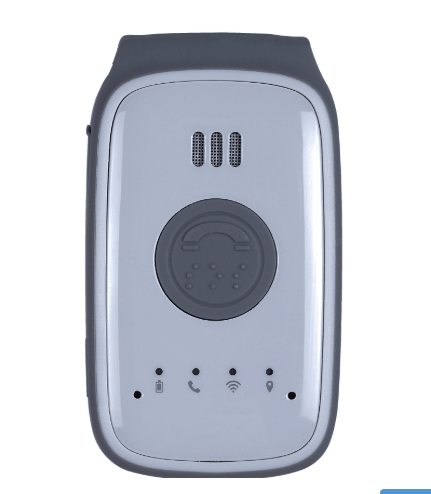 On the surface level, the On The Go systems look fairly the same as the At Home systems; however, there is actually a plethora of additional features on these devices. Here's a quick overview of what an On The Go LifeStation medical alert system offers:
Unlimited Range: There is no need to worry about staying within the range of the base system with the On The Go system. This system works anywhere in the United States and even internationally, provided you are in an area with good cellular coverage.
Location Services: LifeStation offers a GPS tracking system that works all across the nation (where there is AT&T service). For older adults who frequently go on vacations or visit loved ones, this is a necessary feature.
Smart Integration: LifeStation can now connect to Alexa! This feature can be used to locate the user of the device or even help out if the system itself gets misplaced (which happens more than we'd like to admit). There is also the ability to connect to Uber Health, which will take your loved ones to and from key appointments.
Long Battery Life: The mobile system is capable of lasting up to five days without needing to be charged. This way, there are no worries about staying protected in the middle of the night, the early hours of the morning, or at your afternoon tea.
We especially appreciate the option of smart integration and location services. In the fast-moving, high-tech world of today, these features can make keeping your loved one safe a lot easier.
| | Standard | Select | Supreme |
| --- | --- | --- | --- |
| Activation Cost | $49.95 | $0.00 | $0.00 |
| 24/7 Monitoring | Yes | Yes | Yes |
| Fall Detection | No | Yes | Yes |
| Protection Plan | No | No | Yes |
| Monthly Price | $37.95 | $42.95 | $47.95 |
Tip: If you are an active older adult or living independently, it might be worth it to invest in an option that has fall detection. The feature notifies the LifeStation monitoring system that an accident has happened even if you cannot push the button.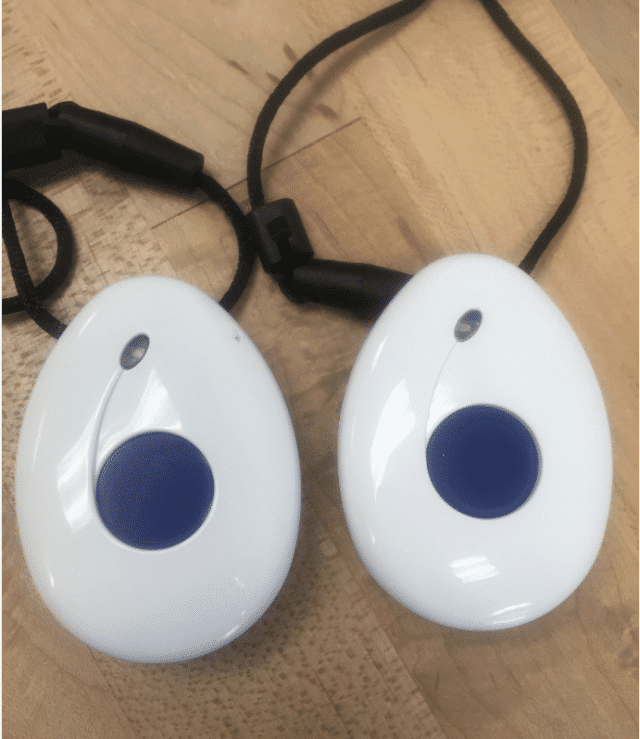 Meet the Systems Part II: The Add-Ons
That's not all LifeStation provides with the purchase of one of their medical alert systems, though. There are more key features available to customers both available for purchase and built-in to the devices.
Built-In:
Waterproof: All of LifeStation's devices are completely waterproof. That means they can go in the shower, the tub, and out in the rain without causing worries of technical damage. Since up to 80% of falls in the home occur in the bathroom, I think this is a necessary built-in feature.
Backup Battery: All LifeStation devices are able to survive their additional charge life plus 24 hours of backup. The In Home option goes a step further by providing a 32-hour backup battery. This way, older adults can be protected even in the case of a power outage.
Find My Loved One: While this add on is only available for the On The Go systems, it is truly unique and useful. The technological feat can be used for both caregivers and users alike. Through the Alexa mobile app, users can connect their medical alert system to their smartphone! The app then pulls up the user's precise geographic coordinates on a map. Now that's smart!
Available for purchase:
Lockboxes: While not widely advertised on the LifeStation website, there are lockboxes available upon purchase of each medical alert system. Lockboxes are used to let first responders, such as firefighters, police officers, and emergency personnel, access the inside of homes without breaking down doors.
Additional Monitoring: For households with two members who need a medical alert device, LifeStation will provide an additional pendant for just $3.99 per month.
Protection Plan: LifeStation's protection plan includes two complimentary replacements of help buttons or one replacement of a medical alert system annually. While this protection is included in the Supreme plan, it is available for purchase on all systems.
Tip: Talk to your customer support representative about what you hope your medical alert system will do for you. You might be able to purchase products that are not advertised on the company's website or get a discounted price on your system.
Understanding the Background: How Monitoring Works
The monitoring process of LifeStation is pretty standard for medical alert companies. Those who are in need of assistance press the prominent help button on their device (or, if you have fall detection, the alert processes automatically in the event of a fall). In just a few seconds, there is a helpful, concerned LifeStation emergency support agent on the line who will assess the situation and what kind of assistance is needed. They will then send the appropriate help, whether it be emergency responders or capable caregivers.
We appreciate this level of interaction after a fall since emergency responders are not always a necessity. With 75% of caregivers living within 20 minutes of their loved one, it's likely that they are all that is needed to help the situation.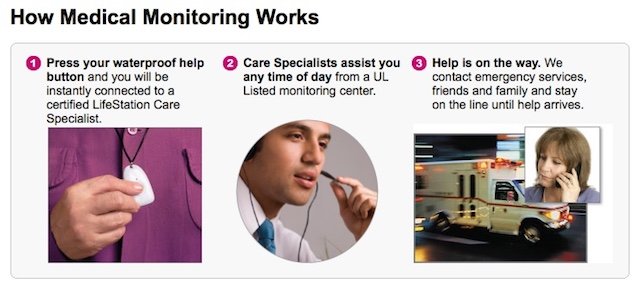 What stands out about LifeStation, however, is the quality of care provided through their responders. Each specialist will go through an extensive 160-hour formal training before taking real-life calls. After that, performance reviews are completed frequently and thoroughly. On top of all of this training, there are actually two representatives on each emergency call to LifeStation. One of these specialists is there to wait on the line for the arrival of emergency responders if this ends up being necessary. All of this training has amounted to LifeStation being a TMA award-winning organization and a recipient of the CSAA Five Diamond certification, which is pretty impressive in my eyes.
Get Your Refunds
For those who determine that the LifeStation is not quite up to their satisfaction, a 30-day money-back guarantee is in place for all products. All it takes is a call to LifeStation's customer support staff. At LifeStation, they understand that it's hard to treat every item like a precious object. There is no way to avoid accidentally dropping, scratching, or misplacing such a small, lightweight system. That's why LifeStation does not charge for the replacement of any medical alert systems or individual parts caused by typical wear and tear.
The Finale Part I: Making the Purchase
We have now presented to you all there is to know about LifeStation and its available services, that is, except for one thing: how to purchase a system.
In order to purchase a LifeStation medical alert device, a call has to be made to their top-notch sales team. LifeStation does not advertise most of the prices on their website, and the prices that are available refer to monthly prices when you're subscribed to an annual plan. While we typically prefer companies that are more transparent with their costs, talking directly with a representative can oftentimes result in lower prices and hidden deals. For example, AARP members and USA military veterans can always get a discount with LifeStation. Health insurance plans may also result in lower prices.
The Finale Part II: In Summary
When it comes down to it, LifeStation is a trustworthy company that has consistently ranked on our charts of best medical alert systems because of their low prices and high-quality customer service. The no-frill systems offer all the necessary components to keep your loved ones safe: fall detection, waterproof pendants, and extended backup battery.
While their website is not the most user-friendly website we have ever seen and the In Home range is not the most impressive, customers can be sure they are getting high quality when buying from LifeStation.
Want to know what it's like to use a LifeStation firsthand? Check out our in-depth review of our personal experience with LifeStation.

If you're looking for an easy-to-setup, easy-to-use medical alert system, LifeStation has several medical alert options that will fit the bill. Pricing is competitive for basic medical alert services. Call to hear current LifeStation offers and pricing.