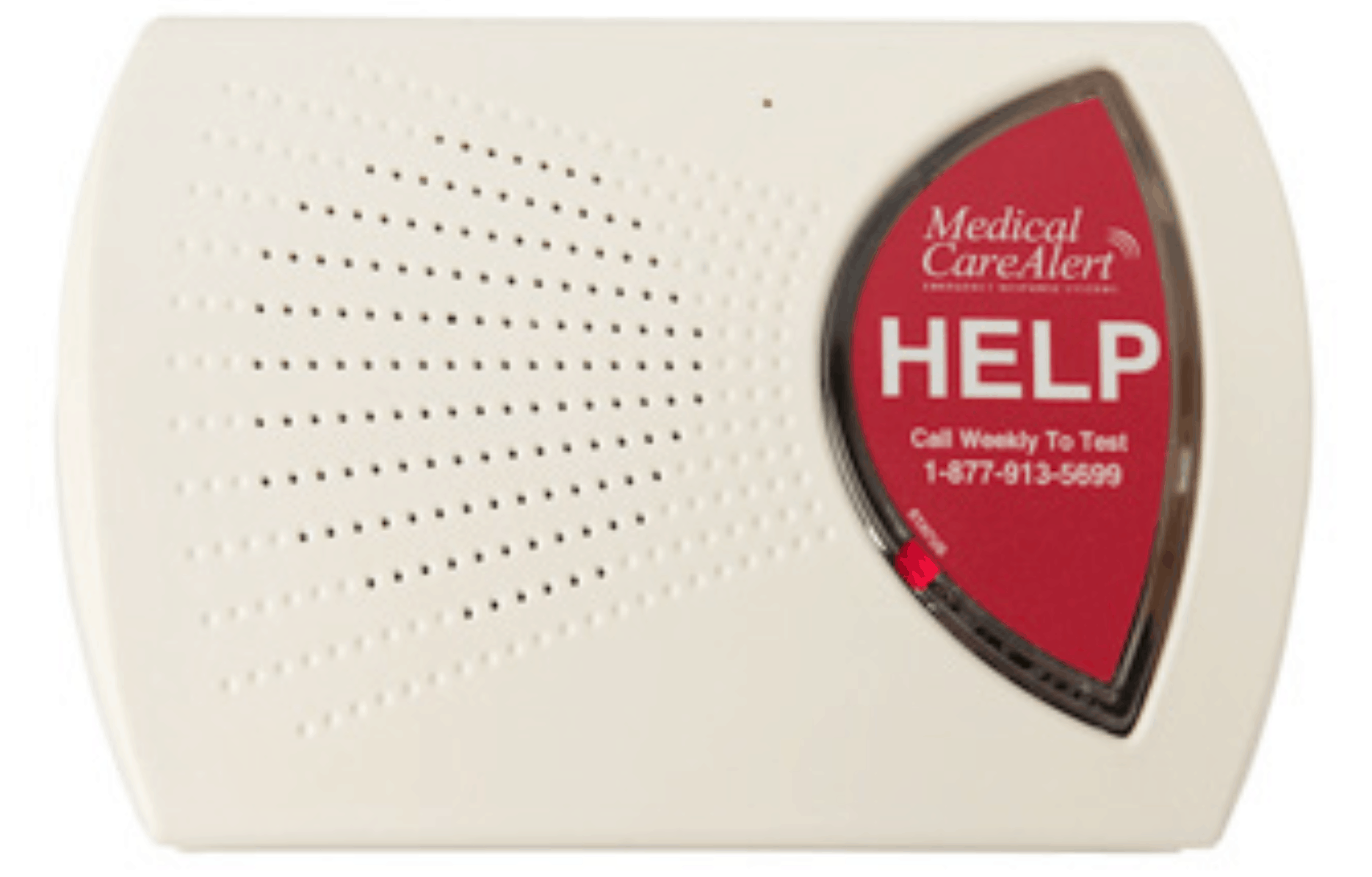 Medical Care Alert Review
Recently, I have been hearing great things about a Michigan-based emergency response system called Medical Care Alert. Out of professional and personal curiosity, I decided to test it out. I chose to review their HOME & AWAY Ultra Mobile Medical Alert System, for active older adults who love to be out and about. Read on as I recount my experience with Medical Care Alert. I hope it will help you make up your mind about whether or not it's the right fit for the older adults in your family.
How I Bought My First Medical Care Alert Product
I began my purchase journey by skimming through Medical Care Alert's website. It was surprisingly easy to navigate and understand, and it had a wide range of emergency response options to choose from. I noticed that for less mobile older adults there were the HOME Medical Alert System and the HOME & YARD Medical Alert System. Both seemed interesting enough, but since the company was offering a risk-free trial, I locked in on the HOME & AWAY option that came with GPS and Cellular Service. Admittedly, I felt a little lost when it came to the many add-on services though. So, I went right ahead and called up their customer care team.
Note: For older decision-makers who prefer the familiarity of physical brochures, Medical Care Alert can ship reading material to your doorstep.
The call center agent patiently heard me out and suggested the fall detection add-on. She mentioned that this feature helps identify falling motions and automatically contacts the emergency response center or caretaker, even if the user is unable to press their help button. It also sends the exact location to the agents if the senior is unable to speak during a medical emergency. At just $10 per month, the fall detection feature appeared to be a real life-saving addition.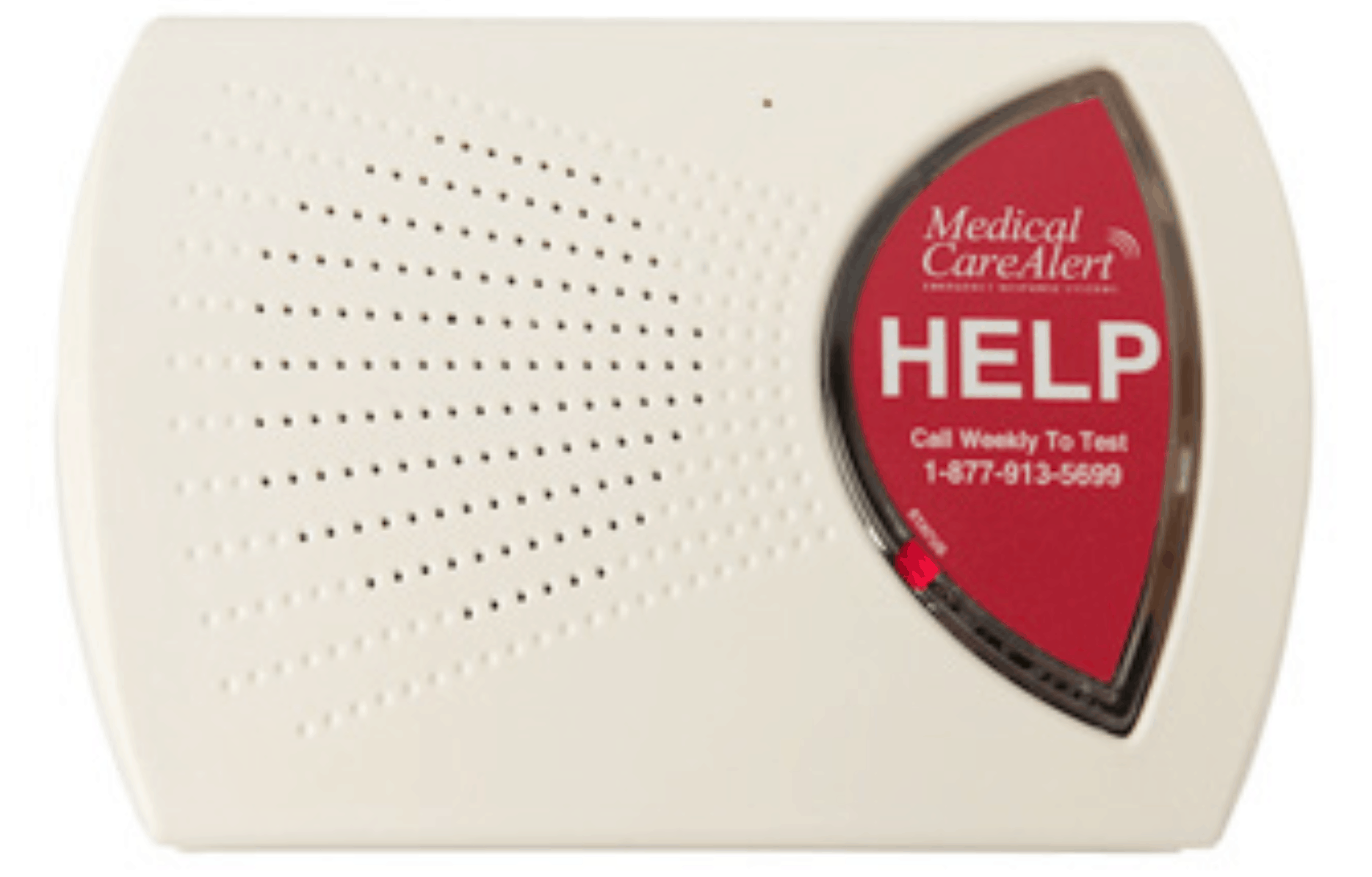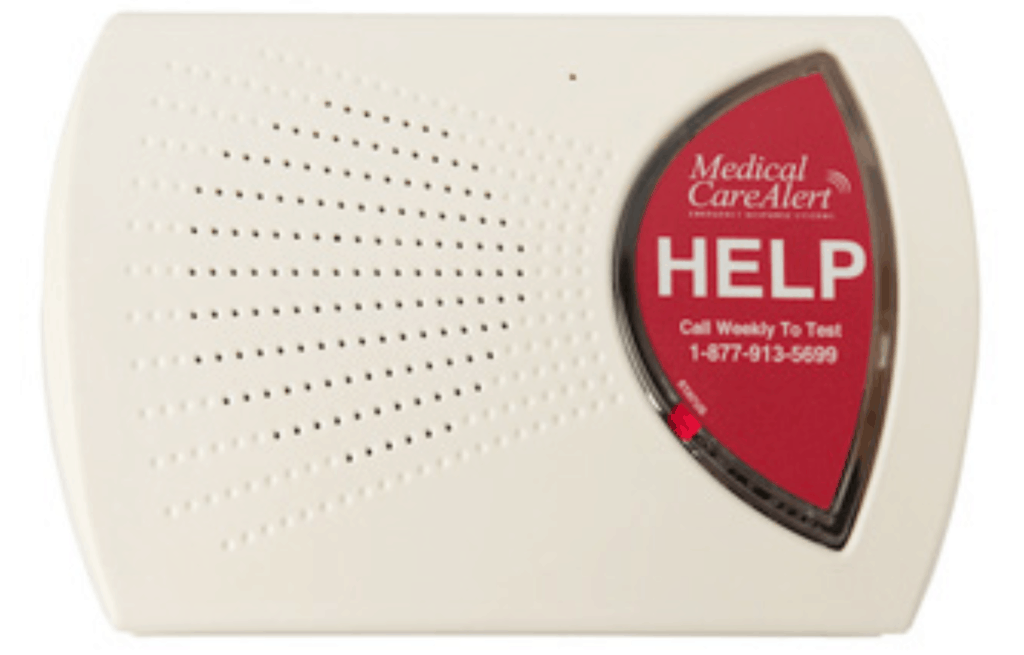 Once I had made up my mind, going through with the purchase was incredibly easy. I had the option to buy the equipment through their website or over the phone. I chose to place the order online and got my device delivered with free priority shipping.
Setting Up And Testing My Medical Care Alert System
There isn't an older adult-related product that I'm not excited to review. So, when I received the HOME & AWAY Ultra Mobile Medical Alert System, I ripped through the packaging and was pleased to find a very sleek two-Way voice pendant. And, it came with all the standard accessories; charging station, lanyard and belt-clip. As is my nature, I went through the instruction manual like it was a Dan Brown page-turner.
I read that in order to keep track of the location of the older adult, the device used the GPS function and AT&T 4G LTE wireless cellular service (separate from the user's personal data connection). Once confident of my understanding of the product, I embarked on setting up the emergency response system. I started with placing the pendant on the charger that was connected to a wall outlet. The light on the pendant immediately started glowing red, meaning it was charging.
Note: I recommend activating your system at the location where it will be used so that Medical Care Alert can register it as the home-base.
It took a little longer than four hours to charge the first time around. Once the two-way voice pendant was charged, I began testing the device. This involved dialing a phone number and following the prompts. Then, once the 15-minute test mode was on, I pressed the device's help button. The device emitted a beep, and that's when I knew it was in testing mode. I made test calls around the house, and each of them was answered quickly by an agent at the monitoring center.
To test the pendant's waterproofing, I brought it to my lawn and turned on the sprinklers. Still, my calls went off without a hitch. To check on the efficiency of its range, I even took the pendant with me to the local theater. Again, I noticed that whenever the cellular range was good, the device delivered crisp, clear audio.
What Stood Out With Medical Care Alert
Tried and tested, now I see why the caregiving experts in my circle have been praising this brand. Essentially, it checks almost all the boxes when it comes to product quality and service. Here is a snapshot of its features:
Easy To Use Device: Once the testing is done, I found the product to be as intuitive as they come. The speaker was loud and clear with a battery life of about 26 hours. All I needed to do was press a button and I would get connected to the response team in a jiffy.
Friendly Customer Service: From purchase to the setup and testing, there wasn't a moment I felt alone or forsaken by the team at Medical Care Alert. They were always there to help, showcasing the values of this family-owned business. I can imagine how much of a relief this would be to older adults as they learn how to use the device.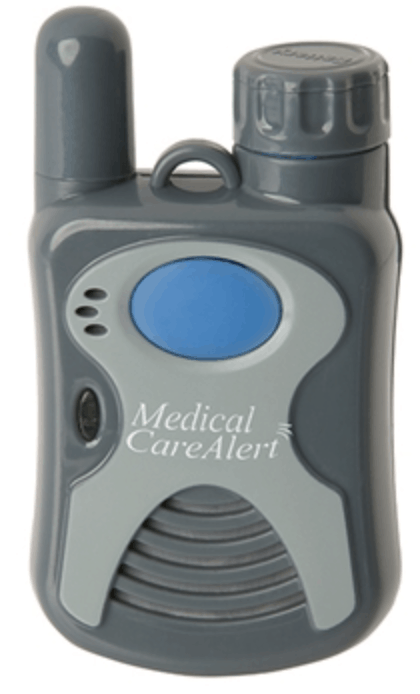 24/7 Assistance: It's also such a consolation to know that Medical Care Alert makes sure that the emergency response operators stay online with the older person until help arrives. Their EMT/EMD-certified response team is also based out of the United States, not outsourced to another country.
Value-based pricing: The Medical Care Alert systems cost between $27.41 and $45.78 per month. As mentioned previously, the fall detection feature came at an additional $10.00 per month. When compared to Bay Alarm Medical's systems starting at $19.95 per month and the likes of Life Alert starting at $49.95 per month; Medical Care Alert's offerings can be categorized as moderately priced. Medical Care Alert delivers peace of mind without costing an arm and leg. I also loved that they have a lock-in price that would never change during the course of my subscription.
What Could Be Improved
To offer a balanced view of the emergency system, I need to also talk about areas that Medical Care Alert could potentially focus more on:
Short Trial Period: Most competing brands such as Medical Guardian and Bay Alarm Medical offer a 30-day trial, while Medical Care Alert has limited it to 14 days. Essentially, it shouldn't be a problem because I was able to test and understand the system within a day. But, to test out the portable device's range across different locations frequented by the wearer, it would have helped to have a longer trial period.
Limited Warranty: It is estimated that by 2030, about 74.7 million people suffer from dementia. That would mean that there is a high chance that the older generation will forget and misplace their Medical Care Alert system. In such a scenario, a warranty is always good to have. Every Medical Care Alert subscription comes with a lifetime warranty for the service and repair of the base unit and wearable transmitter buttons, for issues caused by regular wear and tear. However, for lost or damaged units, users need to purchase an extended protection plan at $5 a month.
Note: Always err on the side of caution and buy the Extended Protection Plan. Without it, it would cost a whopping $350.00 to replace a lost or damaged system and between $29.95 and $200.00 for the pendant.
Medical Care Alert Package Options
While I had tried out the HOME & AWAY Ultra Mobile Medical Alert System, the company has more options depending on the older person's personal needs and budget. Here is a brief rundown of the different systems available: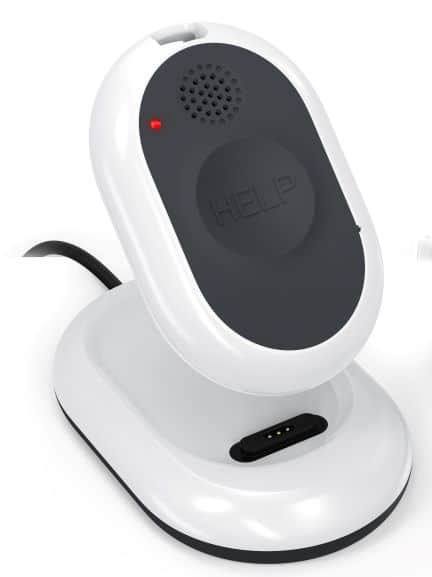 HOME Medical Alert System: Perfect for older people who tend to stay at home, this device works with either their landline phone or the AT&T cellular service that is included in the service fee. It comes with two emergency response buttons that can be worn as either a pendant or bracelet and covers about 1000 square feet.
HOME & YARD Medical Alert System: This option is for older adults who are a little more mobile. It's great for those who like to regularly take their dog for a walk or work in the yard. The HOME & YARD option covers a five-acre space around the home and works equally well when connected to the landline or cellular service.
HOME & AWAY: Here is the system that I tested out. I bought it thinking of the older folks in my acquaintance, who live a more active lifestyle. This system offered unlimited range and can even be taken away on trips. If the older folks like to go to the local community center for bingo nights or watch a film at the theater, they will be covered by AT&T's top-rated call quality.
Medical Care Alert Options
| Medical Care Alert Product | HOME Medical Alert System | HOME & YARD Medical Alert System | HOME & AWAY (Elite, Primo, Ultra and Duo) |
| --- | --- | --- | --- |
| Minimum Monthly Rate | $27.45 | $32.04 | $36.62 |
| Two-way Speakerphone | Yes | Yes | Yes |
| Water-proof | Yes | Yes | Yes |
| Wifi | No | No | Yes |
| GPS | No | No | Yes |
| Fall detection option (optional) | Yes | No | Yes |
| Range | Covers Entire Home up to 1000 square feet | 600 feet from the base unit | Stays connected anywhere in the USA |
| Connection Type | Landline or Cellular | Landline or cellular | Cellular |
| Is 24/7 Monitoring Included? | Yes | Yes | Yes |
Note: These devices are available at yearly, half-yearly and quarterly prices. The minimum monthly rate for these base models are based on an annual plan, excluding fall detection and other add-ons.
Add-on Accessories
When it comes to add-ons with medical alert systems, I think it's best to personalize them. Oftentimes, only one add-on is really relevant to the needs of a particular older adult. But more customizations can actually add real value to their lives. Luckily, Medical Care Alert has a short and sweet list of useful add-ons to choose from.
Fall Detection: Every year, three million older people end up in emergency care for fall-related injuries. And more often than not, this is because they are unable to seek help at the right time. This is why automatic fall detection protection may be one of the most helpful add-ons. At an added cost, I could add on this special type of pendant to my HOME, HOME-3G and HOME & AWAY Medical Alert System subscription plan. With the fall detection feature, the system automatically recognizes when a fall has occurred and will contact the monitoring center to send over help. Yet, it's important to remember that this feature doesn't work 100% of the time with any brand, which obviously includes Medical Care Alert.
Bedtime Buddy Button And SmartCharger: This product works with the HOME & AWAY ELITE package and is useful for folks who might want to wake up at night and go to the kitchen for a drink of water, but prefer not to sleep with their pendant on. It fastens onto their hand, like a wristwatch and has its own charging station.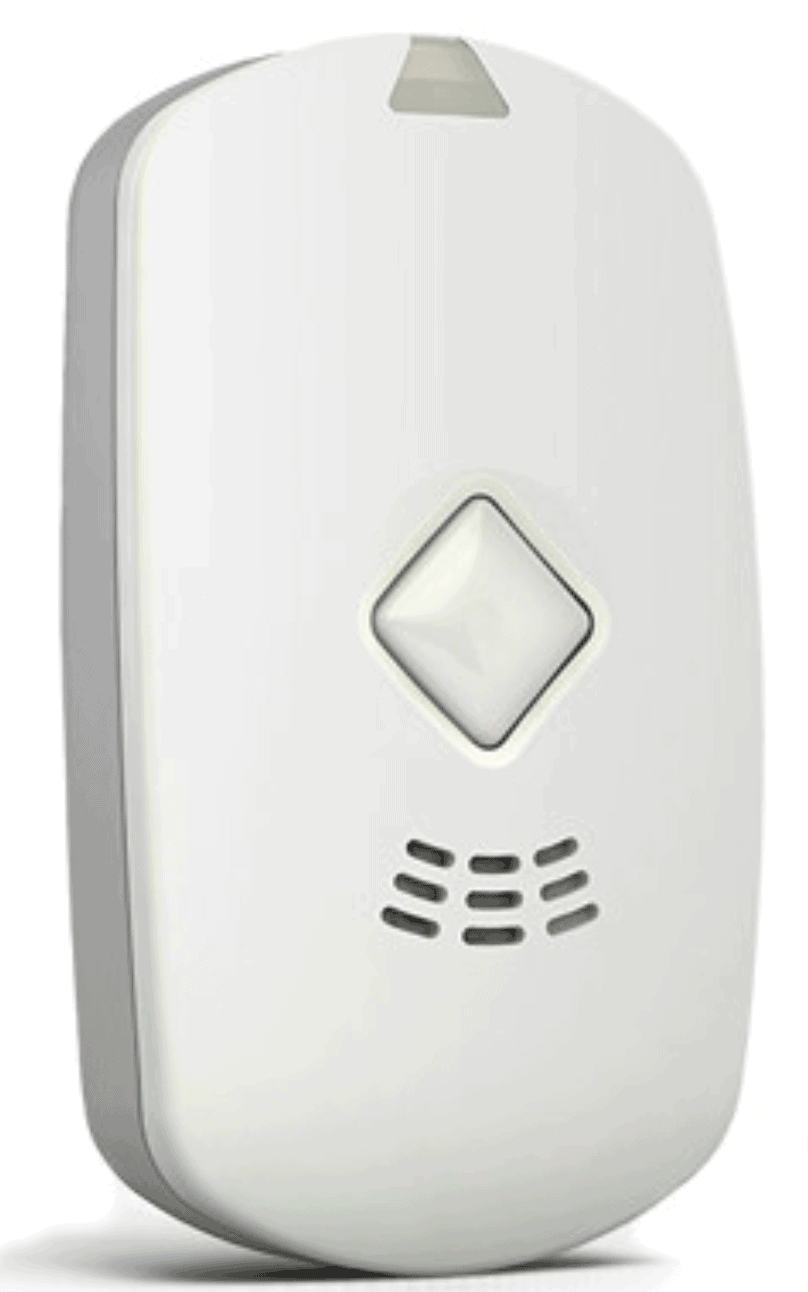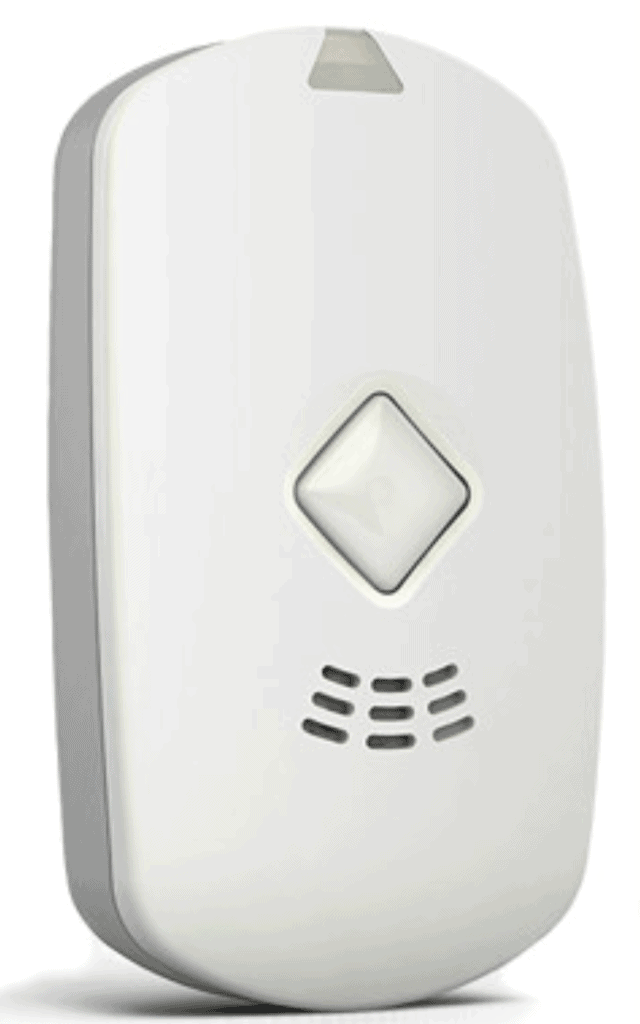 HOME & AWAY ULTRA GPS Medical Alert System Car Charger: It comes with a cable and USB cigarette lighter adapter, perfect for charging the device while on the go.
HOME & AWAY ULTRA Belt Clip: Those who do not want to wear the pendant around their necks can simply attach it to their belt with this simple accessory. But it's recommended that users don't opt for this if they want the fall protection feature to work properly.
Lock Box: The 12-month plans come with a free lockbox, which is a small box with a combination lock used to store the keys for entry to a home. The code for this lockbox is sent to the emergency response team so that in the event of a fall, they can enter the home without any delay or having to break down the door.
| Accessory | Price |
| --- | --- |
| Lock box | $29.95 |
| HOME & AWAY ULTRA Belt Clip | $9.99 |
| HOME & AWAY ULTRA GPS Medical Alert System Car Charger | $19.95 |
| Bedtime Buddy Button And SmartCharger | $60 |
| Fall Detection | $10 per month |
| Extended Protection Plan | $5 per month |
Each extra service adds a layer of value, but also has an added cost. So, it's best to be prudent about the add-on purchased.
Demystifying the RemoteCare 24/7 App
This app came free with HOME & AWAY ULTRA Or DUO and was very handy for keeping track of the device user's location via GPS. Those listed as emergency contacts could download the app on their Android and iOS devices. The app lets caregivers check the weather in the location where the device is situated and even battery and signal strength. For Duo users, caregivers may also record and share audio reminders and greetings. The best bit is that if the user has misplaced their system, the app can be used to make it ring so that it can be tracked down.
Final Word
Look no further than Medical Care Alert if your aim is to get an emergency system that is simple to use and has a team of well-trained emergency operators. One huge advantage of Medical Care Alert is that they have an in-house monitoring center based in the United States with both English and Spanish-speaking operators. I recommend going with fall detection and extended warranty add-ons. With a minimum monthly rate of $27.45, Medical Care alert also secures that sweet-spot of great value and price.
Still on the lookout for more options? Then, check out my article on 2021's best medical alert systems.
Commonly Asked Questions About Medical Care Alert