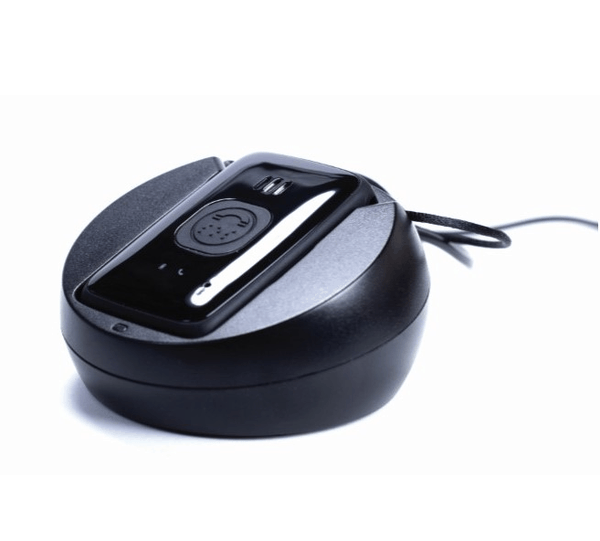 Numactive Medical Alert System
Are you sure Numactive is right for you?
Headquartered in Canada, Numactive is a medical alert company that offers support services to older persons in North America. Being the partner company of Security ONE Alarm Systems LTD, a premier security brand established in 1978, Numactive is well respected in the marketplace. The company offers both an in-home and an ­­on-the-go system, both of which they sell at competitive prices.
If you are considering subscribing to Numactive's medical alert service, you are already one step closer to making a great decision. Here is why: The company places a lot of emphasis on safeguarding users from injury, with its fall detection and fall prevention options. Also, their locally-situated emergency response centers are equipped with well-trained staff and technology. This ensures that you receive best-in-class help when you most need it.
In this Numactive rundown, I will tell you all that you need to know about Numactive, their systems, and how they work. I'll also compare it with what competing brands have on offer. Without further ado, let's get into all things Numactive!

The Ins and Outs of Numactive
Numactive is synonymous with state of the art fall solutions, mobile medical alert system and in-home medical alerts. If you are looking for a medical alert system that has a strong monitoring pedigree, then this is the solution for you. What really sets Numactive apart from the competition is that it has several ULC and 5 Diamond certified monitoring centers. They are also quite flexible in terms of pricing. You can choose to pay monthly, quarterly or annually. The more comfortable you are paying upfront, the greater subscription discounts you will receive.
Another factor that is pretty unique to Numactive is that they offer daily remote testing of the user's medical alert device. If there are any issues with the device, such as power or signal trouble, they are immediately flagged for the user. In this way, you can rest assured that your device will respond as programmed, if and when an emergency situation arises. Fall detection and fall risk assessment are additional services that the brand offers. Since research points to the fact that fall-related deaths of older adults will reach seven per hour by 2030, these are really helpful features to have.
Numactive also conducts risk assessments to determine if the older adult needs a fall detection add-on to their medical alert system. If the analysis points to a need, users are encouraged to pay $5 extra per month for the automatic fall detection service. This ensures that the local emergency response center is automatically alerted in the event of a fall, even if the button isn't pressed.
Note: I always say that even if the risk assessment concludes that you don't need the fall detection service, err on the side of caution and get it anyway. At just $5 per month, think of it as additional protection that could safeguard your life.
How To Buy a Numactive Medical Alert System
The simplest way to buy a Numactive personal emergency response system (PERS) is via a few clicks on their user-friendly website. You have several payment plans available to choose from, based on your need and budget. Instead of entering your credit card details, you could even use your Paypal or ShopPay account to make your payment. The device will then be delivered the very next day to ensure you are protected immediately. Alternately, if you feel like the website doesn't have too much information about the products and services, you can place your order by calling the brand's customer service agents.
Remember, the device in itself is not what you purchase, it is the service that you pay for. And in the event that you don't want to renew the service agreement, you can end your subscription by simply writing to the customer care team and returning the medical alert system. You will get a full refund as long as the device is returned without any damage within 30 days of purchase. While the brand doesn't levy any cancellation charges, you might have to pay-up the activation charges depending on whether the agreement is fulfilled or not.
Shipping Factoid: Free shipping comes with the quarterly and annual plan. Alternatively, you may pick up the system from partnering retailers or office locations at no additional charge.
Numactive Systems
Numactive retails two product options. One is for "at home" users, called Alert Home, while the Alert Sky option is for more active users. What's really great is that a real array of options exist for payment, both in terms of cost and flexibility. I would recommend that you choose the quarterly plan for the perfect balance of price and lock-in period. Or for maximum savings, pick the annual or 3-year plan.
Pricing and Key Features
Numactive System
Monthly cost (in CAD)
24/7 Monitoring
Landline
Fall detection
Two-way speaker
GPS
Waterproof pendant
Key Features
Alert Sky
$49.99

Yes

No

Yes

Yes

Yes

Yes

Charging dock, lanyard, help button and belt clip

Four payment plans

Rogers, AT&T or CDMA cellular coverage

72-hour battery life

Unlimited range

Alert Home
$34.99 to $29.99

Yes

Yes

No

Yes

No

Yes

Base unit, help button, lanyard and wristband

200 feet connectivity range

Two payment plans
Note: No matter what plan you choose, the billing is done three months upfront.
Understanding the Numactive Systems
Alert Home
Turns out that most older adults in America still prefer the landline. That's why the Alert Home system, which needs to be connected to a traditional phone line, is a great purchase. It is also perfectly suited for the American older adults who tend to stay at home most of the time. When billed monthly, the service costs $34.99 per month, while an annual contract reduces the cost to just $29.99 per month.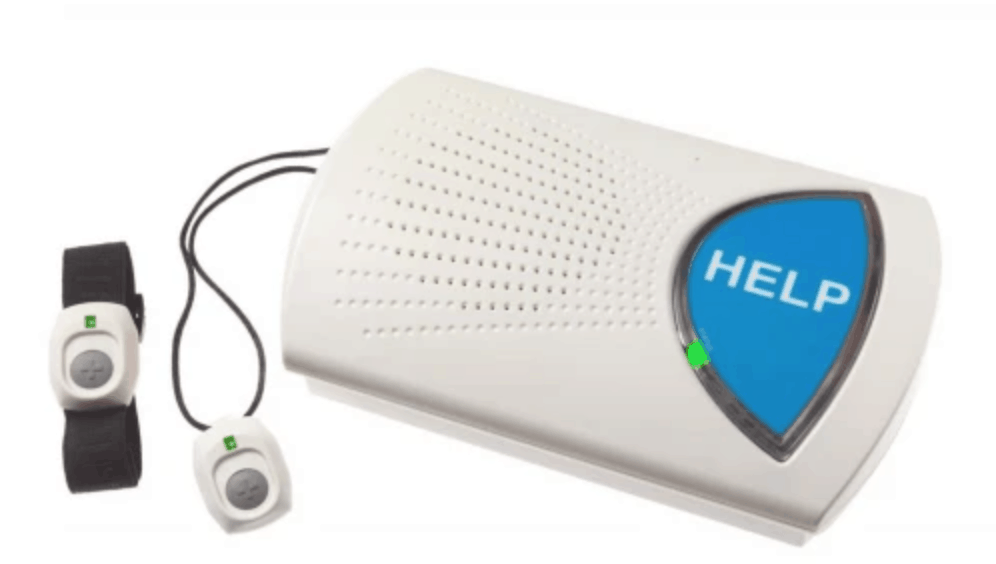 This system has a base station, with a two-way speakerphone, that is plugged into a power outlet. It also comes with a portable device (with an emergency button to call the monitoring center) that can be worn around the neck or on the wrist. The system has a coverage area of around 200 feet, enough to cover the average home. Easy to set up and use, the emergency pendant is completely waterproof and can be used in the bath or by the swimming pool.
Alert Sky
Unlike Alert Home, Alert Sky offers unlimited range and does not need the user to have landline service. Instead, it comes with a Rogers, AT&T or CDMA cellular package that lets older adults move around the USA and Canada and still be covered by their medical alert system. It also has GPS functionality that helps track the exact location of the user. These two features are what make this system more slightly expensive, at $49.99 per month.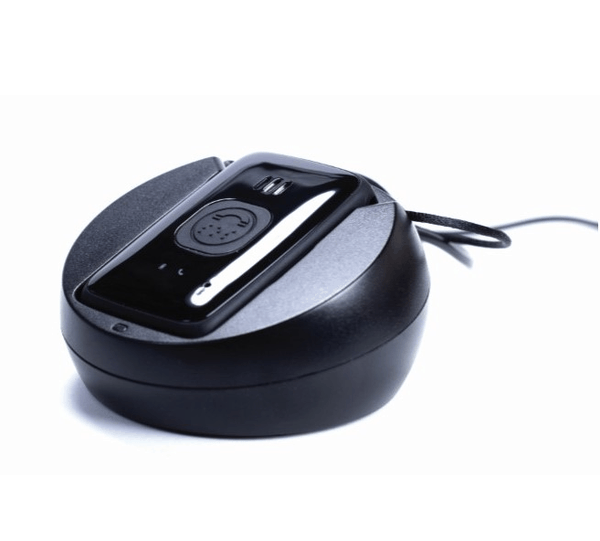 The system features a waterproof pendant, with a two-way speaker and an emergency button, that can be worn on the neck or on the hip. And it needs to be charged every three days for about four hours on its charging dock, and each charge lasts about 72 hours. In case the battery levels are low, the device emits not just visual, but audio alerts too. And at critical battery level, the care center even calls the user to remind them to charge the system. This is great, considering 13.5% older adults (65+ years) suffer from vision loss and may not see the blinking lights indicating low battery.
To further protect users from falls, you can also pay $5 extra to activate the built-in fall detection feature. Additionally, there is a one-time activation cost that is waived if you purchase the three year Alert Sky subscription.
Alert Sky Costs
| Payment options | Activation (one time cost) | Per month cost |
| --- | --- | --- |
| Flex agreement (monthly, no contract) | $150 | $49.99 |
| 1 year agreement | $100 | $49.99 |
| 2 year agreement | $50 | $49.99 |
| 3 year agreement | $0 | $49.99 |
Numactive Monitoring
At the core of Numactive, is their 24/7 monitoring service. Any time you press the emergency button on the PERS, you will be connected to one of the brand's local monitoring stations. You may then proceed to speak to the agents (certified by Underwriter Laboratories and the Underwriter Laboratories of Canada) via the two-way speaker on the device.
The minute you buy the device, you are also asked to create an emergency call list with contact details of caregivers, family members, or neighbors who will be alerted in the case of an emergency. If these local responders do not answer, the call center will jump into action to assess the issue and offer support. In Canada, the brand has two monitoring stations in Ontario, while US-based users can reach out to care centers in Houston, Texas and New Jersey.
You know you are in safe hands because all Numactive employees undergo extensive background and police checks and six-week-long practical application training under the guidance of SIA Certified instructors. Also, to ensure immediacy of intervention, the brand boasts an average response time of 20 seconds from alert activation. Clearly the brand is taking all possible steps to deliver a sense of security amongst older adults who would like to retain their independence while aging in place.
Numactive Fall Detection
It's not always easy to determine whether or not to spend that extra few dollars to purchase the automatic fall detection service. Numactive simplifies this process by having you interact with a certified care consultant in the beginning of the buying process. They will assess your chances of falling with its Fall-Risk Assessment Tool. If the survey results say that you are at risk, then you need to pay just $5 per month (which is half of what a brand like ADT charges) to activate the service on your mobile PERS.
With fall detection, the sensors on Alert Sky will automatically track whenever a fall occurs and will alert your caregiver or the monitoring center. Especially in cases where you are unable to press the panic button or speak to the agent, fall detection is a lifesaving add-on. But, as I always say, never depend 100% on this feature, as no fall-detection is ever 100% accurate.
The Final Review
Personally, I think Numactive is a great brand with fabulous pricing options and a well-thought-out fall detection service. If there was one thing I felt could change, it would be the high activation cost. Numactive could have also offered extra variants and add-ons such as a lockbox or additional panic buttons, or at least provided a caregiver app or dashboard like QMedic and Philips Lifeline offer.
But I do love how attractive the Alert Sky device looks. I'm sure that fashion-conscious older adults wouldn't mind pairing this accessory with their everyday looks. The brand's professional monitoring service, long battery life and regular testing also give caregivers one less thing to worry about.
Numactive Frequently Asked Questions