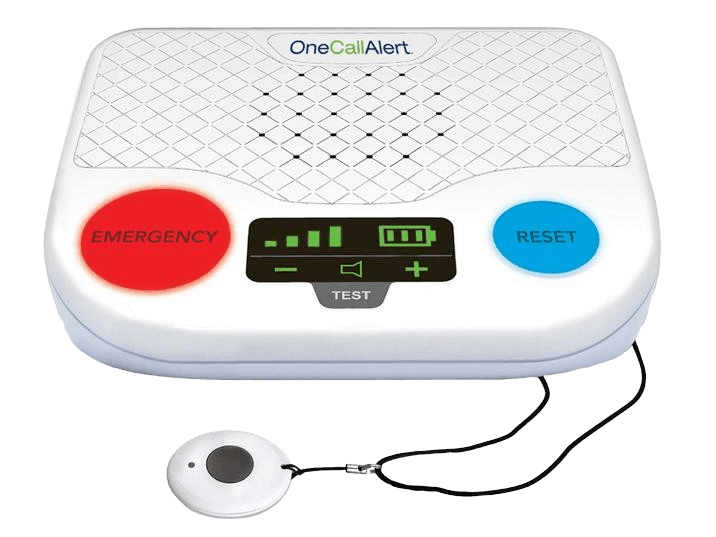 One Call Alert Review
Are you sure One Call Alert is right for you?
100,000 people. That's how many people are protected by One Call Alert, a number not small enough to sneeze at. With over two decades in business, you might've seen One Call Alert in your local Walmart, Public, RiteAid or CVS, but it's also available on their website. To find out if One Call Alert is trustworthy or not, I tested out their Complete Protection system. With medical alert systems, there's a lot to consider, from the monthly monitoring fees to the devices themselves. Are they waterproof? Do they work in and out of the house? Do they require a landline to work? Since I've spent years working directly with seniors as a social worker, I know the sort of reliability that they're looking for, and I've reviewed dozens of medical alert systems to boot, so I'm excited to see what One Call Alert has in store. I'll answer all of the aforementioned questions and more, finally breaking down just who I think One Call Alert would be good for, and who should avoid it and look elsewhere. Let's get started!
The Bottom Line: How Much Does One Call Alert Cost?
Before I get into the nitty-gritty, I want to make sure that One Call Alert is in your price range. With monthly packages ranging from $30.79 to $41.95, One Call Alert is pretty average when it comes to cost, and you can pay in monthly, quarterly, semi-annual or annual installments. Of course, the longer the contract length is, the less you'll pay per month. Believe it or not, this isn't always the case; Connect America, for example, doesn't give users lower rates even with long-term contracts.
| | Monthly | Quarterly | Semi-Annually | Annually |
| --- | --- | --- | --- | --- |
| Total Amount Billed | $41.95 | $109.86 | $203.22 | $369.50 |
| Monthly Price | $41.95 | $36.62 | $33.87 | $30.79 |
| Savings per Billing Period | $0.00 | $15.99 | $48.48 | $133.90 |
That being said, One Call Alert doesn't have the absolute lowest prices on the market. If budget is a major concern for you, I'd check out my list of medical alert systems with no monthly fees.
Tip: To save money, sign up for a longer-term contract than monthly, with annual having the lowest monthly rates no matter which package you end up going with.
Pros and Cons of One Call Alert
If the above costs are in your price range, you'll probably want to know a brief overview of what I liked and didn't like about One Call Alert. I was happy to see that they have options for homes with and without landlines; even if you lack a landline, you can still use their systems which rely on cellular networks. Some of their systems have fall detection built-in, which is a rarity; most companies like Rescue Alert and ADT charge $10 extra for fall detection, which I consider to be an essential feature. The mobile system I bought worked anywhere in the United States, and I love that I didn't have to commit to a long-term contract. Rather, with a monthly plan, I could cancel anytime without incurring a costly fee.
However, for someone looking for bells and whistles like vanity pendants, One Call Alert is not the best choice for you. Their products include medical alert systems and nothing else, so it's a better choice for the minimalist in your life. If One Call Alert doesn't sound like it's for you, I'd read my list of the best medical alert systems for more tried and tested options.
The Complete Protection Package: What Does It Include?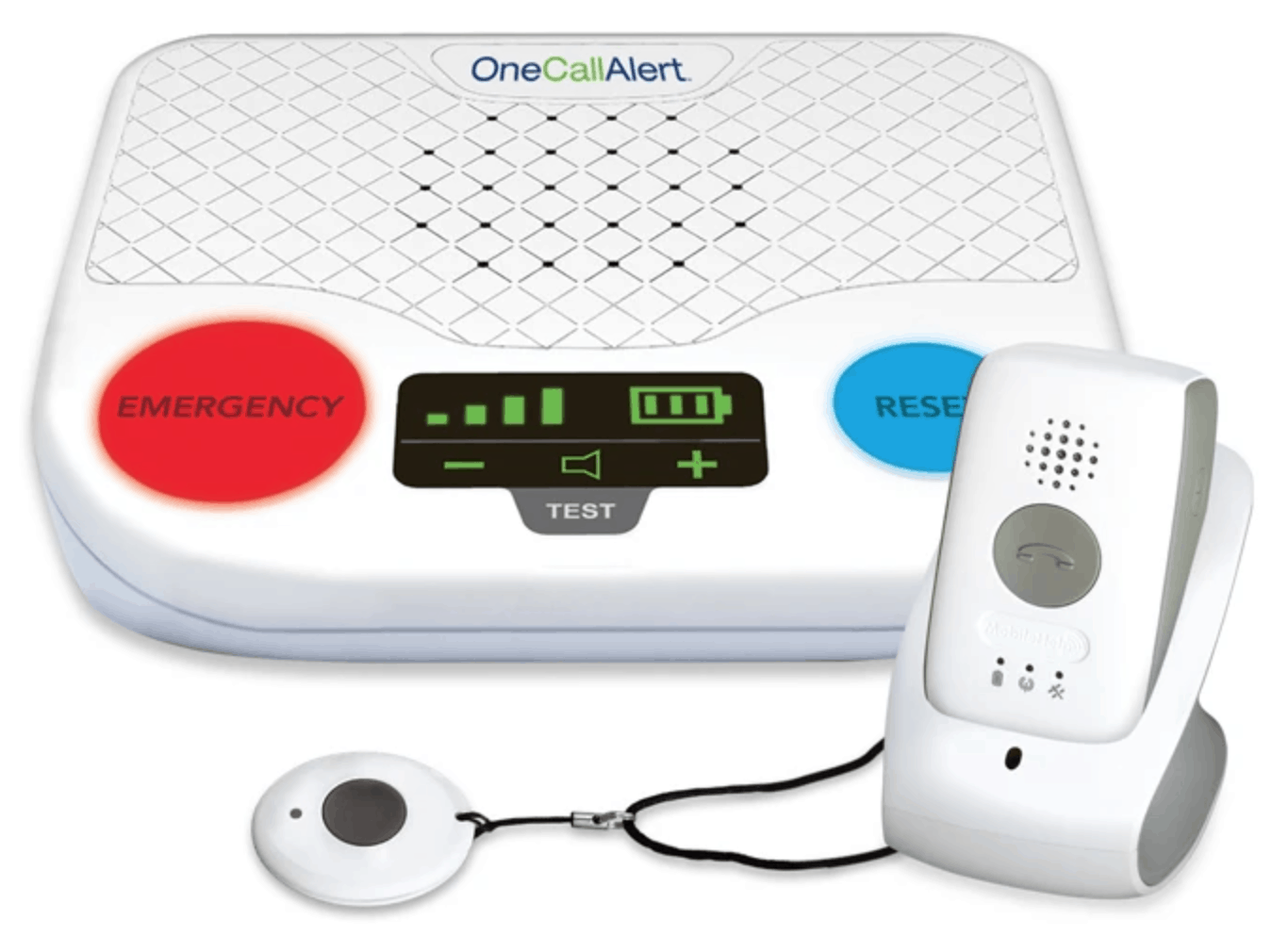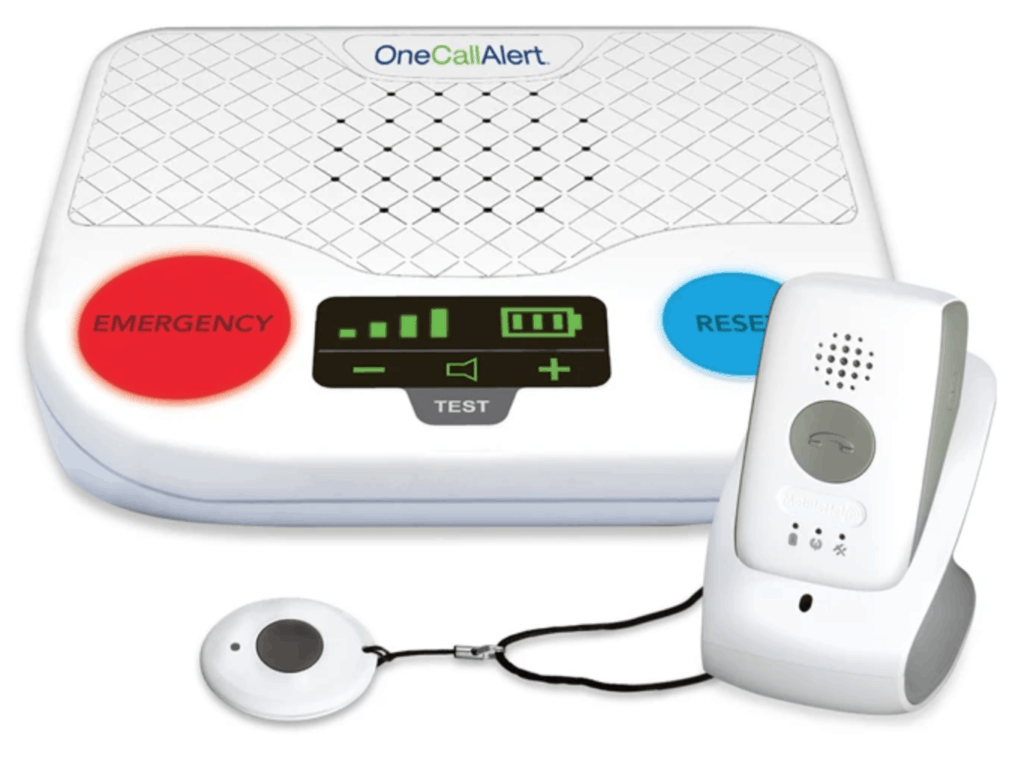 I opted to go with the Complete Protection package, which includes a base unit, medical alert button and charger, necklace or wrist pendant, and even a free lockbox. While the base unit and its button have a 1,400-foot range, which covers my whole house, the necklace or wrist pendant works anywhere, relying on a cellular network. Even though I happen to still have a landline in my home (call me old-fashioned), I like that this system works even for those that don't. Considering the fact that most homes in the United States lack landlines, cellular networks really open One Call Alert up to more customers.
Plus, the pendant, which I chose to wear as a necklace, has GPS built-in so that the monitoring center could always tell where I was. Since 40% of those ages 65 and over have memory impairment, which could lead to getting lost, the GPS could literally be a life-saver. Finally, the pendant is waterproof, yet another relief as injuries often happen during showers or baths.
Now, as for the at-home base unit, it plugs into power, but even if the power goes, it'll still last an additional 32 hours thanks for its backup battery. If I pushed the button or if a fall was detected, I could talk to the monitoring center either through the base unit or through my necklace pendant. They even threw in a free lockbox, which I could use to let emergency responders in if I had a bad fall; the box goes around the front doorknob, and when they enter a code, it opens to find keys. This way, I wouldn't have to deal with getting my door fixed after they broke it down, a convenience to everyone around.
Complete Protection: From Buying to Testing It Out
Like I said, I bought the Complete Protection package on a monthly basis, which cost me $41.95 a month. Once I ordered it online, I simply had to wait a few days until my package arrived in the mail. Setting it up was easy; I plugged in the base unit and charger, charged up my button, and put the necklace pendant around my neck. Of course, I also wanted to make sure my system actually worked before I recommended it to seniors, so I pressed the button and was pleased to be immediately connected to emergency personnel.
Since fall detection is built into the system, I wanted to try that out as well, so I climbed to the top of my stairs and threw the necklace pendant down to the lower level. Even without pushing the button, again, I heard the monitoring center from both the necklace pendant and the base unit. Later, when I was out doing errands a few miles away from home, the pendant could still quickly connect me to emergency personnel. In this way, One Call Alert helps seniors to live more independently, not confined to their homes but out and about in the real world, while still having the assurance of 24/7 protection from real humans.
Other Options from One Call Alert and Pricing
| | In-Home Landline | Mobile On-The-Go | Complete Protection | In-Home Wireless | Mobile Double |
| --- | --- | --- | --- | --- | --- |
| Cellular connection | No | No | Yes | Yes | No |
| GPS | No | Yes | Yes | No | Yes |
| Medication reminder option | No | No | Yes | Yes | No |
| Fall button option | No | Yes | Yes | Yes | Yes |
| Annual rate | $275.40 | $329.50 | $369.50 | $239.40 | $405.50 |
| Semi-annual rate | $137.70 | $181.22 | $203.22 | $164.72 | $221.22 |
| Quarterly rate | $74.85 | $96.11 | $109.86 | $90.61 | $118.86 |
| Monthly rate | $24.95 | $37.95 | $41.95 | $19.95 | $44.95 |
I only tested out the Complete Protection package, but that's not all that One Call Alert has to offer. In total, I had five options to choose from, some that only worked in my home, and some that worked all over the country.
Complete Protection
Again, this is the on-the-go system I just described with GPS, fall detection, and a waterproof design.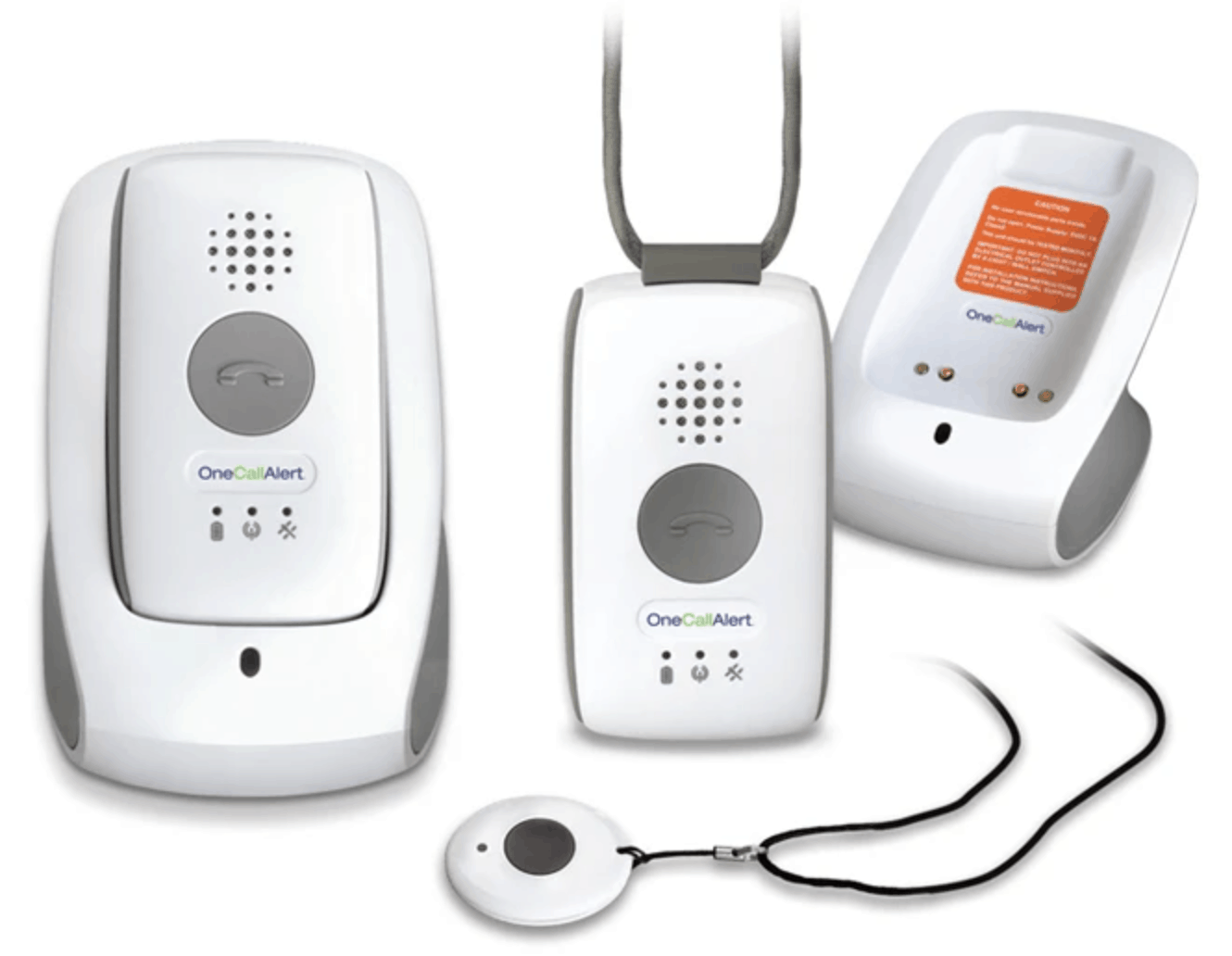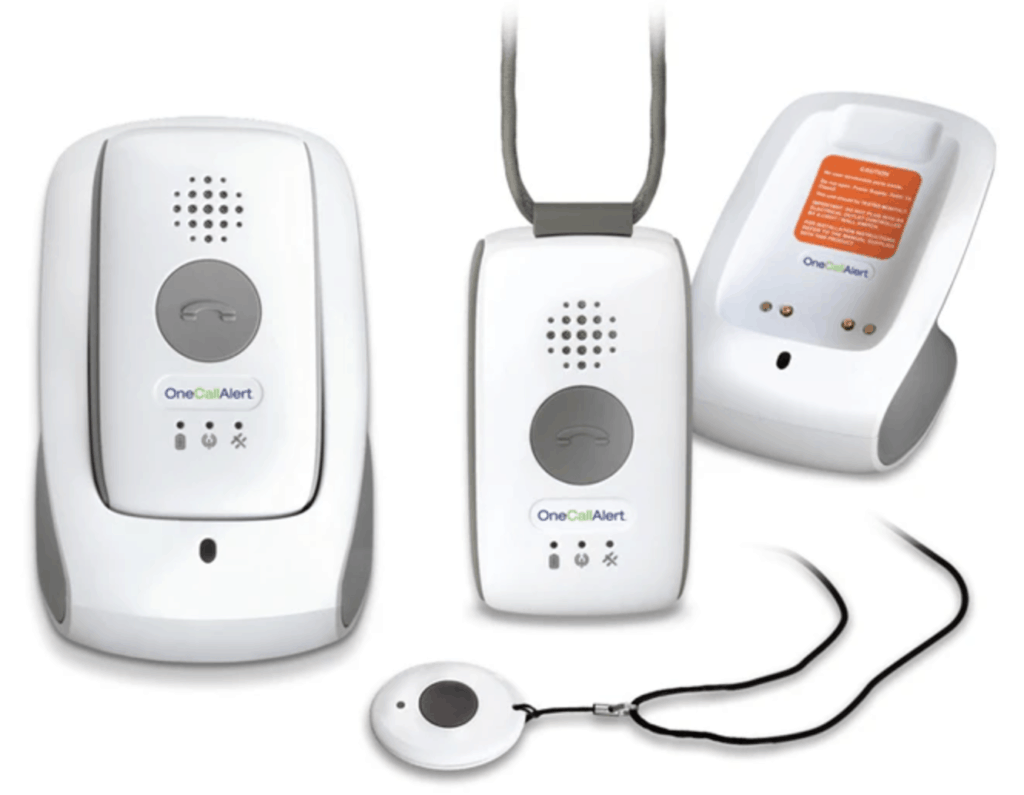 Mobile Double
If you're part of a couple or have two seniors in your life to protect, the Mobile Double is a great choice with two medical alert pendants for the price of one, ideal for a couple that's more active outside of the home.
FYI: Don't buy two separate medical alert systems for two people. Rather, you can save money by buying One Call Alert's Mobile Double option, which starts at $44.95 a month or just about $23 each per month!
In-Home Landline
If the senior in your life mostly stays home and has a landline, this system would work for them. The pendant works from 1,300 feet away from the base unit, which covers the large majority of houses and apartments, and plans start at just under $25 a month.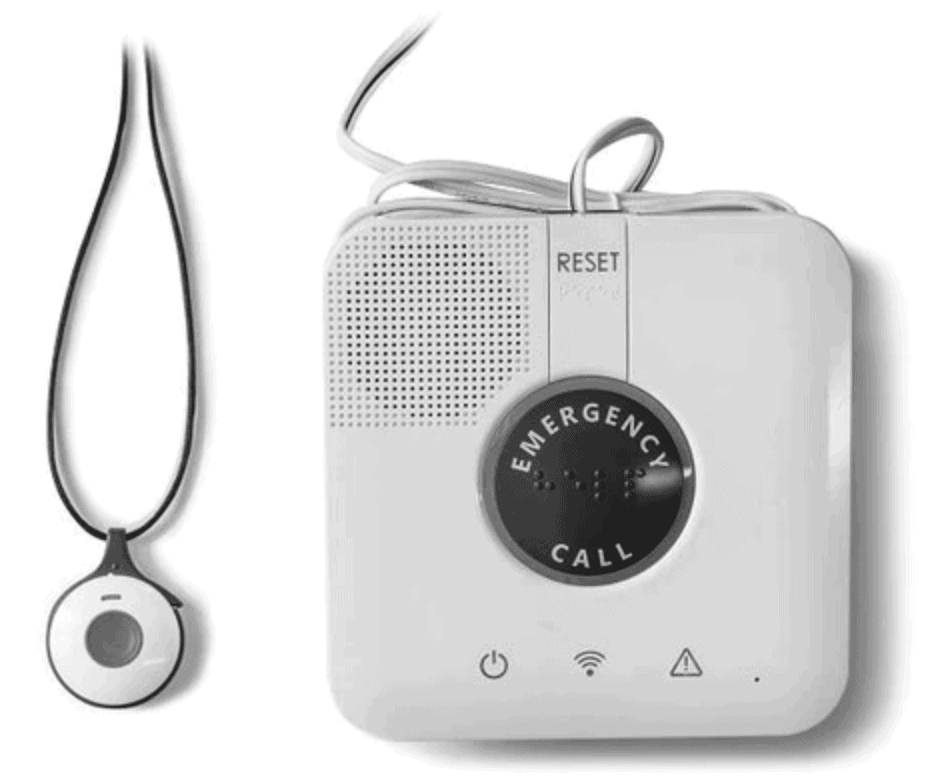 In-Home Wireless
Not all seniors have landlines, even if they're mostly at home. In this case, I recommend the In-Home Wireless package, which also includes GPS.
Mobile On-The-Go
Finally, the Mobile On-The-Go system is the best choice for the most active seniors. However, fall detection costs $10 extra per month, unlike with the Complete Protection package.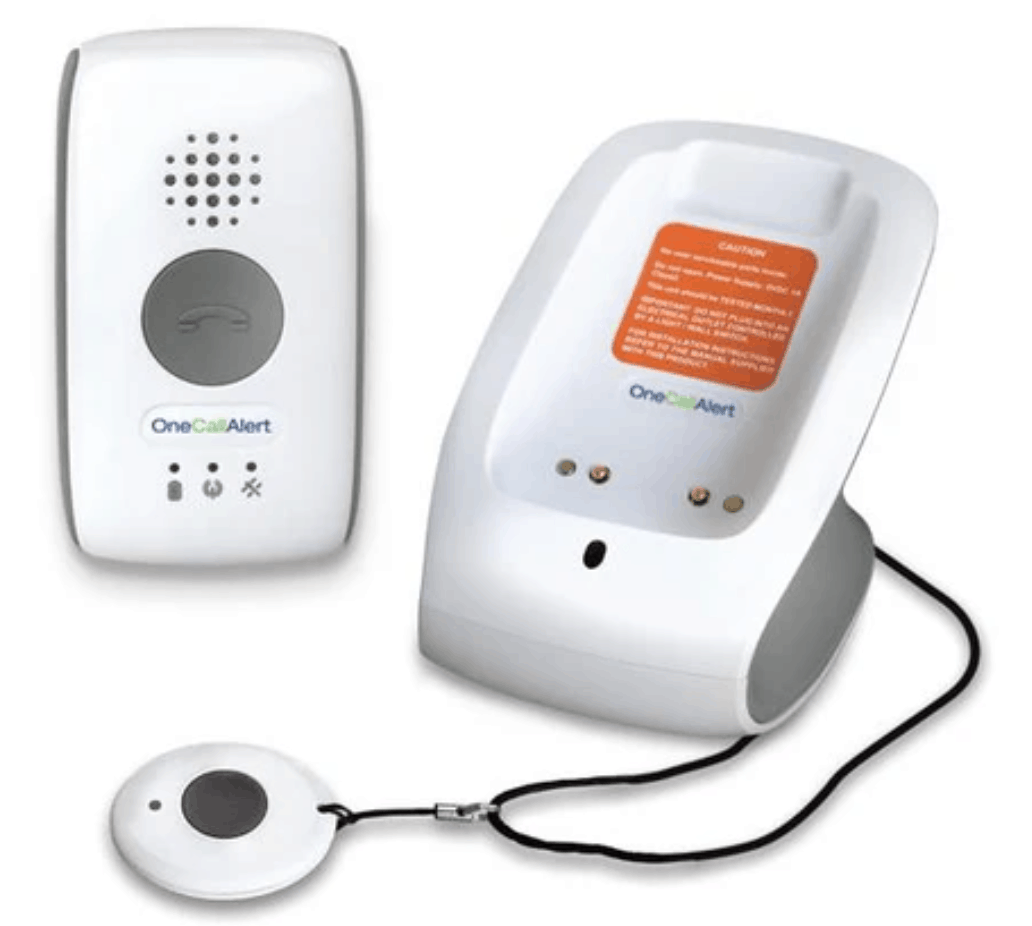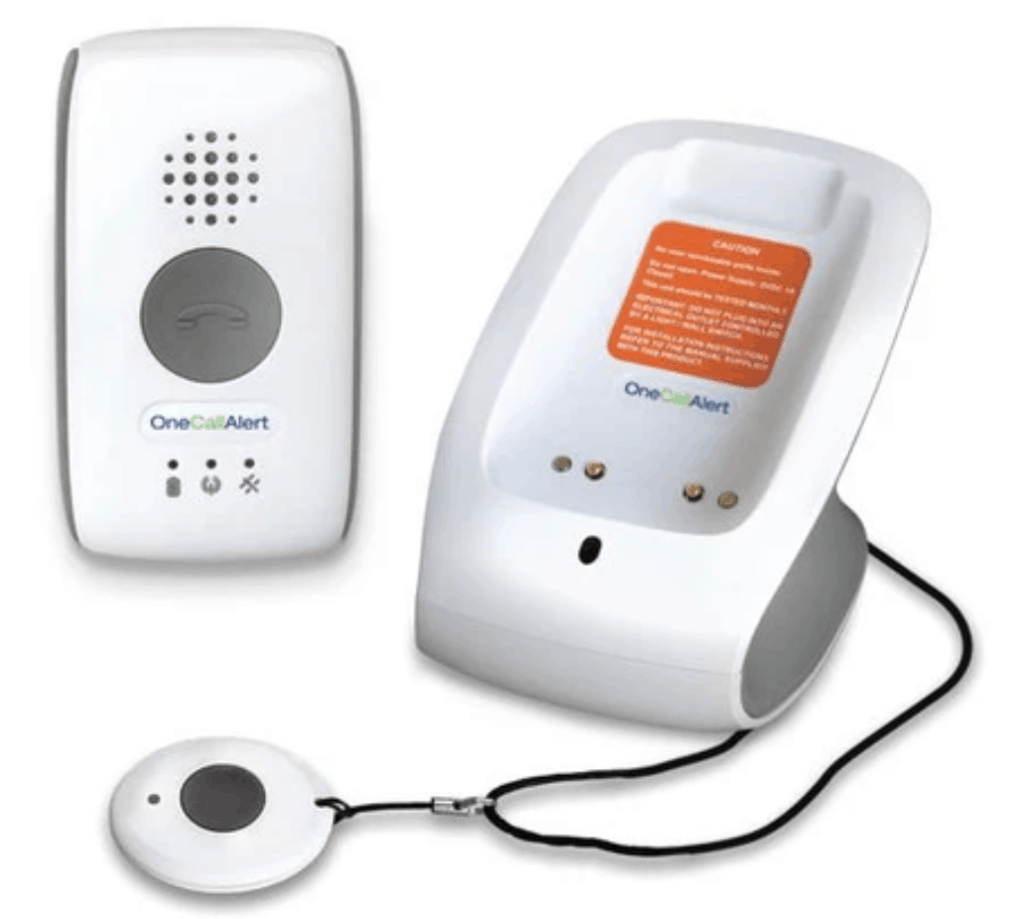 What do all of the systems have in common? Well, a few things, like waterproof pendants, two-way voice with the monitoring center, of course, as well as no activation fees or upfront costs. Rather, I rented my equipment on a monthly basis, so I could return it whenever I wanted without a fee. On the other hand, to save money, definitely sign up for a longer contract period. Especially for the 25 million Americans over the age of 60 that live 250% under the national poverty line, the annual contracts could mean the difference between staying protected and leaving it up to chance.
The major differences between the systems lie in their connectivity, be it cellular or landline, as well whether or not they had GPS or optional fall detection and medication reminders. Now, I already explained fall detection, but medication reminders are another important feature that I'm glad One Call Alert offers. In a nutshell, the monitoring center would alert the senior at the exact time, or times, throughout the day that they need to take their meds. That's a fantastic option for a senior with a lot of different medications to keep track of, as half of all prescriptions are taken incorrectly.
One Call Alert on the Better Business Bureau
Given my years of experience working with seniors as a social worker, I'm happy to share my expert recommendations on One Call Alert. However, my opinion isn't the only one that matters, so to see what more of their customers had to say, I turned to the Better Business Bureau, otherwise known as the BBB. Now, I use the BBB a lot in evaluating companies; not only does the BBB give each company a letter grade, but the site also lists customer complaints as well as an overall rating.
Like a lot of the Internet, usually the BBB is a place for customers to complain about faulty customer service, which is why I was so pleasantly surprised to see that the company has zero customer complaints since it first filed with the bureau in 2012. That's a completely spotless record in eight years, which is something I haven't seen from any other medical alert company. Plus, their overall customer rating was at a perfect five stars, another rarity. Literally all of their 19 customer reviews were five stars, about as uncommon as seeing snow in July. Customers were thrilled with the company's reliable service, which more than one person said gave them peace of mind.
One Call Alert's Return Policy
Despite One Call Alert's amazing reputation with customers on the BBB, some people may not be satisfied with their system for whatever reason. If that's the case, can you return it without incurring costly fees, or will you be able to return it at all? To find out, I checked out One Call Alert's terms and conditions. After I translated the page from legalese to plain old English, I was glad to find that if I wanted to cancel, I could do so whenever just by notifying the company. Once I returned the system to their possession, my contract would be terminated, although I would have to pay for shipping costs. I'd even receive a pro-rated refund if I had a balance of $15 or higher. Sounds good to me!
Customer Service with One Call Alert
Even the phrase "customer service" alone can elicit sighs and groans, which is why I think it's especially important to check out when it comes to my medical alert system. Especially for seniors who may be averse to technology, I wanted to make sure that One Call Alert makes it easy to get straightforward help, without being on hold for hours on end. And since 47% of customers say that they'll stop spending money with a company if their customer service experience is negative, I'm hoping that One Call Alert is on the same page.
Just So You Know: One Call Alert has no online help center, so to get answers from them, you'll need to contact them directly.
Fortunately for me, and for you if you end up going with One Call Alert, they have a few different ways of reaching them directly, be it over the phone, through email, or through live chat. However, I was disappointed that there weren't any written materials on their website to explain their products, be it setup guides, FAQs, or user forums. Sometimes, it's easier and quicker to look up a particular answer on a website rather than having to take the time to contact the company, so in this way, One Call Alert didn't quite meet my high standards. However, if you're someone that prefers talking over the phone or through written online communications, this won't be a problem.
Recap
Overall, I was pretty happy with the medical alert system I got from One Call Alert, and I think it would work for the majority of seniors. With affordable pricing, flexible contracts, and a wide array of systems to choose from that fit different lifestyles, there's very few things to complain about when it comes to One Call Alert.
Naturally, it's not the best choice for everyone, as we're all looking for different things in a medical alert system; for example, if you're looking for a ton of add-on accessories like the ones offered by LifeFone (which includes multiple mobile applications, beaded lanyards, and vanity pendants), One Call Alert won't satisfy your needs. However, they certainly cover all the essentials, with fall detection, medication reminders, and GPS available.