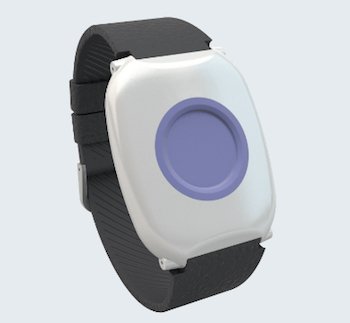 QMedic Medical Alert Systems Review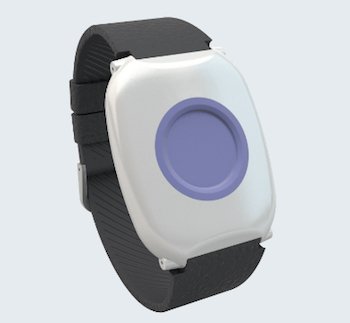 While aging adults still desire independence, our increasingly vulnerable bodies begin to make many tasks a challenge. For our own safety and our loved one's peace of mind, medical alert systems are often an ideal solution. Here, I'll be reviewing a fast-growing health technology company called QMedic and one of its personal emergency monitoring systems, the In-Home Cellular Medical Alert System.
Founded in 2010 by a group of friends at MIT, QMedic has seen tremendous growth and success in the past decade. Now based in Boston, the company serves medical alert users in 46 states and partners with a range of Medicare plans. Overall, I found QMedic worked well when it came to providing streamlined activity and wellness data for caregivers. Keep reading to find out if it's the right medical alert system for you and your loved ones.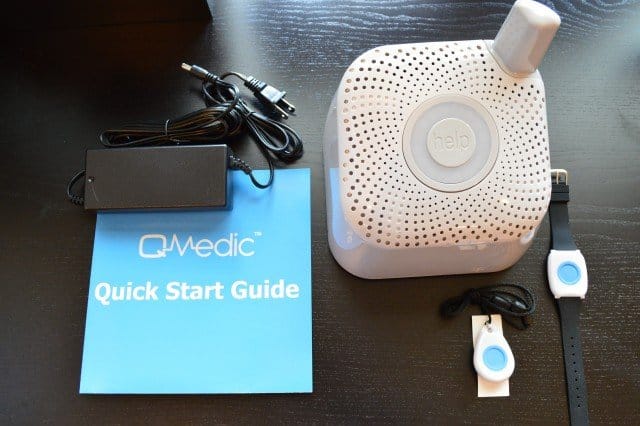 What We Like About QMedic
Before we dive into the nitty-gritty, here's a brief overview of what worked with QMedic's Cellular Alert System and what didn't.
What We Liked About QMedic:
Long-Lasting, Waterproof Wearables: Once I received my help button, I almost never needed to take it off. The batteries inside last about two years without a charge, and the pendant/wristband is waterproof, which left me feeling confident about leaving it on while washing dishes or taking a shower.
24/7 Redundant Call Centers: QMedic has built-in extra protection with call center redundancy. This means they have call centers in two locations, Utah and Idaho. Should an outage or another issue have impacted one of QMedic's monitoring centers, another one would have been ready to assist me.
No Contracts or Cancellation Fees: On QMedic's website, I noticed that they offered a 30-day money-back guarantee. For me, this relieves a lot of the pressure that comes with the buying process. If I were to decide QMedic's Cellular Alert System was not a good fit, I wouldn't be stuck in a costly contract or required to pay heavy cancellation fees.
Activity Data for Caregivers: Through my wearable help button, QMedic's system automatically measured my movement and sleep patterns. When my device detected abnormal patterns, it sent notifications directly to the Caregiver Dashboard.
What We Don't Like About QMedic Cellular Alert:
No Automatic Fall Detection: One of my favorite features of medical alert systems is automatic fall detection, and I was disappointed to see that QMedic does not offer this on any of their systems. In the event of a fall, my emergency button would have to be pressed manually in order to contact the monitoring center.
No Lockbox: Many medical alert system providers, such as Connect America and Bay Alarm Medical come with a free lockbox. For those that do not, I've frequently seen a lockbox offered as an add-on product. With QMedic, users must buy their own lockbox through a separate company.
Limited Payment Plan Options: Many medical alert systems offer a variety of payment plans in order to accommodate a customer's financial needs. However, QMedic only offers two payment plan options: monthly and annual. Other medical alerts tend to offer quarterly and semi-annual billing.
Tip: Should you choose QMedic as your medical alert, try searching for community lockbox programs, which provide seniors lockboxes for free.
Visit the 
QMedic
 website or call
844-983-3034
to check out the smartest medical alert system.
QMedic's Outlook on Automatic Fall Detection
The Center for Disease Control reports the average number of senior deaths caused by falls will reach as high as seven per hour by 2030. Falls are clearly a serious risk for older adults, and some of these will inevitably be situations where the individual is not conscious or, for whatever reason, can't reach their help button. Given these statistics, it may seem as if QMedic is being irresponsible by not including automatic fall detection as an add-on.
QMedic, however, argues that systems with automatic fall detection are more prone to false alarms. False alarms can be a big nuisance and can actually lead to subscribers not wearing their help buttons consistently, defeating the point of the medical alert pendants in the first place. Still, I can't help but be disappointed that the option was not available.
Tip: If you're searching for a medical alert with exceptional fall detection, try one of these top-rated options.
My Experience Buying Cellular Medical Alert
QMedic's medical alert system can be purchased online through the company's website or toll-free through their customer service line. After exploring the company's website, I was impressed by QMedic's innovative use of monitoring technology and quick response record for calls. However, I still had some questions about their caregiver dashboard and fees, so I made a call to the sales department.
The representative I spoke with explained the ins and outs of the activity and sleep monitoring, which helped clear up my previous concerns. I learned that my help button's information would directly upload to my online caregiver dashboard, where anyone who I gave access could view my activity, sleep patterns, and whether or not I'd been wearing my device. This feature would be very helpful for individuals who are struggling with memory issues.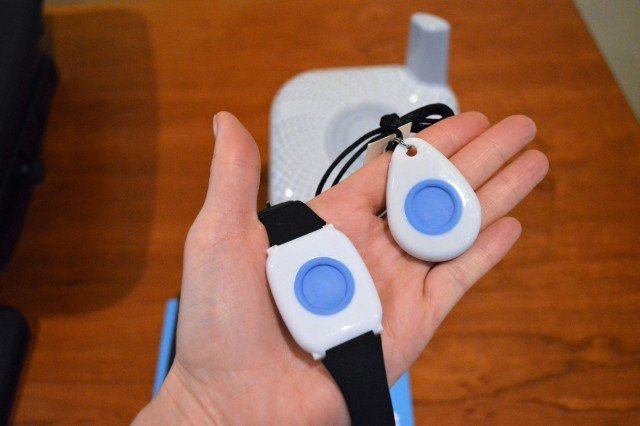 As for fees, my representative confirmed there are no activation, contract or cancellation fees. He explained that the only fee I should expect is my annual or monthly subscription.
I wanted to test out an in-home system, and since I don't have a landline, the QMedic Cellular Medical Alert seemed like a good option for me. With its connectivity range of up to 1,000 feet from the base station, I knew that my whole home and parts of my yard would be covered. When given the choice between a neck pendant and a wristband while placing my order, I chose a wristband.
For its Cellular Medical Alert, QMedic offers two payment plans: monthly ($30 per month) and annually ($300/year). In total for the year, the annual plan costs $60 less than the monthly plan. I'm not one to nickel and dime everything, but $60 is a fair amount of money, so I chose the annual plan.
Making my purchase online was exceptionally simple, consisting of two brief pages.
The first page requested my name and email along with my address. The second page required billing info and a credit card number for me to place my order. They offered free shipping within the continental United States. If I needed my system faster, I could have paid an extra $40 for 2-day shipping or $70 for FedEx overnight service.
Cellular Medical Alert Service Plan Options
Cellular Medical Alert Product
Price
In-Home Cellular Wristband or Neck Pendant
$30/month or $300/year
Landline Wristband or Neck Pendant
$30/month or $300/year
Outdoor Mobile GPS Medical Alert System
(Neck Pendant Only)
$45/month or $400/annually
Savings Tip: Select the annual service plan to save $60.
Designating Emergency Contacts
About a day after I placed my online order, I received an email that included tracking information for my new device along with a link to a webpage that allowed me to designate my system's emergency contacts. While this process can sometimes be tedious, it turned out assigning my contacts was even easier than I expected. I clicked on the link, filled out basic info for my contacts, including names, phone number, and their relationship to me. Then I clicked submit. It was nice to get started even before my device arrived in the mail!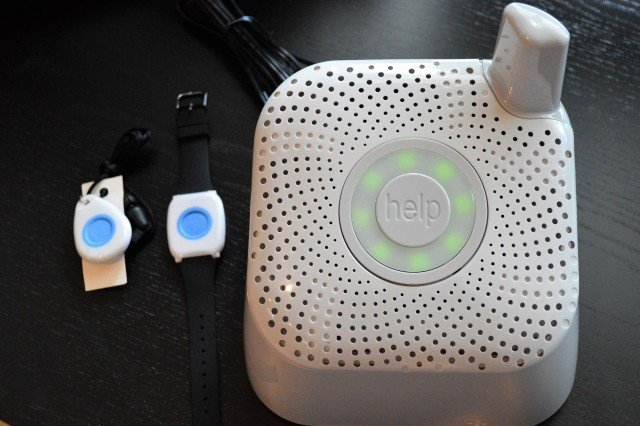 Setting Up the Cellular Medical Alert System
When my package arrived in the mail, I pulled up the product setup directions I'd previously seen on the QMedic website. I then began the three-step installation process by removing the base station from the box and choosing a central location for it in our home, the living room. Next, I plugged the base station power cord into the outlet. Finally, I adjusted the wristband to fit my own arm. Since my device arrived fully charged, I was all set to begin testing. I'll admit, it was all a lot more simple than I expected. I'd set aside about two hours to get everything setup. Instead, the entire process took roughly 15 minutes.
Tip: Ask your customer service agent to help you test the range of your system specific to your home, so you know the exact borders you need to stay within for your help button to work.
Testing QMedic's Cellular Medical Alert
With my base station set up and plugged in, it was time to test out my new medical alert system. Per QMedic's step-by-step directions, I placed a call to the emergency call center by simply pressing the button on my wristband. Within 30 seconds, I heard an operator's voice through my base station. I told him I was testing my new Cellular Medical Alert. He assured me the test had been successful and helped me make a few customizations. For example, I chose to route the initial call from my help button directly to a couple of my family members instead of defaulting to the monitoring center. Next, he asked if I'd like to have him read off the info they had on record for my emergency contacts. This was all done without a hitch.
I then requested they connect me to one of my designated emergency contacts to test these connections as well and make sure my contacts had properly saved QMedic's phone number. Of course, I warned my contacts before doing this, so as not to worry them. At the end of the call, I was fully satisfied with the tests we conducted as well as the service provided by QMedic's call center.
After I'd tested all the equipment on my end, I sat side by side with a family member as they set up the caregiver dashboard connected to my device. The interface was very user-friendly. The dashboard itself, which included screens for activity, compliance, and sleep needed to be accessed through an internet browser. We were also able to set up text alerts that would send my husband a text each time my help button detected I hadn't moved for a while or if my routine changed. First, we customized the timeframes that would trigger different mobile alerts.
To test out my button's caregiver features, I took my wristband off and went about the rest of my day. Later that afternoon, my husband received a text message informing him that I was not wearing my device. With nearly half of adults over 65 suffering from memory impairment, I thought this feature would come in handy. I also made several test calls to QMedic's monitoring center. Even from a different room, my base station was able to pick up my voice and project audio loudly and clearly.
Returns and Renewals
Customers who sign up with QMedic essentially receive the first month of service at no risk as a result of the 30-day money-back guarantee. This means if I choose to cancel within 30 calendar days of receiving my device, I will receive a full refund for any payments I made to QMedic once I return my equipment. As I read through the fine print on QMedic's website, I discovered the company's guidelines require I use a shipping company that provides tracking and, depending on the reason for the return, pay for shipping. To me, this seemed like a fair agreement.
After the first 30 days, returns/monthly renewals get a bit tricker. According to the company's terms and conditions, if you choose to return your medical alert system after the first 30 days, you must provide at least 30 days written notice. Based on when I decided to terminate my service, this required 30-day period could potentially mean an extra month of charges for a system no longer in use.
QMedic Medical Alert System Product Choices
Please note that you are purchasing a lease of QMedic's service and that QMedic retains ownership of the equipment throughout the duration of the lease.
Cellular Medical Alert Product
Price
Features
24/7 Professional Monitoring Included?
In-Home Cellular Wristband or Neck Pendant
$30/month or $300/year
2-year battery life on help button

Wrist bracelet or neck pendant

Waterproof

Proactive data & wellness reports available for caregivers

2-way base station speaker with 800-1,000 foot range.

Self-testing battery (base station)

Yes
Landline Medical Alert System
$30/month or $300/year
2-year battery life on help button

Wrist bracelet or neck pendant

Waterproof

2-way base station speaker with 800-1,000 foot range

Self-testing battery (base station)

Yes
Outdoor Mobile GPS Medical Alert System (Neck Pendant Only)
$45/month or $400/annually
GPS tracking

Neck pendant

14-day battery life

Proactive data & wellness reports available for caregivers

Waterproof

Yes
The Bottom Line
Overall, QMedic's advanced activity and compliance monitoring, options for customization, and support for caregivers allow it to continue to stand out among the rest. Although I had some concerns about the company's limited payment plan options and lack of automatic fall detection, it ultimately would be a great solution for caregivers or family desiring to better care for their aging loved one.
Visit the 
QMedic
 website or call
844-983-3034
to check out the smartest medical alert system.
Frequently Asked Questions