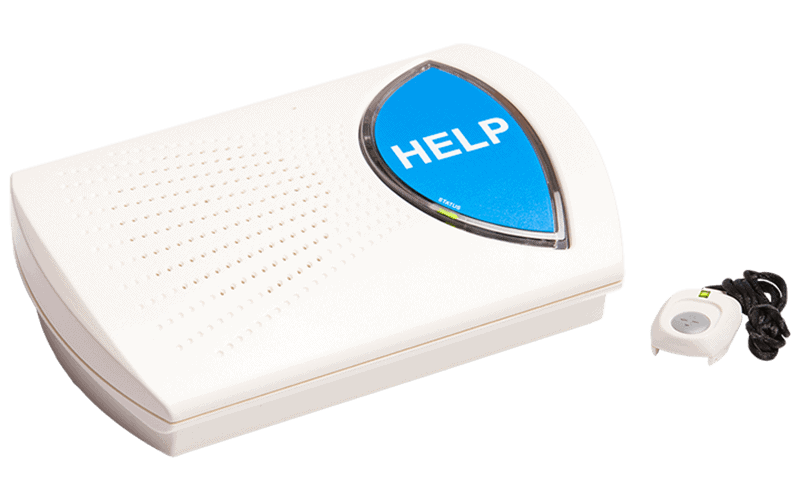 Rescue Alert Medical Alert System
Based in South Jordan, Utah, Rescue Alert has provided medical alert systems since 1981. Consistently, they've offered innovative technology without sacrificing simplicity. Rescue Alert offers a variety of devices that work in conjunction with their in-home, self-monitoring model, the MXD, that range from especially small, lightweight help buttons, to an easy-to-see, mountable wall button. And if you don't want the pressure of making the choice to call for help at the touch of a button, they offer an Active Alert neck pendant as well!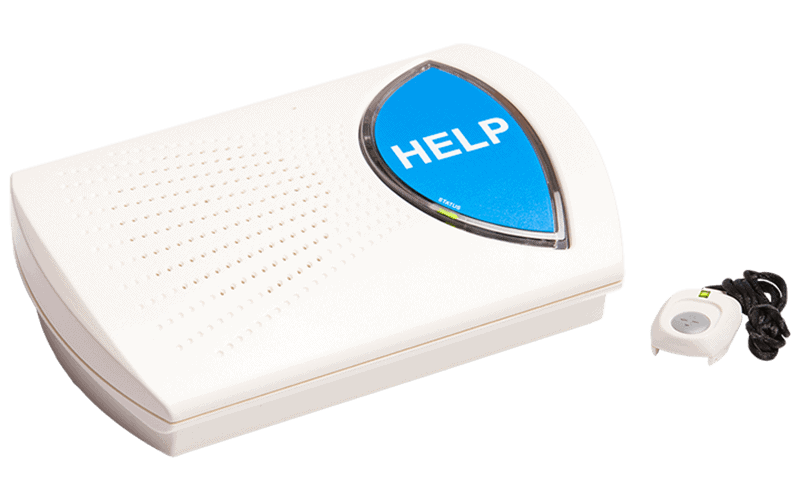 Rescue Alert has a long tradition of covering all the bases, and should you need security outside of the home, they offer a lightweight GPS-based communicator to help keep you safe while living an active lifestyle. They dedicate themselves to marrying modern technology with accessible, user-friendly devices that can become the cornerstone of in-home care.
How to Buy Rescue Alert
Rescue Alert offers a fully equipped in-home system called the MXD, which includes one personal help button, two-way communication capabilities, and 24/7 monitoring services. Rescue Alert has multiple plans for leasing — you may do so by the month, quarter, or year. A nice feature is that unlike some companies, Rescue Alert's equipment is available to purchase, either for a one-time fee, or through monthly installments.
This company definitely encourages over-the-phone purchases. The name of their game is communication with real people who are caring and dedicated. However, if you prefer to simply type yourself into acquiring a monitoring system, an online purchase is just as easy!
Here is an overview of the different plans Rescue Alert offers its customers.
Rescue Alert Pricing
Plan
Price
Includes
Monthly Rental
$32.95/mo

Personal Help Button
MXD Base Unit
24/7 Monitoring
Free Gift

Quarterly Rental
$29.95/mo
($89.95 paid quarterly)

Personal Help Button
MXD Base Unit
24/7 Monitoring
Free Gift

Yearly Rental
$27.95/mo
($335.40 paid yearly)

Personal Help Button
MXD Base Unit
24/7 Monitoring
Free Gift

Purchase Equipment
$15.95/mo
($199.00 cost of equipment)

Personal Help Button
MXD Base Unit
24/7 Monitoring
Free Gift

One Time Payment
$849.00

Personal Help Button
MXD Base Unit
24/7 Monitoring
Free Gift
Rescue Alert Protection and Warranty
You should be aware that Rescue Alert does not offer any insurance, protection, or warranty plans for their products. For this reason, you may want to start with one of the short-term plans, such as their "Preferred" quarterly rental plan, where you do save some money compared to renting monthly, without making a longer, or even lifetime, commitment.
There are also resources and reviews of their products online which can help you make an informed decision beyond reading what Rescue Alert themselves tout about the products on their website. Check out my full review of Rescue Alert.
MXD In-Home System
Rescue Alert operates with one central, home-based device, the MXD. This product comes as a sleek, white console that looks as benign as an answering machine or phone dock. It has the usual feature of offering two-way voice communication with representatives at their monitoring center. They can be reached via a button on the console itself or through one of the offered accessories. All MXD console plans come with a personal help button, or "Panic Button," regardless of time leased or purchase plan. 24/7 monitoring is part of every plan, as well.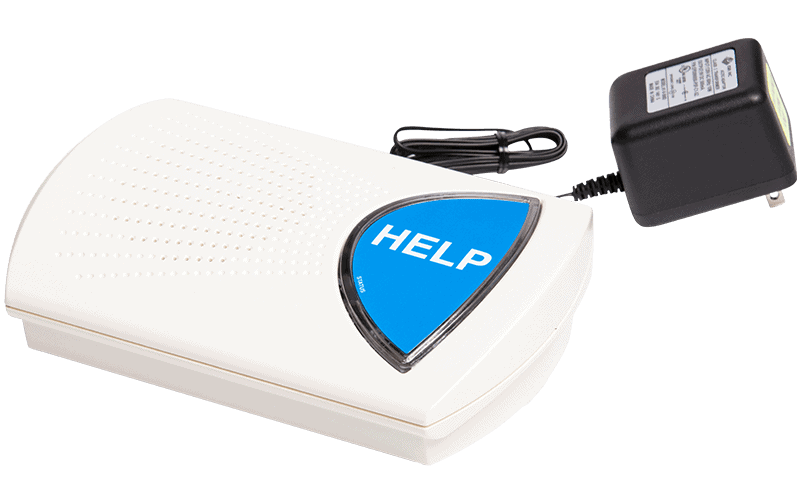 What makes MXD unique from other stand-alone consoles is their ability to perform self-diagnostics. In other words, the owner is not fully responsible for monitoring the device's battery power, or connection to either a Cable, VoIP, or Telephone line. The device will detect these things, and any internal issues on its own. If an issue is detected, the monitoring center will be alerted, at which point they will resolve the issue for you, or contact you if it is something to be done on your own (like re-charging the device). Real people are always looking out for your safety, not only when you are asking for help, but when the console is idle, in anticipation that you may need assistance at any time.
The Response Center
Rescue Alert owns their own response centers. One is at their main location in South Jordan, Utah. They have a second, fully redundant call center in St. George, Utah. This means that because the centers are in different regions of the state, if there's ever a loss of power, computer system failure, or similar situation at one monitoring center, the other call center will be fully accessible to you, a handy feature considering that power outages are on the rise in the United States. This method of managing call centers ensures that Rescue Alert's claim that they offer 24/7 monitoring is real and true.
Rescue Alert also has Spanish speaking operators available at all times, as well as other bilingual and multilingual responders, which can ease anxiety for those who may not speak English as their first language, or who would not feel comfortable speaking English during an emergency.
My Active Alert Fall Detection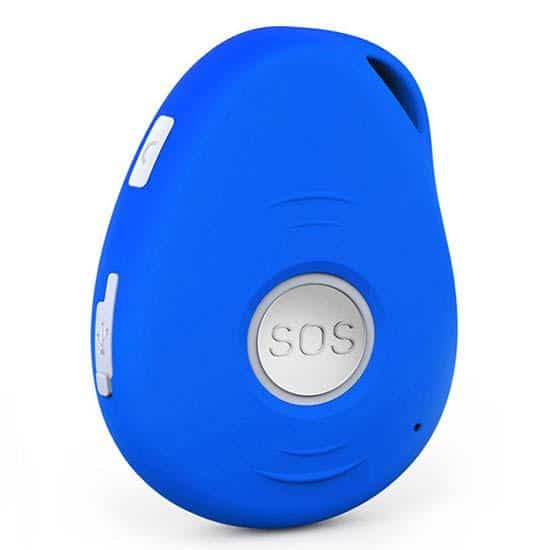 This is a neck pendant, just slightly larger than the PHB, that connects to your MXD. It can be added to any plan for a flat rate of $10.00 per month. The My Active Alert will detect a fall during circumstances where an older person may not be able to press a panic button themselves. With a range of 600-1000 feet, and being water-resistant, it is ideal for anyone seeking reassurance that they, or a loved one, will be looked after in an emergency regardless of location in the home, consciousness, (or even stubbornness) when it comes to a fall. One in four Americans aged 65+ falls each year, so even if you feel able-bodied, it is best to prepare for the possibility by purchasing automatic fall detection services if a medical alert company offers them.
FYI: You will need to call Rescue Alert to add the My Active Alert necklace to your plan, it cannot be purchased online.
Lock Box
Rescue Alert offers a slim, unassuming lockbox, just the right size for a spare key. The Lock Box can be chosen as the "Free Gift" in any MXD plan, or it is available for a one-time purchase of $39.99. The Lock Box offers an extended level of care that allows family members, friends, and caregivers access to your home in an emergency. Having a lockbox with an available key is a much quicker and safer way for first-responders to enter your home than hiding keys under planters or simply having no spare key at all. Additionally, the combination to the lockbox is stored securely in Rescue Alert's databases for peace of mind should you ever forget your combination.
Rescue Alert GPS
Rescue Alert's GPS based on-the-go system uses AT&T's 3G cellular network, and it connects you directly to EMD certified dispatchers should you face an emergency outside the home. It is small, lightweight, and looks similar to a beeper or cellphone. It can be worn on your belt, with the included belt clip, as a necklace with the included lanyard, or in your pocket or purse.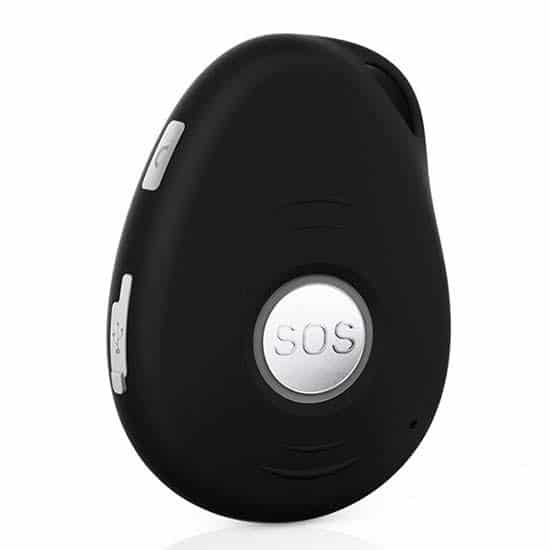 For peace of mind, the Rescue Alert GPS updates your location every fifteen minutes. Should you encounter a situation where you are unable to contact the dispatchers yourself, your location will be available to them regardless. The battery lasts up to 48 hours, so you don't need to worry about constantly keeping track of charging the device every day, especially if you are mostly using it while on errands. Fully charged, however, the Rescue Alert makes longer excursions fully possible with a feeling of confidence and safety.
FYI: You do not need to lease or buy the MXD from Rescue Alert to utilize their GPS system.
Something great about Rescue Alert's GPS device is that you can rent one on its own if you already have an at-home system that you like. Rescue Alert offers an entirely separate rental program for the GPS that allows you to keep the at-home system that you are comfortable with, and branch out into having a way to seek help in an emergency outside the home if your company does not offer something similar.
Unlike the MXD, the GPS cannot be purchased outright for a flat one-time fee. But they do offer a few different rental plans. Here's a look at their pricing.
Rescue Alert GPS Pricing
Plan
Price
Includes
Monthly
$44.95/mo

Lanyard necklace
Carry case w/ belt clip
Charger and cradle
24/7 monitoring
Free lock box

Quarterly
$39.95/mo
($119.85 paid quarterly)

Lanyard necklace
Carry case w/ belt clip
Charger and cradle
24/7 monitoring
Free lock box

Yearly
$37.95/mo
($455.40 paid yearly)

Lanyard necklace
Carry case w/ belt clip
24/7 monitoring
Free lock box
FYI: You must call Rescue Alert to either purchase any rental plan of the GPS, or add it to any MXD leasing plan.
Recap
Rescue Alert, unlike other medical alert system companies, only offers a couple of different systems, whereas companies such as Medical Guardian and MobileHelp offer several, including modern options like smartwatches. What Rescue Alert offers, however, is simplicity.
In a similar fashion, they do not have call centers strewn across the country. Rather than trying to manage a vast sea of workers, in whose hands you are placing your health and safety, Rescue Alert has just two monitoring centers in the same state. They concentrate their efforts, and in doing so they offer an intuitive service that can suit just about anyone. While the products they offer are limited, and the options for leasing plans are not as varied as other medical alert companies, if you are looking for a simple, dependable, and affordable system, Rescue Alert will do the trick.
Rescue Alert Frequently Asked Questions