Mobility Scooters Reviews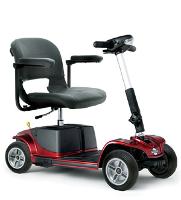 As people age, it can become harder and harder to get around. That's where mobility scooters come in; they can really come in handy, especially at the supermarket, mall, or even just a leisurely trip around the neighborhood. Since I've spent the majority of my career as a social worker caring for older adults, I've had the chance to review a wide range of mobility scooters. But if you're new to this world, you may not know exactly what I'm looking for in a mobility scooter, and what you should be paying attention to. Hopefully, this page helps you shed some light on what to look for in a mobility scooter, and whether or not you need it in the first place.
What Is A Mobility Scooter?
You've probably seen mobility scooters and may not even know it. In a nutshell, mobility scooters are electrically engined vehicles that can have three or four wheels, depending on where they're used. Unlike vehicles you'd see on the street like cars, you don't need a license to use a mobility scooter, nor do you have to pass a stressful driver's test. That's good news for me, as my chest tightens at the mere thought of parallel parking.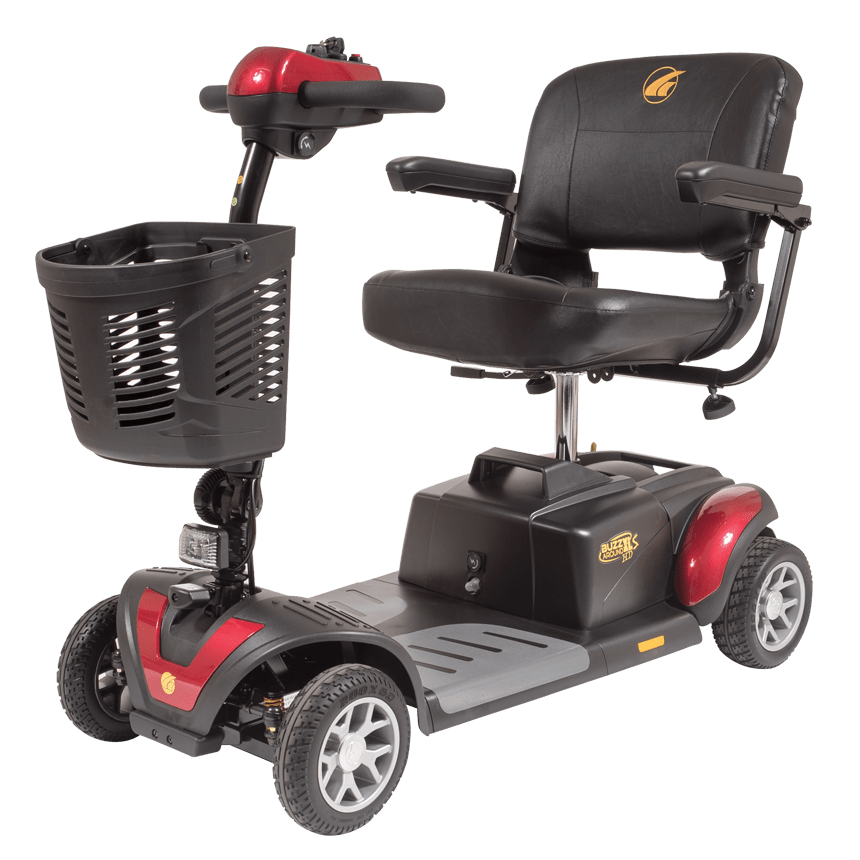 Why Do I Need A Mobility Scooter?
Unlike necessities such as hearing aids or glasses, it's not as immediately clear when someone would need a mobility scooter, but in general, it's a great idea for anyone that has trouble with mobility. Now, if you are hesitant about trying out a mobility scooter but are having difficulty getting around, make sure you are taking more breaks, using a walker or cane, or consider switching to different modes of transportation. Basically, mobility scooters, like wheelchairs, should only be used as a last resort. But if you've tried all that and still have trouble getting places, a mobility scooter can help.
My Advice: Before you jump to buying a mobility scooter to help you get around, try a walker or cane, or simply walking shorter distances with plenty of breaks; mobility scooters should only be used as a last resort.
Mobility Scooters: What To Look For
Mobility scooters aren't a "one size fits all" purchase. Rather, there are different types of scooters that fit the needs of different people. Here's what we look for when buying a mobility scooter:
Indoor vs. outdoor: Some older adults only need to use their scooters indoors, as they could drive or have access to some other form of transportation. However, for a more active senior who is often out of the house, I recommend getting a mobility scooter that works outdoors as well.
Terrain type: If you're more active, think about what kind of terrain you'll be riding your scooter on; sidewalks? Roads? Gravel, grass or sand? Different options are better for certain types of terrain, so think ahead to where the next few years might take you.
Portability: Sometimes, when I was testing out mobility scooters, I wanted to use them in a place a bit far away from my house, like a national forest that I camped out in. Unless you're only planning on using it locally, find a scooter that's easily portable. If you have a large car like me, this shouldn't be a problem, but there are also options that can fold down if need be.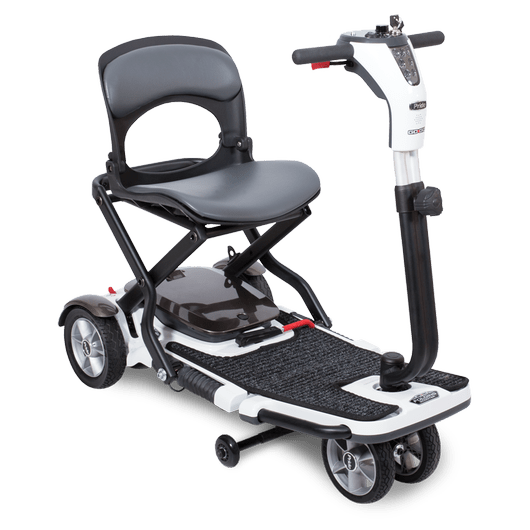 Range/ battery life: In a nutshell, how long of a distance will the older adult in question be using the scooter for? I've tried options that last anywhere from six to 30 miles, but before you take one out for a ride, make sure you won't run out of juice halfway to the grocery store.
Comfort level: There's no reason a mobility scooter should feel uncomfortable to sit on, especially during your golden years. I prefer mobility scooters with suspension, especially for those areas in my neighborhood with uneven sidewalks. I also like padded seats and adjustable armrests and seatbacks. Everyone's a different size, so it was nice to be able to customize certain mobility scooters to my body.
Maneuverability: Of course, I also appreciated scooters that were easy to maneuver, particularly when I had to turn in a tight circle. Pay special attention to the scooter's turning radius so you can avoid those eight-point turns.
Warranty: A mobility scooter is a pretty big purchase, so making sure that I had a strong warranty was essential. If something went wrong or the device didn't work as it should've, I wanted to know I could repair or replace it without paying hundreds more.
Reputable company: Fortunately for you, I've already done my due diligence of looking into each mobility scooter company and making sure they're legitimate. I highly recommend reading my reviews, along with reading other customer reviews from sites like Yelp or the Better Business Bureau.
Affordability: I'll expand a bit more on this later, but depending on your budget, mobility scooters can cost anywhere from under $1,000 to over $3,000. Make sure the features justify the price. If you're looking for something super budget-friendly, consider getting a used model.
In each of my mobility scooter reviews, I keep all these features in mind, as well as physically testing out each device so you don't have to. If you're looking to buy one soon, check out my guide and list of the best mobility scooters of 2021.
How Much Do Mobility Scooters Cost?
Typically, mobility scooters cost anywhere from $800 to $5,000, which is a pretty large range. Those in the higher range will more likely be able to be off-road, typically on sand or grass, with bells and whistles including adjustable armrests and seats, storage space, LED lamps, and more. However, if you want to save money, you can easily cut out these extra features and get a more streamlined and minimalist model. To see the more affordable options on the market, check out my list of the best cheap mobility scooters.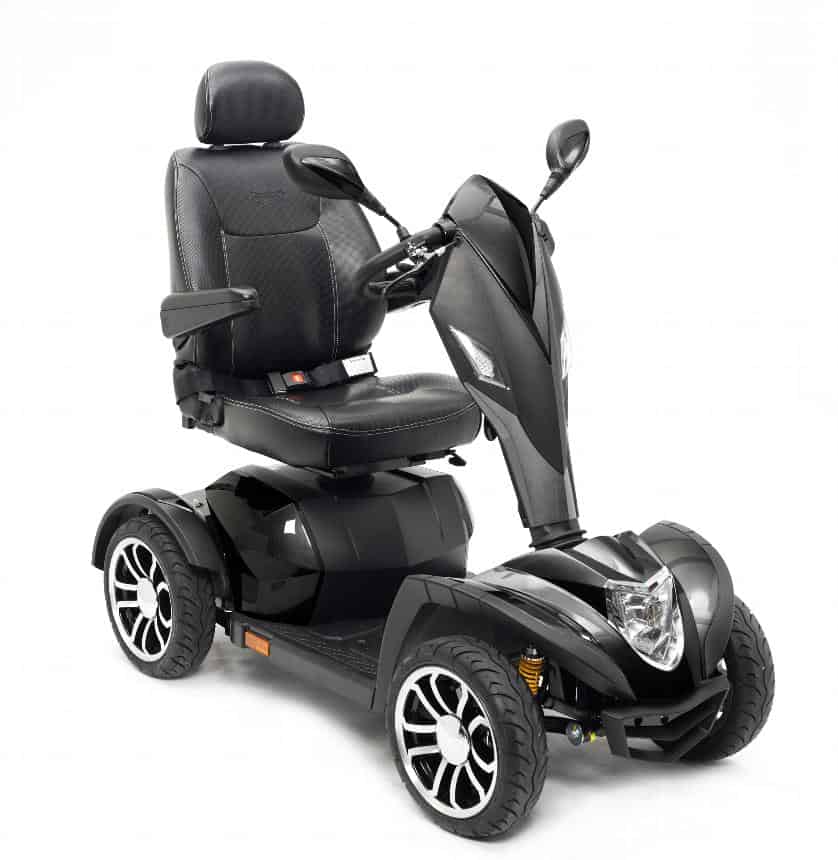 Another option is either to finance your scooter, so you can pay for a longer period of time, or get a reconditioned scooter. Make sure you have access to a warranty either way, as repairs or replacements could get costly. But given you're spending at least $800 on a mobility scooter, it's more important than ever to make sure you buy one that's right for you.
FYI: If you can't afford the costs of your scooter outright, you can either finance it, get a pre-owned model, or see if your insurance can cover it.
Types of Mobility Scooters
Okay, so now you're an expert on what to look for in a mobility scooter and how much that'll cost. Now, it's time to decide exactly which kind you want. In general, they tend to fall into four different categories:
Travel: Lightweight, travel scooters can usually be folded down to fit in a car, ideal for an older adult that's more on-the-go. Here are some options for travel.
Heavy duty: For heavier people, choose a scooter than can support up to 500 pounds.
Three-wheel: If you're looking for a mobility scooter to use primarily indoors, go with a three-wheeled scooter, which is usually lighter and smaller than a four-wheeler. Even in a relatively small home like mine, the three-wheeled scooters' small turning radius made sure that I wasn't knocking over any furniture or scraping walls when I was using it.
Four-wheel: Finally, get a four-wheeled scooter if you want to use it outdoors; the extra wheel adds a lot of stability. To see your options, read my list of the best off-road mobility scooters.
Mobility scooters are also separated into classes, Class Two, or Class Three. Class Two scooters should only be used indoors at up to four miles per hour, and I could test them out alongside pedestrians on sidewalks. However, if I wanted a scooter I could use on paved roads, I looked into a Class Three scooter, which typically comes with indicators and lights for highway use. Note that Class Three scooters can only travel up to eight miles per hour, so even at top speed, I was way behind the flow of traffic.
Tip: If you want to use your scooter outside, look for a Class Three option, not Class Two scooters which can only be used indoors.
To learn more, read my mobility scooter guide, which has comprehensive information about buying and using one for yourself or a loved one.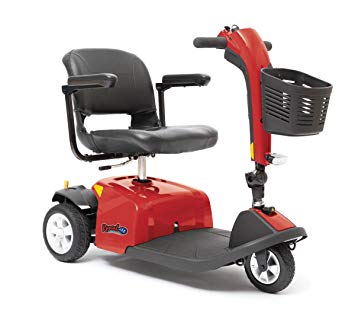 The Best Mobility Scooters
Now that you know exactly what you're looking for, here are a few mobility scooter companies that I've tested out with successful results:
Pride Mobility: With over 30 years in business, Pride Mobility has a nice range of scooters, both three and four-wheeled, that were pretty easy to set up. Although they had options for indoor and outdoor use, I tried it outdoors and enjoyed wheeling around the park on a sunny day. Learn more about Pride Mobility scooters, and figure out the right one for you.
Golden Technologies: Although Golden Technologies are known for their luxurious mobility scooters, they also have a number of options for different budgets, including scooters with three and four wheels. For me, I loved being able to keep my cell phone and water bottle in their convenient compartments. Plus, their compact travel model was ideal for a trip to the lake.
Drive Medical: Not only does Drive Medical have a nice selection of mobility scooters, but also everything from oxygen tanks to walkers to beds. With three-wheelers, four-wheelers, heavy-duty options, and options for travel, I loved Drive Medical's clean design. These things look as sleek as BMWs, but good news for your wallet, they're not quite as expensive.
Rascal Mobility Scooters: What I like most about Rascal Mobility Scooters is how easy they are to control. Rather than a joystick, they have intuitive control. Plus, when I wanted to try their scooter out on the boardwalk one summer night, it was easy to disassemble to fit in the trunk of my car. However, note that Rascal Mobility Scooters may not be so easy to get in the United States; instead, I'd look for pre-owned models. Read more about Rascal Mobility Scooters.
Recap
Mobility scooters can be life-changing for those that have trouble walking and have exhausted their other options. Of course, these things aren't cheap, which is why doing your research and testing is a necessity. But as long as you know what you're looking for along with your price range, choosing a mobility scooter shouldn't be too complicated. Just make sure that you contact your insurance company to see if you're eligible for a free or discounted mobility scooter; if it's a medical necessity, it could be covered.