Many seniors have found great pleasure, freedom, luxury, and fun in purchasing an RV. But the idea of driving a large, clunky bus can sound intimidating for some. For this reason—and many others—we suggest looking into the option of smaller RVs.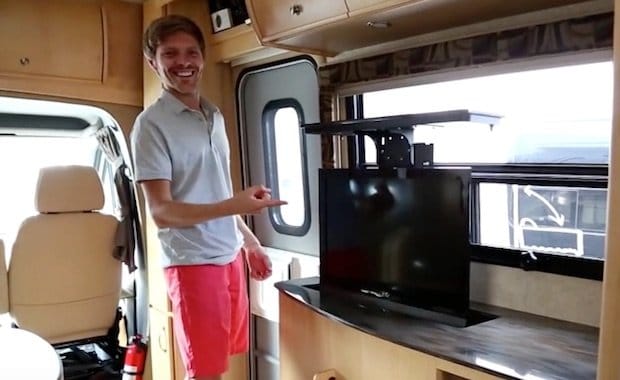 Why Purchase a 30 Foot RV
Besides being more affordable, there are quite a few benefits to choosing a smaller RV. For one, an RV under 30 feet is much easier to maneuver on the road— whether your travels bring you down winding mountain roads, crowded city lanes, or over miles and miles of flat open desert. Shorter RVs will drive similarly in all environments. Additionally, almost all campsites across the nation can accommodate RVs under 30 feet, while larger RVs occasionally prove troublesome in terms of space, both on roads and in campgrounds. In recent years, camping has grown in popularity, and an RV allows you access to nature while maintaining a high level of comfort and protection.
Despite their smaller size, smaller RVs have just as much to offer in terms of amenities as larger RVs. A smaller RV sounds inherently more cramped, but all of these motorhome companies make it a mission to design their interiors so that they feel liveable and much larger on the inside than they look from the outside.
Smaller RVs are especially useful economically and functionally for older couples looking to travel long-term, but almost all of them sleep more than two— a few even up to six! This makes it very easy to take additional family members on trips as well. Meanwhile, you are not wasting all of the money, resources, and emissions that come with a larger RV.
How We Chose the Best 30 Foot RV's
When it came to narrowing down our choices for the best RVs under 30 feet, we
To decide on the best RVs under 30 ft for you to consider, we reviewed popularity, gas mileage, practicality, unique features and amenities, and, of course, price. Budgeting your travel can often be tricky, so this guide will help you figure out the nuts and bolts. The best features for the best prices is what you are really looking for in an RV, and all of these fit the bill.
The Best 30 Foot RV's
Without further ado, here is our list of the best RV's under 30 feet.
#1 Winnebago View Class C Motorhome
Overview
The Winnebago View is a sleek, modern RV. You will feel like you walked into a newly renovated apartment rather than a clunky RV. It sleeps up to four with both a cab-over bunk and murphy bed when needed. There is a reason why, over other RV makers, most people have heard of Winnebago, and that reason is their quality. This RV seems to be the height of modern comfort under 30 ft.
Price: Starting at $172,128
Length: About 26 Feet
Gas Mileage: 16 to 18 mpg
Unique Features: Winnebago is really trying to show off its ability to provide updated features. They offer an additional entertainment package with available theater seating. They also focus on making charging a variety of electronic devices easy with plenty of outlets and electronic ports, including ones above the bunk where you sleep.
What We Liked:
Insulated Sleeper Deck
Modern Hardwood Floor Look
Ability to Purchase Holding Tanks and a Longer-Lasting Battery
Different Floorplans Available
What We Didn't:
No Separate Sleeping Area for Guests
Somewhat Complicated "Infotainment System"
Ideal For: This RV is great for couples who want to travel in modern luxury and style. It could also be perfect for someone single who is used to living in the city or modern home that wants to experience the great outdoors comfortably.
#2 Coachmen Freelander Class C
Overview
The Coachmen Freelander is another RV that allows you to travel in style with modern amenities. The outside of Coachmen RVs have a more classic look, which can be appealing if you are finally going on the country adventure you've always dreamed of. Stepping inside, you will think you have rented a suite in a luxury hotel.
Price: Starting at $189,204
Length: About 27 Feet
Gas Mileage: 17 to 19 mpg
Unique Features: The Coachmen Freelander has a classic feel not seen in many Class C RVs. It focuses less on fancy, technological advancements and more on practicality and old-school comforts. A Coachmen has everything you need for your RV adventures without the bells and whistles, which has a definitive appeal for some.
What We Liked:
Separate Sleeping Area
The Option of Chevy or Ford
Spacious Layouts
Appealing Vanilla and Hazelnut Themes
What We Didn't:
Bathroom Very Close to Bedroom
Only One Charging Station
Lack of Customization Options
Ideal For: This RV could be very ideal for couples traveling with a grandchild or single guest. Since most models offer a separate sleeping area, the bunk remains available. And depending on if your guest is an early or late riser, there are plenty of ways to separate yourselves and allow them (or you) a full night's rest.
#3 Coach House Platinum III
Overview
Coach House has its own unique way of building all their motorhomes— a one-piece, hand-laid, fiberglass body. Because of this, Coach House guarantees that you will experience far fewer problems with leaks and bodywork. If you are hoping to do some rough, long term travel with your RV, this could be the model for you.
Price: Starting at $199,612
Length: About 25 Feet
Gas Mileage: 15-20 mpg
Unique Features: Coach House RVs are made of one single, hand-laid piece of fiberglass for strength, durability, and quiet performance. Because most RVs are many pieces joined together, the places where these pieces meet are hotspots for damage. By driving a vehicle that is essentially all one piece, you can safely take your RV down roads— city or the middle of a national park— where you otherwise might be wary.
What We Liked:
Covered by a Comprehensive Warranty
Outdoor Shower with Hot Water
Solid Construction
What We Didn't:
Less than Average Gas Mileage
Twin Beds Required
No Bunk Above the Cabin
Ideal For: This is definitely an RV made for a couple or the solo traveler. The unique style of the RV's manufacturing does not leave as many nooks and crannies for extra amenities and storage. However, it can comfortably sleep two people.
#4 Thor Motor Coach Four Winds Sprinter
Overview
The Four Winds Sprinter is a great marriage between old and new. With newer touchscreen features and LED lighting, the Sprinter is sure to get you wherever you are going quickly and reliably.
Price: Starting at $121,350
Length: About 26 Feet
Gas Mileage: 13-18 mpg
Unique Features: The Sprinter has some fun features: a power patio awning with LED lights, a touchscreen dash radio, a keyless entry system, and a skylight in the anti-microbial shower.
What We Liked:
Spacious Seating and Dinette Areas
Keyless Entry
Rearview Camera
Great for Cooking
What We Didn't:
Mercedes Driver Required
Flashy Exterior
Somewhat Low Gas Mileage
Ideal For: Like other RV's we've talked about, the separated bedroom with an additional bunk above the cabin makes this ideal for couples as well as couples traveling with guests
#5 Forest River Sunseeker
Overview
If you're looking to drive an RV across the country but are worried about the footprint you're leaving behind, the Sunseeker is a great choice. All Sunseekers are "Certified Green" by TRA certification. And the RV itself is just as attractive and practical as any other.
Price: Starting at $115,608
Length: About 28 Feet
Gas Mileage: 14-18 mpg
Unique Features: All Sunseeker RVs are green, which means you'll be doing the least harm to the environment without disrupting the fun of your travels. They also offer backup cameras, a touchscreen android radio with Bluetooth, and a motion sensor light in the bathroom of all of their models.
What We Liked:
Environmentally Friendly
Nicely Distanced Bedroom and Bathroom
Warranty for RV and Chassis
LED Kitchen Lights
What We Didn't:
Few Charging Stations
TV Located in Driving Cab
Less Appealing Interior Design
Ideal For
: This RV is basic and affordable for any single traveler, couple, or couple/traveler with a guest, especially for those who are environmentally conscious.
Recap
In looking at these RV models under 30 feet, we can see that just because the RV is smaller, this doesn't mean you have to give up comfort, style, or amenities! A smaller RV is not only a smaller purchase, but it's also much easier to maneuver your way across the country, the state, or just your favorite campground haunts. Whether traveling with your partner of 40 years, your best friend of 50, grandchildren, siblings, or cousins, there is an RV, a floorplan, and most importantly, a journey ready for you to embark on in comfort and safety.