My husband and I were recently in the market for an RV.  While we're still in the "investigation phase", I thought it necessary to share some experiences with you about the process of buying an RV.  Just like buying anything – from anybody… There are good products and bad products… Good salespeople and unscrupulous salespeople.  Here are a few considerations based on our recent experiences here in the Portland, Oregon market.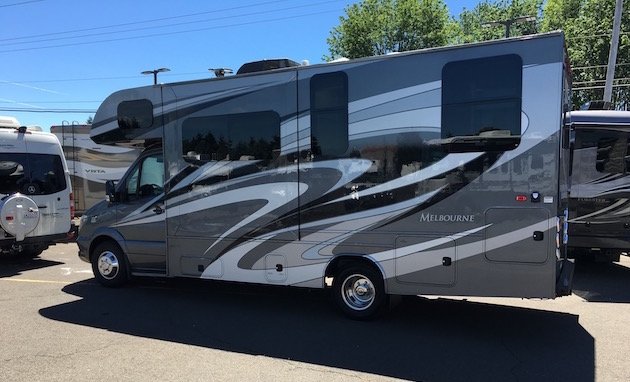 Have I done enough research?
Going out to the various RV lots is great fun IF your expectation is just to look around and kick a few tires.  If you're the type of person that can't say "NO" to a pushy salesperson, you may want to do your online research before hitting the lots. (We think this is a good idea anyway.)  If you spend the time to research your purchase prior to hitting the lot, you'll find a plethora of resources available to help you.  Camping World, RV Trader and Craigslist all have websites that are awesome places to see local inventory and options – ahead of hitting the RV lot(s).
RELATED: 2017 Airstream Sport Review: 22FB Bambi Light
Other places to educate yourself include the Family Motor Coach Association (FMCA) and the many travel blogs out there.  Two of our favorites are Gone With the Winns and Wandrly.
Do I want a motorhome or a trailer?
An RV is a vehicle that combines transportation and temporary living quarters for travel, recreation and camping. Two main categories of RVs are motorhomes (motorized) and towables (towed behind the family car, van or pickup). – prvca.org
We thought we were shopping for a motorhome until we saw how much more bang-for-the-buck you got in a trailer (we already have a truck). Once you make this decision, then it's on to the next…
What size is right for me?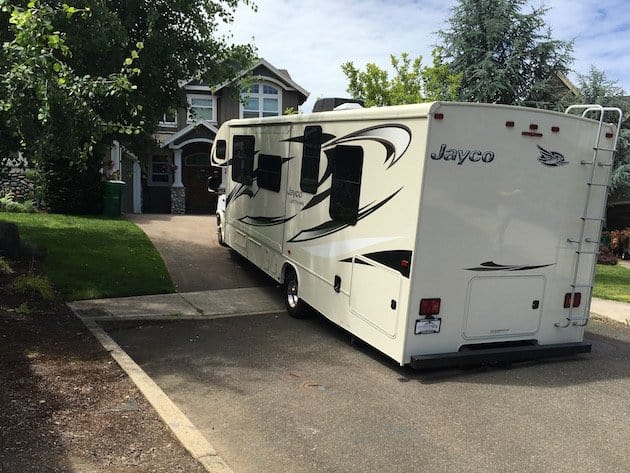 We didn't know how important this consideration was until we began thinking about where to put it.  Not just where to store it, but where would it sit when it was at the house for preparations, breakdowns, or cleaning.
Our driveway has an incline to it. That means for larger motorhomes and trailers, there may be issues with scraping and/or unhooking from the hitch.  The side of our home worked better, but we don't have a "pad" over there (just grass).  This is a very important consideration you need to think about before your purchase.  Biggest isn't always best.
Where will I store my RV when it's not in use?
If you're lucky enough to have storage at home (especially indoor storage) – skip to the next question.  But for most of us, we need to find a place to store our RV when it's not being used.  Our HOA regulations prohibit the storage of RV's, boats, and the like – So we need an alternative place to store it.  Storage rates vary depending on 2 main factors: Whether you want to store it indoors or outdoors AND the length of your RV.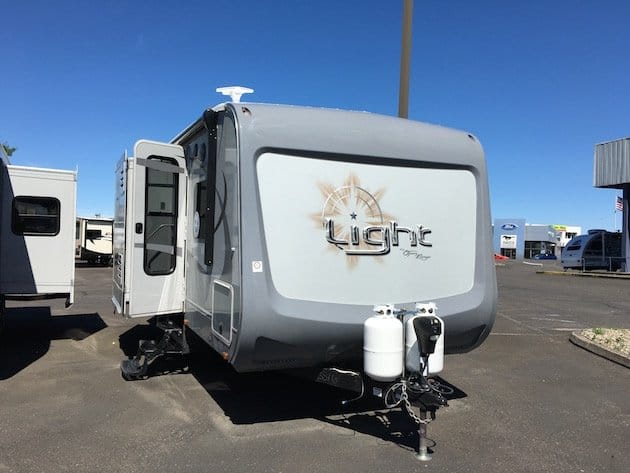 Should I buy new or used?
This is a very personal question, but one worth mentioning.  In my opinion, it comes down to whether you trust the individual selling the used RV. The downside to buying used is that you may be buying someone else's problem.  In all of our research, we found a lot of crap questionable quality 🙂  (even in the new RV's). Other issues we came across in used RV's were odors, outdated colors, and fix-it items.
There is an upside to buying used (if you trust the seller). Many, if not ALL new RV's have minor adjustments that are made during the shakedown cruise. If you're buying a used RV that will work for you, it's likely been broken-in and should be ready-to-go.  As in everything… Buyer beware!
Travels and/or camping in an RV can be fun for the whole family if you find the right piece of equipment for your individual needs.  Make sure you're patient, that you're working on your timeline (not the dealer's), and that you're dealing with someone you can trust.  Happy camping!
Tips On Buying Your First RV
After "looking" for a year and a half, this past spring we finally took the plunge… We bought our first RV. Boy have we learned a lot since! Since we regularly post stories about travel and adventure, we thought we'd begin a series on RV's to help those who are considering joining "the club".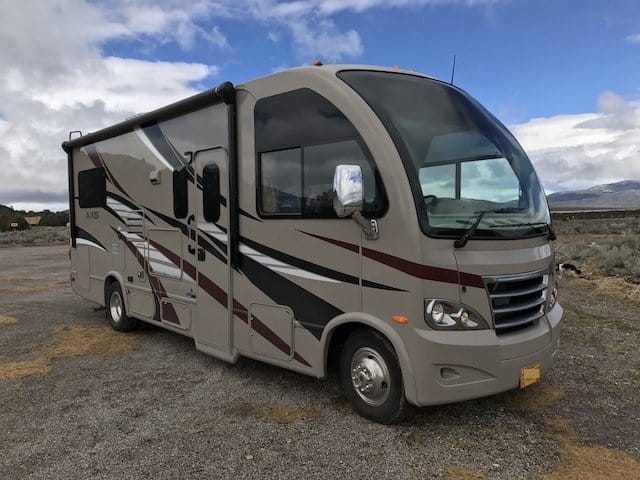 Buying Your First RV
About "The Club":  First and foremost, there is a tremendous amount of camaraderie among RV and trailer campers.   For example, when you pull into a national park or campground, you will regularly get approached to see if you'd like some help backing-in, leveling your rig, or just about anything.  It's a great feeling knowing there are lots of folks that were once rookie RV owners, and they're happy to help out and share the knowledge.
The first thing to know about buying a NEW RV is that nobody pays list price.  Yes, some unfortunate souls do, but they are wasting 20-30% which is the normal discount offered by dealers with a little haggling. The RV market is extremely competitive, and it really does pay to shop around.
Do Your Homework Before You Buy
At one point last year we were looking at buying a trailer (instead of an RV). We'd settled on a price with a dealer in Oregon which we thought was fair and/or competitive. Being an astute consumer, I told this particular dealer that I would think about it, and may shop around a bit.
Within a half hour of shopping online, I found the same trailer in Montana for $7,000 less.  Given it only costs me $200 to fly to Montana, I could have saved some significant money by making that trip!
We happened to buy our RV from a private party. Luckily for us, the people we bought it from were awesome and eager to help us understand all that there is to owning an RV. They weren't in it to make a quick buck – they wanted to find the right owner(s) for their baby.
Consequently, we were able to learn a lot during the purchase process. Our sellers were extremely transparent and knowledgeable about what accessories were must-haves and what accessories were nice-to-have.
Here are 5 must-have RV accessories for the first-time RV buyer:
5 Must-have RV Accessories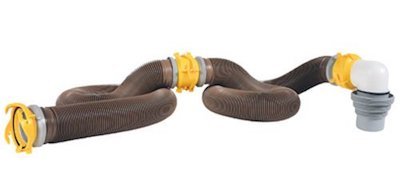 RV Sewer Hose Kit – We bought the Revolution RV Sewer Hose Kit from Camco. This is a 20-foot hose kit in 10-foot sections. This makes it very handy to use either the short or long version (depending on the distance from the dump tank).  It's flexible, and we find it very easy to use.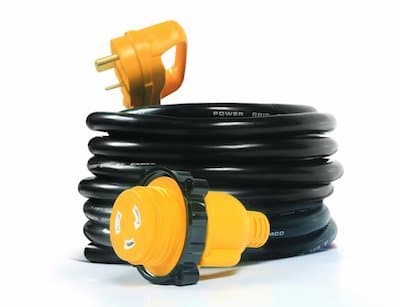 Power cord – You're going to need a power cord if your RV doesn't come with one. 30 amp service is very common at campgrounds and you'll want to get this cord (unless your RV is bigger and requires a 50 amp cord- Then get the 50 amp power cord version).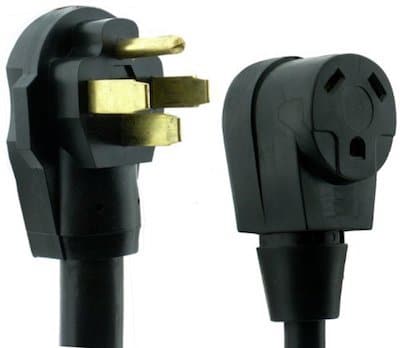 50 amp male to 30 amp female adaptor – Some RV spots will have either 30 amp or 50 amp service. For this reason, you need a power transition accessory that will work for your RV. We're assuming you have a 30 amp receptacle on your RV. If that's the case, you'll want this accessory.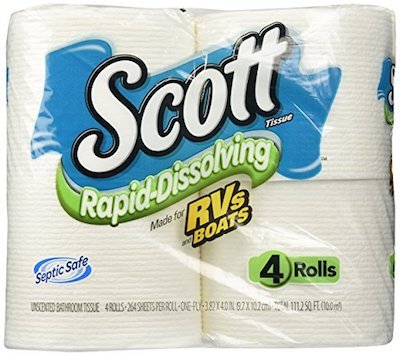 RV Toilet Paper – RV Toilets aren't quite like your toilet at home. RV toilets require special toilet paper that dissolves rapidly (so it can exit via the sewer hose kit noted above). This toilet paper will do the trick.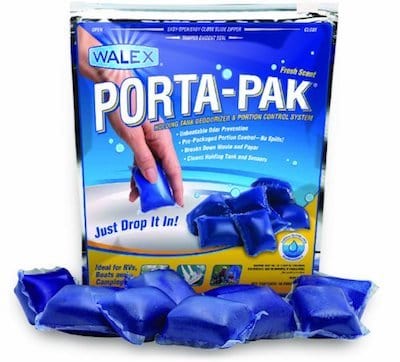 RV Toilet Deodorizer – You drop these little pouches into your tank and they will keep it from smelling up your RV, and ruining your trip. 🙂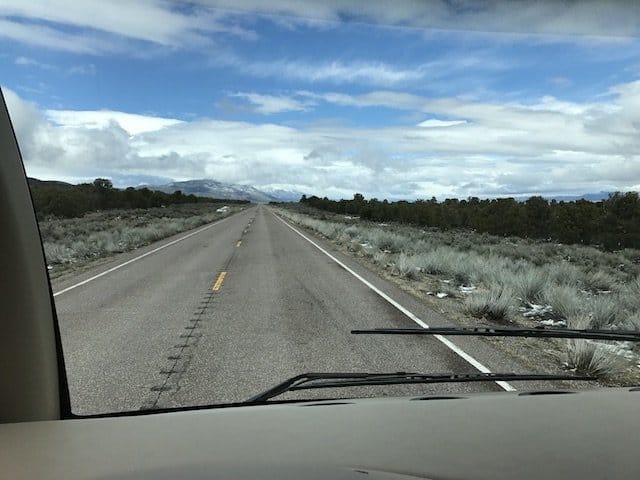 So there are a few tips for the first time RV buyer. This is the first of many posts we'll pass along in case you're considering buying your first RV.