Author: Cynthia Coelho, R.N., B.S.N.
---
Healthcare spending in the U.S. stands at around $3.5 trillion per year and accounts for about 18 percent of the country's national gross domestic product. Since 2000, total healthcare spending has surged by more than 150 percent, which partially reflects the 15 percent increase in the population in that time. But given that the ratio of healthcare spending to GDP has gone up by a much faster rate (a 34 percent increase since 2000), there's no doubt that healthcare is simply getting more expensive in the U.S. This is true even when accounting for the population and economic changes that have taken place in the past two decades. And as our population ages, typically, more care is provided to senior citizens.
The great and growing cost of healthcare remains a central concern for the average American, and the 2020 presidential election was largely shaped by how the country pays for medical care in the first place.
Anybody who's had a surprise hospital visit or even a planned surgery is likely to get serious sticker shock the moment they open their bill, and disturbingly large percentages of the population avoid medical care in the first place because they fear they won't be able to afford it, even with health insurance. In addition, copays and deductibles are increasing: the average deductible for non-Medicare patients is about $4000 a year, and in some cases, it is $10,000. Upwards of 1.5 million Americans will leave the country to seek healthcare in places around the world this year, and that number is expected to increase by about 25 percent a year over the next decade.
These so-called medical tourists find it necessary to leave the country to find more affordable options for cosmetic surgery, dental procedures, cancer treatments, weight loss, and many other types of treatments. It's easy to understand why: a surgery, like a knee replacement, that costs $45,000 in the U.S., might be as cheap as $23,000 in India. But prices also vary widely (shockingly, perhaps) even within the United States.
We wanted to look at the variable costs of hospital visits, different categories of care, and even specific procedures from state to state.
Costs & Spending Overall
The average person with private health insurance spent more than $5,640.78 on healthcare in 2017, including procedures, medication, and hospitalization, according to the Health Care Cost Institute, which analyzes healthcare spending across the U.S. Costs are on the upswing, as the average amount spent per person has gone up nearly 17 percent since 2013. The biggest chunk of that spending was for professional services, such as anesthesia, specialist visits, and surgical services.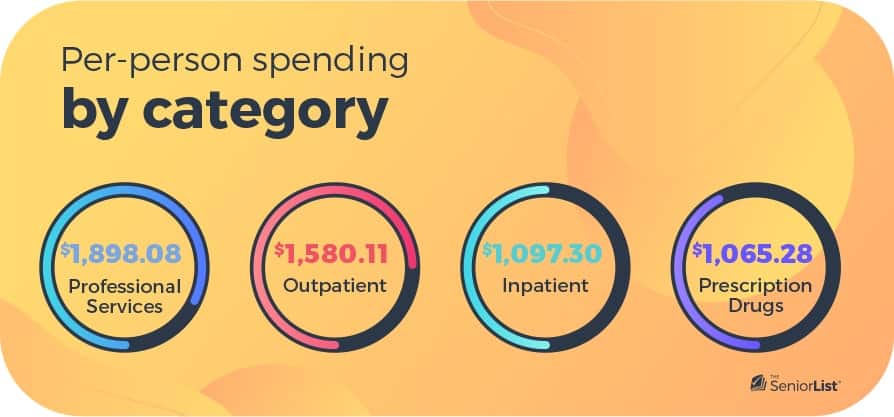 All of those categories saw double-digit increases between 2013 and 2017, but prescription drug spending led the way with an increase of well over 25 percent.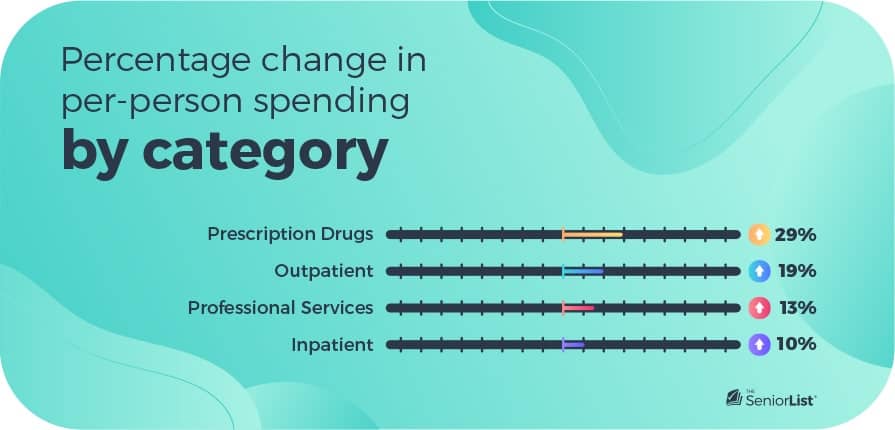 Who Spends The Most?
The two newest states are at either end of the spectrum when it comes to overall spending. Alaskans spend the most ($7,469), and residents of Hawaii spend the least ($3,626).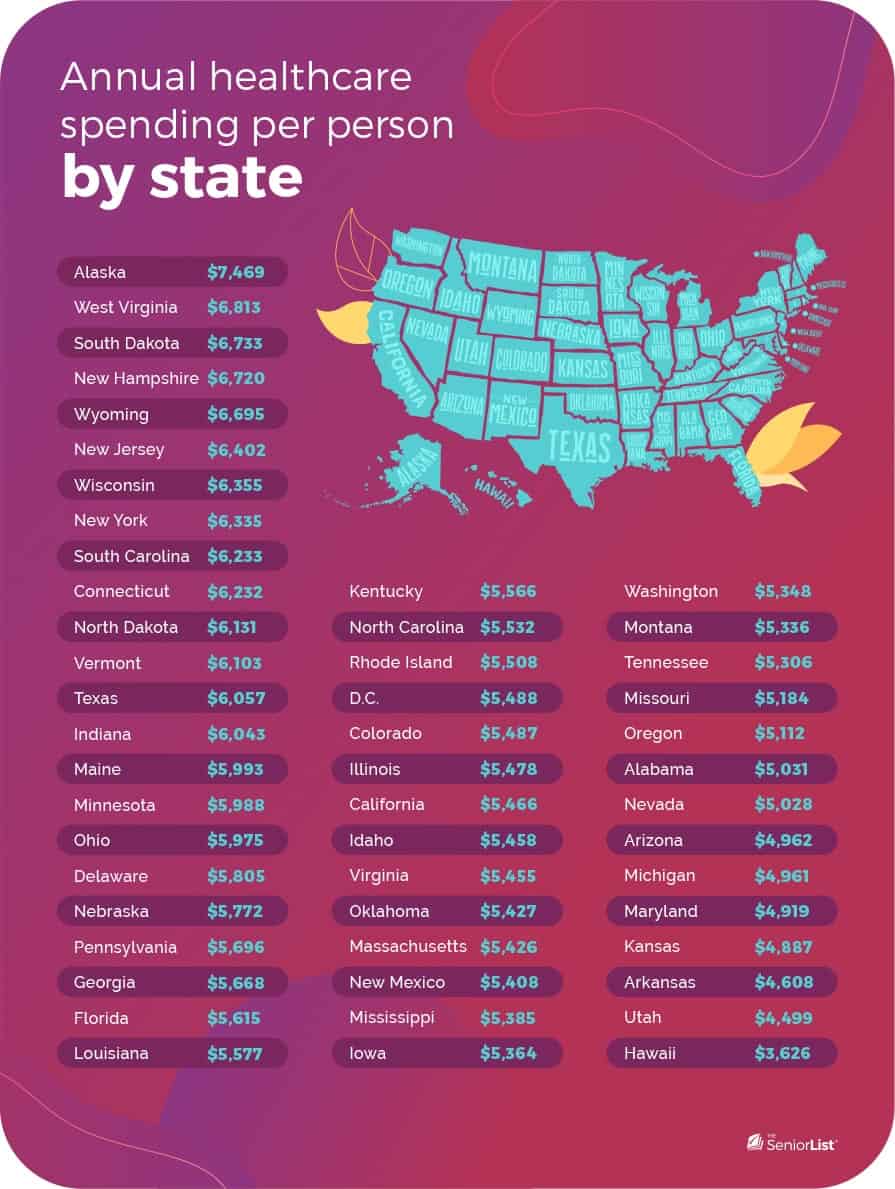 This number has risen by at least 10 percent in every state since 2013, but some states have seen the figure jump dramatically.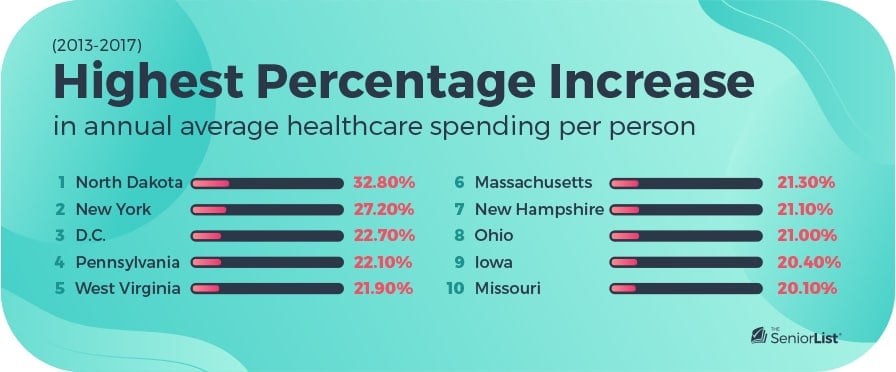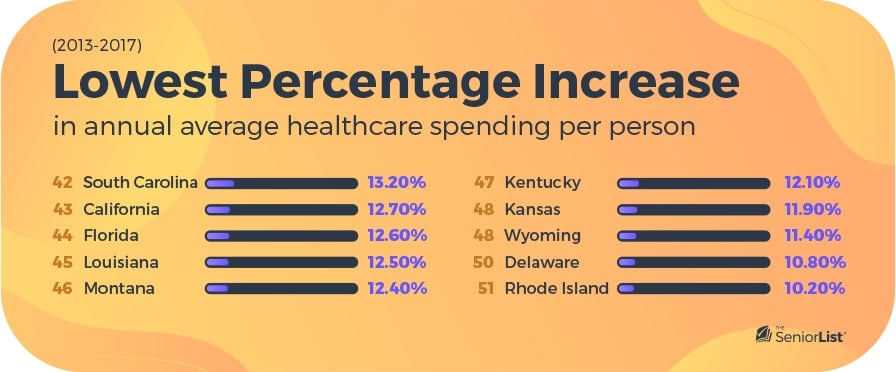 The most expensive category overall, professional services, accounts for about a third of annual spending for the average American. Still, this figure accounts for more than half the total expenditure on Alaska and close to that in a handful of other states.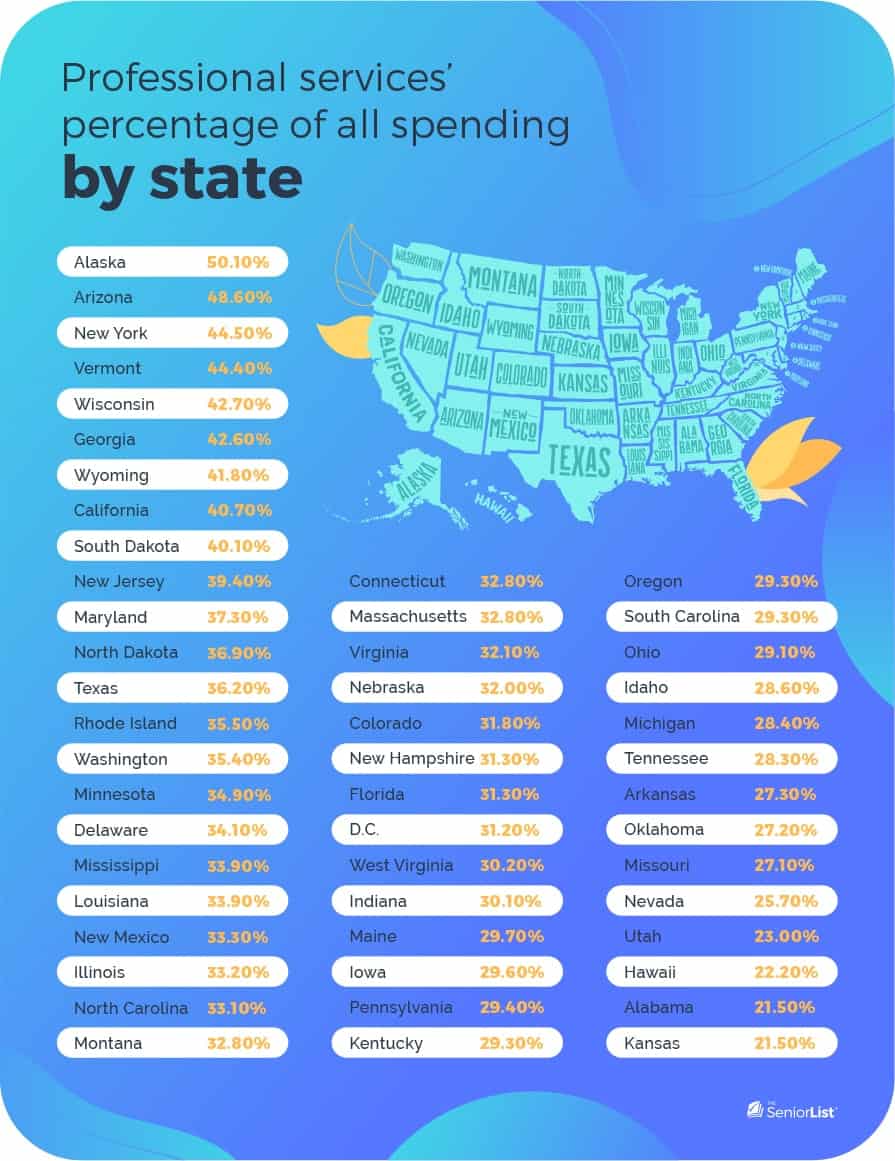 Understanding the variations in surgical and other procedure costs throughout the country means understanding how much we spend on all inpatient and outpatient services. On a national level, spending on inpatient services accounts for about 19 percent, while outpatient services draw about 30 percent, and a majority of surgeries today are done on an outpatient basis.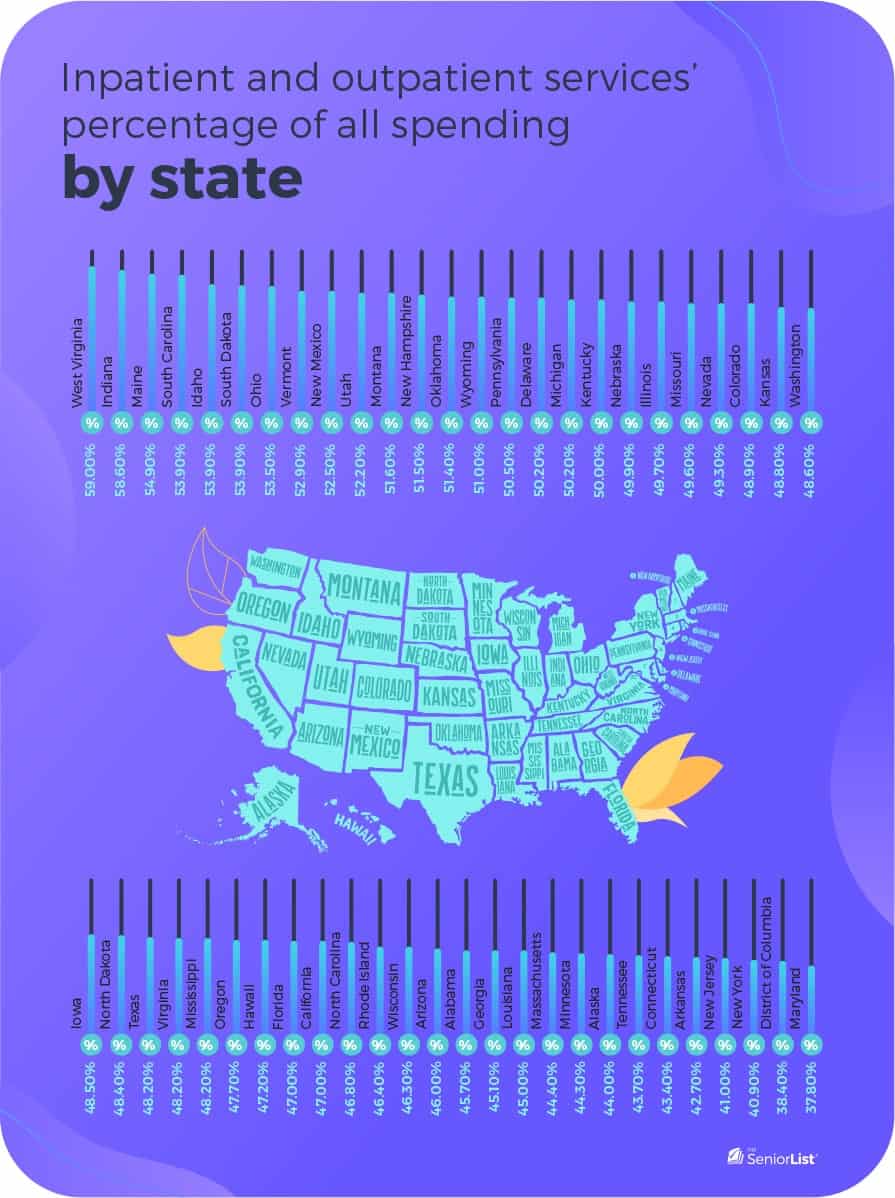 In another example, nearly six in ten dollars spent on healthcare in West Virginia in 2017 went to inpatient and outpatient services, the highest level in the country, followed by Indiana at 58.6 percent. These percentages largely track with each state's total spending on inpatient and outpatient services.
Common Surgeries & Costs
The most common procedure done during inpatient stays is a cesarean section, with well over one million C-sections performed in the U.S. each year. The second-most common is another birth-related procedure, circumcision, which is also performed more than one million times per year. And due to our aging population, knee replacement is the most common non-childbirth-related surgery in the U.S. In addition to surgeries, there are medical procedures that are increasing rapidly and are also responsible for the rise in healthcare costs. These include cardiac catheterizations, endoscopies, and colonoscopies, to name a few.
FYI: For non-emergency medical issues, a telemedicine appointment can be a great way to save time and money.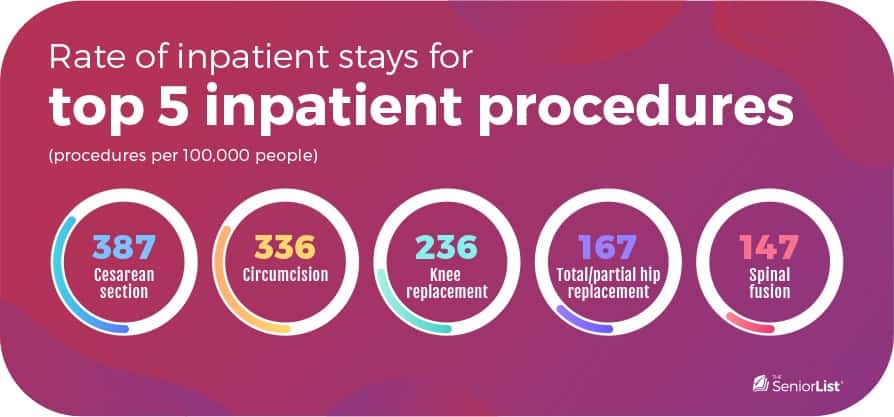 As one might expect, even these prevalent surgeries carry widely variable prices across the country, with some procedures showing huge variations within the same state — and even the same city.
Because it's the most common inpatient surgery in the U.S., let's take the C-section as an example. In Knoxville, Tennessee, a C-section runs just $4,556, but the same procedure in San Francisco costs nearly five times as much, $20,721.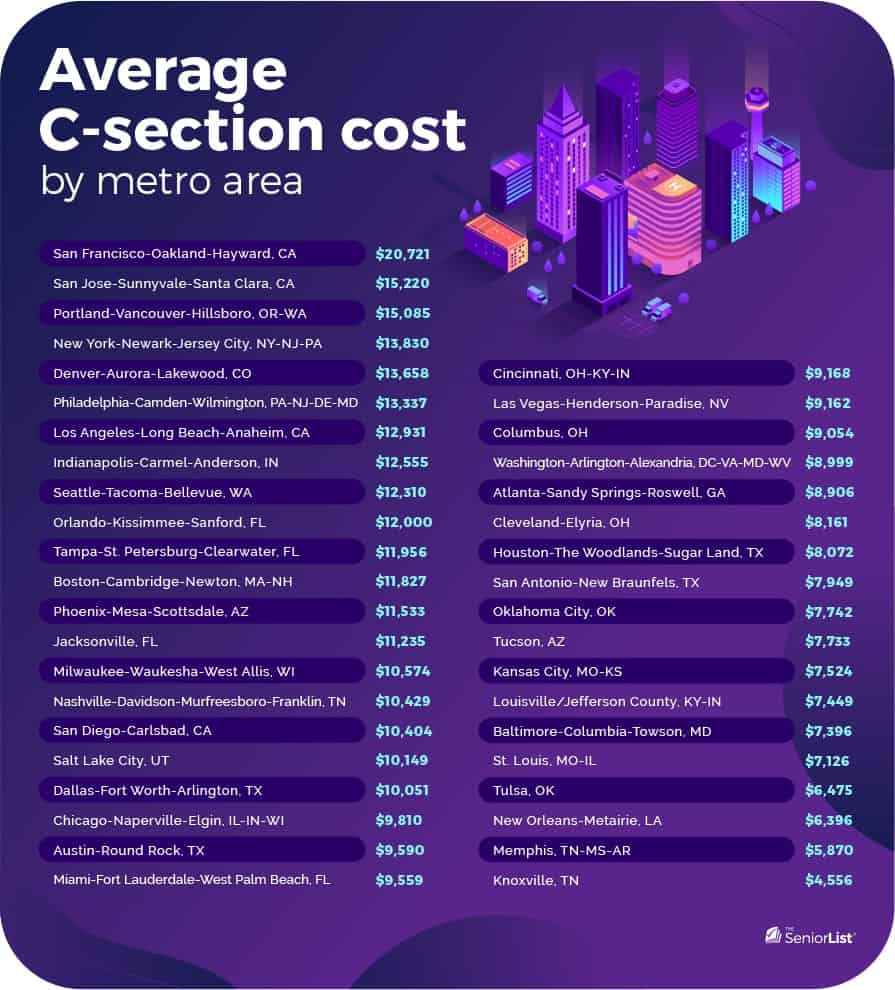 Even within the same city, prices can range wildly. For example, in the Boston metro area, the lowest end of the range is $5,739, and the high end is $23,836, a difference of $18,097.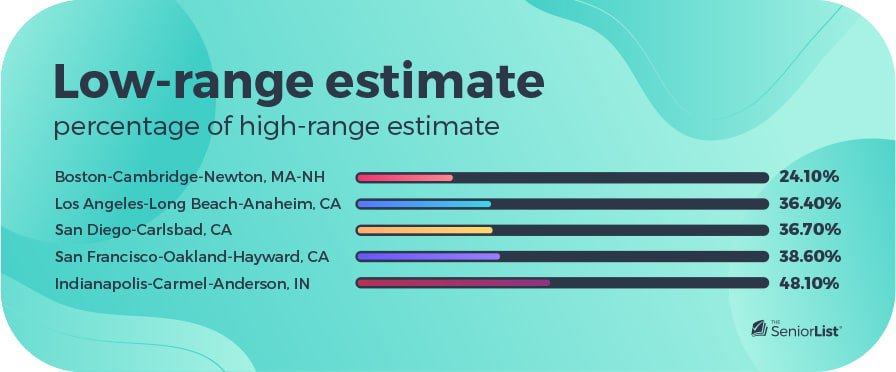 Global Differences
Many of us cannot afford to just hop on a plane to get surgery, but for those who can, medical tourism is a growing trend among Americans. The most common destinations for U.S. medical tourists include South and Central America and the Caribbean. The potential savings are dramatic. In one of many examples, it is cheaper to fly to Spain, get a hip replacement, stay in a hotel, and fly back rather than have a hip replacement in the U.S. which costs $40,000 as opposed to $7,000 in Spain.
Conclusion
We often don't have much choice about where we have medical procedures. In the case of an emergency, we don't want to worry about how much it will cost to save our life or the life of a loved one. But the truth is that cost does matter because our economy (and the rest of us) are spending an incredible amount on healthcare with seemingly no end in sight.
Seeing the cold, hard statistics on what we're spending and how variable it is should be enough to at least spark the average person to take a closer look at the next statement they get from their doctor.
About This Story
Throughout this story, we've linked directly to the data sources where we got our information, but it may be helpful to provide further explanation for a couple of them.
Most of our data, including state rankings on how much people spend, came from the Health Care Cost Institute, an independent nonprofit research organization that regularly publishes in-depth data from private insurance providers. We recognize that not every American is covered by private health insurance, but that does represent the majority of Americans overall and an even larger share of those who are insured at all. Our data came from a report published in 2020 that covers a period from 2013 to 2017.
To calculate the difference between the U.S. cost and the typical cost for surgeries outside the U.S., we consulted information from Indus Health. This company provides medical travel program administration for corporate health insurance plans.
Fair Use Statement
The information on this page is free to use for noncommercial purposes. If citing any data or analysis on this page, please provide a link back to the URL of this page so that it can be properly credited.