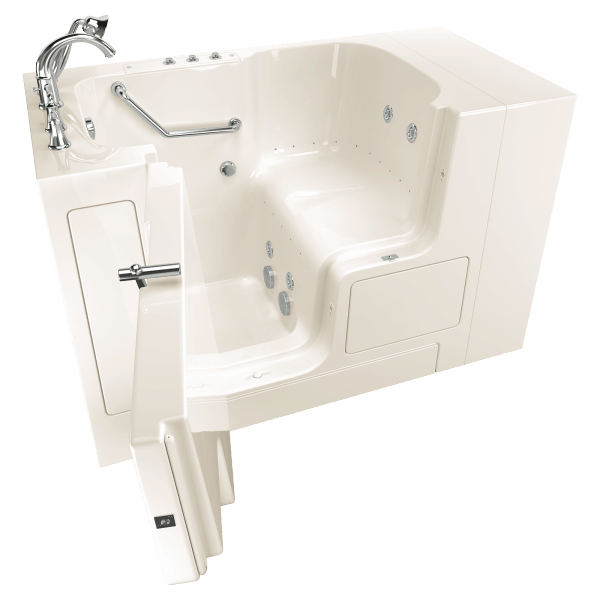 Walk-In Bathtub Prices in 2021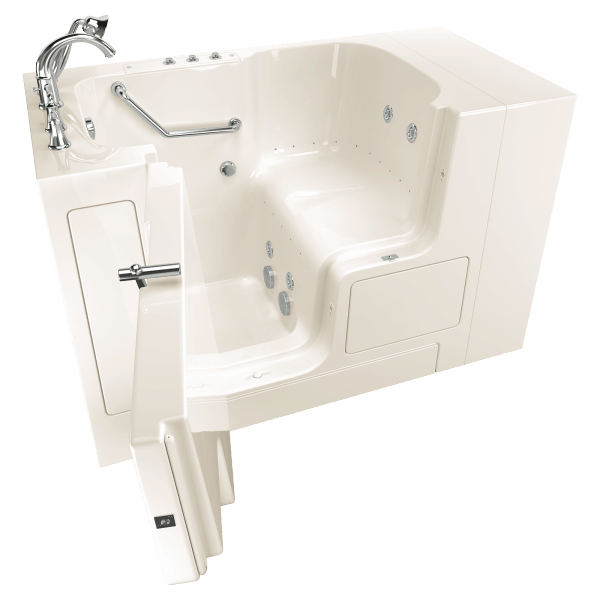 How Much Do Walk-In Tubs Cost?
If you're looking to make your bathroom safer, then there's hardly a better place to start than with a walk-in tub. Utilizing sealed doors and low-entry thresholds, these durable pieces of hardware can drastically reduce the risks of slips and falls that are all too common in the shower area. A walk-in tub not only results in a safer home, but it may even increase the value of your home, particularly if you live in a retirement community.
A walk-in tub can be purchased at a local big-box retailer, such as Lowe's or Home Depot or, if you prefer to work directly with the factory, there are many trustworthy options, including American Standard, Kohler, and Safe Step. When it comes to walk-in tubs, the cost will vary depending on the type of tub and the retailer.
Walk-In Tub Prices by Retailer
| | Low End | High End |
| --- | --- | --- |
| American Standard | $2,300 | $11,500 |
| Kohler | $1,800 | $9,500 |
| Home Depot | $1,600 | $8,300 |
| Lowes | $2,000 | $10,400 |
| Amazon | $1,500 | $7,600 |
*Prices are averages and may not accurately reflect current prices that may fluctuate with seasonality, stock availability, new models, or manufacturer rebates. Prices do not include installation. Be sure to ask for any discounts, rebates, or specials that may be offered. Since official prices aren't published by manufacturers, this information was compiled from a variety of sources.
The average cost of a full-size walk-in tub will depend on the brand, size, retailer, customizations, and the complexity of the installation. If hiring a professional to install it (which I'd wholly recommend), the prices can range anywhere from $1,500 to $25,000.
Will Medicare Pay for a Walk-In Tub?
Walk-in bathtubs are not considered a medical necessity by Medicare, so this federal government agency will not supply any of the funding for purchase and installation. Financial support may be available, though. Among possible sources are the following:
The Medicare Advantage Plan (specifically Part C) and Medicaid may provide financial assistance. Both agencies are monitored at the state level rather than at the federal level, and each state has its own interpretation of what constitutes Durable Medical Equipment (DME). Veterans may be eligible for VA grants or other financial aid.
The U.S. Department of Agriculture has a program that benefits elderly residents who live in rural areas with a reduced income. These programs offer grants for modifications within the home, which includes installing a walk-in tub.
Single-Family Housing Repair Loans & Grants (aka Section 504 Home Repair program) is designed for homeowners who occupy their homes, who don't qualify for affordable credit, and whose income is less than 50 percent of the area median. Those 62 and over may qualify for an outright grant if they would be unable to repay a loan.
A walk-in bathtub may be at least partially tax-deductible. Chief among the several qualifications is that the tub is prescribed by a health care professional. In these circumstances, the bathtub is being viewed as a treatment for a specific condition or conditions, not merely as an item to enhance one's general health.
If purchasing a walk-in tub directly from the manufacturer, be sure to ask for any discounts for which you may be eligible.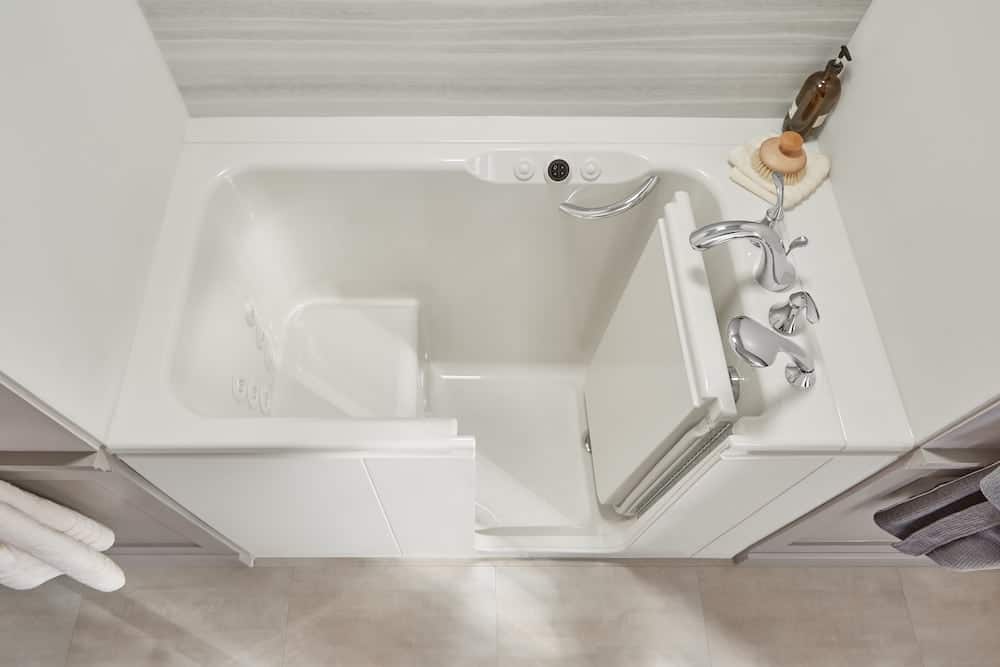 Purchasing a Walk-In Tub
There are two primary sources for buying a new walk-in tub: manufacturers and big-box stores. Generally speaking, I recommend working directly with a manufacturer, as they specialize in this industry and will provide valuable insight with regard to your home's possibilities and limitations. For example, while many walk-in tubs utilize rapid draining mechanisms, not every home has the plumbing hardware to accommodate these setups. A representative from the manufacturer would be able to inform you of this and plan accordingly.
Most installers will visit your home for a free consultation. Here, they will take a look at your bathroom, assess your needs, and suggest several suitable models. Ultimately, this consultation will end with a quote, one that includes the cost of installation. Unlike big-box retailers, who will bring the tub to your doorstep and leave the rest to you, a manufacturer will remove your existing tub and install the new one––usually on the same day!
Walk-In Tubs Direct from the Manufacturer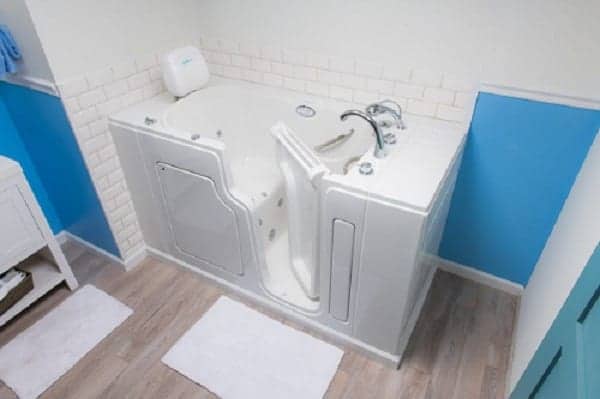 Here are some of my favorite walk-in tub manufacturers.
American Standard
Founded over 140 years ago, American Standard has an impressive array of walk-in tubs that are available throughout the United States. They also possess a vast network of installers that will come directly to your home.
In terms of pricing, their tubs range from $2,300 all the way up to $11,500. The price will depend upon the specific tub model and any additional features you choose to add on. In addition to safety features like a low entry threshold and textured surfaces, American Standard tubs can also include Whirlpool massage jets and heated seats.
With all of their tubs, American Standard offers a lifetime warranty on the door seal, a 10-year warranty on the tub shell, and a five-year warranty on tub components.
Kohler
Kohler offers a lifetime limited warranty on their walk-in tubs installed by a Kohler-certified installation specialist. If a manufacturing defect does occur, there will be no charge for either repair or replacement. This warranty is unusual in that it covers the pumps, motors, jets, door seal, and hand shower––just about every part you could imagine.
Founded in 1873, they provide a 35-point in-home inspection assessment, allowing you to get the perfect tub for your specific bathroom. Additionally, Kohler offers regular promotions and a monthly payment plan for its baths.
In terms of features, Kohler offers the lowest entry threshold in the industry: three inches. Their tubs also feature two handrails––one inside the tub, the other outside––helping to ensure a safe entry and exit. Additional features of Kohler tubs are hydrotherapy and fast-draining technology.
Safe Step
Safe Step offers tubs in various sizes, able to satisfy any client's needs. Although you can purchase their tubs from other retailers, Safe Step guarantees the lowest price available for both their tubs and installation. If within 30 days of purchase, a customer finds a similar tub, Safe Step will refund the difference plus $30.
To lower costs further, the company offers several possible discounts, not limited to senior discounts, veteran discounts, and a Helping Hands Rebate of $750 per person (up to $1,500 per household. This rebate applies to those who have arthritis, diabetes, or some other qualifying disabling condition.
All Safe Step Tub products carry a lifetime warranty. Each walk-in tub is made in Tennessee.
Safe Step's own innovation, the MicroSoothe Air Therapy System, generates millions of tiny muscle-soothing bubbles. Additional features of Safe Step Tubs include contoured seats and backrests that can be heated for further comfort.
Additional Costs for Walk-In Tubs
There's no arguing that walk-in bathtubs can make life easier, safer, and better for many seniors. That said, there are some potential issues to consider. Most of these questions can be answered by a professional walk-in tub installer.
Your Water Heater: A full-size walk-in tub requires more water than a traditional bath. Be sure that your current water heater is up to the task of providing enough hot water. If a new one is needed, you'll want to factor this into your installation costs.
Drainage: Most walk-in tubs feature a mechanism for quick drainage; however, you'll want to be sure that your pipes are wide enough to accommodate these proprietary systems. There are few things more frustrating than having to sit in a lukewarm tub for ten minutes as it drains.
Existing Fixtures: Whether you're replacing an existing shower or building one from scratch, your costs will vary depending upon how much hardware needs to be added or rearranged. Generally, it's easiest to replace an existing shower or tub; however, this brings up the issue of spatial concerns.
Frequently Asked Questions About Walk-In Tub Costs