Walk-In Tubs Direct from the Manufacturer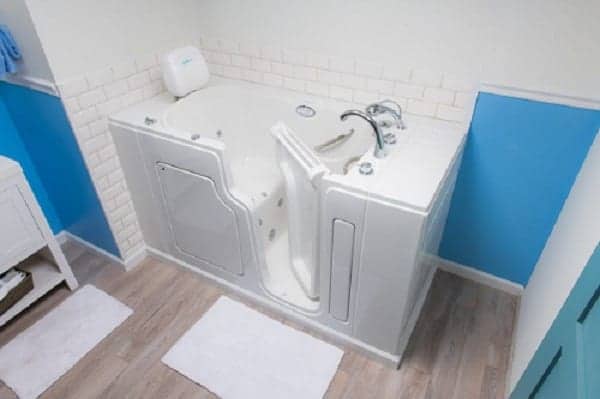 Here are some of my favorite walk-in tub manufacturers.
American Standard
Founded over 140 years ago, American Standard has an impressive array of walk-in tubs that are available throughout the United States. They also possess a vast network of installers that will come directly to your home.
In terms of pricing, their tubs range from $2,300 all the way up to $11,500. The price will depend upon the specific tub model and any additional features you choose to add on. In addition to safety features like a low entry threshold and textured surfaces, American Standard tubs can also include Whirlpool massage jets and heated seats.
With all of their tubs, American Standard offers a lifetime warranty on the door seal, a 10-year warranty on the tub shell, and a five-year warranty on tub components.
Kohler
Kohler offers a lifetime limited warranty on their walk-in tubs installed by a Kohler-certified installation specialist. If a manufacturing defect does occur, there will be no charge for either repair or replacement. This warranty is unusual in that it covers the pumps, motors, jets, door seal, and hand shower––just about every part you could imagine.
Founded in 1873, they provide a 35-point in-home inspection assessment, allowing you to get the perfect tub for your specific bathroom. Additionally, Kohler offers regular promotions and a monthly payment plan for its baths.
In terms of features, Kohler offers the lowest entry threshold in the industry: three inches. Their tubs also feature two handrails––one inside the tub, the other outside––helping to ensure a safe entry and exit. Additional features of Kohler tubs are hydrotherapy and fast-draining technology.
Safe Step
Safe Step offers tubs in various sizes, able to satisfy any client's needs. Although you can purchase their tubs from other retailers, Safe Step guarantees the lowest price available for both their tubs and installation. If within 30 days of purchase, a customer finds a similar tub, Safe Step will refund the difference plus $30.
To lower costs further, the company offers several possible discounts, not limited to senior discounts, veteran discounts, and a Helping Hands Rebate of $750 per person (up to $1,500 per household. This rebate applies to those who have arthritis, diabetes, or some other qualifying disabling condition.
All Safe Step Tub products carry a lifetime warranty. Each walk-in tub is made in Tennessee.
Safe Step's own innovation, the MicroSoothe Air Therapy System, generates millions of tiny muscle-soothing bubbles. Additional features of Safe Step Tubs include contoured seats and backrests that can be heated for further comfort.