Are you looking for a cell phone for yourself or a loved one? For years, our team has been reviewing cell phones for seniors with hands-on equipment testing and in-depth analysis of everything from contracts to customer service. Below are our favorites for 2021.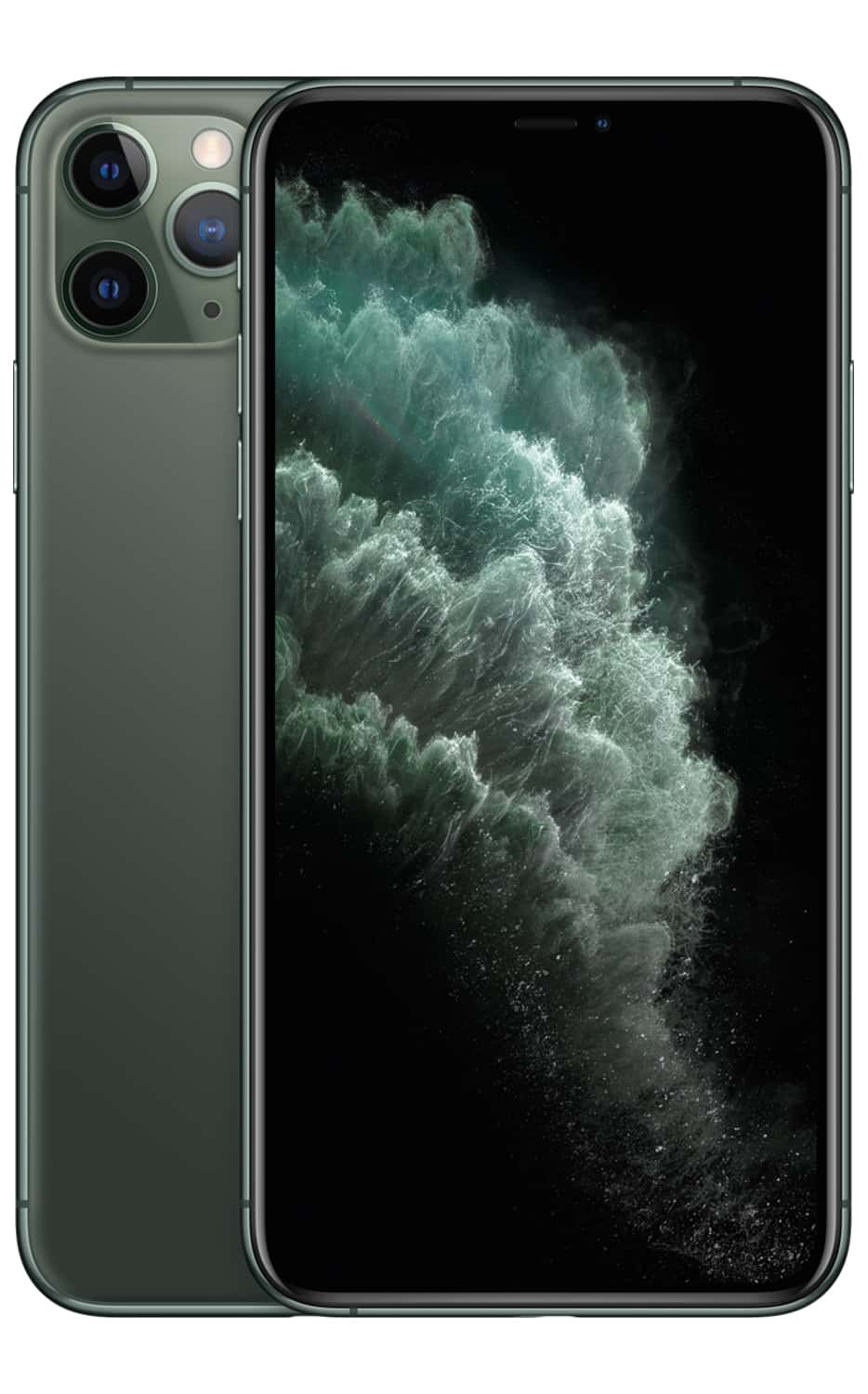 iPhone 11 Pro Max
See Pricing
What We Like ↓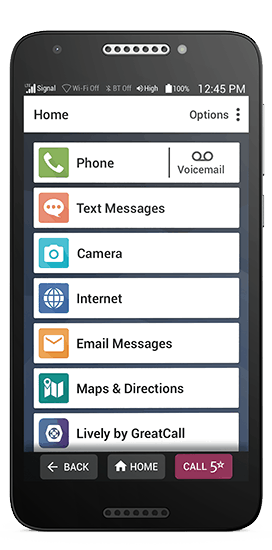 Jitterbug Smart2
See Pricing
What We Like ↓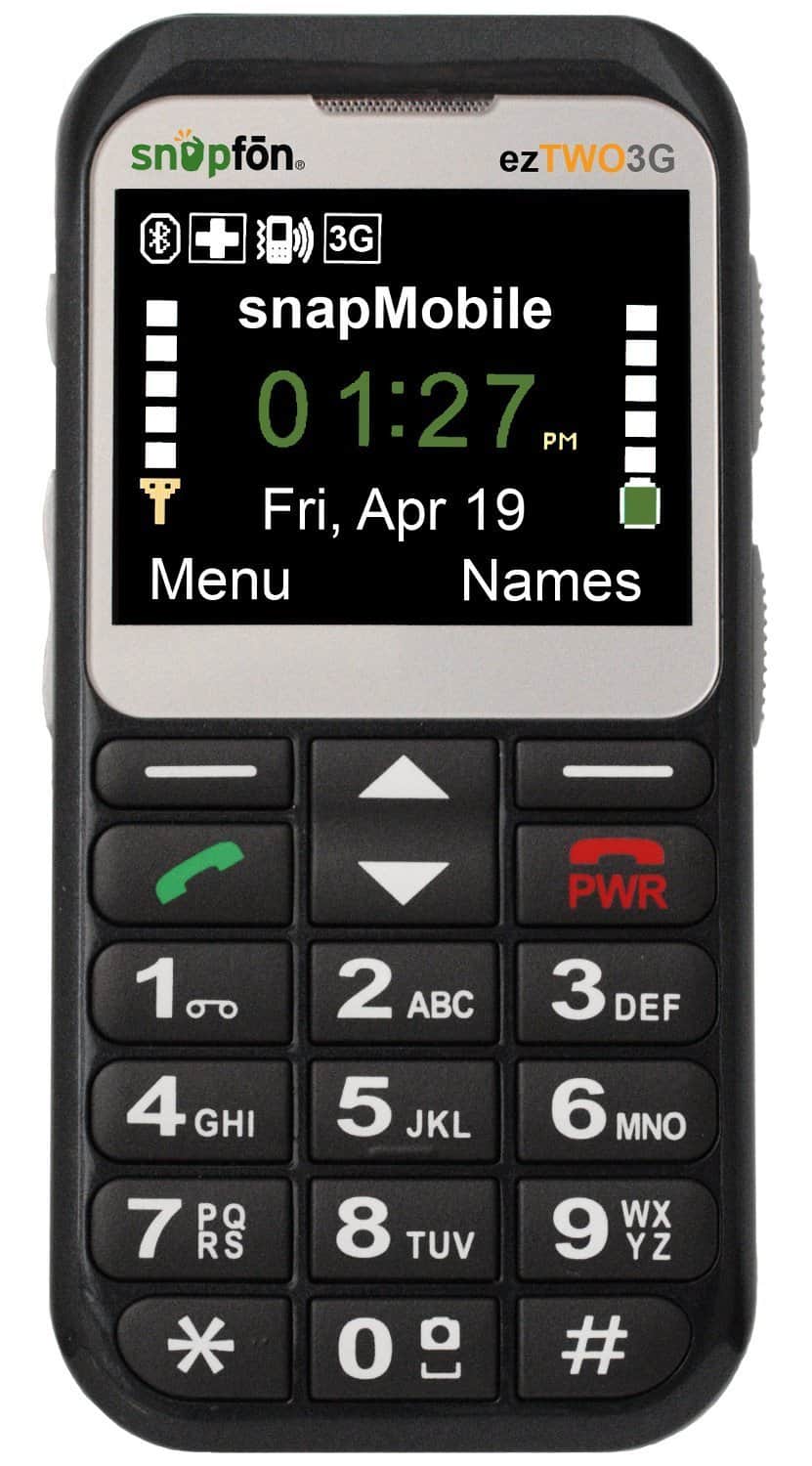 Snapfon ezTWO3G
See Pricing
What We Like ↓
Here at The Senior List, we think a cell phone is a wonderful investment for any senior who would like to stay connected to friends, family, and the outside world. They're a great way to take and share photos, connect on social media, look for local information, and much more. For anyone looking to keep in touch and have an easy way to call, text, surf the web, or share updates with family and friends, a cell phone is a great choice.
Top Cell Phones for Seniors in 2021
What Should Seniors Look For In A Cell Phone?
Everybody has different cell phone needs. Here are some things we recommend considering:
Ease of use. There are several cell phones on the market designed especially with seniors in mind, and they usually feature large buttons or displays.
Camera. For some people, the camera is a big consideration. If you love taking photographs, a model with a high-quality camera is a must.
Speakers. If you plan to make a lot of calls or stream a lot of media, good quality speakers are essential.
Battery. Most cell phone batteries are adequate for daily use, but if you like to stream shows, play games, or use a lot of apps, you'll want a model with a robust battery.
Cost. Both the cost of the unit and the cost of the long-term plan are important considerations. Consider your budget and how much you want to allocate to a monthly phone plan. Be sure to check the terms of the plan before signing up.
Emergency buttons. Many cell phones for seniors include emergency buttons that you can press to make a call in an emergency. This is a great feature for additional peace of mind.
The Best Cellular Provider for Seniors
As important as choosing a phone is selecting a cellular provider that has the features you need. When checking out different plans, you should try to find one with ample allowances of talk, text, and data.
For this reason, I always recommend T-Mobile, which offers a trio of unlimited plans catering to people 55 and up. These discounted plans give you access to one of the largest cellular networks in the nation, in addition to not requiring annual service contracts.
The Best Cell Phones For Seniors
The Senior List has done the research to help make your decision easier. Here is our roundup of the best cell phones for seniors in 2021:
What We Like Most:

Long-Lasting Battery
Stunning Camera Quality
Face ID for Security
Available on T-Mobile

View Packages

Overview

Unlike the other devices on this list, the iPhone 11 Pro Max is not designed specifically for seniors; however, due to its innovative array of features wrapped into a surprisingly intuitive interface, I think it's a great choice for older adults.

This phone's 6.5 inch, high-definition screen makes it easy to read the display, and with the help of Siri (Apple's voice assistant), you can make calls, send messages, and search the internet hands-free. Its 12MP camera also allows you to capture high-quality photos that rival those taken by professionals.

As with all Apple phones, you'll also have access to the app store, which is a great way to increase your phone's functionality with games, tools, and more. Some of my personal favorite apps include Skype, for video chatting with family, and Find My iPhone, which allows me to track down my device, ensuring I never lose it for long.

Cost: $1,099 when purchased through T-Mobile

Plans: These will vary depending on your carrier. Due to the Pro Max's featureset, I'd recommend signing up for one of T-Mobile's unlimited plans for customers 55 and up.

Pros

High-Tech, Long-Lasting Device
Solid Battery Life
Voice Commands
Access to Apple's App Store
Great Camera
Large, Easy-To-Read Screen

Cons

Expensive Device
Difficult To Hold with One Hand

What We Like Most:

No annual contracts
No cancellation fees
Keep your existing phone number
U.S.-based customer service

Overview

A roundup of senior-friendly smartphones wouldn't be complete without the popular Jitterbug Smart2. The Jitterbug Smart2 features a bright, clear 5.5″ display with a simplified menu that lets you find frequently used features, fast.

Jitterbug Smart2 offers a feature-packed phone that is easy to use, but where it really comes into its own is with its emergency features.

Jitterbug users never have to worry about missed medications, thanks to Medcoach which sends prescription and pill reminders. Jitterbug also comes with Urgent Care (Preferred and Ultimate Plans), which connects users to registered nurses and doctors who can answer any medical questions. All plans come with 5Star, a medical alert service that connects to live help agents no matter what time of the day or night.

Cost: $149.99, plus monthly plan and activation

Plans: All three plans come with 5-Star Urgent Response, Check-in Call, Daily Health Tips, Brain Games, and the weekly Wellness Call. Preferred and Ultimate include additional features like Urgent Care, GreatCall Link, Personal Operator, and Product Replacement.

Basic- $19.99/month
Preferred- $24.99/month
Ultimate- $34.99/month

Pros

Simplified screen
Large, clear font
30-day return policy
No long term contracts
13MP camera with LED flash
Medical alert feature included in all plans

Cons

Needs to be charged nightly
Some complaints about initial set-up difficulty
Must use GreatCall phone, text and data plans

#3

Snapfon ezTWO3G

- Best No Contract Phone

What We Like Most:

Large, Tactile Buttons
SOS button
Hearing Aid Compatible
Affordable Service Plans

Overview

The Snapfon ezTwo is the latest smartphone from Snapfon. Designed for seniors, it's simple and easy to use. Large buttons and numbers make it easy to see, while the hearing-aid compatible design and enhanced volume make it easy to hear, too.

Snapfon also offers an emergency SOS button that will sound an alarm (this can be disabled) and will send text messages to up to 5 contacts. Optionally, you can add on sosPlus Mobile Monitoring ($15/month- you must enroll in any snapMobile service plan) for access to first responders who are familiar with your medications, health needs, allergies, physician and emergency contact information.

We especially love Snapfon's low battery warning feature. Users can set the phone to text a nearby friend, relative or caregiver if the battery gets low. The Snapfon ezTwo also features a lockable keypad, LED flashlight, enhanced sound option, is Bluetooth enabled, and hearing aid compatible.

Cost: $89.99

Plans: Snapfon offers several plans depending on how much talk, text and data you are looking for.

Unlimited talk, text and 1GB data- $20/month
Unlimited talk, text and 10GB data- $39.95/month
Build your own plan- want just talk and text with no data? Looking for additional data? There are build-it-yourself plans to accommodate a variety of cell user needs.

Pros

Affordable Plans
Carrier Flexibility
SOS Button
Mobile Monitoring
Powerful Speaker
Simple Design

What We Like Most:

Plans from $14.99/Month
Built-in magnifier and flashlight
Flexible talk and text packages
Medical alert features

Overview

The Lively Flip from GreatCall isn't quite a smartphone, but we think it deserves a spot as a great cell phone option for seniors. The Flip is a basic, easy-to-use phone designed with older adults in mind. From the simple navigation menu, large backlit keypad and built-in SOS (5Star) emergency button, this phone has it all if you aren't looking for smartphone capabilities like browsing and data.

One of the coolest features on this phone that we haven't seen anywhere else is the magnifier. The magnifier and built-in flashlight make reading a menu or any other fine print a breeze by simply holding the print up to the phone's camera.

The Flip has a loud clear speaker and calls can be made with voice dialing. As with the Jitterbug Smart2, the phone becomes your personal safety device with optional add-ons like Urgent Care and GreatCall Link.

Cost: $74.99, plus monthly plan and activation

Plans: All three plans come with 5Star Urgent Response, Check-in Call, Daily Health Tips, Brain Games, and the weekly Wellness Call. Preferred and Ultimate include additional features like Urgent Care, GreatCall Link, Personal Operator, and Product Replacement.

Basic- $19.99/ month
Preferred- $24.99/ month
Ultimate- $34.99/ month

Pros

Built-in SOS button
Keep your existing number
U.S.-based customer service
Built-in magnifier and flashlight
No contracts, no cancellation fees
Simple, easy-to-use cell phone designed for seniors

Cons

Low MP camera
No data, text and call only
Must use GreatCall text and talk plans

#5

BLU JOY

- Best Unlocked Phone

What We Like Most:

Large buttons
Inexpensive
Built-in SOS button
Unlocked smartphone

Overview

BLU JOY's phone was designed for seniors, yet it looks as modern as any regular smartphone, thanks to a smooth leather pattern battery cover and streamlined body. The leather pattern on the phone also makes it easier to hold, not like other slippery smartphone textures. It's available in both black or red.

The JOY features large buttons and numbers, and a clear full color 2.4″ display. The SOS button on the back of the phone can be used to connect to emergency services with just one press.

The JOY has plenty of features such as a camera and media player that makes it easy to enjoy content or take and share photos, with a continued focus on ease of use. Other extras like a flashlight, FM radio, and Bluetooth connectivity round out the functional and basic needs of any cell phone user.

The JOY is an unlocked smartphone that is sold at a variety of retailers like Amazon and Target.

Cost: $28.87 on Amazon

Plans: Vary depending on retailer and Sim card choice

Pros

Large buttons
Simple, uncomplicated phone
Great for basic calling and texting
Easy to press SOS button in case of emergencies

Cons

2G phone, does not work with all carriers
Some complaints of lack of instructions for setup
Top 10 Questions to Ask About Senior Friendly Cell Phones
Since our early coverage of senior-friendly cell phones, there have been many new additions and improvements to the market of cell phones for the elderly. Phones have become sleeker, have longer-lasting batteries, and come with additional features that weren't available with early models.
Does the phone have an easily accessible emergency call button? Many of the Senior Friendly Cell Phones do have a panic button located somewhere on the device. The bigger question…Is it intuitive/easy to find and understand?
What is the expected battery life? No one likes a fast-draining battery that has to be charged multiple times a day, especially when it's being used as a safety device. You should expect at least a full day of "normal use" on a single charge. Also, make sure the charging cord easily plugs into the phone without much effort. Additionally, you might want to purchase an extra charging cord (mine always seem to wander off).
Is the keypad easy to use with large, contrasting (white on black) keys? Other considerations for the keypad; Is it backlit? Are the keys easy to depress? Is the keypad simple and uncomplicated?
Is the phone a good ergonomic fit in the hand? Older hands may have trouble if a phone (or any object) is too big, and some have trouble with smaller phones. This is an entirely personal choice. Your loved one won't carry it (let alone use it) if they can't handle it comfortably. Would a flip phone or smartphone be preferable?
What networks (carriers) are supported? Sometimes it's better to start with the carrier of choice (and this may come down to what network coverage is available in your area) and work on the existing choices. Some phones come with their own carrier network. There are advantages and disadvantages to this model, but generally speaking, if the phone is used with normal talk rates, the monthly plans won't break the bank. If it were up to me, I'd first start with my own carrier (everyone in our family uses the same one, primarily to take advantage of "friends and family" plans). If I didn't find a senior-friendly phone that worked on our network, I'd look at phones/features independent of my own preferred carrier.
Are the volume settings loud enough in case someone is hard of hearing? Most of the senior-friendly cell phones we have looked at over the years tout loud ring tones, a loud speakerphone option, and the ability to amplify the normal conversation when the phone is on the ear. This is always a good thing to test out before a purchase.
Does this phone have built-in fall detection technology? While there are very few phones today that offer fall detection built into the phone, if a cell phone is chosen, there are many apps that can detect a fall (assuming the phone is on the person when the fall occurs). In addition, there are more medical alert systems offering mobile (GPS) options.
What is my total monthly cost for this phone, and the associated plan I'm choosing? This is more closely related to the usage plan you're choosing from the carrier of the phone. If you're purchasing insurance, factor that in too (usually another $5-$10 per month). Also, find out ahead of time what happens if you go over the allotted minutes.
Are there other services included in my choice of phone or monthly plan? Specific questions: Is texting included? Are concierge services included (GreatCall senior-friendly cell phones offer this feature)? Is quick or speed dial available? How about texting and photos?
Can family members send pictures to this phone? I've been amazed at how my parents have adapted to text messaging (specifically sending and receiving photos). Once they begin to receive photos of the grandkids, they'll be hooked. Be prepared to provide some training and practice sessions if this is a new feature for a loved one.
As seniors increasingly embrace cell phones, the market will continue to grow for the best cell phones for older adults and in turn, the features and enhancements will only improve. We cover lots of topics like this, see other posts about mobile phones here.