3.
Motorola Moto G Pure -

Best Budget Smartphone

View Plans
What We Like Most:
Affordable price
Long-lasting battery
Easy to use
Water-repellent design
Overview
Price: $156 when purchased through T-Mobile
Widely known for their Razr flip phones, Motorola now makes high-powered smartphones that don't break the bank. For under $200, the Moto G Pure is one of our favorite Android phones, with its high-powered cameras, long battery life, and large screen.
While not as intuitive as Apple's iPhones, Android phones are surprisingly easy to use. The Motorola G Power, with its built-in voice assistant, could easily be navigated simply by using our voice. This was particularly handy when it came to dictating messages. Simply by speaking, we were able to send out text messages. We could even have them read to us.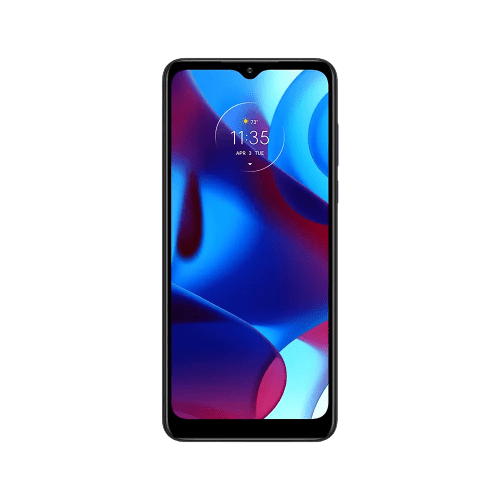 Similar to the iPhone, the Moto G Pure has access to an app store, Google Play, where we could download a variety of helpful apps. Additionally, this phone has three cameras, allowing us to capture high-quality photos, even in low lighting conditions.
When you purchase the Moto G Pure through T-Mobile, you'll get unlimited talk, text, and data for as low as $27.50 per month. To learn more about their plans, take a look at our guide to T-Mobile senior plans.
Pros
Large, bright screen
High-powered yet affordable
Google Play app store access
Long battery life
Water-repellant
Cons
Steeper learning curve than other phones
Lower resolution screen