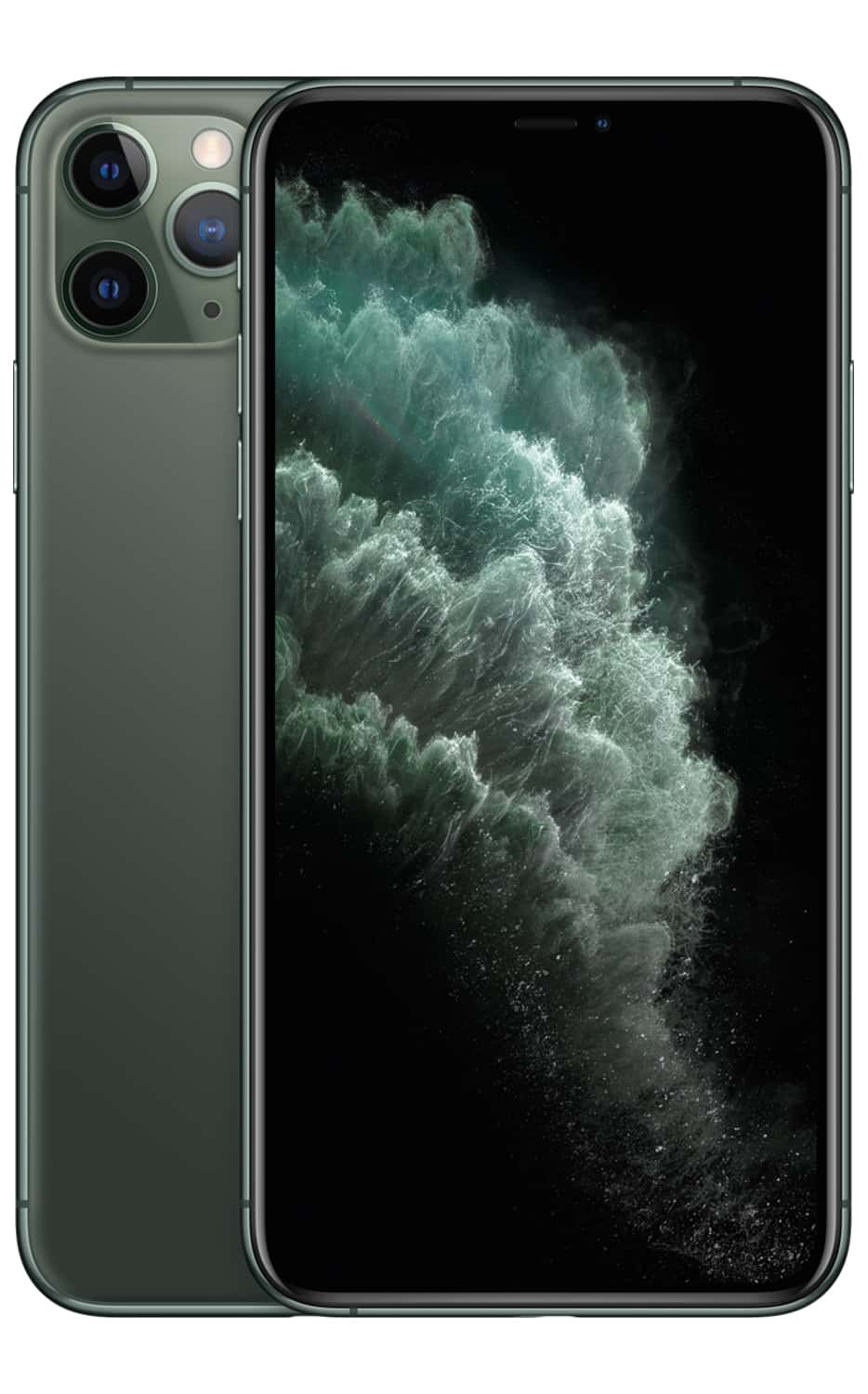 iPhone 11 Pro Max
See Pricing
What We Like ↓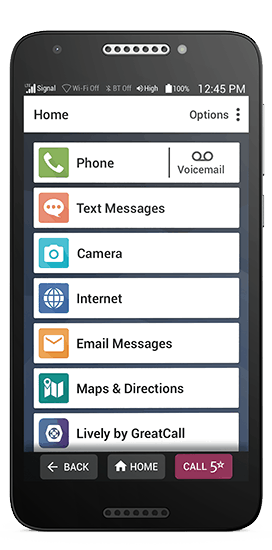 Jitterbug Smart2
See Pricing
What We Like ↓
LG Velvet 5G
See Pricing
What We Like ↓
Like a computer in the palm of your hand, a solid smartphone can do just about anything you could do with your desktop or laptop. From surfing the web to capturing professional-quality photographs, these devices continually impress their wide range of functionality.
What's more, these devices are often easy to pick up and use. Despite their various features, modern smartphones often have simple menus and easy to read screens, so even if you're accustomed to the traditional cell phones of yore, transitioning to a smartphone can be a simple process.
This brings us to the question at hand: What is the best smartphone for seniors? More importantly, which is the best smartphone for you?
In this rundown, we'll take a closer look at the latest and greatest in smartphones for seniors. Our team at The Senior List has spent hours testing the many devices on the market, and we've come up with this list of the best smartphones for seniors in 2020.
Let's dive in.
What Is a Smartphone?
For the uninitiated, the term smartphone might connote many different meanings. Touch screens, web browsing, video streaming––these are all likely features you associate with smartphones. Generally speaking, a smartphone is any mobile device with functionality beyond simply calling and sending text messages.
With each of the phones on this list, you can surf the web, send emails, listen to music, share photos, and even play games. Additionally, many of these phones give you access to an app store, a digital marketplace where you can download additional features and tools, many of which are free.
Even if you only want a phone for simple functions, a smartphone can fit the bill. Especially now, with the advent of 5G technology, a network primarily available on the latest smartphones, you'll gain access to more reliable signal and faster data speeds. No matter your cellular needs, there's a smartphone for you on this list.
Best Smartphones for Seniors in 2021
What Should Seniors Look For In A Smartphone?
With all of the features packed into a smartphone, it can be a bit overwhelming to figure out which ones are most important when it comes to the older set. To help me decide which smartphones were best for seniors, I screened for the following criteria.
Ease of Use: A smartphone should simplify your life, not complicate it. In my testing, I paid close attention to the actual process of using each phone, the way in which you navigate each of its features, and how smoothly it operated. Every phone on this list is a feature-rich device with a minimal learning curve.
Large Screens: More than just a way to watch videos, a large and high-resolution screen can simplify using smartphones. A solid screen makes it easy to read text and view photos.
Speakers: Many older adults experience hearing impairment, so a phone needs to have speakers that relay audio both loudly and clearly. Additionally, all of the phones on this list are compatible with hearing aids.
Battery Life: Of course, we all want our devices to keep their charge for as long as possible. This is especially true when it comes to smartphones, as you'll likely be using it for battery-draining tasks such as video calls and music streaming. Each phone on this list has a battery that's powerful enough to get you through one day (and often more) on a single charge.
Cost: You'll notice that many of the phones on this list are on the costlier side, at least compared to simple flip phones. With that said, these devices still present great value, as one of these handsets can efficiently perform the tasks of a telephone, computer, camera, and even television.
Data Costs: While not a feature of a smartphone, per se, you'll want to make sure that you pair your smartphone with a befitting service plan. For example, T-Mobile offers several cellular plans for those 55 and up. These discounted plans will give you unlimited access to talk, text, and data, allowing you to make the most out of your smartphone.
The Best Cellular Provider for Seniors
As important as choosing a phone is selecting a cellular provider that has the features you need. When checking out different plans, you should try to find one with ample allowances of talk, text, and data.
For this reason, I always recommend T-Mobile, which offers a trio of unlimited plans catering to people 55 and up. These discounted plans give you access to one of the largest cellular networks in the nation, in addition to not requiring annual service contracts.
The Best Smartphones For Seniors
After hours of research and testing, we've narrowed the field down to five exceptionally simple phones. Here is our roundup of the best smartphones for seniors in 2021:
#1

iPhone 11 Pro Max

- Best Overall Smartphone

What We Like Most:

Long-Lasting Battery
Stunning Camera Quality
Face ID for Security
Available on T-Mobile

View Packages

Overview

Since its inception in 2007, the iPhone has become the most popular smartphone in America. And with its sophisticated features and easy-to-use design, it's plain to see why. Apple's latest iteration, the iPhone 11 Pro Max builds on its predecessors with a larger screen, increased battery life, and a camera capable of taking album-worthy photographs.

What I love most about this iPhone, however, is how easy it is to operate. Its home screen lays out its functions with large, legible buttons, and toggling between apps is as easy as swiping your finger. Additionally, with Siri, Apple's built-in voice assistant, you can accomplish many tasks through merely speaking. For example, calling home was simple as saying, "Hey Siri, call home."

All this is to say that the iPhone 11 Pro Max combines advanced features in an approachable package. It's easy for me to imagine just about anyone picking up this handset and quickly becoming an expert. This is why the iPhone 11 Pro Max is our pick for the best smartphone for seniors.

Cost: $1,099.99 when purchased through T-Mobile

Pros

High-Tech, Long-Lasting Device
Solid Battery Life
Voice Commands
Access to Apple's App Store
Great Camera
Large, Easy-To-Read Screen

Cons

Expensive Device
Difficult To Hold with One Hand

What We Like Most:

No annual contracts
No cancellation fees
Keep your existing phone number
U.S.-based customer service

See Pricing

Overview

Available through GreatCall, the Jitterbug Smart2 is the only smartphone on this list designed specifically with seniors in mind. So not only can the Smart2 make calls, send messages, and surf the internet, but it also boasts features that cater to the older set. First, there's its large screen, displaying text in crisp detail. Then there's the speaker, rated M4/T4 in terms of hearing aid compatibility, the highest possible score.

What I appreciate most about this phone, however, are its capabilities as a medical alert device. Using one of GreatCall's health and safety packages, you'll have access to their 5Star Urgent Response feature. Using the dedicated 5Star button on the side of your phone, you'll be immediately connected to a care specialist at a GreatCall monitoring center. This trained professional will assess your situation and plan an appropriate response, whether this means contacting a loved one or emergency services.

For a more in-depth look at this device, check out my Jitterbug Smart2 Review.

Cost: $74.99 through GreatCall

Pros

Simplified screen
Large, clear font
30-day return policy
No long term contracts
13MP camera with LED flash
Medical alert feature included in all plans

Cons

Needs to be charged nightly
Some complaints about initial set-up difficulty
Must use GreatCall phone, text and data plans

#3

LG Velvet 5G

- Best Battery

What We Like Most:

High-Performing Battery
Sleek Design
Large, Bright Screen
Relatively Affordable 5G Device

View Packages

Overview

The LG Velvet is one of the most affordable phones compatible with 5G signal, meaning that it will give you solid call and data performance without breaking the bank. It's also rated M4/T3 in terms of hearing aid compatibility, so you can rest assured that you'll have no trouble making and receiving calls.

Its eye-catching quality is its 6.8-inch OLED screen, capable of displaying pictures and video in a gorgeous high resolution. The size and quality of this screen also make it a breeze to navigate through its menus.

What I loved most about the Velvet, however, is its fantastic battery life. With most smartphones, you'll find their power running low after each day of use, but the Velvet outperformed this expectation. In my tests, this device was able to last over two weeks on standby and for several days with mixed use of talk, text, and Internet browsing.

Cost: $588 through T-Mobile

Pros

Long-Lasting Battery
3.5mm Headphone Jack
Large Screen
Chic Design
Waterproof
Fingerprint Sensor

Cons

Camera Underperforms in Low-Light
Runs Slower than the iPhone 11 Pro Max

#4

Blackberry Key2

- Best Smartphone with Buttons

What We Like Most:

Great Battery Life
Physical Keypad
Quick Load Times
Non-Slip Grip

Overview

Although touchscreens have become the standard among smartphones, there's certainly something to be said for physical buttons. Particularly for those of us who find ourselves frequently penning emails and text messages, an actual keyboard can streamline this entire process. Luckily, there's the Blackberry Key2.

Once the king of smartphone companies, Blackberry has fallen somewhat fallen out of style in recent years. However, the Blackberry Key2, running on Android's operating system, does a great job of modernizing this classic product. The Key2's sleek design, multitasking capabilities, and fully-featured phone capabilities make it a solid choice for a smartphone, not to mention the added bonus of a tactile set of buttons.

Its 12MP camera delivers detailed photographs, and its relatively large touchscreen positioned over the keypad is still useful when it comes to pinching and zooming on the text. Plus, its battery, which lasted over a day in our tests, means that this phone can keep up with even the heaviest users.

Cost: $569 through Amazon

Pros

Hearing Aid Compatible
Long-Lasting Battery
Great for Multitasking
Solid Camera
Android Operating System
Durable Keypad

Cons

Pricier than Other Button Phones
Relatively Small Screen

#5

BLU JOY

- Best Budget Smartphone

What We Like Most:

Large buttons
Inexpensive
Built-in SOS button
Unlocked smartphone

See Pricing

Overview

BLU's JOY phone was designed for seniors, yet it looks as modern as any regular smartphone, thanks to a smooth leather pattern battery cover and a streamlined body. The leather pattern on the phone also makes it easier to hold, unlike other slippery smartphone textures. It's available in both black or red.

The JOY features large buttons and numbers, and a clear full-color 2.4″ display. The SOS button on the back of the phone can connect to emergency services with just one press.

The JOY has plenty of features such as a camera and media player that makes it easy to enjoy content or take and share photos, with a continued focus on ease of use. Other extras like a flashlight, FM radio, and Bluetooth connectivity round out any cell phone user's functional and basic needs.

Cost: $29.99 through Amazon

Pros

Large buttons
Simple, uncomplicated phone
Great for basic calling and texting
Easy to press SOS button in case of emergencies

Cons

2G phone, does not work with all carriers
Some complaints of lack of instructions for setup