Since 2005, GreatCall has been bridging the gap between cell phones and older adults. Each of their devices, from the simple Lively Flip to the advanced Jitterbug Smart2, comes packed with advanced features that are easy to use. For those of us who are a bit intimidated by modern smartphones, the kind with cameras more powerful than a DSLR, then it's likely that GreatCall might be a great place to look for cellular service. But just how do the latest batch of Jitterbugs stack up to the competition?
As a lifelong caregiver for older adults, I have much experience when it comes to technology designed for them. In this review, I'll be taking a look at two Jitterbug phones, and we'll find out how they perform. Keep reading to learn more.
Jitterbug Pros and Cons
If you're short on time, take a look at my main takeaways from using Jitterbug's cell phones.
What I Liked About Jitterbug
Features for Older Adults: From their menus with a simplified navigation to the 5Star urgent response buttons, Jitterbug devices are designed specifically for older adults. Even I appreciated how easy they were to use.
Affordable Plans: With devices starting at just $74.99 and plans beginning at a cool $14.99 a month, Jitterbug provides options that can suit just about any budget. I also appreciated that these plans required no long term contracts.
Powerful Network: GreatCall uses Verizon's wireless network, which is frequently ranked as one of the best mobile providers both in terms of speed and coverage. Just about anywhere I took my phones, I received flawless service and speedy access to data.
What I Didn't Like About Jitterbug
No Family Plans: Currently, Jitterbug does not offer any sort of shared plans for their cell service, meaning each of my phones needed their own separate plan. Many providers offer discounted rates for family plans, so this was a bit of a disappointment.
Limited Phone Choices: Although I had few complaints when it came to my Jitterbug Smart2 and Lively Flip, these two phones are the only ones offered through GreatCall. Those hoping to find Apple, Samsung, or Motorola devices will have to look elsewhere.
Overage Charges: Unlike some cellular providers like Consumer Cellular, who automatically upgrade your service plan in the event of an overage, GreatCall charges an additional fee for each minute, message, or megabyte used. These fees, while small, can quickly add up. If you want to learn more, read my full comparison of Jitterbug vs. Consumer Cellular.
How I Purchased My Jitterbugs
Jitterbug phones can be purchased over the phone, through GreatCall's website, or at brick and mortar stores such as Best Buy and Rite Aid. I decided to try my hand at their website. It's 2020, after all! Once I pulled it up on my computer, I could easily view each of GreatCall's cell phone offerings, the Jitterbug Smart2 and the Lively Flip. On the website, I was also able to compare both of these devices side by side in order to assess which one had the features I was looking for.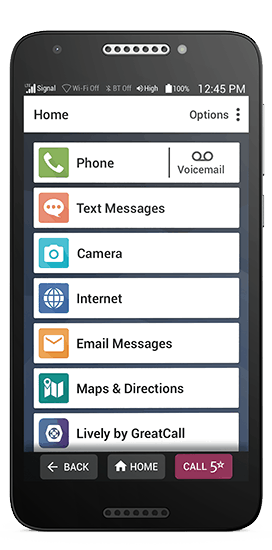 Beneath each phone was a clearly listed price. Having dealt with many tricky cellular providers, I'm always on the lookout for an asterisk or fine print, anything that indicates a catch; however, there was none to be found with each Jitterbug device. Sure, the listed prices required that I activated a new line of service, but I was already planning on doing this, so the representation of costs felt accurate. The listing even noted that each phone would come with both a wall and car charger at no extra cost, which I thought was a neat little bonus. We've all left Verizon with our pockets much lighter than we thought they'd be, so I appreciated GreatCall's transparency when it came to pricing.
For testing purposes, I decided to purchase both the Lively Flip for $74.99 and the Jitterbug Smart2 for $112.49, but before I could have them shipped to my door, I had to figure out my service plans.
FYI: For its Jitterbug phones, GreatCall does not currently offer shared or family plans, meaning each cell phone requires its own individual plan.
GreatCall Health and Safety Packages
Like a traditional cellular company, GreatCall offers several different plans, each of which offer different allowances of talk time, text messages, and data. However, unlike a traditional phone company, GreatCall offers what they call Health and Safety Packages, which turned my Jitterbug into a personal safety device. Here is a rundown of the features available with these packages.
5Star Urgent Response: Each of my Jitterbug devices featured a dedicated 5Star button. When pressed, it immediately connected me to one of GreatCall's response agents. Luckily, I had no actual emergency during my testing, but if I were in need of medical assistance, my agent could have contacted emergency services.

Brain Games: Studies have shown that puzzle-based activities, also known as brain games, can help refine thinking skills that tend to decline with age, skills such as decision making and short-term memory. Each Jitterbug features several different types of these games. My personal favorite was called Face Facts, a game in which I had to memorize names and associate them with images of faces.
Urgent Care: With this feature, I was able to speak to an actual nurse or doctor through my Jitterbug, without having to make an appointment! I was even able to obtain prescriptions for certain medications through this feature, which definitely saved me some time sitting at the pharmacy.
GreatCall Link: As a caregiver, I really appreciated the GreatCall Link app. Family members and caregivers can download this app for free and receive notifications whenever the Jitterbug uses the 5Star button or is running low on battery. To test it out, I had my husband download the app, and he was even able to track my location through my Jitterbug. This would come in handy for caregivers as it would allow you to make sure their loved one is home and safe.
Personal Operator: For the older adult living independently, this feature would certainly come in handy. I was able to call my personal operator for help with just about anything, looking up phone numbers, finding addresses, and arranging transportation to and from the supermarket.
With all that said, I feel the need to clarify that GreatCall's Health and Safety Packages are not quite an adequate substitute for a medical alert system, many of which are waterproof, can be worn around the neck, and feature automatic fall detection. With falls being the main source of fatal injury to older adults, I think of fall detection as an essential feature of any bonafide medical alert system. If you're looking for a full-fledged system such as this, check out my rundown of the best medical alert systems with fall detection.
Overview of GreatCall's Health and Safety Packages and Costs
| | Basic | Preferred | Ultimate |
| --- | --- | --- | --- |
| 5Star Urgent Response | Yes | Yes | Yes |
| Brain Games | Yes | Yes | Yes |
| Urgent Care | No | Yes | Yes |
| GreatCall Link | No | Yes | Yes |
| Personal Operator | No | No | Yes |
| Monthly Cost | $19.99 | $24.99 | $34.99 |
GreatCall Minutes, Messages and Data
Since I signed up for the Ultimate plan, I received an additional discount when it came to my talk, text, and data. The Unlimited Talk, Text and Data plan, which normally costs $59.99 per month, only ended up costing me $40 per month, and my Unlimited Talk and Text Plan only cost me $20 per month. For my Lively Flip, the total cost for service came to $55 per month, and for my Jitterbug Smart2, it totaled out to $74.99. Now, this was a bit more pricey than an unlimited plan from Consumer Cellular, which only costs $60 per month for one line; however, the advanced features of the Health and Safety package definitely make it worth the money.
The More You Know: Although the pricing of plans is the same for both the Lively Flip and Jitterbug Smart2, only the latter can utilize data.
For a full list of Jitterbug talk, text, and data plans, check out the chart below or our pricing page.
| Monthly Minutes | Price | Monthly Texts | Price | Monthly Data | Price |
| --- | --- | --- | --- | --- | --- |
| 250 | $14.99 | 500 | $3 | 100 MB | $2.49 |
| 1000 | $19.99 | 1000 | $5 | 250 MB | $5.00 |
| 25000 | $29.99 | 2500 | $10 | 1 GB | $10.00 |
| Unlimited Talk and Text | $39.99 | Unlimited Texts | $15 | 2.5 GB | $15.00 |
| Unlimited Talk, Text, & Data | $59.99 | Unlimited | N/A | Unlimited | N/A |
Choosing a Jitterbug
When it came time to choose a phone, my choices were limited. While other providers offer a litany of cell phone choices, GreatCall offered two, the Lively Flip and the Jitterbug Smart2. The upside of this? I didn't spend hours poring over which device I wanted to test. Based on its classic clamshell design, the Lively Flip struck me as the no-frills phone, ideal for the person simply looking to talk and send the occasional text. The Jitterbug Smart2, based on its large touch screen, not to mention the name, struck me as a contemporary smartphone. So what did I do? I ordered both.
Setting Up My Devices
Once I purchased my devices and plans, all I had to do was wait a week for them to arrive on my doorstep, with free shipping, no less. In each box, I found a phone, a wall charger, a car charger, and instructions which helped me through the simple setup process. First I plugged each of my phones into their chargers, plugged those into an outlet, and waited a couple of hours for their batteries to power up.
Once they were fully charged, I dialed the service number listed on the manual, confirmed my information, and voila! Both of my phones were ready for liftoff.
Keep Your Number!: Before you activate your Jitterbug, be sure to contact GreatCall's customer service line, as they might be able to transfer an existing cellular or landline number to your new device.
How It All Worked
Between my Lively Flip and Jitterbug Smart2, I knew that I was testing two phones with highly different feature sets, the cell phone equivalent of apples and oranges. But after extensive use of each, I came to see that each phone catered to a different type of person or, pardon the expression, different taste.
Without further ado, let's dive into the features.
Lively Flip ($74.99 One Time Payment)
Call me old fashioned, but I think there's undeniable beauty in simplicity, and that's exactly what the Lively Flip offered. Unlike the modern phones peddled by major cellular carriers, the phones that can fill in for a desktop computer, the Lively Flip has a comparably limited feature set. But for some people, particularly those who are wary of cutting edge technology, this could be a plus.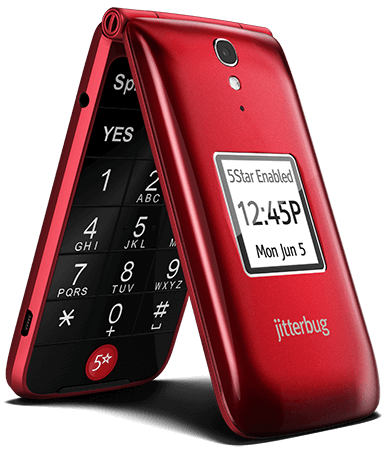 Everything the Lively Flip can do, it does with aplomb. In my many test calls, I was pleased with both the volume and the clarity of the audio. When I used the speakerphone, I was very impressed with how loud the call could become, definitely something that could come in handy for those who are hard of hearing. With about one-third of people over 65 suffering from hearing loss, a powerful speaker is a great feature to have. The Flip is also compatible with hearing aids.
The Flip's screen, though small when compared to that of a smartphone, is very bright, and both numbers and messages could be easily read, as they were displayed in a large 32 point font. Typing on the phone was also a breeze. Each of the buttons was large and backlit, ensuring that I made no mistakes with either messaging or dialing numbers.
My favorite feature of the Flip, however, had to be the dedicated 5Star button on the side of the phone. Although I encountered no emergencies during my testing period, I could see this coming in handy for any older adult. Without the hassle of dialing a number or navigating menus, I could press the button and immediately be connected with someone who could send help, if necessary.
Jitterbug Smart2 ($112.49 One Time Payment)
When I first powered up my Smart2, I thought it looked strikingly similar to any other modern smart phone with its large screen and minimal physical buttons; however, as I navigated its menus, I came to see how straightforward everything was laid out. Each of its functions (phone, camera, internet, messages, etc.) was neatly displayed on the home screen. Despite how intimidating smart phones might seem to some people, it's hard for me to imagine someone being unable to work with the Smart2.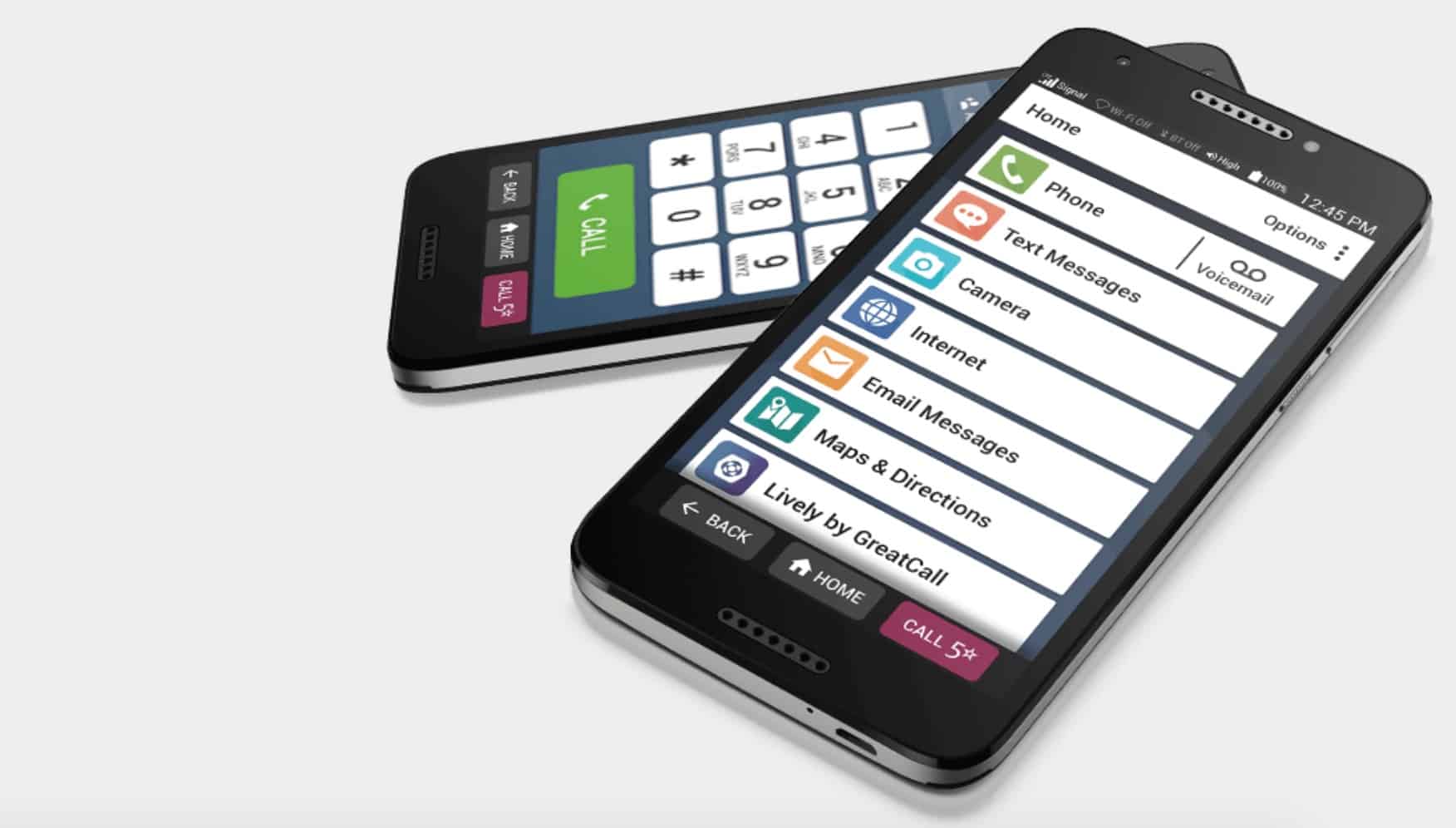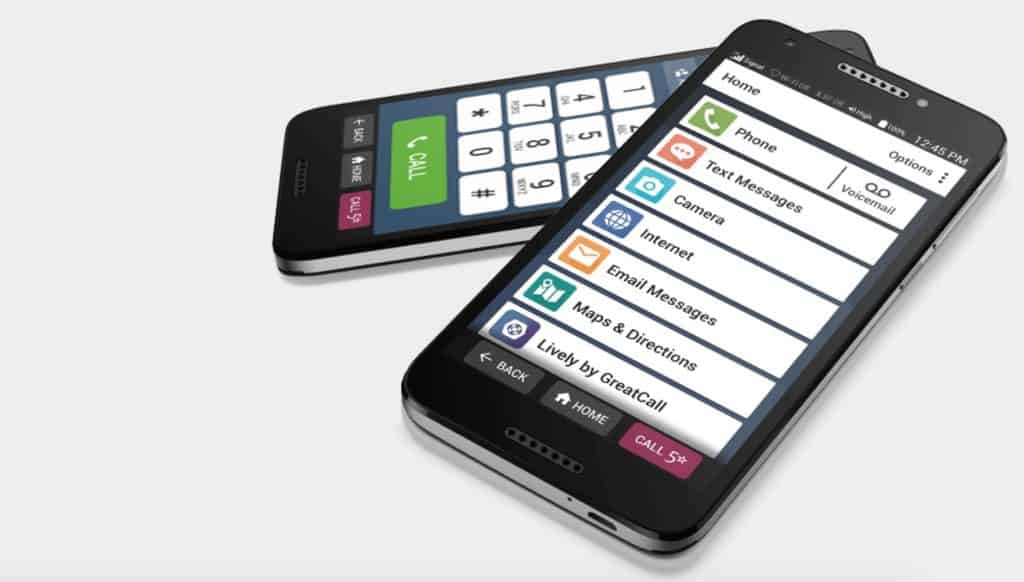 Texting was a breeze on its five and a half inch backlit screen, and dialing numbers was no different. In each of my test calls, I did notice that the Smart2's speaker was a smidge quieter than that of the Flip; however, when switched to speakerphone, it possessed the same powerful audio output. In terms of call quality, I found no issues. Voices came in crystal clear through the Smart2, and none of my calls were dropped.
Similar to the Flip, the Jitterbug Smart2 also features a dedicated 5Star button; however, unlike the Flip, this button is a part of the touch screen. Although I usually appreciate physical buttons for important functions such as this, I had no issues finding and pressing this button, as it remains constantly in the lower portion of the screen, directly beside the Home and Back buttons.
Closing Thoughts
With a name like Jitterbug, GreatCall evokes the 1930s, a time when the first home telephones were entering the market. Fast forward to 2020, and we now have technologically advanced phones like Jitterbug that can make calls, keep track of loved ones, and can even function with hearing aids! Sure, with both the Lively Flip and Jitterbug Smart2, neither of them is a perfect substitute for a medical alert system and shouldn't be thought of as such; however, for the older adult looking for a simple and affordable way to keep in touch with friends and family, it's hard to think of a better option than Jitterbug.
Frequently Asked Questions About Jitterbug