Medical alert systems, also known as personal emergency response systems (PERS), offer a quick and simple way for people to remain safe in their homes. For older adults who want to age in place, a medical alert system can help them live by themselves without sacrificing their safety. All types of emergencies—falls, fires, or anything that requires a quick response—can be addressed with the click of a button. Allow me to explain.


See Pricing
What We Like ↓
See Pricing
What We Like ↓


See Pricing
What We Like ↓
What Is a Medical Alert System?
Medical Alert Systems are life-saving devices that connect a user with help when a button is pressed, or in some cases, when a fall is detected. There are a large number of medical alert companies in the U.S., and they can vary widely in terms of equipment quality and services offered. With seemingly endless options to choose from, it's difficult to know where to start. Rest assured, you're in good hands. Our team of experts leaves no stone unturned when testing and reviewing medical alert systems.
How I Judge Each Medical Alert System
When it came to evaluating each medical alert system, I had my work cut out for me. Not only are there so many different devices available on the market, but each of them also possesses its own unique array of functions. Still, there are some traits that are indispensable in a solid medical alert system, regardless of the type.
Here is what I looked for.
Reliable Equipment: Most medical alert equipment claims to be built to last, and I made sure to run extensive tests to verify this. Help buttons and base stations should be able to withstand a fall, and the systems as a whole should last you for a number of years.
Ease of Use: The goal of a medical alert system is to simplify your life, giving peace of mind to both the user and their caregivers, so I kept my eye out for systems that streamlined the process, ensuring users of any ability level can operate them.
Conscientious Customer Care: The human touch is key to the business of caregiving. This is why it's important for medical alert companies to offer impeccable customer service, from the agents at their monitoring centers to their support personnel.
Affordable Pricing: Medical alert systems tend to cost anywhere from $20-$40 per month, with mobile systems tending to cost a bit more. All of the systems detailed below fit within this range.
Flexible Contracts: If you frequent The Senior List, you know I'm very much against long-term contracts. Some companies lock customers into 3-year commitments, which means you're stuck paying if your loved one no longer needs it. All of the companies on this list, however, offer easy cancelation terms without requiring long-term contracts.
Without further ado, here is my list of the best medical alert systems currently on the market!
The 12 Best Medical Alert Systems
At a Glance: Our Top Rated Medical Alert Systems
Here is an overview of each system, its pricing and some other key features.
Our
Rank
Medical Alert
Company
Starting At
Fall
Detection
In Home
Range
Cellular
Provider
#

1

$29.95/mo
$10/mo
1300ft
AT&T
#

2

$19.95/mo
$10/mo
1000ft
AT&T 4G LTE
#

3

$29.95/mo
$10/mo
300-600ft
AT&T
#

4

$29.95/mo
$15/mo
400ft
AT&T
#

5

$29.99/mo
$10/mo
N/A
AT&T
#

6

$19.95/mo
$10/mo
400ft
AT&T
#

7

$29.95/mo
$5/mo
1300ft
AT&T
#

8

$24.99/mo
$15/mo
N/A
Verizon
#

9

$19.95/mo
$7/mo
500ft
AT&T
#

10

$29.95/mo
$11.95/mo
600ft
AT&T
#

11

$30.00/mo
N/A
1000ft
AT&T
#

12

$16.95/mo
$11/mo
600ft
AT&T / T-Mobile
*Cellular units don't require additional service plans. This cost is included with your subscription to the medical alert company.
Full List of the Best Medical Alert Systems of 2021
The Ins and Outs of Medical Alert Systems: Our Buyers Guide
If you've ever seen a commercial for Life Alert, then I'd wager you understand to some degree the function of a medical alert system. In the event of an emergency, a system such as this can connect you with a monitoring center, one staffed with trained professionals who will talk you through your situation and coordinate an appropriate response, whether through sending an ambulance or even contacting a neighbor.
With that said, there are many different types of medical alert systems. Some use a landline connection while others operate on cellular service. Some systems are designed to protect you at home, and others can be brought along while travelling. Nowadays, there are even some devices with proprietary smartphone apps that bring caregiving into the modern age.
How Do Medical Alert Systems Work?
At their core, all medical alert systems have a similar function. When triggered, a medical alert system will quickly connect you to a monitoring center, whose personnel will assess your situation and, if necessary, contact emergency services.
Naturally, there are several different types of medical alert systems used both in and outside the home. Here is an overview of the categories.
In-Home Medical Alert Systems
In-Home Traditional: This system is meant to be used inside of the home, and it requires a working landline to connect with a monitoring center. These systems are easy to install by simply plugging them into a power outlet and phone jack. They also tend to be the most affordable option.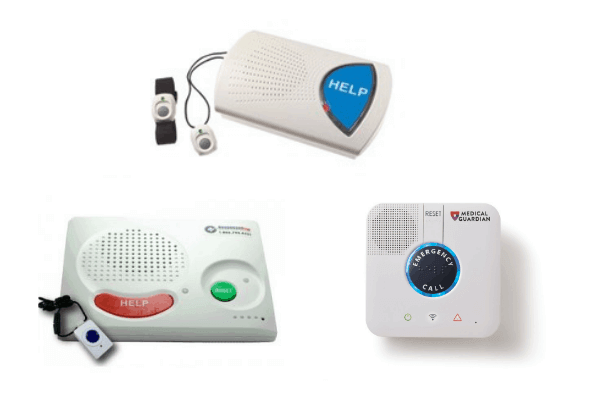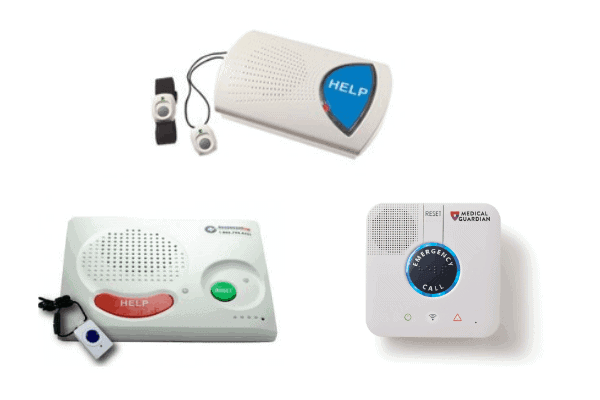 In-Home Cellular: No landline? No problem. Many medical alert companies offer in-home systems that use a cellular connection to work. Simply plug in the power source, and the system will initiate. These systems often look identical to their landline counterparts, though they usually constitute a slight step up in price. Luckily, the cost of cellular service is included with your medical alert service plan, so no additional contracts are necessary.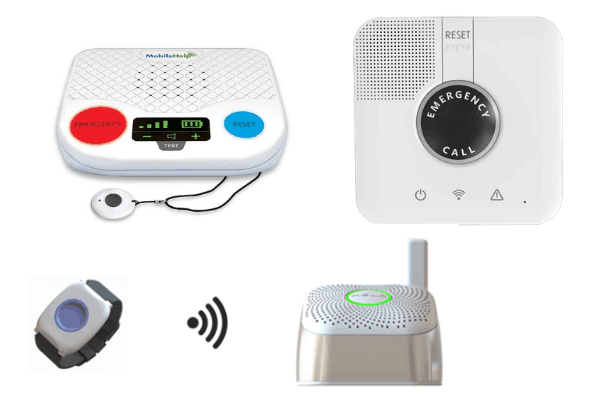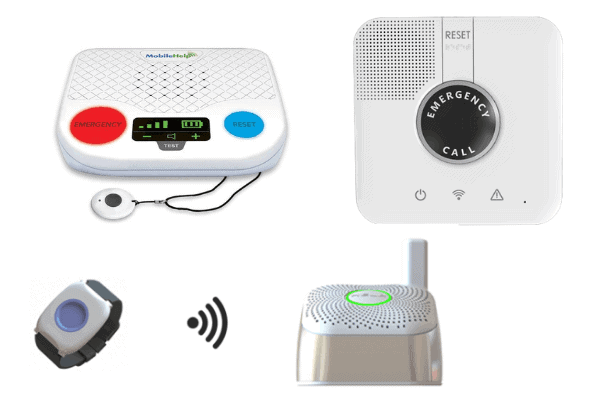 Both types of in-home systems include a base station with a two-way speaker. This is what is used to communicate with monitoring personnel, and it's activated through pressing a small help button worn around either the neck or wrist.
Remember to consider the range of the base station and help button, as not all systems are created equal in this regard. Currently, the best in-home systems have a range of up to 1,300 feet, which is enough to cover most sizes of homes. Generally, I recommend systems with a range large enough to cover an outdoor area of your home, as many falls occur outside.
Mobile Medical Alert Systems
Mobile or on-the-go medical alert systems are ideal for people who want access to help even while outside their home. Using a cellular connection, these alert systems feature a two-way speaker and a help button, giving you the same protection of an in-home system but in a portable package.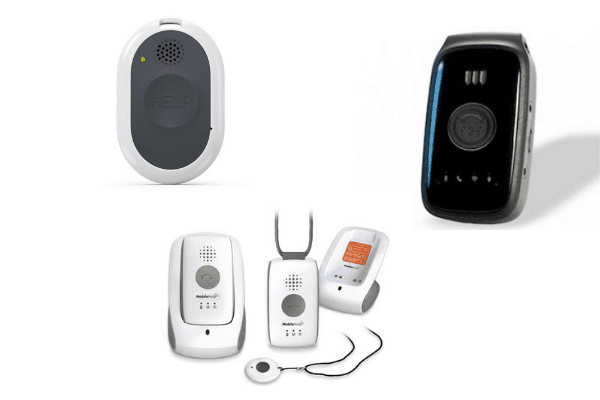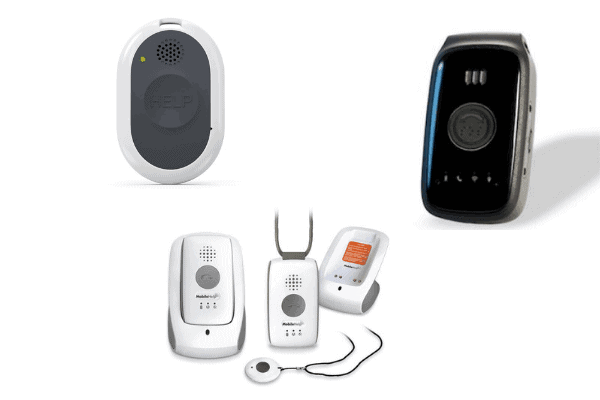 Some mobile medical alerts are even GPS enabled. This helpful feature allows monitoring staff and even loved ones to locate a user while their device is turned on. This feature is important as some users may be unable to verbalize their location if they are hurt, confused, or otherwise experiencing an emergency.
Medical Alert Smart Watches
The medic alert smartwatch is a recent addition to the industry. Geared towards both men and women, these modern devices provide safety in a sleek and discrete package. These systems work independently of a cell phone (with no additional cellular fees), and they look like a typical wristwatch. Not only are they stylish, life-saving devices, but they also operate as a functional watch, activity tracker, and messenger. My favorite medical alert smartwatches can even be set up to provide medication reminders and location data.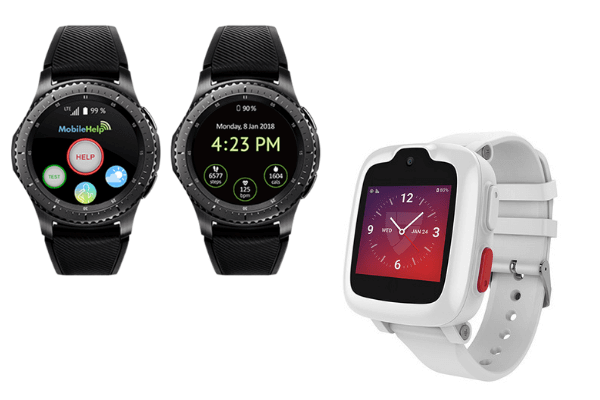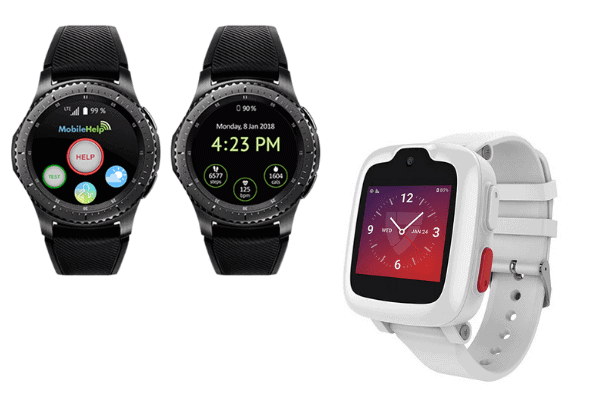 How Does Medical Alert Monitoring Work?
Medical alert systems function as a direct line of contact between the user and a monitoring center. I know what you're thinking: What's a monitoring center? Put simply, monitoring centers are contracted by medical alert companies to provide 24/7 care to customers. They do so by receiving distress calls, assessing the situation (emergency or otherwise), and then contacting an appropriate response measure, whether this be medical services or a neighbor who can check in on their friend.
These monitoring centers are not your average call center either. Not only are they staffed well enough to field calls in a matter of seconds, but their specialists often receive extensive training to ensure a high degree of care.
Which Medical Alert System Is Right for You?
If you're interested in purchasing a medical alert system, here are some questions you should consider.
In-Home or On-The-Go?
Generally speaking, medical alert systems can be broken down into these two categories, systems for use in the home and systems for use outside of it. Both types provide the same functionality; however, each of them suits a different lifestyle.
In-Home Systems connect through either a landline or cellular connection. When you press your help button (generally worn as either a wristband or pendant), you'll be connected to the monitoring center via the base station, which has both a speaker and microphone for easy communication. This type of system is best suited for those who spend most of their time indoors, although some systems have a large enough connectivity range to cover parts of your yard.
On-The-Go Systems connect through cellular service, allowing you to travel just about anywhere with adequate service. Most often worn as a pendant, though some companies offer wristbands or smartwatch designs, these systems provide the same security and peace of mind as the in-home models but with a greater range of freedom. Generally speaking, these systems come with a higher price tag.
What Are My Monitoring Needs?
Each of the systems mentioned here come with some form of 24/7 professional monitoring; however, some of them offer additional features suited to individual needs.
With caregiver apps and platforms, loved ones and caregivers can keep tabs on the user, tracking their location, monitoring their activity, and even checking to make sure they are wearing their device.
Many medical alert providers also offer personalized response plans. With these, a call to the monitoring center can also trigger alerts to neighbors or loved ones. Although a monitoring agent can certainly contact emergency services, not every help call requires such drastic action, so I always appreciate these individualized sorts of responses.
Do I Want Fall Detection?
Most medical alert systems offer automatic fall detection, and it will cost anywhere from $5-$15 extra per month. Although it might be tempting to save money by omitting this feature, I think it's essential and could even save your life.
What Is Automatic Fall Detection?
With falls being a leading cause of injury to older adults, it's critical to have the proper ways of addressing this problem. Oftentimes, fall can leave a person unable to reach for help, and that's where fall detection comes in.
Through sophisticated accelerometer technology, automatic fall detection pendants can detect a fall and automatically place a call to monitoring personnel without the user having to press the button. Keep in mind, this technology is not 100% accurate, and false alerts may occur. However, in the event that a loved one falls (or has a medical emergency) and is unable to press the button on their safety device, there is comfort in knowing that help can still be reached.
Final Words
As a lifelong caregiver to older adults, I take great pride in helping people navigate the often-complicated world of medical alert systems. Everyone deserves independence, regardless of age, and a reliable medical alert system is the perfect tool to help you do so.
If you made it this far in the article, you can tell there is a lot to know about these types of systems. But have no fear! I'm here to do the leg work, testing out the latest and greatest in caregiver technology, making it that much easier for you to remain assured that your loved ones are aging gracefully.
Medical Alert System Frequently Asked Questions