Life Alert made a splash with their catchphrase, HELP! I've fallen and I can't get up. In fact, for many of us, this phrase is one of the first things that comes to mind when talking about medical alert systems. Therefore, we know Life Alert scores big in the marketing department, but how do their devices stack up?
Life Alert may be one of the most well-known medical alert systems thanks to the company's brilliant PR, but is it one of the best? This page will dig deeper into everything Life Alert has to offer, including details on the different systems, their pricing and the customer service. By the end, you'll be an expert in Life Alert and know whether or not it's the best for your needs.
Life Alert's Promise
As the population in the United States ages, many older adults are choosing to age in place. In fact, over the next 10 years, nine out of out ten older adults plan to stay in their current homes. Medical alert systems like Life Alert make it possible for people to live on their own and still receive the help they need during an emergency. According to a 2004 study, 87% of customers said having Life Alert was their main reason for deciding to continue living alone.

Located in Encino, California, Life Alert employs more than 600 people, handles over two million calls a year and claims to save at least one life every 11 minutes. In 2016, the company prevented more than 46,000 people from experiencing a catastrophic outcome as a result of an emergency situation.
Like most medical alert systems these days, Life Alert offers a few different systems, some that are better for at home and some that are best for on the go.
How To Buy Life Alert
The only way to buy a Life Alert system is over the phone. Customers also need to call in order to receive a more detailed brochure. The website is basically just an advertisement for the company and provides little in the way of information on system options and pricing. And while the phone number for Life Alert is splattered all over the website, it's not overtly clear that calling is the only way to purchase. What is clear, however, is that you can call to receive information 24 hours a day, seven days a week.
FYI: You must call Life Alert to purchase your system; there is no way to order online.
Life Alert System Offerings
When it comes to system offerings, Life Alert is pretty bare-bones, with just three systems available, none of which come with fall detection. The available products are the Life Alert Basic, Life Alert Basic with Help Buttons and Life Alert Basic with Help Buttons and Mobile. Every system comes with a base unit that connects directly to the Life Alert monitoring centers, where people are available 24 hours a day, seven days a week for help.
Once connected to the monitoring system, the dispatcher will talk with you to determine the best course of action. If help is needed, the dispatcher will alert either the necessary emergency responder or someone from your contact list, which can include family, friends or neighbors. If you push your button and are unable to speak, Life Alert dispatchers will automatically send for help, which is comforting to know.
Life Alert Basic
Life Alert Basic comes with just a main unit, which is essentially the base station of your system. The main unit connects to either a landline or a cellular network and communicates with the monitoring center and the help buttons (not included with this system). The system does get plugged in and also has a battery backup that lasts up to 72 hours in case of a power outage.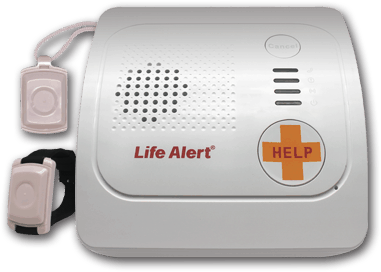 Life Alert Basic with Help Buttons
Life Alert Basic with Help Buttons comes with the main unit and a help button. The help button comes as either a wristband or a pendant that you can wear around your neck. The main unit is the same as the unit that comes with the Basic plan, connecting to a landline or cellular network, and it communicates with both the monitoring center and the help buttons. The help buttons work within an 800-foot range of the base station and have a battery life of seven years. It's also important to note that Life Alert pendants or wristbands are waterproof, meaning you can wear them in the shower, bath or pool.
Life Alert Basic with Help Buttons and Mobile
This is Life Alert's premier package and comes with a base station, a pendant or wristband and a mobile pendant. The base station and pendant/wristband have the same features as the Life Alert Basic with Help Buttons system. The difference between the two is this system comes with a second pendant that has a built-in GPS. The built-in GPS system works with cellular networks and notifies the monitoring center of a person's location, in and outside the home. This makes it a great option for older adults who want to have monitoring when out and about. The mobile pendant has a battery that can last up to ten years! This is one of the longest-lasting batteries out of any mobile alert system on the market.
LIfe Alert Add-Ons
In addition to the system plans, Life Alert offers a few add-ons to ensure even more safety and peace of mind. The first is a wall help button which can be used in place of the pendant. The waterproof wall help buttons should be put in areas where older adults are most likely to fall, such as the bathroom, shower, or stairway. It's important to remember to place the buttons low enough so you can reach it in case of a fall. This is easy to achieve since the buttons don't need any power outlets to work. And with a battery life of approximately a decade, you can place the help buttons anywhere you need a little extra protection. These help buttons connect to the same cellular network as your pendant or wristband and when pressed, connect you to the monitoring center.

The second add-on is a home security help button that provides protection in case of an intruder. Instead of connecting to a medical dispatcher, pushing the home security button connects you to the security dispatcher. This is a little something extra to keep you safe, as the dispatcher can call the police or scare away the intruder using a loud voice via the speaker. This button can go next to your bed, so you have quick access in the middle of the night.
Life Alert Pricing and Warranties at a Glance
Life Alert is one of the pricier medical alert systems on the market. Here's a look at their systems and monthly costs.
Life Alert Pricing
| Life Alert System | One-Time, Upfront Cost | Monthly Cost |
| --- | --- | --- |
| Life Alert Basic | $95 | $49.95 |
| Life Alert Basic with Help Buttons | $96 | $69.95 |
| Life Alert Basic With Help Buttons and Mobile | $198 | $89.95 |
Even Life Alert's most basic plan is more expensive than systems from companies like MobileHelp or Medical Guardian, both of which start pricing at $29.95 a month, depending on your plan. Life Alert is not only an investment when it comes to the upfront and monthly costs, but the company also asks you to invest a lot of time with them. Customers are required to sign a three-year contract; there are no monthly options.
The upfront cost does include professional installation for the more advanced packages; however, with the basic package, you should be able to install it yourself. And when it comes to warranties, Life Alert offers a lifetime guarantee. Your Life Alert equipment will be replaced if it breaks, regardless of how long you've had it. That being said, the company does charge $49.00 to replace lost pendants.
You Should Know: Life Alert requires customers to sign a three-year commitment for medical alert systems.
Life Alert's Biggest Downfall
The biggest feature missing from all Life Alert Systems is automatic fall technology, which is a pretty standard option, one that is a staple of many other medical alert systems. So, what is automatic fall detection and why is it needed? For starters, it's a way for older adults to know they will get help even if they can't push the button. Medical alert systems with automatic fall detection come with a technology that automatically alerts call center dispatchers when someone goes down, even if that person isn't able to push their button.
Think about it, if you fall and are unconscious, with Life Alert no one will know. But with automatic fall detection, even if you become unconscious you will still get the help you need. One out of five falls result in a serious injury, such as a broken bone or head injury, so I feel that automatic fall technology is pretty crucial to ensure safety.
FYI: Life Alert does not offer automatic fall detection as a possible feature on any of their products. If you fall without your button or go unconscious, you have no way of contacting the response center.
Life Alert App
Despite their somewhat outdated website, Life Alert has a mobile app that modernizes their systems a bit. They are also one of the few medical alert system companies that offer an app for both iPhones and Androids. Older adults can use the app to contact the monitoring center for medical emergencies or home invasions. The large red emergency help button makes the app simple and easy to use for older adults who may not be able to access their help button. And for those older adults who may not have upgraded to a smartphone, Life Alert offers a speed dial option for easy access to the Life Alert monitoring center.
Life Alert Customer Service
Like with ordering, the only way to get help from Life Alert is to call the company directly. This can be a bit of a headache if you have a quick question. Other medical alert system companies offer customer service chats or email addresses, but Life Alert does everything via the phone. And because ordering is also done over the phone, representatives who answer the phone can be a bit salesy, even if you aren't calling to purchase a product.
Our Final Thoughts
Life Alert falls short in some key areas, specifically its lack of automatic fall detection. It's also one of the more expensive systems, so for those looking for a budget-friendly option, Life Alert may not be what you're looking for.
With all that said, the decades-old company is a reliable medical alert system with its waterproof products and lifetime warranties. The systems also come with long-lasting batteries; they stay charged anywhere between seven and 10 years making them some of the longest-lasting batteries in the industry. It's also a great option for older adults who want to commit to one system for a long time, as it requires you to sign a three-year contract.
Frequently Asked Questions