What can you accomplish in eleven minutes? For most people, that probably means checking Twitter, reading a few emails, and maybe doing a few minutes of actual work, but for Life Alert, that's how often they save lives. With over three decades in business and over 46,000 people saved in 2016 alone, the company certainly has a proven track record of being dependable. Of course, that doesn't automatically make me trust their medical alert system, which is why I tried it out for myself, and what I found was pretty interesting.
Pros and Cons
Want to cut to the chase? After testing out Life Alert, here's what I liked and didn't like about their medical alert system:
Life Alert Pros
I like that all of Life Alert's products come with a lifetime warranty.
The devices I got had a 10-year battery life, which was impressive, not to mention they were waterproof.
With both cellular and landline options, Life Alert can work whether you have a landline at home or not.
Life Alert Cons
A pretty big drawback of Life Alert is that none of their devices have fall detection as an option.
Their monthly prices are pretty expensive compared to the rest of the industry
Life Alert makes their users sign three-year contracts, while most companies offer flexible, monthly contracting.
Pro Tip: None of Life Alert's devices have fall detection, so to get in touch with the monitoring center, you'll actually need to push the emergency button.
How Life Alert Works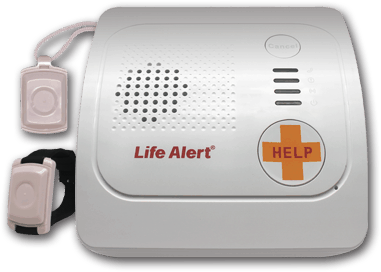 If you're not familiar with medical alert systems, here's an overview of how Life Alert works. If the user presses the emergency button, the pendant will communicate with the main base unit which will then connect to Life Alert's monitoring centers, who can speak through the main base unit or the pendant itself on the cellular unit. If the user needs help, the emergency personnel can send someone over, whether that's the fire department, medical services, or the police. Monitoring is available 24/7 and costs a monthly fee, in addition to a one-time activation fee for each of their systems. Medical alert systems like Life Alert are great options for seniors who want to keep living alone but can't afford or don't want in-person help around the clock. Plus, Life Alert has pendants that work both in the home and on-the-go so older adults can be protected wherever they go.
Systems and Add-On Equipment
Life Alert's website doesn't make it clear what products they actually offer, so I ended up calling them to find out, saving you the trouble!
Systems
When it comes to Life Alert, I had three system options: Life Alert Basic, which was just the main unit, Life Alert Basic with help buttons in the form of necklace and wrist pendants, and Life Alert Basic with the Help Buttons and Mobile, which included the cellular on-the-go unit. Since I got the top-tier package, I tested out all their devices. Here's what they can do:
Main unit: Connected by either landline or a cellular network, the main unit communicates with the pendants as well as the monitoring center; think of it as the base station of your medical alert system. Although it plugged into my outlet, it actually stayed on even during a power outage due to its backup battery, which can last a maximum of 72 hours.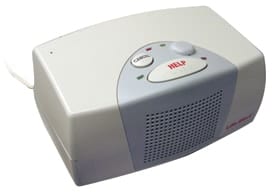 Help button pendant: Along with the main unit, I also got a help button pendant, which I could wear as either a necklace or bracelet (personally, I opted for a necklace option). I wore this necklace all the time, even in the shower, and with the touch of a button, I could be connected to help.

Life Alert mobile pendant: Finally, my package also included another mobile pendant that has built-in GPS, which lets the monitoring center know the senior's location when they're wearing it. Since it works on a cellular network, it can be used in and out of the house, and the battery should last a decade, one of the longest battery lives I've seen from a cellular medical alert pendant.
Add-On Equipment
I also had the option of adding another help button or a button for home security.
Wall button: In case you don't have the pendant on you at home, it's a good idea to add wall buttons at high-risk places, like the bathroom and stairs. Connected to that same cellular network, you can press these buttons to talk to the monitoring center as well.
Home security button: Finally, this button works exactly the same way as all the other buttons, but instead of connecting with the medical dispatchers, it connects you with the security dispatchers, who can call the police in the event of an intrusion or even scare the intruder away via the button's speaker. Of course, I also recommend getting a full home security system, as this button isn't enough on it's own, but that's another story.
Recommendation: Place the wall buttons in areas where falls are the most likely, like your bathroom, kitchen, or stairs. Also, be sure they're installed low enough to reach from the ground.
What's Missing?
For some people, the features available on the above devices may be sufficient, but other people might want fall detection and vanity pendants, in which case, Life Alert is not the medical alert system for you. Let me explain further exactly what Life Alert lacks:
Fall detection: Sadly, over a third of people ages 65 and older fall every year, making it the leading cause of death for seniors. That's why I look for medical alert buttons with fall detection. If the user falls and can't push the button, they can still be connected to help, as the button itself can detect when a fall has occurred. I was really surprised that none of Life Alert's devices had fall detection as an option, as this is pretty standard in the medical alert system industry. There's no doubt that this is a major drawback of Life Alert, plus, it's especially ironic given that the company is known for the line "I've fallen and I can't get up!".
Vanity pendants: On a less serious note, Life Alert also lacks objects to hide their wearable pendants. Let's face it: not everyone wants to advertise the fact that they're wearing a medical alert device, so I wish the company offered an array of pretty pendants to cover it up like LifeFone and Bay Alarm Medical.
In my opinion, Life Alert's website is a pretty big drawback; it was tough to learn about their systems and prices using the website alone, and when I called the phone line, I had to deal with salespeople, who aren't my favorite in most cases. This brings me to my next topic…
My Personal Experience with Life Alert
Like I said, after spending a few minutes perusing Life Alert's website, which is a bit stuck in the nineties, I decided to bite the bullet and call the company directly, which, not so coincidentally, is the only way to order a system. And while I wish I could say the woman I spoke to was pleasant, I found the salespeople to be a bit abrasive and not very into answering questions about the Life Alert Basic with Help Buttons and Mobile system I eventually bought. If you're looking for great customer support, Life Alert is definitely not the system for you.
After waiting a few days, I got my Life Alert box in the mail, and as I unboxed it, I saw its main components: the main unit for my home, the wearable help button pendant, and the mobile device with GPS. From there, it only took me a few minutes to plug in the main unit and test out the pendants to see if they really did connect with the monitoring center when I pushed the emergency buttons (spoiler alert: they did).
Pricing
Now, I know what you're thinking: how much is this going to cost me? And right off the bat I can tell you that Life Alert is definitely on the more expensive side of things, with the minimum upfront cost at $95 and the minimum monthly payment at $49.95. To learn more, check out our Life Alert pricing page.
| | Life Alert Basic | Life Alert Basic with Help Buttons | Life Alert Basic with Help Buttons and Mobile |
| --- | --- | --- | --- |
| Upfront Cost | $95 | $96 | $198 |
| Monthly Cost | $49.95 | $69.95 | $89.95 |
Since I've reviewed a ton of different medical alert systems throughout the years, I'm very familiar with the industry average for monthly fees, which typically ranges from about $30 to $40 a month. A typical example is GreatCall, which has monthly charges ranging from $24.99 to $39.99. Considering that Life Alert starts out at nearly $50, they are one of the more expensive systems I've tested out.
On top of that, their upfront costs are high; especially when I considered that some companies don't charge anything upfront at all, Life Alert is definitely not for you if you're on a tight budget. It's also not a good choice if you don't want a long-term commitment, as all of their contracts last three years. Many of the seniors I've spoken with who used Life Alert weren't aware of this contract when they purchased their medical alert system, which is a shame given the high monthly costs.
*We make every effort to provide and maintain accurate information on our site. However, the businesses reviewed on our site may periodically change their pricing, equipment, and packages and there may be a lag between the time they make such changes and the time we become aware of such changes. If you identify any outdated or inaccurate information, please contact us here.
FYI: All of Life Alert's contracts last three years, so make sure you're ready for that commitment before signing up.

Life Alert Company Background

Want to learn more about Life Alert as a company? Founded in 1987, Life Alert quickly made a name for itself due to its TV commercials, which have been stuck in my head for decades. Even the former Surgeon General of the United States C. Everett Koop appeared in their commercials from 1992 to 2013. And again, who could forget their slogan, "I've fallen and I can't get up", which got Life Alert's commercials listed as the most memorable of the past 25 years, according to USA Today.
When I test out and research medical alert systems, I'm not expecting to find any information out of the ordinary, but Life Alert is definitely not your ordinary company. They've been sued multiple times both for their high-pressure sales tactics and their fluctuating fees. In 1991, for example, the state of California sued Life Alert for changing its prices per the customer's income or home value, selling the exact same equipment for wildly different prices. In 1993, the company was sued again for lying about the systems' capabilities, saying that their customers would get faster responses and preferential treatment from local emergency agencies and making up stories about crime victims that never existed. As a result, the company had to shell out a cool $1.35 million, $700,000 of which went directly to victims. While this doesn't exactly scream trustworthy, I was a bit relieved that Life Alert's lawsuits were confined to the early nineties.
Now, one thing I noticed while clicking around on Life Alert's website was their frequent referencing of a 2004 Nielsen survey that found that "87% of Life Alert members stated that Life Alert's protection is a main or important factor in their decision to keep on living alone at home", to quote them directly. But when I tried to find the study itself, I couldn't find it anywhere in Nielsen's archives, so I decided to call Life Alert and see if I could get some more information. After talking to two people who weren't sure where I could look at the study, I left a voicemail for the marketing department. So far, I haven't heard anything back, but if I do hear back, I'll update this review as soon as possible. But even if I had the study, the fact that the company's most recent study is over 15 years old is a bit off-putting, especially given how frequently they reference it on their website.
The Life Alert App
On a more positive note, Life Alert is one of the few medical alert companies to offer a mobile app for both iPhones and Androids. When I tested the app, I found that I could use it to contact Life Alert or to request help for a range of emergencies, from medical emergencies to home invasions to smoke and CO protection. And with a big red emergency button, I think this app is easy enough for seniors to use, so long as they have smartphones. This could come in handy if they have their phones on them but not the pendant or at-home button.
Customer Support with Life Alert
Since Life Alert's website is so limited, basically acting solely as an advertisement for their product, there are no online FAQs or user forums to help out customers. Rather, when I had a question, I had to call the company directly, which was a bit of a burden as other medical alert companies offer support over live chat, email, and other options in addition to the phone.
The Final Verdict
All in all, while I trusted Life Alert to help me out when I pushed the button, I don't think their service is worth their high equipment and monthly costs, especially because their systems lack fall detection. Plus, I didn't appreciate having to sign up for three years without even a free trial option. That being said, I think Life Alert would work for some people, but for most, there are similar, more flexible and affordable options with fall detection available.
Life Alert would work for someone that's okay with committing long-term, three years, to be exact. It's also ideal for anyone that wants waterproof devices or a lifetime warranty, one of Life Alert's major strengths. However, if you were looking for monthly or even annual contracting, more affordable monthly costs, or fall detection, Life Alert isn't the medical alert system for you. One place I'd check if I were you is my list of the best medical alert systems with no monthly fees.
*We make every effort to provide and maintain accurate information on our site. However, the businesses reviewed on our site may periodically change their pricing, equipment, and packages and there may be a lag between the time they make such changes and the time we become aware of such changes. If you identify any outdated or inaccurate information, please contact us here.