If there's one thing that scares me about getting older, it's a loss of independence. As my body ages, it will inevitably require a little extra help to do the things I once took for granted, whether it be through a cane or a hearing aid. Many of the seniors who I work with experience particular difficulty with living alone. A fall, even without immediate injury, can lead to complications when no one is around to help. Thankfully, we have medical alert systems, a tool that can function like an on-demand helper, providing seniors with immediate assistance in the case of an emergency.
In this review, I'll be taking a closer look at the latest offerings from Philips Lifeline, a company that bills itself as the first in North America to provide personal alert systems. Since 1972, back when they were known as simply Lifeline, this company had designed products that help adults maintain independence well into their golden years. Over the years, their systems have evolved to work with both cellular and wireless signals; they even function in the shower and outside the home. Overall, I learned that Philips Lifeline still delivers on their initial promise. Although their devices may cost a bit more than competitors' offerings, each of their systems has the power to give your loved one the peace of mind they need to live their life to the fullest.
Philips Lifeline Pros and Cons
Before I get into the nitty-gritty of Philips Lifeline, here's an overview of what worked and what didn't, in my humble opinion.
What I Like
Solid Construction: Similar to the original GoSafe, the GoSafe 2 had a solid construction that became obvious from the moment I unboxed it. Its high-quality plastic exterior, rubber help button, and LED bulb provide a tactile user experience that can even resist water, making it perfect for use in the shower, a common site of falls for seniors.
Advanced Location Technology: In addition to fall detection, the GoSafe 2 also features 2-way voice communication, assisted GPS, Wi-Fi tracking, and breadcrumbs, a unique method that automatically records snapshots of the device's location. All of this ensures that when help arrives, they'll have no trouble finding the user.
Powerful Audio: The GoSafe 2's speaker provided crisp and clean audio from responders. What's more, the audio was louder than other alert systems I've used. With half of seniors 75 and older suffering from hearing loss, I appreciated the volume of audio emitted through the GoSafe 2.
Long-Lasting Battery: Although Philips lists the GoSafe 2's battery life between two and three days, I found that a single charge lasted nearly two weeks, even with regular use. Even more convenient was how I could wear the device while charging it, ensuring that my GoSafe 2 was always protecting me.
What I Don't Like
High Price: The GoSafe 2 cost me $99.95 upfront in addition to $49.95 per month for monitoring. Although the quality is undeniable, both of the device and its service, the GoSafe 2 certainly isn't turning heads with its budget-friendliness. If you're looking for something that costs less, check out my list of the most affordable medical alert systems.
Response Times: Compared to other medical alert systems in the industry, I noticed that the response time from the GoSafe 2 was a bit longer. On average, I was able to get a responder on the line in just over a minute. While this may seem like a quick response time, in the event of an emergency, a handful of seconds can make all the difference.
Purchasing the Philips Lifeline System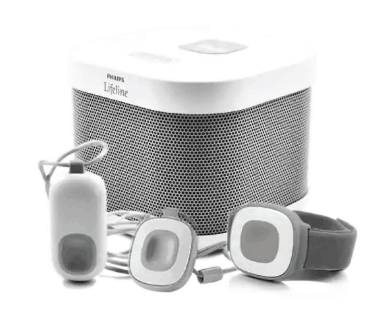 Each of Philips Lifeline's products can be purchased either through their website or over the phone. I began my foray into the world of Philips Lifeline by checking out their websites and each of the product listings. Currently, they offer options both for in-home and on-the-go medical alerts. Additionally, their website also offers buying advice, a series of infographics, and questions that helped me decide which system would be the best for my needs.
I was mostly curious about the AutoAlert technology and whether or not this feature, which costs extra, was necessary. I spoke over the phone with a representative, and she helped explain the benefits of this add-on. Using a combination of accelerometers, barometric sensors, and algorithmic studies, Philips Lifeline's automatic fall detection is able to recognize when the user has fallen and to alert their response center automatically. Oftentimes, when a senior falls, they are unable to press the help button on their own, so this technology can help prevent further harm. With falls being the leading cause of injury and death for the elderly, AutoAlert gives peace of mind to the user and their family.
FYI: For the senior who likes to get out of the house, the GoSafe 2 is the best way to remain secure both inside and outside.
I also tried out Philips Lifeline's web-based decision tool. This helpful quiz asked me questions such as the frequency with which I leave my home and whether or not I had a landline, ultimately recommending the GoSafe 2 for my needs. Although the representative was able to give me all the assistance I needed over the phone, I appreciated all of the assistance methods that Philips Lifeline offered.
Installing My Philips Lifeline System
After plenty of research, I finally settled on purchasing both the HomeSafe with AutoAlert in addition to the GoSafe 2, both of which arrived on my doorstep in just under a week.
My HomeSafe system included my in-home communicator, a power cord, phone cable, AutoAlert pendant, quick start guide, and a manual. Although Philips Lifeline offers technician installation, I opted to install the device on my own. I'm happy to report that, with the help of the Philips Lifeline quick start guide, installation was a breeze. The guide recommended that I place the communicator in the room where I spend most of my time, so I stationed the device on an end table in my living room. The communicator is relatively small, no larger than an answering machine, if you can remember those, and it fit nicely beside my home phone. From there, I plugged the communicator's power cable into an outlet and the phone cable into the wall. Then I connected my phone's cable to the communicator, which then alerted me that the device was connected.
The communicator prompted me to conduct a range test, which consisted of me walking throughout my home, pressing the help button on my pendant, and waiting for a beep from the communicator, letting me know the extent of my device's range. The range is listed at 800 feet which was more than enough to cover both the first and second floor of my home personally, although it may not work as well for larger homes. Medical Guardian's system, for example, has an in-home range of 1,300 feet, so I do wish Philips Lifeline's range was a bit larger so it would work for more people at home.
For the final step, I pressed the help button on my pendant, connecting me to a Philips Lifeline care specialist who helped me with a few remaining questions, like whether or not I could wear my pendant in the shower (yes, I could!). She confirmed my setup and let me know my system was up and running.
Installation Advice: Depending on where your communicator is placed, it may be able to pick up signals from outside. I'd recommend including any porches and gardens on your range test, giving you peace of mind in those outdoor living spaces.
Just when I thought it couldn't get any easier than the HomeSafe's setup, I found out the GoSafe 2 was even simpler. Inside the box was my pendant, charging cradle, quick start guide, and manual. First, I plugged in the charging cradle and placed my pendant upon it. The pendant's flashing green light indicated that my device was charging. Once fully charged, I placed the pendant over my head and pressed the help button, connecting me to a support agent who confirmed my setup and asked me if I had any remaining questions about my system. I had only one question: "is it really that simple?" To which my agent replied, "yes!".
Savings Tip: Philips professional installation costs $99; however, installing a Philips Lifeline system on your own is both simple and free.
Returns and Warranty
Having worked with many seniors throughout my life, I know how much trust they put behind their purchases. They grew up in a time before planned obsolescence and thus expect their medical alert systems to last just as long as that Whirlpool Dishwasher from the forties. In my experience, my Philips Lifeline systems were both sturdy and durable. The pendants operated flawlessly, even after I wore them into the shower, and the batteries lasted for nearly two weeks on a single charge.
For those of us looking for additional guarantees, Philips Lifeline offers a thirty-day money-back guarantee on each of their devices, in the event of a return. Additionally, they include a one year warranty on their systems. Like most warranties, this covers any defect in the property found through normal use. Although I appreciate when companies offer additional protection plans (even if they need to be purchased), one year is better than nothing. Some companies like LifeFone, however, offer lifetime warranties on their products, so that's something to keep in mind as well.
Philips Lifeline Systems and Add-Ons
For this review, I tested out the GoSafe 2 and the HomeSafe Landline systems. Philips Lifeline also offers several more options for medical alert systems. Here's a brief rundown of their product line.
GoSafe 2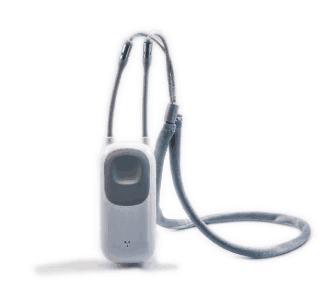 The Philips Lifeline GoSafe 2 is perfect for seniors both in their homes or out on the go. Using AT&T's wireless network, this device provides coverage and support anywhere with a cellular signal. It also includes Lifeline's automatic fall detection for additional protection.
HomeSafe Standard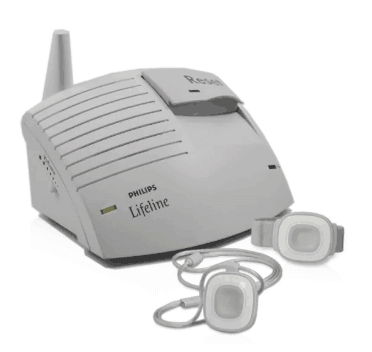 The HomeSafe Standard is the perfect way to provide security to a senior both in and around the home. Through the use of the Lifeline help button, worn as either a pendant or wristband, your loved one can be easily connected to a response center that will contact in-person assistance if necessary. This system can operate through either cellular or landline service.
HomeSafe with AutoAlert (Cellular)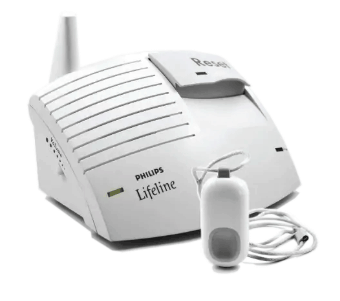 The HomeSafe with AutoAlert offers all of the protection of the Standard iteration with the added bonus of automatic fall detection. This advanced technology can connect you to professional assistance even in a situation where you can't press the help button.
Philips Medication Dispenser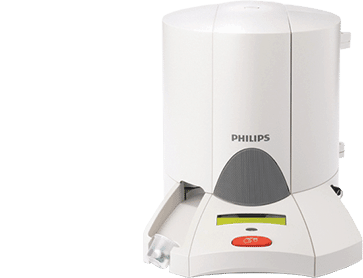 This handy device can be loaded with up to sixty cups of solid medicine, and it can dispense up to six times per day at custom intervals. With over one million people injured each year through medication errors, the Philips Medication Dispenser offers a handy solution that both portions medications and reminds you when to administer them.
Philips Lifeline Product Breakdown
Upfront Cost
Features
Type of System
Monthly Monitoring Cost
HomeSafe Standard
$50
-two-way voice communication
-in home communicator
-pendant or wristband alert button
-800ft range
Landline or Cellular
$29.95 for landline
$43.95 for cellular
HomeSafe with AutoAlert
$50
-two-way voice communication
-in-home communicator
-pendant or wristband alert button
-AutoAlert fall detection
-800ft range
Landline or Cellular
$44.95 for landline
$58.95 for cellular
GoSafe 2
$99.95
-two-way voice communication
-AutoAlert fall detection
-five locating technologies
-all-in-one pendant communicator and system
Cellular
$49.95
The Philips Cares App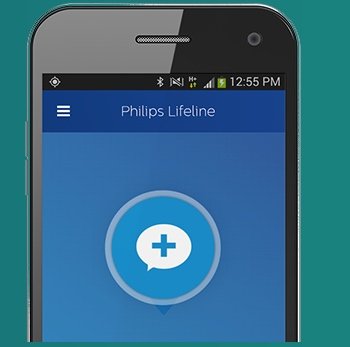 Included with my Philips Lifeline subscription was their new app, Philips Cares, available on both Android and Apple devices. I was excited to test out this app and explore how it could simplify my routine of care. Through this app, I was able to set up a care circle, what was essentially a group of friends and family members who shared access to my Philips Lifeline system. From our phones, we could share updates and even set our availability to assist in the event of an emergency, just additional ways of protecting our loved ones. Through this app, I was also able to monitor the battery life of my GoSafe 2. When it approached the end of its power, I was notified to pay a visit to my senior and recharge it. Not all medical alert systems come with such a useful app, or an app at all, so in this way, Philips Lifeline definitely stands out.
Final Verdict
When it comes to medical alert systems, Philips Lifeline is an industry leader, and it's easy to see why. Their systems combine functionality and durability with a simplicity that even the most technologically averse senior can get on board with.
Naturally, simplicity is a double-edged sword. The ease with which Philips Lifeline systems are used means that it lacks certain advanced features such as customizable calls and activity tracking. If these features seem essential to you, then I'd recommend checking out one of QMedic's medical alert systems.
But when all is said and done, Philips Lifeline delivers on its promise. For the senior looking to remain in their home as independently as possible, a Philips Lifeline medical alert can offer the peace of mind that makes this possible. With nearly half a century of experience with medical alert systems, they continue to provide products you can count on.
Common Questions About Philips Lifeline