Finding the right type of senior housing for a loved one can be overwhelming and frustrating.  Depending on your loved one's location, the options can be numerous or very limited.
The first step is understanding what types of options may be available and understanding what those options can provide.  Click on the link for each care type to get a more in-depth explanation of what each option provides.
Senior Housing Options Defined
In Home Care – In-Home Care or Private Caregiving is a widely used option to help keep people in their own homes or with family when care needs arise.
Home-Health Care- Home Health Care refers to the skilled side of home services provided by Medicare.  Home Health includes services like Physical Therapy, Occupational Therapy, Speech-language pathology (therapy) Services, Medical Social Work, wound care, IV or nutrition therapy, and Injections that can all be provided in the home with orders from a physician.
Adult Day Centers– Adult Day Centers (also known as; Adult Day Services, Adult Day Care, and Adult Day Care Centers) can be a welcome respite for families and spouses caring for a loved one.  These facilities may provide meals, activities, transportation, and hands-on care for those needing assistance with activities of daily living.
Retirement Living- Independent or Retirement Living Communities are most appropriate for those who can manage their health care needs on their own or with assistance from family or private caregivers in an apartment type setting. Independent Living does not offer health care services or assistance but may offer a monthly meal plan, housekeeping, social activities, and transportation.
Assisted Living– Assisted Living Communities (ALF) provide a structured setting for people with a variety of care needs in an apartment type setting.  The needs of people who live in an Assisted Living Community range from independent to needing assistance with all Activities of Daily Living(ADL's).
Adult Care Homes– Adult Care Homes (ACH) (also known as Adult Foster Care, or Adult Family Homes) are located in residential areas throughout many metro cities in the United States.  You may not even recognize an Adult Care Home in your neighborhood unless there is signage for advertising.
Dementia Care- Dementia Care, Memory Care, and Alzheimer's Care communities are licensed and designed specifically for those diagnosed with Alzheimer's or other types of dementia. These secure, specialized units offer services and structure specially designed to accommodate those with various dementia diagnosis.
Nursing Homes– Traditional Nursing Homes are much different today than the dreaded institution of long ago.  Even the term "nursing home" is being phased out as these facilities are being defined by one of two categories; Skilled Nursing Facility (SNF) and Intermediate Care Facility (ICF).  Many of these facilities offer both levels of care under the same roof.
Continuing Care Retirement Communities- Continuing Care Retirement Communities, also known as CCRC's, offer a continuum of care within one community or campus.  CCRC's offer the security of an "until end of life" guarantee of housing, activities, and an increase in levels of care as needs change for members.  CCRC's contain Independent Living options (apartments, or single level homes), Assisted Living, and Skilled Nursing Facility services.  Some also offer Memory or Dementia Care units.  CCRC's also come with a price.
6 Signs It Might Be Time for Senior Housing
The decision to move into senior housing is a significant decision, for both seniors and their caregivers alike. As the older adult in your life begins to struggle more with the tasks of daily living, it's natural to start asking the question, is it time for senior housing?
One of the most challenging parts of making the decision is bringing it up with your loved one. It's understandable that most older adults don't want to leave their homes, and approaching the subject gently is important.
Let your loved one know about your concerns for their welfare and ask them about their daily experiences so you can discuss the best options together.
No one wants to until a crisis before making a decision, but knowing when to broach the subject can be difficult, too. Here are some signs that it might be time to start thinking about senior housing options.
#1. Increasing Worries About Safety in the Home
Is your loved one more prone to falls these days? Perhaps there have been multiple ER trips, or even hospital stays. Your loved one or another caregiver or friend might have mentioned accidents such as minor burns or slips, cooking-related accidents, or other small but still worrying mishaps.
You might also be starting to worry about home challenges such as steep or winding stairs, high-sided tubs, uneven patios or too many sharp edges and corners on the furniture.
If it seems like home is less and less of a safe place, it could be time to think about moving to senior housing.
#2. Advancing Memory Impairment
Forgetfulness can be dangerous for seniors. Someone suffering from impaired cognition can easily leave a stove or freestanding heater unattended or let a bath or sink overflow.
Be wise to the signs of memory impairment such as forgetfulness, repeating the same information, seeming lost or confused, or even getting disoriented and wandering out of the home.
When you notice advancing signs of memory impairment, it's time to have a discussion with your loved one and others in their immediate circle. Don't wait to have this conversation until it's too late.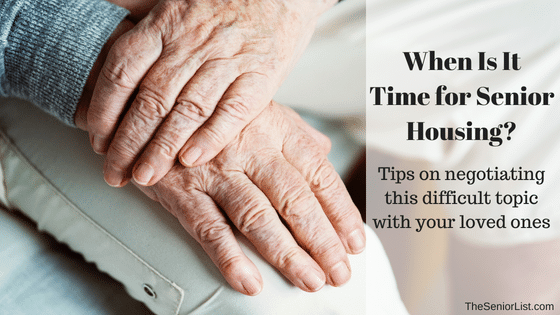 #3. Problems With Personal Care
Personal care can be difficult for seniors who are struggling with memory loss or physical problems such as dizziness, fatigue or mobility difficulties. Older adults may also be frightened of slipping or falling on bathroom tiles or have difficulty negotiating the sides of the bath tub.
Seniors who have a regular in-home personal care assistant might start needing increased personal care hours.
If you notice signs of neglected hygiene, such as being unwashed or unkempt, it's time to find out how things are with your loved one, and whether they might be safer and more comfortable in a senior housing community setting.
#4. Neglected Household and Finances
How are things in your loved one's home? Signs of neglect around the house are a telltale sign that someone is struggling at home.
You might notice trash cans left to overflow, increased amounts of dust or dirt around the home, mold, grime, or piles of dishes in the sink. You might also notice a lot of general clutter such as unfolded laundry or paperwork left unattended.
Your loved one might also start neglecting their finances. You might notice reminder notices lying around or see that they have left mail untouched in piles, or perhaps even outside in the mailbox.
Talk to your loved one about your concern for protecting them at home and their finances to assess whether daily tasks are getting to be too much for them.
#5. Increased Reliance On Loved Ones
Friends and family are generally happy to help out a loved one in need, but if the need for help is steadily increasing, that too can be a sign that it's time to consider senior housing.
Seniors who live with a partner might start relying more and more heavily on their healthier spouse, which puts a lot of strain on the healthier partner.
#6. Becoming Isolated At Home
Staying social is important for us as we age. Having a local community of friends and plenty of things to do can help seniors stay active and even ward off the depression and lack of motivation that comes with social isolation.
Senior housing communities provide residents with opportunities to socialize and try out hobbies. For those who are becoming too isolated living at home, this can be a real boon.
Floating the idea that it's time for senior housing isn't easy. However, if you notice one or more of these signs, it's a good idea to start the conversation with your loved one.
Sometimes a move to senior housing is the best way to keep your loved one safe and happy and increase the quality of their later years.
Senior Housing Alternatives
These days, a person looking for senior housing – whether for independent, assisted living, adult care home or a long term nursing facility – has more options than ever before, and there's no reason to think that the growth will stop any time soon. Among the reasons for this growth are the following:
Simply put, the senior population is exploding. After all, the Baby Boomer generation got its name for a reason. It's also true that improved healthcare and a better understanding of diet and exercise are contributing to the nation's longevity.
It is already proving impossible for the eldercare housing industry to construct (or convert) enough brick and mortar structures into senior housing. That's not to mention the practical problems in finding and training sufficient staff.
Today's seniors are also becoming more of an economic force than ever before. This makes them of special interest to anyone involved in any branch of the eldercare industry, especially housing.
As numerous studies have shown, retirees contribute significantly more to a given community than they take away. Not only do they spend money, but they may also do volunteer work, making them attractive tenants.
Growing demand for alternative senior housing
Few seniors have ever been thrilled at the idea of moving into anything that could be described as a "facility." "Aging in place," i.e. continuing to live in the home of one's own choosing, has generally been seen as the ideal. Now that retirees have the sheer numbers and the money, they have gained leverage and are beginning to wield it.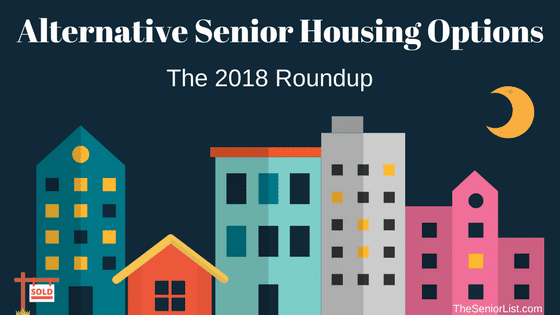 Innovative Alternative Housing for Retirees
Cohousing
According to Cohousing.org, this approach to independent living is "an intentional community of private homes clustered around shared space." Each of the community members is financially independent, but they share responsibility for running the neighborhood and are all engaged in decision-making.
There is often a common space – a separate house or apartment that includes a kitchen, laundry facilities, dining room and more – where the residents could meet to share meals or discuss community issues. Sociability and shared community responsibilities characterize this arrangement, and it frequently has a strong ecological (eco-housing) ethos.
Green Housing
The term, coined by age care specialist Bill Thomas some 16 years ago, refers to a new model of nursing home or memory care unit that is anything but a warehouse. Instead, each Green House allows only a few residents, who share a home-like atmosphere, hindered by as few restrictions as practicable.
As a result, the residents get the personal attention they each need while reducing the stress for their healthcare providers. Ultimately, a happier and healthier atmosphere is generated, and all feel respected.
Leisure (or Lifestyle) Oriented Retirement Communities (LORC)
This type of senior housing has existed for several decades and may overlap with the category of Niche Senior Retirement Communities listed below.
Micro-communities
These communities are a form of homelike residential/assisted living care. As the name suggests, these are small communities that are suitable for those who wish to avoid a larger, more crowded assisted living facility. This would also be an appropriate choice for a resident whose personality or medical condition requires special attention.
Multi-gen Housing
This type of living situation involves a minimum of three generations of family members all living under the same roof or on the same property. As of 2012, 18.1% of Americans, approximately 57 million people, were sharing a home with family and those numbers seem to be on the rise. Historically, this style of housing is achieved when
(a) the living space in the main house that is augmented by adding on or converting existing space,
(b) an "in-law" apartment added over the garage, or
(c) a separate tiny home has been built on the property.
The current demand for more multi-gen housing, though, has inspired innovations by businesses like NextGen by Lennar and the Toll Brothers. Other related terms to search for in your community are Adult Accessory Units, Accessory Dwelling Units, Accessory Units, In-law Units, Multi-gen Dwelling, Rolled-out Casitas, and Tiny Houses.
Niche Senior Retirement Communities
This type of senior housing consists of a niche community composed of seniors, or sometimes a broader age range. The members occupy separate or attached homes or even an apartment building. The binding factor is a shared interest or trait. It could be birdwatching or carpentry, music or cooking, sexual orientation or shared religion, golfing or bridge – you name it and it may already exist or is simply waiting for someone to initiate it.
The amount of assistance available for seniors will vary from one community to another, though generally, once one loses one's mobility or develops a serious condition, that person will need to move to a place that offers the appropriate medical care.
Naturally Occurring Retirement Communities (NORC)
Dr. Michael Hunt of the University of Wisconsin-Madison coined the term NORC in 1984. To qualify, a community must contain at least 40% of residents who are 60+ years of age. All of them must still live in their own homes, and not require home nursing treatment. At the very best, this type of senior housing breeds camaraderie, activity, and positive social interaction that benefits all.
Tiny Houses
See Multi-gen Housing.
University-Based Retirement Communities (UBRC)
More college and university campuses are creating and offering housing for seniors, ranging from independent to assisted living. This is often an attempt to shore up income due to inconsistent enrollment and budgeting cuts.
Depending on the campus, seniors might have separate housing or share an apartment building with college students. Enticements include free or discounted classes, access to first-rate medical care, and a vibrant, stimulating atmosphere.
Village Movement
This type of senior housing is another means of achieving aging in place for retirees, while also positively impacting their neighbors. Neighbors form a village when they agree to take on the responsibility of assessing, coordinating and ultimately delivering the necessary services to each member of the village.
These include medical, home repair, grocery shopping, pet walking, and so on. A board of directors, chosen from the village, manage the non-profit organization. Each member pays membership fees. These are based on how many services that person is using and go back into running the village.
Villages make it possible for a senior to remain in their own home. Furthermore, this approach relies heavily on volunteerism and seems to engender a sense of community, drawing all involved closer. There are reportedly more than 200 villages in the United States today. However, it is still too new a model to pronounce a success.
Despite having the support of one's community, older adults may eventually have no choice but to leave their home. However, the inclusions of Green Housing and Micro-communities above proves that it's not only Independent Living and Assisted Living that continues to evolve in the senior housing sector. And, if a kinder and deeper understanding between the generations should emerge along with these new communities, then so much the better.