Many older adults and caregivers turn to walk-in bathtubs as a way to lower the risk of bathroom injury. Through a combination of a low-entry threshold and other safety features, walk-in tubs are a great way to help people live securely in their homes, well into their golden years.
Walk-in tubs are high-walled and can fit into the same space as a standard bath. Rather than climbing over the edge of a tub, walk-in tubs feature a door on the side, allowing for easy access. And once you're inside, that's when the fun really starts. Modern walk-in tubs feature not only easy entry but also advanced comfort features such as water jets and handshowers.
Today, we'll be taking a closer look at the walk-in tubs from Safe Step. In this review, I'll give you an overview of their offerings, in addition to taking an in-depth look at their pricing and features. Keep reading to learn if Safe Step has the walk-in tub for you.
Who Is Safe Step?
Based in Nashville, Safe Step is one of the leading manufacturers of walk-in tubs and showers. One thing that separates Safe Step from some of the competition is that all of their walk-in tubs are made in the USA. Their factory is located in Tennessee, allowing them to be more responsive in their service, in addition to ensuring a high level of quality and affordability.

Each Safe Step walk-in tub is built with the most advanced safety features in addition to therapeutic features that can elevate your average bath into a luxurious experience. It's this combination of safety and comfort that make Safe Step tubs an effective means through which older adults can remain safely in their homes.
Safe Step Pros and Cons
To make a long (and luxurious) story short, here is what I really liked about Safe Step in addition to a couple of things I didn't like so much.
What I Liked
Knowledgeable Customer Service: If you're intimidated by the prospect of purchasing and installing a brand new walk-in tub, then fear not! Safe Step has you covered. Every step of the way, from selecting a tub to installing it, you'll be guided by Safe Step's professionals who turn the whole ordeal into a cakewalk.
Advanced Safety: Each Safe Step tub comes standard with the grab bars, low-entry threshold and anti-slip surfaces that we've come to expect from walk-in tubs, but they also throw in some unique features such as anti-scald technology and overflow drains.
Luxury Features: When it comes to walk-in tubs, you might naturally think they're all about safety. And while Safe Step certainly delivers on this front, the hydrotherapy, chromatherapy, and aromatherapy features of their walk-in tubs ensure that safety does not come at the cost of comfort.
Lifetime Warranty: If you're purchasing a tub, odds are that you plan to keep it for a long time, so that's why I appreciate Safe Step's lifetime warranty. It covers not only the tub itself but also the door seal, faucets, water pumps, heaters, blowers, and labor. All this is to say that Safe Step is there to help long after your tub has been installed.
What I Didn't Like
No Showrooms: While the Safe Step experts can deftly recommend and install one of their walk-in tubs, I couldn't help but wish that they were available through some type of physical store. This way, I would have been able to actually see the tub before the date of installation.
High Cost of Entry: A Safe Step walk-in tub can cost you anywhere from $2,500 to $8,000. When you tack on the cost of installation, which will likely be somewhere in the ballpark of $5,000, you'll definitely be spending a good chunk of change for a Safe Step tub. Still, I'm a firm believer that you get what you pay for, and Safe Step is well worth the money.
How To Purchase a Safe Step Walk-In Tub
Unlike some companies such as American Standard, whose walk-in tubs can be purchased from brick and mortar retailers, Safe Step models can only be purchased directly through them. On one hand, this is disappointing because it means you don't get to see the tub in person before making your decision. On the other hand, however, this means that all of your interactions will happen directly with Safe Step, and their professionals will have no trouble guiding you through the process.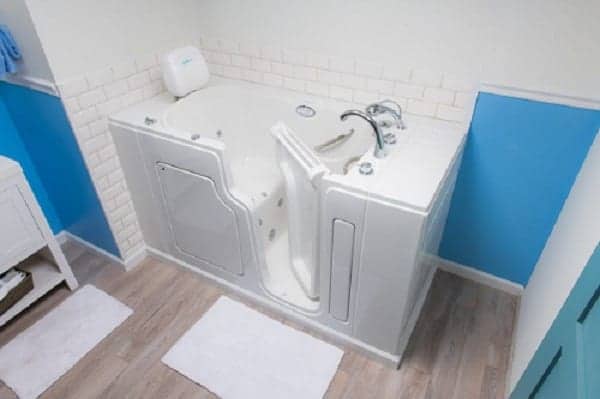 To start, I'd recommend taking a look at Safe Step's website. Here, you can find all sorts of information on the company and their products, in addition to some testimonials from satisfied customers. This is a great way to get acquainted with Safe Step and figure out if they're the right company for your needs. You'll notice, however, that Safe Step does not list any particular models or their pricing. For this information, you'll have to call up their sales hotline and schedule a free consultation.
The Safe Step Consultation
If you've ever purchased a used car, then you're probably familiar with high-pressure sales situations, the type that requires bartering and a high degree of uncertainty. Luckily, we found the Safe Step consultation is a far cry from this. At no cost, one of their specialists will come directly to your home, whereupon they will take a look at your bathroom and figure out which of their models will be the best fit for your existing plumbing and electrical systems.
In addition to helping you consider physical constraints, your Safe Step consultant will ask you some key questions about safety and comfort features, ultimately helping you decide which model is right for you.
The More You Know: Safe Step will remove an existing tub or shower as part of the installation process.
Types of Safe Step Walk-In Tubs
Although every Safe Step model can be customized to suit your specific needs, they can be broken down into three overarching categories. Here's an overview of each:
Walk-In Tubs: The problem with traditional tubs is that stepping over a bathtub wall can be potentially dangerous, especially for those working through mobility issues. A Safe Step walk-in tub addresses this issue through the use of a low-entry threshold. This makes entering the tub as easy as stepping up a small stair, and the textured seating keeps you comfortable and safe throughout your entire bath.
Walk-In Showers: Similar to a walk-in tub, a Safe Step walk-in shower gets rid of treacherously high tub walls, allowing for safe entry and exit from your bathing. Unlike the tubs, however, a walk-in shower does not fill a basin with water. Instead, it operates through a traditional showerhead and the optional addition of shower wands, making bathing both safe and a breeze.
Hybrid Tubs: Combining the best of both worlds, a Safe Step hybrid tub gives you the convenience of a showerhead with the luxurious comfort of a bathtub. As with all Safe Step models, your safety is ensured with a low-entry threshold.
FYI: Safe Step's walk-in showers can be made wheelchair accessible, through the use of a barrier-free base that eliminates the threshold entirely.
Although the cost of your Safe Step model will vary depending on its features and the cost of installation, here's an overview of pricing, just to give you a ballpark estimate.
Safe Step Pricing Overview
| Feature | Price |
| --- | --- |
| Walk-In Tub | $2,500 – $8,000 |
| Walk-In Shower | $4,000 – $10,000 |
| Hybrid Tub | $2,500 – $10,000 |
| Cost of Installation | Appx. $5,000 |
| Total Estimated Cost | $7,500 – $13,000 |
Safe Step Standard Features
Together, working with a Safe Step specialist, you'll figure out which additional features you'd like to have in your tub. However, they explained to us that there are several features that come standard with every unit. Here's a closer look at those:
Wide Door: Safe Step tubs have some of the widest doors available on the market, yet another way that those with mobility issues can easily enter the tub.
Low-Entry Threshold: Entering and exiting your walk-in tub is both easy and safe with Safe Step's low-entry threshold. At only 4in high, you can rest assured that using your tub will not result in the falls that are all too common in the bathroom.
No-Strength Locking Handle: It's true what they say: a walk-in tub is only as good as its seal, that is, unless you want to risk spilling the whole tub on the floor. Luckily, the Safe Step door seal is airtight, and you can control it with the no-strength locking handle. Designed to minimize strain, this handle is perfect for those with aches or arthritis, which are highly prevalent in older adults.
Quick Drain Release: Using similar stress-relieving technology as the locking handle, the quick drain release makes it a breeze to clear the water from your tub. It also utilizes pumps to clear the water out more quickly.
Grab Bars: Each Safe Step walk-in tub features two grab bars that help you maintain balance and prevent falls.
Anti-Slip Surfaces: Both the floor and seat in your tub will feature a textured acrylic surface that allows you to keep your balance without sacrificing comfort. Additionally, at 17in wide, the seats in Safe Step tub are ADA compliant.
Ozone Cleaning System: Using the jets of your tub, this ozone will constantly purify water as it circulates, preventing bacteria from entering the tub.
Durable Aluminum Frame: Each Safe Step tub is built with a long-lasting aluminum frame, ensuring the longevity of its use.
Sanitary Gel-Coat: Coated in a layer of mold-resistant gel, each Safe Step tub is a breeze to clean.
Safe Step Luxury Features
In addition to the solid safety features, Safe Step explained to us some of their high-end comfort features that will turn your baths into a luxurious experience. Here's a rundown of them:
Hydro-Jet Water Therapy: Placed throughout your tub are ten separate hydro-jets that soothe your body through the propulsion of water. It turns your tub into a hot tub of sorts. What's more, you can even change the speed and location of the jets in order to target specific body parts such as the legs, feet, or back.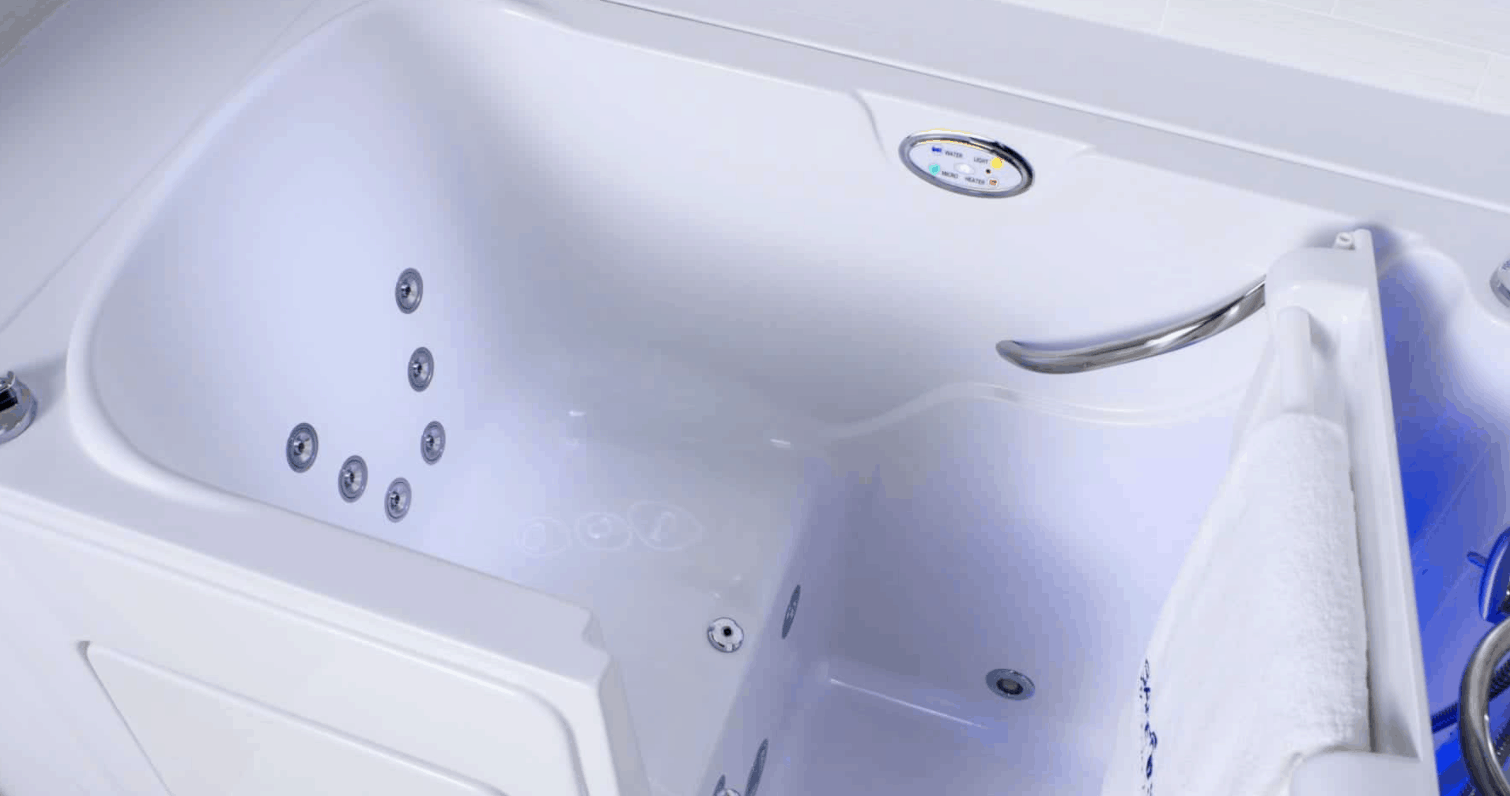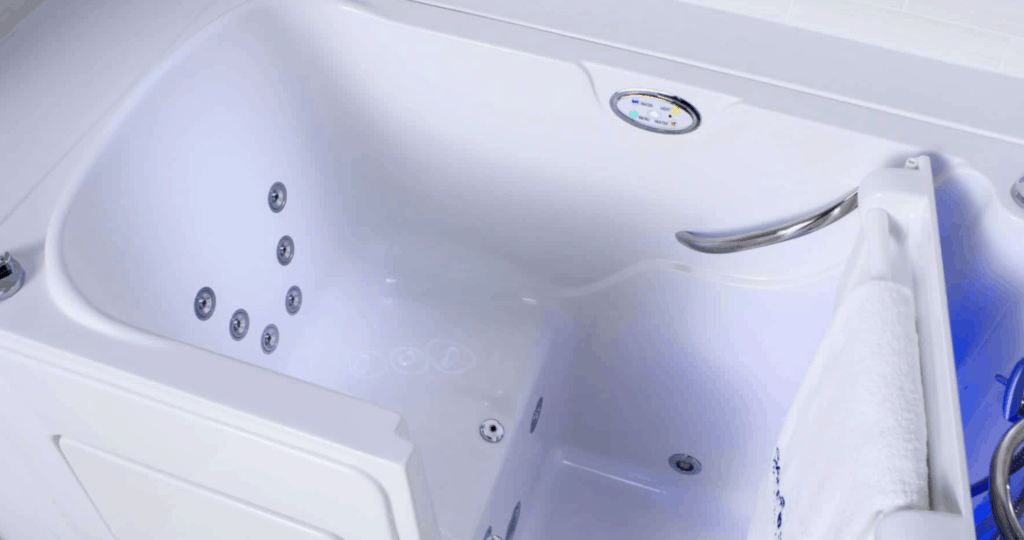 Chromotherapy: Using a system of multicolored lights, you can relieve your mind of stress with Safe Step's chromotherapy system. These lights can alternate between seven different colors, though my personal favorite would be blue.
Aromatherapy: Whether or not you believe in the healing power of essential oils, I think we can all agree that smells such as peppermint or lavender are relaxing. Safe Step's aromatherapy systems allow you to drop in your favorite oils which it then diffuses throughout your tub.
Personal Hygiene Therapy: Safe Step's personal hygiene system features a bidet built into the seat, allowing you to cleanse fully and safely without sacrificing sanitation.
Recap
It's hard to find much to complain about when it comes to Safe Step walk-in tubs. Their walk-in tubs marry safety with comfort in a way that users of any age can appreciate, and for that reason, they rank highly in my choices for best walk-in tubs. If you're looking for a surefire way to make your bathroom safer and remain in your home for longer, then look no further than a Safe Step walk-in tub.
Safe Step Frequently Asked Questions