Walk-in tubs provide safety and therapeutic benefits for seniors and people with limited mobility. There are a myriad of standard and optional features to choose from as well as considerations for your home when it comes to installing walk-in tubs. Read on for our recommendations.
For many seniors, a walk-in tub is a vital mobility aid that makes bath time a lot easier and safer. Finding the right walk-in tub can be challenging – naturally, you want to find the very best option for the older adult in your life. We've made the choice easier by researching the best walk-in tubs on the market today and picking our top favorites.
To help you make your decision, we'll take a look at our top choices of walk-in tub retailers. After that, we'll go over the basics of walk-in tubs, important safety features, and how to choose the walk-in tub that's right for you.
Best Walk-In Tubs for Seniors in 2021
Top Walk-In Tubs
To make it easier, we've looked at walk-in tub options from top walk-in tub retailers.
What Are Walk-In Tubs?
Walk-in tubs are essentially ordinary-looking bathtubs, but with a watertight door in the side. The bath user only has to open the door and they can walk into the tub and sit down. There are many different walk-in tubs on the market today, with different features. Let's take a look at some of them.
What Is the Purpose of a Walk-In Tub?
A walk-in tub makes bath time much easier and safer for anyone with mobility issues, including seniors. Climbing in and out of a standard bathtub can be risky for anyone who suffers from balance problems, joint problems, stiffness, or weakness. It's all too easy to lose balance and fall, which could result in bruises or even broken bones. A walk-in tub is much easier and safer to get into.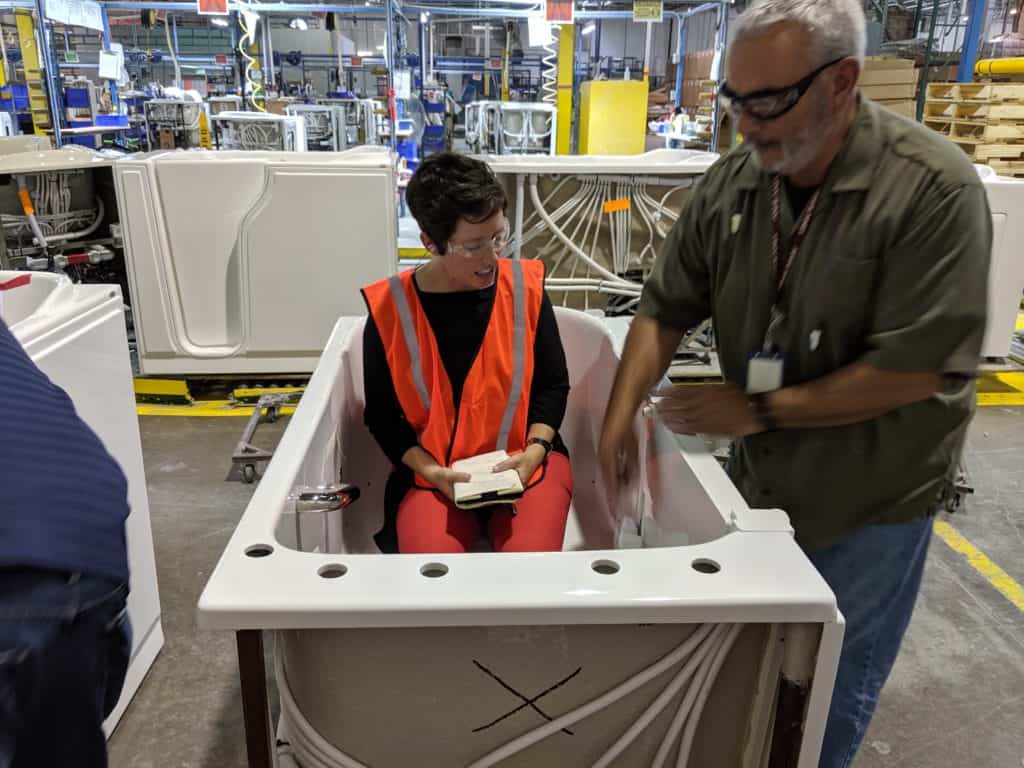 FYI: While Medicare won't pay for some of the costs of a walk-in tub, there are other forms of financial assistance available. To learn more, check out my guide to paying for a walk-in tub.
What Safety Features Are Important In a Walk-In Tub?
A good walk-in tub should have the following safety features, so be sure to check for them.
Anti-scald systems: Anti-scald showerheads regulate the temperature of the water coming out of the showerhead or faucet, even if someone turns a tap on or switches on a water-using appliance elsewhere in the house. This is vital to protect delicate elderly skin from burns.
Anti-slip surfaces: Slips and falls are a risk for elderly people. Walk-in tubs should come with anti-slip floors and seats as standards, to help reduce the risk of a fall.
Quick drain system: Look for a quick-release drain feature that lets the bath user, or a caregiver or EMT, hit a button and drain the bath rapidly to prevent accidental immersion. Quick drain systems also make waiting for the bath to drain more comfortable, as users don't have to sit for a long time before opening the door to leave.
Grab bars: Many seniors are a little unsteady, especially when entering or exiting a tub or moving from a sitting to standing position. Check for ample safety bars for users to grab.
The above-listed safety features are a must. We also recommend you look out for:
Low threshold: Many users who choose a walk-in tub do so because climbing into a standard tub is hard for them. Look for a low threshold to make sure the walk-in tub is easy to enter.
Extra-wide door: A wider door makes it easier to get in and out of the tub, especially for larger users, or those who suffer from stiffness or pain in their hips.
Self-cleaning systems: no one wants a build-up of mold or harmful bacteria in the water lines! Check that the system you choose is self-cleaning to keep water lines flushed and hygienic.
Leak-proof door seals: Any good tub should have a leak-proof door seal with a lifetime guarantee to prevent bathroom flooding.
Lifetime guarantee: A walk-in tub is a considerable investment. Be sure when purchasing yours that you're guaranteed for life in case of any problems.
Easy to use buttons: Check out the controls on your tub of choice and make sure they're easy to press, even for arthritic hands.
What Are the Different Types of Walk-In Tubs?
There are several kinds of walk-in tubs to suit different budgets and needs. Here are the most common:
Inward swinging door: These are the most common kind of walk-in tub for home use as they tend to be both the cheapest, and the classiest to look at. For general use for an elderly person with no special requirements (such as needing an extra-large or wheelchair-accessible tub), these are a good choice.
Outward swinging door: While not as common as an inward swinging door, an outward swinging door is safer and easier for people with restricted mobility.
Bariatric tubs: Bariatric walk-in tubs are made for those who weigh 300 pounds or more. They are very similar to inward swinging tubs and have all the same safety features, but are larger and sturdier with a wider entrance.
Wheelchair-accessible tubs: Also known as slide-in tubs, these walk-ins have a wider entrance and no step to climb over, making them ideal for wheelchair users who can be helped from their chair and into the seat. They are larger and more expensive and take up more space due to their outward opening door, but for wheelchair users, they make bath time much simpler.
How To Choose a Walk-In Tub
With so many options to choose from, deciding on a walk-in tub can seem challenging! Start by taking note of your loved one's specific needs and conditions. Do they need a wheelchair-accessible or bariatric tub? Which safety features are a must for them?
Once you know the size and shape of the tub you need, you can consider which extra features, such as massage or hydrotherapy, would be good for your loved one to have. Then it's simply a case of shopping around and finding which tubs tick off all your needs and still fit your budget.
With so many choices on the market, you are sure to find the best walk-in tub for the senior in your life. You should also read our guide on buying a walk-in tub to help kickstart your process.