Bariatric Walk-In Tubs for Seniors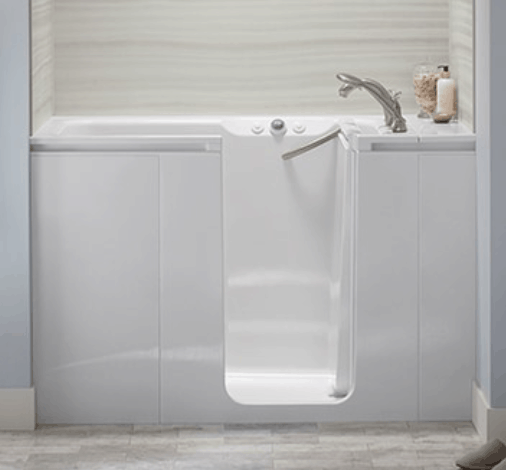 For those of us with mobility issues, a walk-in bathtub can be a real lifesaver. With bathrooms presenting one of the most common sites of falls, walk-in tubs can help mitigate the risk of serious injury. For starters, their low entry thresholds alleviate the need for stepping over high tub walls. Additionally, their built-in seats prevent slipping throughout the bathing process.
Although you can make your bathroom safer, there are less costly ways––using non-slip bath mats and installing grab bars, for example––installing a walk-in tub is the most foolproof way to keep you or your loved ones safe. Recent models even have some added luxury features, turning an otherwise ordinary bath into a soothing spa-like experience.
No matter your reason for shopping for a walk-in tub, you can rest easy knowing they are available in many styles and sizes. There are numerous features available on these types of baths, some of which come standard, and some don't. Some of the tubs are designed for a specific kind of person. Bariatric walk-in tubs, for example, are built with larger doors and soaking areas, making them perfect for larger folk of any age.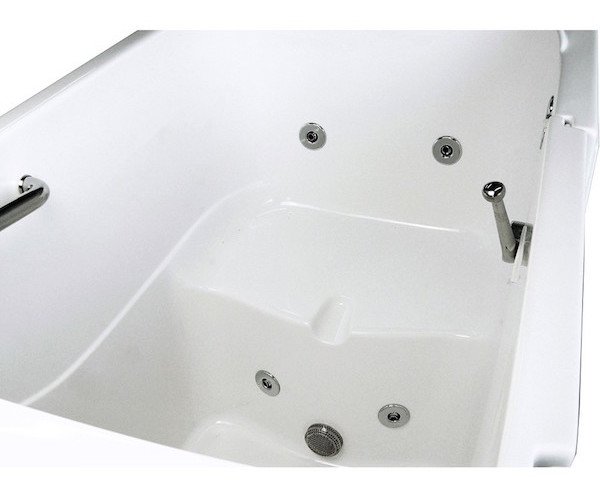 What Is a Bariatric Walk-In Tub?
A bariatric walk-in tub is designed to accommodate bariatric patients' needs, that is, anyone considered obese, based on their body mass index. Naturally, BMI doesn't always accurately predict the size of a person's body, so it's best to check out tubs in a store. Most walk-in bathtubs are about the same size as a regular bathtub, but bariatric tubs are wider. These tubs also have wider entrances, making them easier to enter and exit.
Bariatric Vs. Standard Tubs: Bariatric tubs are different from most other walk-in tubs because they can hold people weighing up to 600+ pounds. Regular walk-in tubs can only hold people who weigh no more than 300 pounds.
Pros and Cons of Bariatric Walk-In Tubs
For those short on time, here are the main benefits and drawbacks of bariatric walk-in tubs. Of course, since no two units are exactly the same, these descriptions are generalizations and therefore don't necessarily apply to every bariatric tub model.
Bariatric Tub Pros
Wide Doors and Seats: To create a relaxing bathing experience for larger users, bariatric walk-in tubs feature wider entries and seats, allowing bathers of all sizes to use them comfortably.
Low Entry Thresholds: The primary purpose of a walk-in tub (regardless of its size) is to keep you safe, and the low entry thresholds of bariatric units take the strain out of entering and exiting your bath.
Optional Luxury Features: In addition to safety features, modern bariatric walk-in tubs possess luxury features such as water jets, heated seats, and massage functionality.
Bariatric Tub Cons
Large Size: While size is the main draw of bariatric walk-in tubs, this characteristic also makes them impractical for certain bathroom setups.
Water Consumption: Due to their larger size, bariatric tubs require a larger amount of water to fill them, which could lead to higher water bills, depending on the frequency with which you use it.
High Cost: Compared to traditional tubs and walk-in tubs, bariatric walk-in tubs come in at a higher price point.
Safety Features of Bariatric Walk-In Tubs
Bariatric walk-in tubs usually come with several safety features. A textured floor keeps you from sliding as you enter and exit. Grab bars and knob handles placed throughout the tub make it simple to enter and exit through an extra-wide door, in addition to positioning oneself comfortably.
Here are the standard safety features of bariatric walk-in tubs:
Grab Bars: Most bariatric walk-in tubs feature one, if not more, stationary grab bars. These help users safely seat themselves inside of the tub and stand when they are done with their bath.
Anti-Slip Surfaces: Both the floor and seat of your bariatric walk-in tub will likely be coated in textured acrylic. This helps prevent slips and falls.
Quick Drain Technology: Due to the doorway on bariatric walk-in tubs, users have to remain inside until the water drains. Luckily, most tubs feature technology that accelerates the draining process, so you won't have to wait in lukewarm water.
Easy Locking Handles: Though strong enough to prevent 80 gallons of water from leaking onto the floor, many walk-in tubs feature no-strength locking handles that minimize strain on the hands. Arthritis is common in older adults, and this accessibility feature makes it easy for anyone to use.
Wide Doors and Seats: Wide entryways and seat allow users of any size to use bariatric walk-in tubs. They can even accommodate people who use wheelchairs.
Bariatric Walk-In Tub Luxury Features
Bariatric walk-in tubs are available in basic versions as well as premium. The included features will vary based on both the brand and model you choose. We recommend making a list of the features and accessories you need. This way, you can show the list to sellers of the tubs to help you select the right model.
Here are some of the more popular luxury features of bariatric walk-in tubs:
Heated Seat Back: Much like a massage chair or a luxury car, many walk-in tubs feature seats with built-in heating pads. These help to melt away stress in the back and neck.
Personal Hygiene Therapy: Some walk-in tubs, such as those from Safe Step, feature personal hygiene therapy systems. Through the constant circulation of water, these systems allow you to cleanse yourself safely without sacrificing sanitation.
Water Jets: Built-in systems of jets not only massage your body with water; they also help circulate and reheat the water, allowing your bath to remain hot for longer.
Aromatherapy: Many tub models from Kohler feature aromatherapy systems. Using your favorite scents and essential oils, these systems circulate pleasing aromas through your bath, just one more sense soothed by the walk-in tub experience.
Wheelchair Accessible Bariatric Walk-In Tubs
Bariatric tubs are available with wheelchair accessibility. Because these tubs are usually larger than most walk-in tubs, making it easier to feature an extra-wide door. You can roll a wheelchair straight up to the wide door entrance and enter the tub. Several walk-in tub manufacturers, including American Standard, offer wheelchair accessible models that are ADA compliant.
Can You Shower and Take a Bath in the Tubs?
Many bariatric walk-in tubs can be installed with a showerhead. Depending on your preference, you can hang the showerhead from the wall or leave a hand-held shower head in the tub. Some people even use them with a steam shower.
During your consultation with a walk-in tub installer, be sure to mention if this is a feature that interests you, and they'll discuss the options that fit in your bathroom.
When Should You Buy a Bariatric Walk-In Tub?
A lot of people wait until they need a bariatric walk-in tub to buy one. These tubs are more expensive than regular tubs, but they also come with an advanced function. If you don't need a walk-in tub right now, you should consider when you will need one. Especially if you don't plan on changing your place of residence, a walk-in tub can be a solid investment, one that ultimately serves to keep you safe and preserve your independence.
Are you only five years from being a senior citizen? Do you have an illness or disability that impacts your mobility, and it continues to get worse? Is it possible that an elderly parent will live with you in the next few years? If you said yes to any of these questions, then it's time to shop for a bariatric walk-in tub.
A lot of homeowners install a bariatric walk-in tub many years in advance of when they actually need them. This way, once you need it, the walk-in tub is already there.
Final Thoughts
As much as I'd love to tell you which bariatric walk-in tub is the best, I can only say that this depends on the person and their specific needs. Ask yourself, do you simply need a walk-in tub for the basic cleaning purposes, or would you prefer a model with spa-like features. Any model from Kohler, American Standard, or Safe Step can certainly do the trick. What's more, each of these companies offers basic units, for which you can purchase additional features such as removable showerheads or additional grab bars.
Something else to consider is your current bathroom situation. A proper installer can let you know the constraints of your bathroom, in addition to recommending a model based on the features you desire.
Remember, a bariatric walk-in tub is one of the best ways you can keep yourself safe in the bathroom, ultimately allowing you to live more comfortably, as bath time no longer will pose such a risk.
Bariatric Walk-In Tub Frequently Asked Questions