Senior home care encompasses a variety of care and other services that helps seniors remain at home. Aging in place at their own home rather than residing at a nursing home, assisted living facility, or other facility that serves seniors is important to many seniors.
Senior care agencies provide in-home caregivers that provide a wide range of services that typically varies, depending on the specific needs of each senior in need of senior care. Family members, social service agencies that assist seniors or friends sometimes seek in-home senior care for seniors that allow the elderly individual to continue living at home.
There are often questions that seniors, or their loved ones, have about senior home care. Receiving answers to questions, along with learning about local agencies, likely leads to discovering ideal options for in-home senior care.
What is Senior Home Care?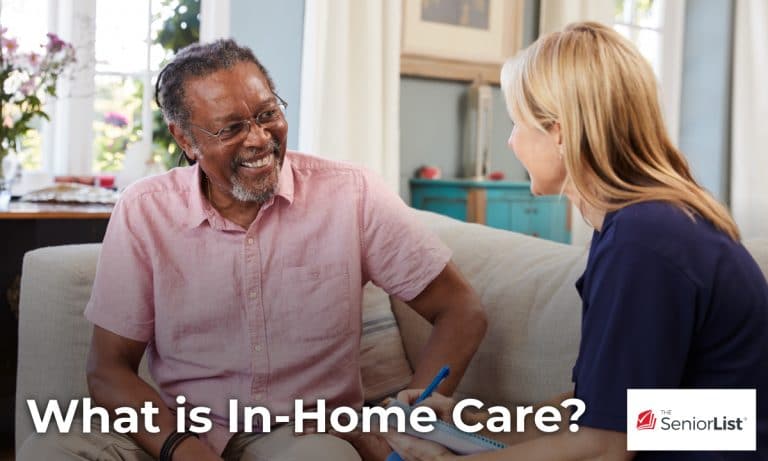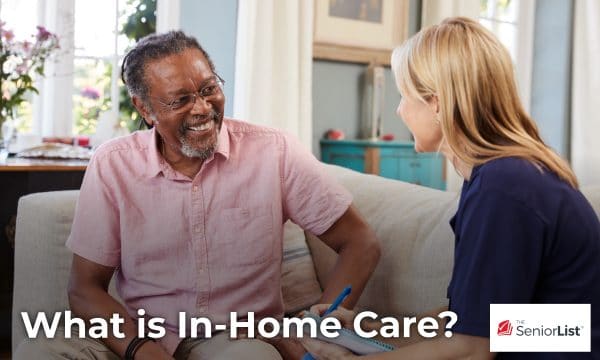 Senior home care allows seniors to receive certain types of care at home, rather than going to a nursing home or other facility. The type of care provided depends on the needs of each individual senior that helps them remain at home.
While moving to a care facility used to be a norm for many seniors, today's seniors overwhelmingly prefer to stay at home. Multiple sources, including the AARP, indicate that approximately nine out of ten seniors prefer to remain at home, as they age.
Most communities have several local agencies that provide senior home care to community residents. The care provided may vary from one agency to another agency that provides senior home care.
Some seniors or their loved ones seek assistance with senior care at home from family members or friends. When this is not appropriate, professional senior care at home is often the right option. The amount of time that a senior receives senior home care varies, ranging from a few hours a day, to 24-hour care.
Senior Home Care vs Home Health Care
In-home care or private caregiving is a widely used option to help keep people in their own homes or with family when care needs arise. There are national and local In-home care companies, as well as registry services and referral services for caregivers to help families trying to find the right fit for a private caregiver.
Home care usually involves non-medical care for seniors. Services traditionally include help with bathing & dressing, medication reminders, housework, respite care, companionship, and more.
Home care providers can be very skilled, however, when taking on the caregiver role as an in-home care provider they can provide quality services at an affordable price point. Medicare does not cover In-home care.
Home Health, on the other hand, involves administering services that are more clinical and more technical (and usually more expensive). Duties include preparing and administering medications, wound care, and other duties associated with caregiving. Home Health is covered by Medicare.
What Type of Assistance do Senior Home Care Agencies and Workers Provide?
It is important to realize that senior home care and in-home nursing care is not the same thing. While agency employees typically have training, receive a background check, and other screenings, senior home care workers do not provide nursing or other medical services. Make sure that you choose an agency that provides senior home care, not nursing care.
When medical services are needed at home, these services generally require an order or prescription from a physician that details the specific type of medical care that the senior needs at home. Some seniors receive both senior home care, and nursing services at home. Different individuals, sometimes from the same agency, provide these services. Other seniors receive both types of care from providers of different agencies. So do not get discouraged if you contact one agency and discover that they do not provide only senior home care services.
Some types of care and services provided with senior home care include:
Personal care, including assistance with bathing, dressing, meal preparation, or other assistance with activities of daily living (ADLs)
Household chores such as light cleaning, doing the laundry, and grocery shopping
Sitting with the senior so that they are not alone while family members work, are away, or run errands
Other care, defined by the agency, or family members
How do I Find Senior Home Care?
Senior home care agencies generally advertise their services in print advertisements, in local newspapers or other publications, and on television. Social service agencies and community senior agencies usually have information about senior home care for seniors, and their family members.
Another source for finding the best senior in-home care is through the family doctor or through hospital social services if the senior has an in-patient hospital stay. Many community websites provide information about senior care, including agencies that provide care at home for elderly community residents.
Some seniors and their family members receive recommendations from friends or neighbors.
Whatever the source of your information, there are important points to consider before choosing an agency to provide care for your senior loved one.
How do I Choose the Best Senior Home Care?
Choosing the best senior home care depends on a number of factors. One of the most important things to consideration is whether the agency provides care at home that meets your own specific needs, or the needs of your elderly loved one that remains at home.
Some agencies provide a full range of services, while others provide limited personal care services. Ask questions about the agency, the employees, costs, and the types of care that each agency provides before you choose the best agency for your specific needs, or that meets the in-home care needs of your loved one.
Make sure that the home care agency is properly licensed by your state, and that the licensure is current. Ask whether individual employees are insured.
Ask about the training that senior home care workers receive. Some agencies require specific agency raining, while others possibly have additional training or educational requirements.
One reason that some seniors or family members choose an agency over an individual that provides in-home senior care is the fact that agencies have to pass inspections and specific regulations in order to operate.
Some seniors hire individuals to provide care at home because it is someone they know and feel comfortable having in their home. Hiring an individual is often less expensive. Remember that hiring a family member or friend likely comes with some risks. There is no one else to cover the shift, compared to an agency that has the ability to send someone else if the regular senior home care worker is ill or otherwise unable to work on a certain day.
Individuals often do not have the licensure, insurance, or guaranteed mandatory training provided by agency workers.
Does Medicare or Medicaid Pay for Senior Home Care?
Medicare does not pay for senior home care. Medicare explains this on its 'What's not covered by Part A & Part B' page. The agency considers this long-term or 'custodial' care, which includes assistance with ADLs, along with assistance with health-related care that individuals typically do by themselves, such as putting in eye drops.
Medicare covers skilled nursing care, under strict guidelines, but not senior home care.
Medicaid-covered services sometimes vary from one state to another state. Make sure that you check whether Medicaid pays for senior home care in the state where you or your senior loved one resides. If Medicaid covers senior home care, it typically provides only limited coverage under its programs for seniors.
How Much Does Senior Home Care Cost?
The cost of senior home care varies, depending on a number of factors. One consideration is the fact that different agencies charge different fees and cost for the same services. This is one reason that some seniors and their loved ones 'shop around' before making a final decision on which agency or individuals is the ideal choice.
Another factor that potentially affects costs is the type of services and care that you or your loved one needs when receiving senior home care. Do you need someone at the home that stays with the senior while family members work, take a trip, or run errands, so that the senior is safe at home, and not alone? Does the senior need overnight care? Perhaps you need a wide range of care, including assistance with activities of daily living (ADLs), meal preparation, and grocery shopping, or picking up prescriptions. These factors possibly affect the cost of senior home care.
Make sure that you determine whether the agency or individual providing the in-home care charges more for weekends, longer shifts, and overnight care.
Some senior home care providers have licensure as a certified nursing assistant (CAN), or similar licensure. Expect to pay more for a licensed in-home care provider.
Determine how you pay for senior home care. Does the agency or worker bill you weekly or monthly? How do you receive the bill for services? Ask these questions before making the final decision on which agency is the best choice for you or your loved one.
Do you have private insurance? Ask whether the insurance provider covers any portion of senior home care costs. Many seniors or their family members pay for senior home care completely out-of-pocket. This is another reason that you should check with several agencies before hiring a specific agency for in-home senior care.
Some states provide limited assistance when the caregiver is a family member. The AARP explains that in the State of Virginia, a family caregiver that resides with the senior has an option of applying for a federal respite voucher. The voucher provides a respite payment of up to $400 through the Virginia Division for the Aging.
Check with your state and county Area on Aging Agency to determine whether there are services that help with the costs of senior home care. It is important to check the county agencies, and not just the state.
While the Ohio Department of Aging provides a variety of services to seniors, some Ohio counties provide additional services, such as Senior Options. Senior Options helps seniors remain at home by providing low-income seniors with taxicab rides to medical appointments, and to shopping locations, provides meals at home, respite care, and some homemaker services for qualifying seniors.
Check with both your county and state to learn whether these, or similar programs, help cover senior home care in your area.