Looking for a cell phone that is easy-to-use can be a challenge with all the latest cell phone technology. We look at the easiest cell phones for seniors.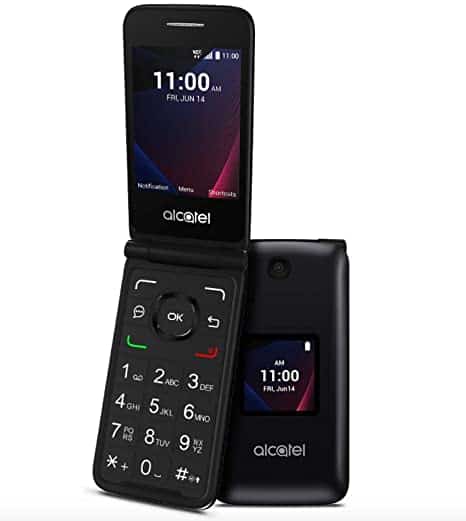 Alcatel GO FLIP 3
See Pricing
What We Like ↓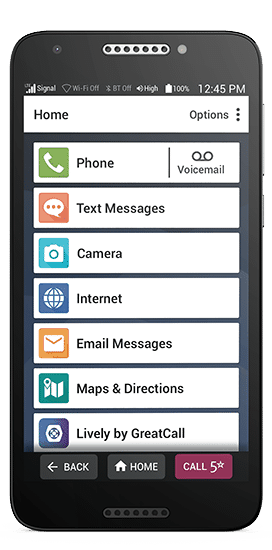 Jitterbug Smart2
See Pricing
What We Like ↓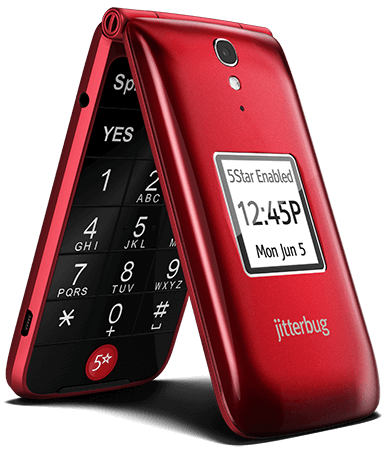 Lively Flip
See Pricing
What We Like ↓
With all the latest technology in cell phones, it can be a challenge to find one that is easy to use. Luckily for you, we've sifted through dozens of devices and have come up with our list of cell phones that are simple to use while sacrificing little in the way of functionality.
Whether you're looking for a modern smartphone with a touch screen or a simpler device for talking and texting, a good cell phone keeps seniors connected with family, friends and the world at large.
Seniors these days are tech-savvy. However, just because seniors are more comfortable with technology doesn't mean they should settle for complicated devices that add stress to their lives. That's why we think choosing an easy to use cellphone is important.
For this list, we kept a focus on easy navigation, handsets that are easy to see and use, making them ideal for older hands and eyes. A lack of long term contracts certainly earned bonus points, too! Let's take a closer look.
Easiest Phones for Seniors in 2021
What Makes a Cell Phone Easy To Use
When it comes to ease of use, there are several features we looked for. Each of the phones listed below is advanced in its own right, but they all share some traits that make them truly accessible.
Large Buttons: Whether they be on a touch screen or a traditional keypad arrangement, we love when buttons are large, making it a breeze to navigate through menus and type out messages with few mistakes.
Clear Displays: With 1 in 28 people over 40 suffering from low vision, we looked for phones with displays that are both bright and high-resolution.
Quality Speakers: The ideal speaker on a cell phone should be loud and clear enough for seamless calls. Many older adults suffer from hearing loss, so we also sought out phones that are compatible with hearing aids.
Voice Commands: Voice commands are a recent development in phones both smart and traditional. This handy feature can simplify use of even the most feature-rich smartphones.
Simplified Plans: While not necessarily a part of the device, cellular plans can often cause more headaches than the phones themselves. We looked for devices that are compatible with straightforward plans that won't saddle you with hidden fees and long-term contracts.
The Simplest Cellular Carrier
Currently, T-Mobile offers a trio of plans specifically for those of us over 55. Starting at $27.50 per month, these plans cut out much of the hassle with choosing a wireless provider. Not only do they provide you with unlimited talk, text, and data (perfect for avoiding pesky overage charges), but they also come with no annual service contracts. Additional lines can be added for just $10 apiece. These plans are a great, straightforward way to make the most of the phones detailed here.
The Easiest Cell Phones For Seniors
After hours of research and testing, we've narrowed the field down to five exceptionally simple phones. Here is our roundup of the easiest cell phones for seniors in 2021:
What We Like Most:

Smartphone features
Large tactile buttons
Up to 17 days of battery life
$100 device cost

Overview

Combining the features of a smartphone with the simplified design of a flip phone, Alcatel's GO FLIP offers an advanced yet streamlined experience. Let's start with the basics.

First off, the call quality is great on this handset, each of our conversations coming in loud and clear. Then there's the battery, which lasted about eight hours of continuous talk time and over two weeks on standby. When it comes to size, this slim device fits easily into pockets or a purse, yet its 2.8-inch screen made it easy to read.

What separates the GO FLIP from the flip phones of yore are its smart capabilities. With its 4GB of internal memory, you can download a handful of apps including Facebook and Twitter, in addition to browsing the web. The feature we love most, however, is the inclusion of Google Assistant, which allowed us to accurately dictate messages as opposed to typing them out with the number pad.

Cost: $100 when purchased through T-Mobile

Pros

Classic Design
Intuitive Menus
4GB Internal Memory
Large Screen
Voice Commands
Hearing Aid Compatible
4G Network Compatibility

What We Like Most:

No annual contracts
No cancellation fees
Keep your existing phone number
U.S.-based customer service

Overview

With its bright screen, large text, and streamlined menus, the JitterBug Smart2 makes its advanced features accessible and intuitive. Even for the most technologically averse person, I could see them using this phone with ease.

In addition to minutes and data, GreatCall also offers health and safety packages, turning your phone into a personal safety device. Their 5Star urgent response feature gives you 24/7 access to highly trained agents who can connect you to help in the event of an emergency.

With the Smart2's five and a half-inch screen, I had no trouble accurately typing, and the same goes for dialing numbers. In my many test phone calls, I noticed no issues. Both the call quality and volume were superb, and all of my calls, both in and outside my home, went through without a hitch. The Smart2 also features voice dialing, so I was able to call various contacts using only my voice.

Cost: $149.99, plus the cost of activation

Plans

All three of GreatCall's plans come with 5-Star Urgent Response, Check-in Call, Daily Health Tips, Brain Games, and the weekly Wellness Call. Preferred and Ultimate include additional features like Urgent Care, GreatCall Link, Personal Operator, and Product Replacement. Check out our Jitterbug Smart review for all the details on health plans

Basic: $19.99/month
Preferred: $24.99/month
Ultimate: $34.99/month

Pros

Simplified screen
Large, clear font
30-day return policy
No long term contracts
13MP camera with LED flash
Medical alert feature included in all plans

Cons

Needs to be charged nightly
Some complaints about initial set-up difficulty
Must use GreatCall phone, text and data plans

What We Like Most:

Plans from $14.99/Month
Built-in magnifier and flashlight
Flexible talk and text packages
Medical alert features

Overview

The Lively Flip from GreatCall was designed with seniors in mind, and it also doubles as a medical alert device. Each handset has a clear 5Star button seniors can press to connect with the call center and get help whenever they need it. Agents can pinpoint their location, and send emergency services or roadside assistance if needed. They'll also contact listed friends or family.

When it comes to traditional phone functions, the Flip does not disappoint. Its loud speaker made for clear phone calls, and its battery lasted us through a whole week, even with frequent use.

Cost: $99.99, plus activation and monthly plan

Plans

Seniors can opt for two kinds of plans – Talk and text only for those who want to use it as a phone and nothing more, or a health and safety plan with extra features, including 5Star urgent response. Check out our Lively Flip review for all the details on health plans. Seniors who sign up for a health plan save up to 50% on call and text prices.

Customers on a basic plan start at 200 minutes for $14.99 monthly with several tiers up to unlimited talk and text for $49.99 monthly. Health plan customers start at $5 for 50 minutes monthly with several tiers up to unlimited talk and text for $30 monthly. In terms of messages, customers start at $3 for 300 texts monthly with several tiers up to $15 for 2500 texts (or choose an unlimited talk and text plan.)

Pros

Built-in SOS button
Keep your existing number
U.S.-based customer service
Built-in magnifier and flashlight
No contracts, no cancellation fees
Simple, easy-to-use cell phone designed for seniors

Cons

Low MP camera
No data, text and call only
Must use GreatCall text and talk plans

What We Like Most:

100+db Speaker
Rugged Design
Great Call Quality
Three Year Warranty

Overview

The Sonim XP3 is one of the toughest phones we've come across! This military-grade powerhouse is made to withstand extreme outdoor conditions. But that doesn't mean it's only suitable for seniors who hike or go snowboarding. Its rugged, sturdy flip frame and large buttons make it ideal for older adults.

The handset is a beautifully rugged, chunky affair. It has large, tactile buttons, a push-to-talk feature, a 5MP camera, and a 100+ db speaker for clear, crisp communication anywhere and everywhere. It can even be submerged underwater and come out working like new, after it dries of course.

Cost: $189.99, plus activation and monthly plan

Plans: The best plan for this handset is AT&T Mobile Share Plus, a shared data plan that offers unlimited talk and text. This plan starts at $35 monthly. Unfortunately, this phone is currently not available on T-Mobile.

What We Like Most:

Large, Brilliant Screen
Loud Speakerphone
Crystal Clear Photos
Intuitive Interface

Overview

iPhones are of course one of the most well-known smartphones on the planet – and often the most expensive! The XR (pronounced Ten R) is their flagship lower-cost offering. The price tag isn't cheap – but compared to other iPhones it's reasonable, and the display and camera are very impressive.

This phone is great for seniors who are looking for a great camera, or the range of features that come with an iPhone as compared to a simpler phone. The large, clear display makes it a good choice for seniors whose main concern is seeing their phone. It's also a nice choice for seniors who are already Apple loyal. For those uninitiated to the world of Apple products, there is a slight learning curve; however, once this is passed, there is hardly a more intuitive phone on the market.

Cost: $599.99, plus monthly plan, when purchased through T-Mobile

Plans

This will vary, as the iPhone XR is available on most major networks. If used with one of T-Mobile's 55+ plans, then you can get unlimited talk, text, and data for $27.50 per month.
Recap
Finding the right cell phone can be a challenge, especially when it comes to keeping things simple. Luckily, as these devices become more advanced, manufacturers are striving to make them even easier to use.
If you've still got questions, I'd recommend checking out my guide to seniors' cell phones.