If you wear hearing aids, talking on a cell phone can be frustrating. When simultaneously using a phone and a hearing aid, you'll often encounter interference noise. Luckily, many modern phones make use of hearing aid compatibility, dulling said noise and creating a seamless experience across devices.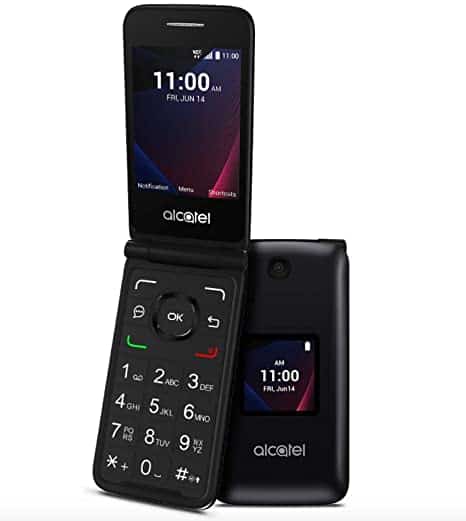 Alcatel GO FLIP 3
See Pricing
What We Like ↓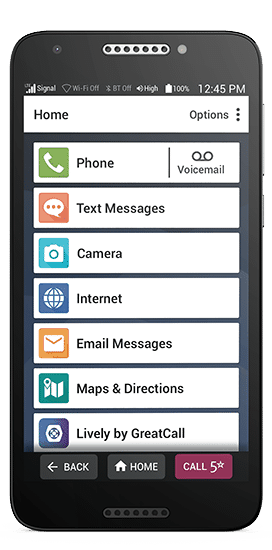 Jitterbug Smart2
See Pricing
What We Like ↓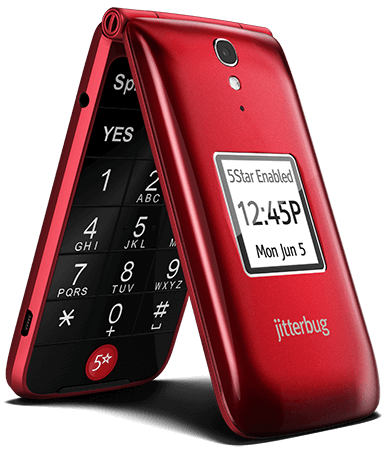 Lively Flip
See Pricing
What We Like ↓
Hearing challenges become more common as we age. The National Institute on Deafness and Other Communication Disorders (NIDCD) states that one in three people aged 65 – 74 has hearing loss, while nearly half of seniors aged 75 or over have problems hearing. Hearing loss can make everyday tasks difficult – including using a cellphone. Holding a conversation, or even hearing phone alerts, can be challenging for those with hearing loss.
In this rundown, we take a look at the top cell phones for hearing impaired seniors.
What to Look For in a Cell Phone for Hearing Impaired Seniors?
The first thing to check for is hearing aid compatibility. Using a phone that isn't hearing aid compatible can cause problems such as feedback, static, or buzzing when trying to make a call. This makes phone use even more difficult.
Even if you or your loved one doesn't wear a hearing aid yet, we recommend checking for hearing aid compatibility. That way you know that if things get worse and a hearing aid becomes necessary, the phone will still work.
Another feature to look for is a good loudspeaker. Whether you use a hearing aid or not, a decent loudspeaker can make a big difference in how easy it is to hear a call.
Hearing aid compatibility is measured in M and T ratings. Without delving too deep into the technical part, here's what you need to know: An M or a T rating of 3 or 4 is a good indicator that a phone is hearing aid compatible. You want to look for a rating of 3 or 4 in at least one of those categories.
Let's take a look at four phones that are great choices for hearing impaired seniors.
What We Like Most:

Smartphone features
Large tactile buttons
Up to 17 days of battery life
$100 device cost

Overview

Combining the features of a smartphone with the simplified design of a flip phone, Alcatel's GO FLIP offers an advanced yet streamlined experience. The call quality is great on this handset, each of our conversations coming in loud and clear. Then there's the battery, which lasted about eight hours of continuous talk time and over two weeks on standby.

What separates the GO FLIP from an ordinary flip phone are its smart capabilities. With its 4GB of internal memory, you can download a handful of apps including Facebook and Twitter, in addition to browsing the web. The feature we love most, however, is the inclusion of Google Assistant, which allowed us to accurately dictate messages as opposed to typing them out with the number pad.

Handset: This phone features large buttons and a bright 2.8-inch internal display. Seniors will appreciate the loud speaker, speakerphone capability, and dedicated volume buttons. When purchased through T-Mobile, this handset costs $100.

Hearing Aid Compatibility: The GO FLIP is rated M4/T4 in terms of hearing aid compatibility, the highest rating possible.

Plans: This phone is available on T-Mobile's network. With one of their Unlimited 55+ plans which start at $27.50 per month, you'll have unlimited access to talk, text, and minutes, in addition to some other great features such as international roaming and mobile hotspot usage.

Calls: Unlimited
Texts: Unlimited
Data: Unlimited

Extras: Depending on which T-Mobile plan you choose, you'll have access to features such as international calling, in-flight Wi-Fi, mobile hotspot usage, and protection from telephone scams.

What We Loved: We really appreciated the inclusion of data features in a simple package. Our favorite feature, however, had to be voice texting, which made messaging (normally a cumbersome process on flip phones) as easy as pie.

What We Didn't: We didn't exactly love the GO FLIP 3's 2MP camera. The photos we took weren't exactly photo album worthy, though they'll get the job done if all you need to do is capture the basics (recipes, locations, etc.).

Ideal For: This phone is perfect for any senior who wants a simple phone with internet access. The other virtue of the GO FLIP 3 is its size, small enough to be operated with only one hand.

Pros

Classic Design
Intuitive Menus
4GB Internal Memory
Large Screen
Voice Commands
Hearing Aid Compatible
4G Network Compatibility

What We Like Most:

No annual contracts
No cancellation fees
Keep your existing phone number
U.S.-based customer service

Overview

The Jitterbug Smart has the same senior-friendly ethos as the Flip, but this time in the form of a smartphone. Just like the Flip, the Smart offers a 5Star urgent response service (this time as an app) and is designed to be easy to use. And, just like the Flip, customers can also choose a basic phone service without extra health features.

Handset: A 5.5" screen combined with front-facing speakers means the Smart2 is easy to see, and easy to hear. The menus are designed to be simple to navigate, and the handset also comes with voice typing for ease of sending messages. The 13MP camera is powerful enough to capture special moments in good quality. Retails at $149.99, which for a smartphone is very reasonable.

Hearing Aid Compatible: Yes – rated M4/T4, which is the highest rating.

Plans: Customers can choose between a basic call, text, and data plan if they want to use the Smart just like they'd use any other smartphone. But for those who want extra health features, including 5Star urgent response, GreatCall offers several health and safety plans. Check out our Jitterbug Smart2 review for all the details. Customers on a health and safety plan save up to 50% on the cost of calls, texts and data.

Calls: Basic customers can start at $14.99 monthly for 200 minutes, with several tiers up to $49.99 for unlimited calls and texts plus 100MB data. Health plan customers can start at $5 monthly for 50 minutes, with several tiers up to $40 monthly for unlimited calls, texts and data.
Texts: All customers can start at $3 monthly for 300 texts, with several tiers up to $15 monthly for 2500 texts (or they can choose an unlimited talk and text package.)
Data: All customers can start at $2.49 monthly for 40MB of data, with several tiers up to $30 monthly for 2.5GB.

Anything Else: Every package comes with caller ID, call waiting, roaming, and long-distance calling. Plus you get a wall and car charger with every purchase, and GreatCall will never lock you into an annual contract.

What We Loved: The beauty of this phone is all in its simplicity, a smartphone that just about anyone can figure out quickly.

What We Didn't: Although this may not be an issue for everyone, we found streaming video with this phone to be a bit slow.

Ideal For: Seniors who want to do more than just call or text, but who don't need all the bells and whistles of an iPhone. An especially good choice for those who would benefit from a medical alert, as the phone functions as one of those, too.

Pros

Simplified screen
Large, clear font
30-day return policy
No long term contracts
13MP camera with LED flash
Medical alert feature included in all plans

Cons

Needs to be charged nightly
Some complaints about initial set-up difficulty
Must use GreatCall phone, text and data plans

What We Like Most:

Plans from $14.99/Month
Built-in magnifier and flashlight
Flexible talk and text packages
Medical alert features

Overview

The Lively Flip is a senior-friendly phone from medical alert specialists GreatCall. This is a straightforward easy to use flip phone that's perfect for seniors who just want to call and text. However, it does a little more than make calls – the Lively Flip also functions as a medical alert. Seniors only need to press the 5Star button to be connected to GreatCall's 5Star emergency response call center. From there, the customer service agent can track their location and alert caregivers or dispatch EMTs if needed.

Handset: The Flip is a straightforward and nice-looking flip model with an easy to see 5Star urgent response button. The handset features big buttons, a brightly lit screen, a flashlight, and a magnifier. Hearing impaired seniors will appreciate the powerful speaker. Additionally, the menu is super easy to use. This phone retails at $99.99 plus shipping and activation fees.

Hearing aid compatible: Yes – rated M4/T4, which is the highest rating.

Plans: Customers have the choice of two different plans. If they're looking for a phone with no extra features, they can opt for a simple call and text plan. Or, they can sign up for a health and safety plan to get access to 5Star urgent response, plus a wealth of other health features. You can see our Lively Flip review for full details. Customers who opt for a health plan typically save up to 50% on text and calls compared to those on a basic plan.

Calls: Plans range from 200 minutes for $14.99 monthly with several tiers up to unlimited talk and text for $49.99 monthly for basic users. Health plan customers start at $5 for 50 minutes monthly with several tiers up to unlimited talk and text for $30 monthly.
Texts: All customers can start at $3 for 300 texts monthly with several tiers up to $15 for 2500 texts (or choose an unlimited talk and text plan.)
Data: Not applicable – this isn't a smartphone.

Extras: With every purchase, you'll receive both a wall and car charger. You can also keep your existing phone number, and you never have to worry about being tied into an annual contract (regular readers know a lack of long term contracts is super important to us.)

What We Loved: We like how straightforward the Lively Flip is. It's easy to get started with it and easy to use. The big buttons are also a plus. In our tests, the speaker consistently put out audio loudly and clearly.

What We Didn't: The 2MP camera isn't particularly great. That might not matter to some seniors but for those who want to capture important moments, it could be a con.

Ideal For: Seniors who just need something simple and no frills – especially if they could also use a little emergency response backup.

Pros

Built-in SOS button
Keep your existing number
U.S.-based customer service
Built-in magnifier and flashlight
No contracts, no cancellation fees
Simple, easy-to-use cell phone designed for seniors

Cons

Low MP camera
No data, text and call only
Must use GreatCall text and talk plans

What We Like Most:

Large, Brilliant Screen
Loud Speakerphone
Crystal Clear Photos
Intuitive Interface

Overview

For those who want more features and faster streaming, the iPhone 7 stands out. With an excellent hearing aid rating and a powerful speaker, the iPhone 7 is perfect for hearing impaired seniors who want a fully functioning smartphone.

Handset: The iPhone 7 offers a clear 4.7" display and 12MP camera, all in a water and dust resistant body. It also features a 73-decibel speaker, which is good news for hearing impaired seniors. Available in black, silver, gold and rose gold, this phone can either be bought for $349.99 or through a payment plan from AT&T.

Hearing Aid Compatible: Yes, this handset has an M3/T4 hearing aid compatibility rating.

Plans: Although AT&T has plans specifically for seniors, these plans can't be used with the iPhone 7, as they don't include data. Their standard plans offer just a little data for those who don't plan to use the internet a lot. On the other end of the scale, their unlimited plans offer unlimited data, plus HD video and a range of premium TV channels included in the monthly cost.

Calls: Unlimited
Texts: Unlimited
Data: Starts at $50 monthly for 3GB of data and standard definition streaming, all the way up to unlimited data with HD streaming for $80 monthly.

Extras: The iPhone 7 doesn't feature a headphone jack – it uses wireless headphones for those who like to use headphones with their handset. Comes with 32GB or 128GB internal storage options.

What We Loved: We love both the sound quality and the camera quality on this device. The display is solid as well, both easy to read and sharp in terms of images.

What We Didn't: We found the battery doesn't last as long as we'd like, at least under heavy use. This phone also has no traditional headphone jack, meaning you'll need to buy an adapter if you plan to listen to media.

Ideal For: Seniors who need a phone that does a little more. If you want to surf, use apps, email, shop online, or stream content, this is a great choice. It's pricier than the other phones on this list, but for an iPhone, the price is still very reasonable.