Ensuring the safety and security of older adults is one of the most challenging aspects of aging. American District Telegraph, or ADT, is a company that understands these challenges and stepped into the medical alert system industry to alleviate some of these fears and concerns.
But how does a company known for home security adapt this skillset to the world of medical alert systems? Keep reading as we explore.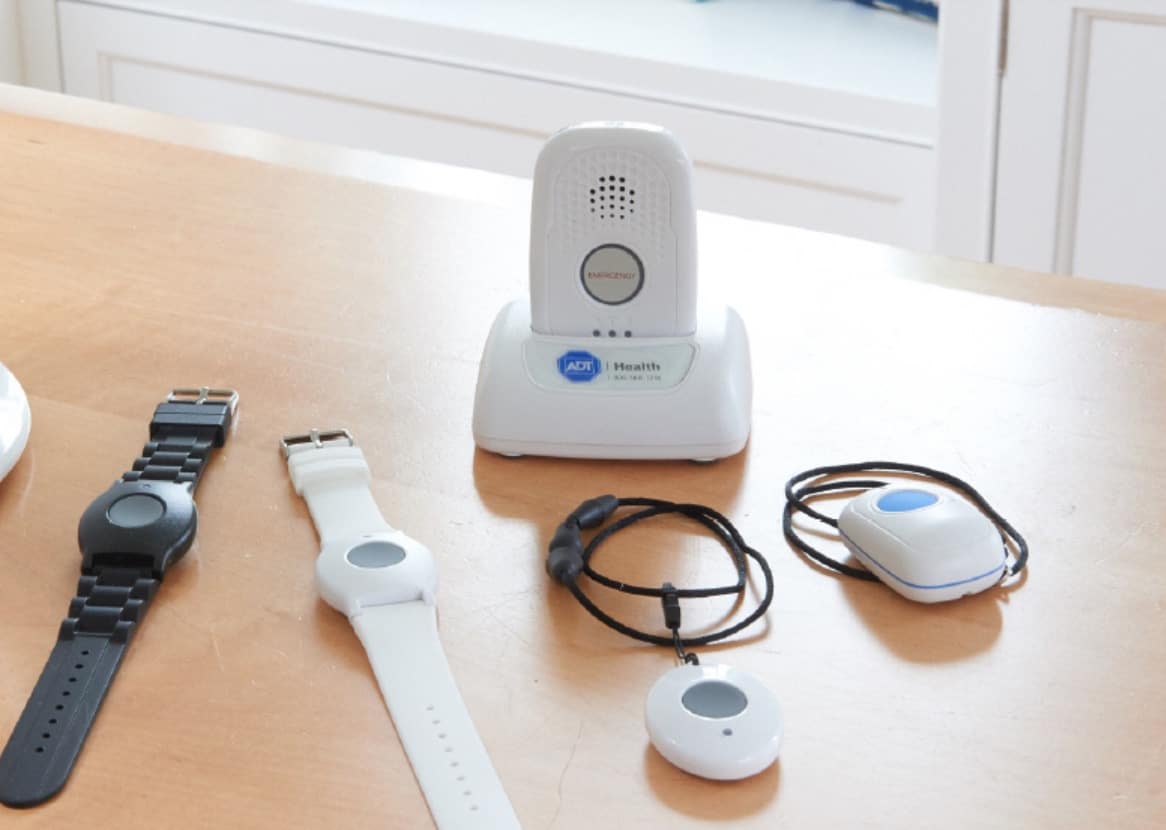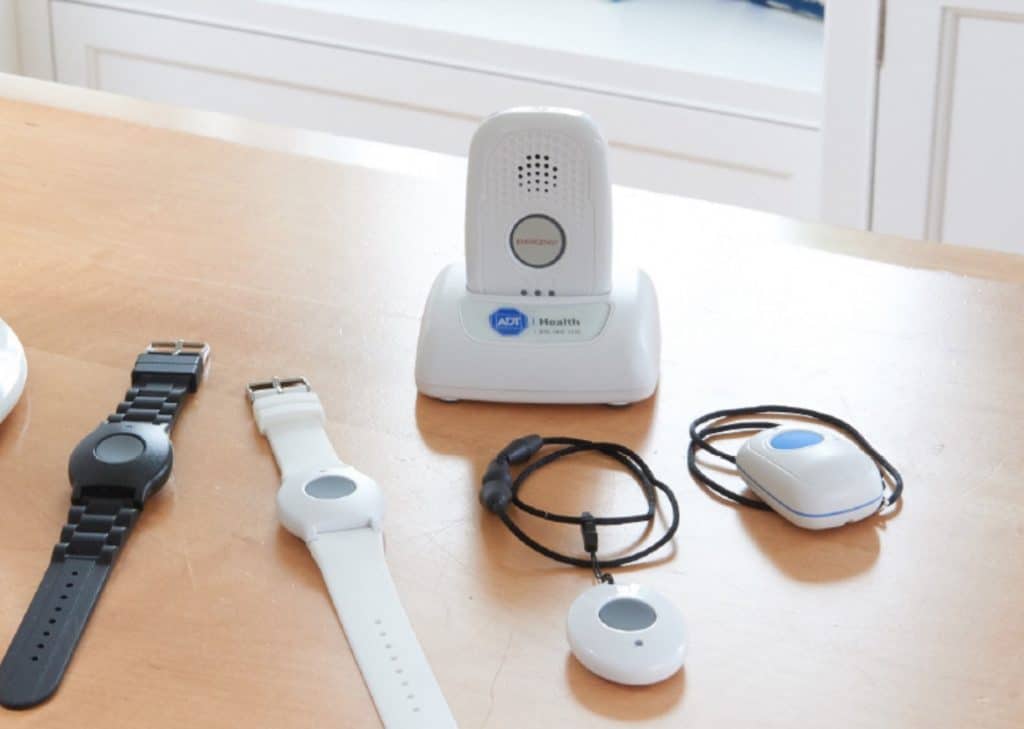 The Company
ADT was founded 150 years ago by Edward Callahan to prevent home break-ins. Callahan's technology actually created the first residential security system network. The company has only grown since then, and they now market security systems, security cameras, emergency alarms, home automation technology, and even medical alert systems. As a result of their experience, ADT has consistently ranked on our lists for best home security systems and is one of the most trusted brands in America.
Why ADT Health?
When it comes to medical alert systems, ADT Health has many competitors that offer similar features. At the end of the day, however, I appreciate ADT Health because of the reliability of the devices they provide to older adults and their caregivers. When buying from ADT Health, you can choose between three systems, two color choices, and two pendant options. These options, on top of 24/7 monitoring and a price-lock guarantee, make for a pretty good deal in my eyes. ADT Health also offers the unique feature of home temperature detection.
The Systems
Yes, it's true. I like it when medical alert companies offer multiple monitoring options. Although ADT Health does not offer as many different systems as a company like Medical Guardian, who has six unique systems, they do get the job done. Customers can choose between the in-home, on-the-go, or somewhere in between (also known as the Plus plan) devices.
Basic Plan
The Basic Plan is created for older adults who spend their time at home and who have an existing landline connection. The base-to-pendant (or wristband) range is just 300 feet, which is definitely on the lower end. The Philips Lifeline system, for example, has an 800-foot in-home range. The Basic plan also lacks the ability to detect falls, which means if a fall were to occur and the help button was unable to be reached, no one would be notified. I see fall detection as a necessary feature for medical alert devices, since falls are the second leading cause of accidental or unintentional injury deaths worldwide.
One major plus of the basic plan is the availability of home temperature monitoring, which alerts ADT emergency response personnel if house temperature rises above safe degrees. With over 1,200 Americans over the age of 65 dying each year as a result of fire, this feature is a huge plus. Both pendants and wristbands are completely waterproof as well. When all is said and done, ADT Health's basic plan is on the more affordable side at just $29.99 per month.
Fact: Older adults are the most susceptible age group to experience an injury in the bathroom. In fact, 80 percent of all bathroom incidents can be attributed to falls, with older adults experiencing the highest fracture and hospitalization rates. This is one of the main reasons I appreciate waterproof devices.
Plus Plan
The Plus Plan – or as I like to call it, the In-between Plan – is slightly more advanced than what is found in the Basic Plan. Those who purchase this plan receive 600-foot base-to-pendant coverage on a cellular-based connection. That's right, no landline is needed. Therefore, this system is great for those who have a strong cellular service in their home and prefer to do yard activities, like reading outdoors, playing with the dog, or gardening.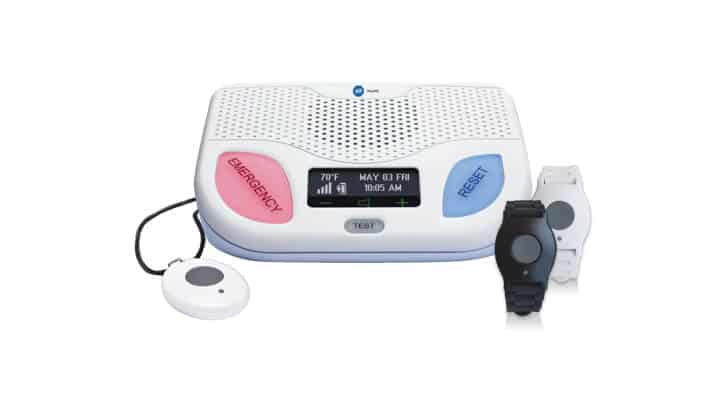 On top of this increased range, the Plus Plan allows for the fall detection add-on for just $5 per month. While this is already very affordable for what I deem a must-have, it is also affordable in comparison to the rest of the industry. Other companies, such as LifeStation and Medical Care, charge $10 for their fall detection add-on. What's even better is this plan also comes with ADT's top-notch temperature monitoring at no additional cost. All of this (without optional fall detection) costs just $6 more than the Basic Plan, ending up at $35.99 per month.
On-The-Go Plan
ADT Health really stepped up their game with the On-The-Go Plan. The base is small, lightweight, offers two-way talk, and is completely portable by using either an included wristband or pendant. As long as the base and the pendant (both portable) are within 300 feet of each other, you're free to go anywhere you please. Therefore, this is definitely the choice for active adults who spend time outside of the house.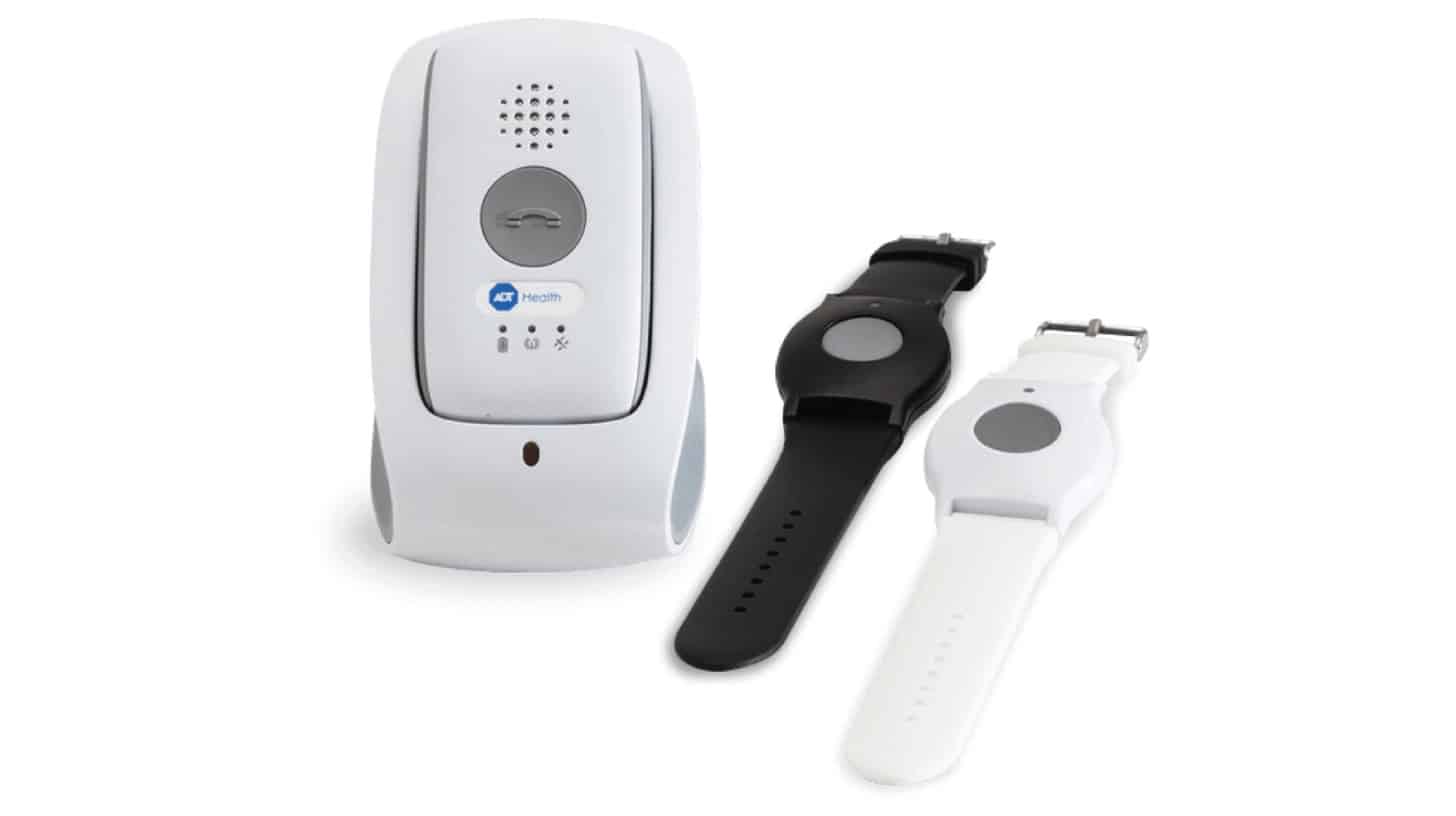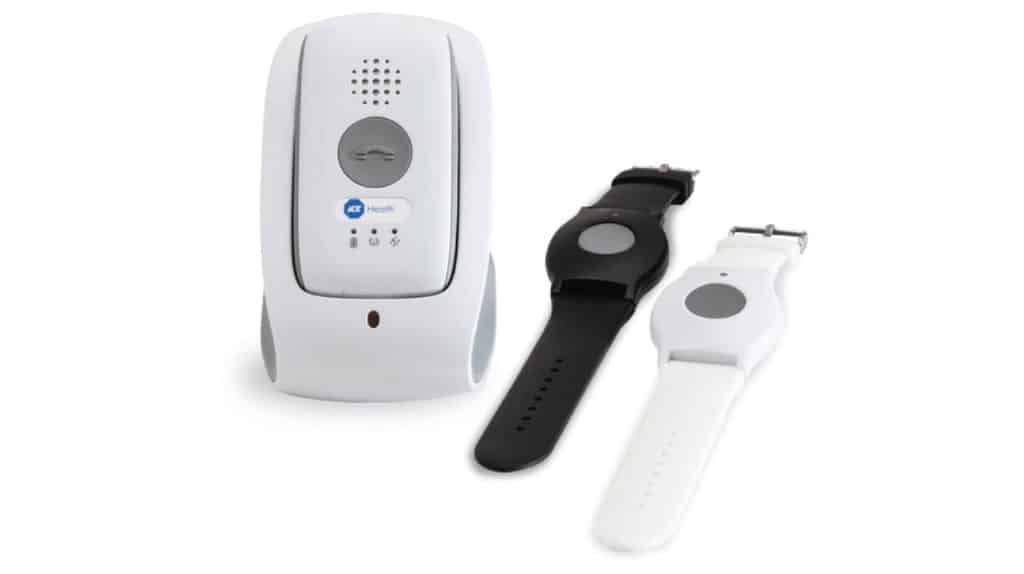 On top of this unlimited range, the system comes with built-in GPS location tracking, so help can be received anywhere – on vacation, at a relative's house, or on the road.
Because of the mobility of this system, home temperature monitoring is not an option; however, fall detection can also be purchased for $5 per month as with the Plus Plan. The On-The-Go system costs $39.99.
ADT Health Plans and Pricing
| | Basic | Plus | On-The-Go |
| --- | --- | --- | --- |
| Monthly Charge | $29.95 | $35.99 | $39.99 |
| Suitable For | Inside the Home | Home & Yard | Home & Within AT&T's US Wireless Coverage Area |
| Range | 300 feet | 600 feet | Unlimited |
| Connection | Traditional Phone Line | Wireless | Mobile w/GPS |
| Fall Detection | No | $5 per month | $5 per month |
| Home Temperature Monitoring | Yes | Yes | No |
Tip: While they are not advertised on ADT's website, lockboxes and wall mount buttons are available for purchase in addition to medical alert systems. Be sure to ask your ADT customer representative about any accessories you may be interested in.
The Monitoring
Each one of ADT Health's devices features two-way talk, meaning that ADT's emergency response personnel are available 24/7, 365 days a year to talk directly to those who experience a fall or emergency. This is especially nice since an emergency response (ambulance, fire department, etc.) is not always needed at the home. Sometimes, all the older adult needs is a caregiver to be notified of the situation. With that being said, those who experience a fall with an ADT Health medical alert system will go through the following steps:
Press Button: The older adult will press the help button or utilize the optional fall detection to send an alert to ADT.
ADT Response: An ADT emergency response personnel receives the call and discusses the situation and what type of assistance is needed for the wearer.
Send for Help: After deciding on a course of action, ADT emergency response personnel reaches out to loved ones, caregivers, or emergency responders.
There are no automatic monthly tests with ADT Health; however, every month a light will show up on the device reminding users to test their system for any technological damage. This testing ensures that the medical alert device is working even if it has not been used for an extended period of time.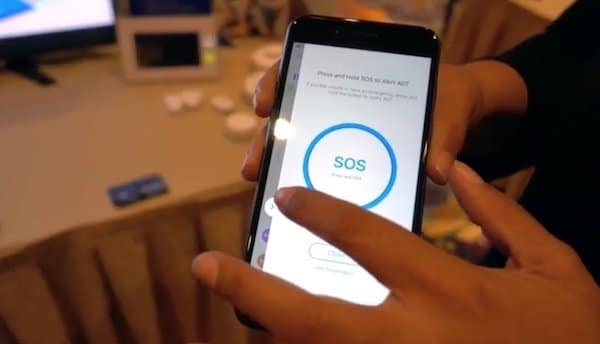 The People Behind ADT Health
One of the most impressive aspects of ADT Health is their helpful customer support representatives. ADT Health truly offers some of the best customer services out there. To put a number on it, customers can typically get in touch with an ADT Health emergency response personnel within 20 seconds of pressing the help button.
The Policies
Another plus of ADT is its customer-friendly pricing policies. For example, the Price Lock Guarantee ensures that the customer's monthly price will never be raised. Additionally, there are no long-term contracts available, which is a huge advantage in my eyes. Life is unpredictable, and it is nice to know that there is no chance of being stuck in a contract that requires you to pay more for a system that does not fit your needs.
Last but not least, ADT Health's medical alert devices all come with an unconditional warranty on parts. In other words, there will be no additional, unexpected charges unless accessories are lost. If this happens, replacement typically costs $14.99.
The Purchase
It can be difficult to find all of the right information on ADT Health's website. While this can be frustrating, those who wish to purchase an ADT medical alert device will eventually have to make a call to a sales representative anyway, since this is the only way to purchase a device.
There is an option to receive a free quote online and chat with customer support on their website, however, both of those options typically conclude with a call from an ADT Health customer support representative. While this can be inconvenient, it may actually save you money in the long run. There are oftentimes hidden deals or discounts that are not promoted unless specifically asked for.
Once the purchase is complete, ADT's autopay service, EasyPay, takes care of all of the billing troubles. The system will automatically bill your account each time a payment is due. As someone who tends to lose track of time from month to month, I appreciate this available option.
Tip: Talk to your customer service representative about long-term payment options. There may be an option to move your payments to quarterly, semi-annually, or annually. While these options are not advertised on the ADT website, they are often available and can result in lower overall costs.
The Final Word
So, there you have it; all there is to know – and more – about ADT Health's medical alert systems. Overall, ADT Health offers top-notch devices with key features, including fall detection, waterproof pendants, and a Price Lock guarantee. While ADT's prices are not the lowest we have ever seen (for example, MobileHelp's most affordable option sits at $19.95), lower costs for add ons, such as the $5 fall detection, make it a pretty good deal at the end of the day.
ADT is a company that focuses on what they do best. There are no flashy, high-tech watches (as there is with Medical Guardian) and there is not a large range of add-ons. ADT Health fits right in with the best. When it comes down to it, ADT is a trusted, accredited company with over a century of experience under its belt. From ADT, you can expect a top-notch response team for any type of lifestyle. As ADT Health puts it on their webpage, staying inside doesn't mean being alone.
You can learn more about ADT Health by reading my personal, hands-on experience with ADT Health's On-The-Go device.