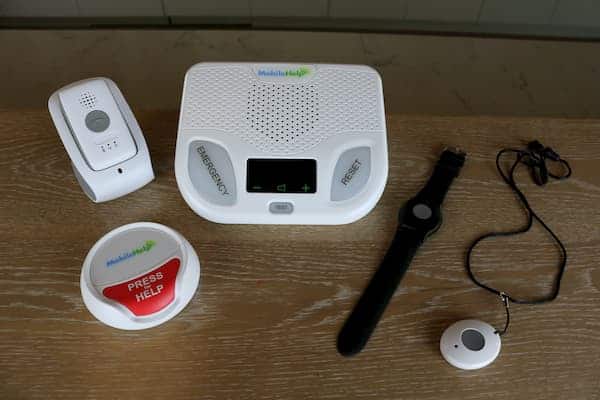 MobileHelp Medical Alert System Review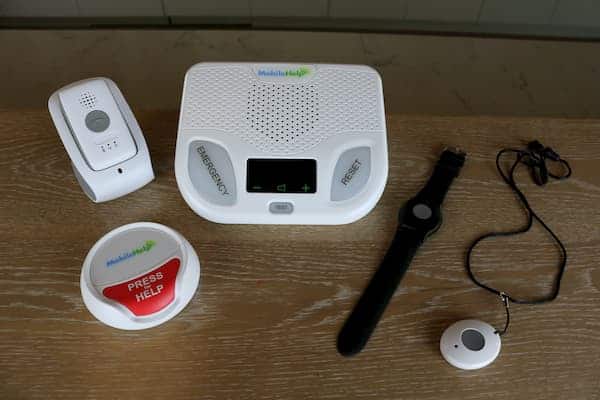 One thing that can be difficult about being a senior citizen is the loss of control; many seniors want to keep living independently, but their families may be concerned about them falling, forgetting to take their medications, or getting lost on a walk. I've worked with seniors for the majority of my career as a social worker, and one solution I've suggested is to get a medical alert system. Medical alert systems help seniors live the lives they want to live, while giving them the protection of a 24/7 call center. In this review, I'm testing out the Classic system from MobileHelp, a company that, on their website, says that they help out seniors every 7.5 minutes. I'll also go over pricing, other package options, and more.
How Does MobileHelp Help Seniors?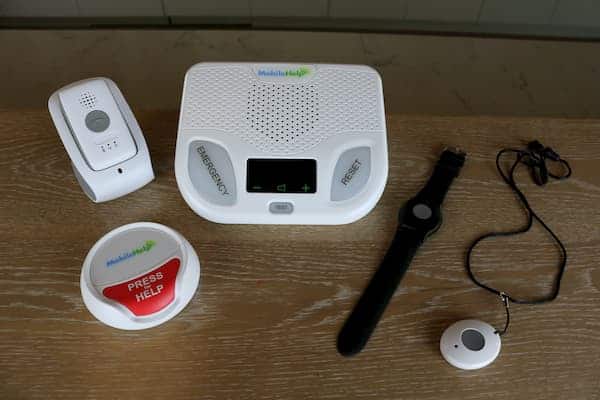 MobileHelp works similarly to most of the top medical alert systems that I've tested. If the senior pushes the help button on their base unit or pendant, they'll automatically be connected to the monitoring center, which is based in the United States and available 365/24/7. They'll be able to speak to the emergency personnel directly through their pendant or base station, and MobileHelp can send in-person help if needed, whether that's the fire department, the local hospital or the police.
For more protection, I recommend adding automatic fall detection for $10 a month, which has the pendant still contact the monitoring center in the event of a fall even if the user can't push the button. Sadly, falls are the second leading cause of deaths from accidents around the world, with seniors being even more likely to fall fatally. To explore other options, check out my list of the best medical alert systems with fall detection.
The More You Know: MobileHelp's fall detection can't detect 100% of all falls, like fall detection from any company, but it can certainly help.
Pros and Cons
Short on time? Here are my favorite and least favorite things about using MobileHelp:
MobileHelp Pros
Wide array of systems and options: MobileHelp has six different medical alert systems to choose from, with or without landlines, fall detection, and GPS.
Flexible contracts: You can choose to pay monthly, quarterly, semi-annually or annually for MobileHelp.
Low monthly rates: With prices starting at $19.95, MobileHelp is one of the more affordable medical alert system options.
MobileHelp Cons
Fall detection is a separate device: You'll have to wear another device if you want fall detection.
Buggy iOS app: When I tested out the MobileHelp Connect app, I found it hard to use.
No free warranty: Surprisingly, MobileHelp doesn't include a warranty on its equipment unless you pay an extra $5 a month.
System Options
When it came to choosing a system, I had six options: the Classic, Solo, Duo, Mobile Duo, Wired Home, and Touch.
| | Classic | Solo | Duo | Mobile Duo | Wired Home | Touch |
| --- | --- | --- | --- | --- | --- | --- |
| Celluar Connection | Yes | No | Yes | No | No | Yes |
| GPS on Mobile Device | No | Yes | Yes | Yes | No | Yes |
| Medication Reminder Option | Yes | No | Yes | No | No | Yes |
| Fall Button Option | Yes | Yes | Yes | Yes | No | Yes |
| Minimum Monthly Price | $19.95 | $37.95 | $41.95 | $44.95 | $24.95 | $299.70 for 6 months |
As you can see, all of the options work at home, but, since seniors are more likely to get lost if they go outside, there are also options with GPS, everything except the Classic and Wired Home. Landlines aren't required to use the Classic, Duo, or Touch, fortunate as landlines are becoming less and less commonplace in the United States. Half of MobileHelp's systems can remind seniors to take their medications, while every system except the Wired Home can include a fall detection pendant for $10 more per month.
MobileHelp Add-Ons
In terms of accessories, MobileHelp is pretty minimal, which isn't necessarily a bad thing as it keeps costs down.
| Product | Upfront Cost | Monthly Price |
| --- | --- | --- |
| Fall Detection Pendant | $0.00 | $10 |
| Waterproof Wall Button | $0.00 | $2.95 |
| Lock Box | $29.95 | $0.00 |
Here's a little more information on each item:
Fall detection pendant: Unlike many other medical alert systems I've reviewed, like LifeFone, adding on fall detection for $10 a month with MobileHelp means renting a separate device; this is sometimes built into other pendants, but the cost is very typical.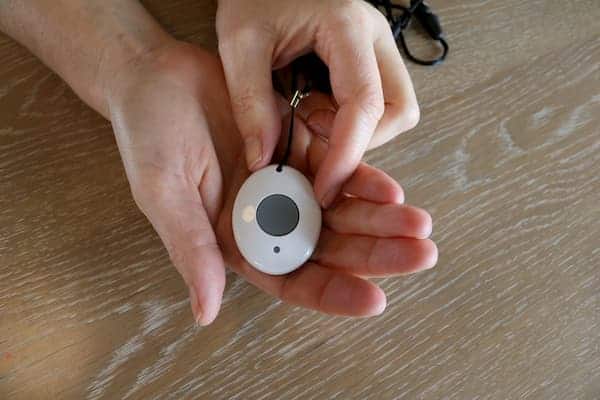 Waterproof wall button: Although MobileHelp's pendants are 100% waterproof, some people may not want to wear them in the shower or bath, or all the time when they're at home. For these people, I recommend getting a wall button and placing it a few feet above the floor in those high-risk areas like your bathroom, stairs, and kitchen. At only $2.95 a month, this is more than worth it for the extra peace of mind.
Lockbox: Finally, MobileHelp offers a lockbox for around $30, with no additional monthly fees after the initial upfront cost. The lockbox is just that; a locked box, only accessible through a numerical code, that goes around a front door's knob. In case of an emergency, lockboxes allow key access to emergency responders, which prevents them from having to knock doors down.
So, what's missing? MobileHelp lacks vanity pendants, so if you want to disguise your medical alert pendant as a beautiful piece of jewelry, we'd recommend checking out Alert1, which has some nice options for the necklace pendant. However, this is certainly not a dealbreaker for most people.
Note: To get fall detection from MobileHelp, you'll need to rent a separate pendant with fall detection for $10 a month.
My Experience with MobileHelp
After surfing the MobileHelp website, which is pretty easy to use, I decided to order the Classic system, which included a base unit and a necklace pendant. I also got the chance to add on $5 a month warranty, which I declined (but more on this later), a second button, which could be in the form of a necklace pendant, black or white wrist button (I chose necklace), or even a waterproof wall button for an extra monthly fee. I opted to add fall detection for another $10 a month, which actually comes in the form of a separate pendant. But that was it for add-ons, so I decided to hit continue and enter my payment information. With free ground shipping, I only had to wait a few days before the MobileHelp box arrived on my doorstep.
Once I unboxed my system, I immediately added the MobileHelp monitoring center number to my phone so their calls would come through (I usually have unknown numbers blocked so I can get through my day without a million sales calls). Then, I plugged the base unit's power cord into an outlet, turned it on, and tested it out; after holding the test button for 6 seconds, I heard "user auto test" and then was instructed to press the help button on my pendant. After I did that, the base unit said "test call sent to the emergency response center", then "thank you for testing your device". Not too bad! And although I have a landline in my house, I didn't even need to use it as the Classic system relies on AT&T's cellular network.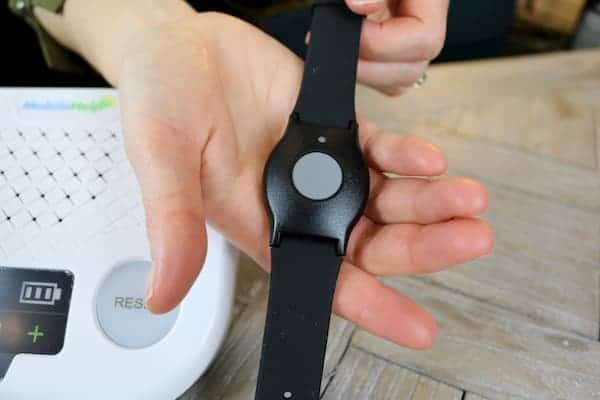 Now, one thing you should definitely know about the system is that in order to use the pendant, I had to be within 1,400 feet of the base unit. Of course, MobileHelp also has cellular options that work everywhere, if you have an extremely big home. However, this range is one of the longest I've seen from an at-home unit, so it should work for the large majority of homes.
Next, it was time to test out the fall detection pendant. After pressing the button, the base unit announced "call in progress" and then "please stand by for operator". A few seconds later, I heard an Emergency Operator answer me through the base unit itself. I told him it was just a test, but if I didn't, I knew he'd contact Emergency Medical Services immediately, much to my approval.
But what happens if I fall and can't reach the button? To find out, I dropped the button from about three feet off the ground, pretending I had fallen down the stairs. About 20 seconds later, the button started beeping and flashing yellow, prompting the base unit to announce "fall detected, press and hold button to cancel". Of course, I wanted to cancel, so I pressed and held the button until it flashed green, saving the Emergency Operator's precious time. But it's nice to know that MobileHelp's fall detection works well, although of course, like any fall detection pendant, it won't catch 100% of all falls.
Pro Tip: To be on the safe side, test out your fall detection button once a month to see that it's connecting to the monitoring center properly.
MobileHelp Monthly Pricing
Like most medical alert systems, I didn't have to pay any upfront costs with MobileHelp; rather, I rented their equipment, which required a monthly fee. Let's break down exactly what I paid for MobileHelp each month.
Monitoring Pricing
While I paid $19.95 for MobileHelp Classic, prices vary based on your system, ranging from about $20 a month all the way up to $44.95 a month. These are very typical prices when it comes to medical alert systems, and $19.95 is definitely even cheaper than most.
| Plan | Amount Billed | Monthly Cost |
| --- | --- | --- |
| Annual | $239.40 | $19.95 |
| Semi-Annual | $164.72 | $27.45 |
| Quarterly | $90.61 | $30.20 |
| Monthly | $19.95 | $19.95 |
Of course, there were several add-ons that upped the price, from the $10 a month fall detection to the optional mounted wall button. Again, $10 more a month for fall detection is standard, and it's actually the same price as other top systems like Medical Guardian. To learn more about MobileHelp's costs, check out my pricing page which is even more detailed.
MobileHelp Connect Premium Pricing
Now, one of the MobileHelp's drawbacks is that there's no free warranty included on any of their equipment, so if I broke or lost something, it would come out of my pocket. However, MobileHelp offers something called Connect Premium, which costs $5 a month and gives the user a number of benefits, including a warranty. Under their plan, if I broke or lost an item, it would be replaced either for free or a small fee, which is a lot cheaper than $300. Plus, the plan would've locked in my monthly rate and given me discounts on several monthly fees.
FYI: If you're worried about your equipment getting lost, stolen or damaged, buy the MobileHelp Connect Premium plan for $5 a month, which can save you hundreds of dollars on replaced or repaired equipment.
| Item | Discount |
| --- | --- |
| Fall Button | 25% |
| Accessories | 25% |
| MobileVitals | 25% |
| Medication Reminders | 50% |
| Activity Tracking | 50% |
Aside from that, it tacked on 30 more Pings for location detection. While this plan isn't 100% necessary, for the clumsy and forgetful among us, it could definitely be a good thing.
See MobileHelp In Action
If you're not huge on reading, that's okay; the Senior List is on Youtube! Check out our video review below to see the MobileHelp system in action.
MobileHelp's Customer Support
Customer support is known for being slow, unresponsive, and unhelpful, but with medical alert systems, it has to be good. This isn't just my Chromecast malfunctioning; it's a system that can literally save lives, so if there's a problem with it, I want to know that MobileHelp is here to help after they sell me their system.
In terms of ways to ask for help, I could either call them directly, fill out a form online, or check out their online help center. I found their online help center to be pretty organized, both in terms of its setup guides, which were really clear and comprehensible, plus its list of FAQs. Although the company lacks live chat, I was still impressed by how thorough the online help center was, so thorough that I didn't even need to try their phone line. Good customer support? Check!
About MobileHelp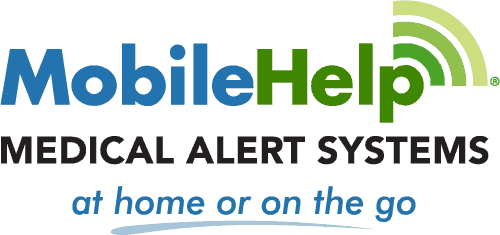 Again, since you're putting your life, or the life of a senior you care about, in their hands, I thought I'd tell you a little about MobileHelp as a company. First of all, you should know that their certifications are in check. MobileHelp is certified by:
Food and Drug Administration (FDA): MobileHelp's medical alert systems comply with the FDA's Current Good Manufacturing Practice.
AT&T Network Certification: Just to confirm that MobileHelp's devices work on AT&T's network, but you don't need AT&T to be your cell phone provider when you use their system. Even if you use Verizon like me, you'll appreciate the coverage from AT&T, which Global Wireless Solutions, a company that tests and analyzes wireless networks, says is the network with the most coverage in the United States.
Federal Communications Commission (FCC): Since MobileHelp uses airwaves to communicate between the senior and the monitoring center, they are FCC-certified as well.
Underwriters Laboratories Certification (UL-1635 and UL-1637): These certifications cover home medical alert systems as well as the emergency call systems in people's homes as well.
PTCRB (formerly the Personal Communications Service Type Certification Review Board): This international organization sets the standards for any product that uses a cellular connection, which of course includes the Classic system I tried out.
With so many national and international certifications, MobileHelp is a company you can depend on, without a history of shady business practices like Life Alert. No, this company's reputation is squeaky clean.
MobileHelp: Yay or Nay?
Overall, I trust MobileHelp to help me 24/7, especially when I added on fall detection. With a decent amount of system options with and without fall detection, GPS, and other premium features, people with all different budgets can use MobileHelp without a problem. Plus, the company offers a 30-day trial period, so there's really no risk to trying it out for yourself.
However, I wouldn't recommend MobileHelp if you want a system that doesn't require getting an extra pendant for fall detection, or if you wanted a system that comes with a free warranty. ADT's Medical Alert System, for example, offers a lifetime warranty for its medical alert systems completely on the house, a rarity in this industry. Also, those iPhone users looking for high-quality apps probably won't have a great time on the MobileHelp Connect app, which has a one-star rating on the App store. GreatCall, on the other hand, has a fantastic iOS app with a 4.3 rating.