Some new medical alert devices are actually medical alert smartwatches worn on the wrist vs the traditional pendant technology (worn around the neck).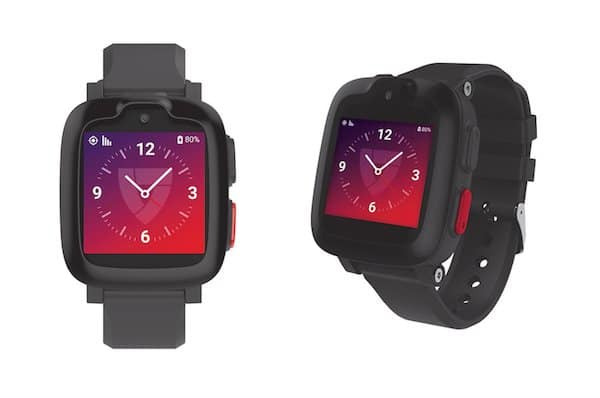 Their SmartWatch:
Medical Guardian's medical alert smartwatch is great for both men and women. The sleek design and additional unique features like reminders, alerts and the weather forecast makes this smartwatch much more than a life-saving device.
Why We Recommend Medical Guardian
$299.95 equipment cost
Great for men and women
White or Black color options
Location tracking, reminders and alerts, weather forecast and more
We've been excited about smartwatch medical alerts for a while now – and they're finally here! Both Medical Guardian and MobileHelp have brought sleek, powerful, modern smartwatches to market. We think they're an ideal solution for some seniors, so let's take a closer look.
Medical Alert Systems Have A New Look
For years, seniors and their caregivers have been telling us that for some people, there's a stigma attached to wearing a medical alert.
We're glad so many companies these days are making their buttons smaller and more discreet, and there are also plenty of modern-looking mobile devices. The way medical alerts look is absolutely changing. This is so vital – if a senior feels uncomfortable wearing their alert, they're more likely to leave it behind, and not be able to get help if they need it.
Medical alert watches, however, give medical alerts the makeover they've been waiting for! They look just like any other modern watch so no one knows you're wearing a medical alert. They're suitable for men or women, and look good with practically any outfit.
For seniors, getting help when they need it is as simple as putting on their watch, and going about their day.
A Discreet Way To Make Sure Help Is At Hand
The best medical alert watches are go-anywhere devices. Simply put it on, and a senior is covered wherever they go. The watches run on the cellular network (both providers in this article run on AT&T), and use GPS tracking to find the wearer's location.
If help is required, the wearer simply presses a button on the watch and is connected to the customer care center through a two-way speaker. They can talk with dispatchers, or if they're unable to communicate the dispatcher can send help automatically.
Smartwatches are ideal for seniors who are still active. They can do anything they like – shopping, theater, lunch with friends, family visits – with the peace of mind that comes with knowing help is always there if they need it. This offers reassurance to caregivers too – no more worrying something will happen to mom or dad when they're out and about.
Find out which medical alert system is best for you…
1)
Who are you shopping for?
What To Look For When Choosing A Medical Alert Watch
There aren't many watches to choose from yet. When deciding which is the best medical alert watch for you or your loved one's needs, be sure to check on the following:
Is the watch display analog or digital?
Which cellular network does it run on?
How long does the battery last between charges?
What does the watch look like – will mom or dad feel comfortable wearing it?
What kind of caregiver options are there?
How much does it cost?
How much on top of that for the monthly monitoring?
Are there any long term contracts involved?
How easy is it to cancel the contract?
#1. Medical Guardian
Best Medical Alert Smartwatch


Medical Guardian's medical alert smartwatch is great for both men and women. The sleek design and additional unique features like reminders, alerts and the weather forecast makes this smartwatch much more than a life-saving device. Call to hear current Medical Guardian offers and pricing.
We've featured Medical Guardian several times, thanks to their wide range of modern, reliable, easy to use medical alert options. Now they've released the Freedom Guardian, a smartwatch with an impressive range of features. Looking for other Medical Guardian options? Click here.
Cellular network: AT&T
About the watch: This is a great looking watch! Small, lightweight and sleek, with an easy to read analog display. Available in black or white.
Features: WiFi and GPS tracking for extra accuracy, calendar alerts and reminders, text-to-speech messaging with people in the designated care circle, weather forecast, and showerproof. The watch also has software that reads the date, time, alerts and messages to the wearer.
Caregiver portal: Caregivers get access to an app through which they can send and receive SMS messages with the wearer, view device location and usage, and help their loved one schedule tasks by using the day planner.
Battery: Up to 48 hours on a single charge.
Long term contracts: No
Price of watch: $299.95
Monthly monitoring cost: $44.95
Pros: We love how incognito this watch is – you'd have to look very closely to tell it apart from a normal watch. The text to speech messaging and ability to help with daily reminders are fantastic features for caregivers. The startup cost is very reasonable, too.
Cons: It's hard to find anything to dislike about Freedom Guardian! We would like to see more in the way of health features though, and the monthly cost could be prohibitive for some.
The Verdict: This is a lovely lightweight watch packed full of powerful features. It's clearly been designed to be super easy to use for seniors, and it makes it easy for caregivers to stay up to date, too.
Could medical alert watches be the future of medical alerts? We certainly think so. With a wide range of features, GPS tracking, and help at the touch of a button, seniors can stay safe out there without the stigma of wearing a visible medical alert.
Best Overall Medical Alert System


Medical Guardian sets the standard in the medical alert industry for not only providing best-in-class equipment but also for offering the highest level of customer service. Call to hear current Medical Guardian offers and pricing