An Internet Guide for Seniors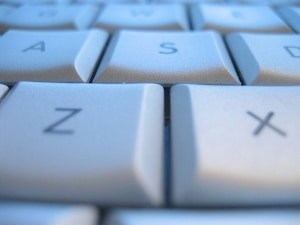 The Internet is more extensive than most of us can imagine, consisting of at least 5.4 billion pages. Such vastness is hard to conceptualize—like counting the blades of grass in a field—and it's also a bit intimidating to use as a beginner. With that said, many Internet users are elderly.
What Percentage of Seniors Use the Internet?
According to the Pew Research Center, 59 percent of seniors are active Internet users. This means almost 32 million seniors are using the Internet, and you can quickly join their ranks. Whether you're nervous about having the Internet installed for the first time in your home, or you just bought a smartphone and are hoping to make the most of it, it's never a bad idea to get connected.
In this Senior List guide, we'll give you a rundown of all things internet: what it is, how it works, and how you can utilize it to simplify your life and keep in touch with loved ones.
What Is the Internet?
Technically speaking, the internet is an extensive network of computers that contain information and technology tools that anybody can access. The internet is the big tent under which all the individual technologies reside.
Try to imagine the internet as an endless warehouse full of file cabinets, except the file cabinets don't just have pieces of paper with information; they are also filled with tools that make it easier to spread information. Instead of being separate files, many of the files share and include data from each other. So a "document" on the internet is usually more extensive than something you might find sitting on your desk, perhaps closer to an entire folder's worth of information.
For example, web pages like The Senior List are a kind of document you access on the internet. And a website consists of a collection of pages. On these pages, you'll find links that are clickable buttons or words that connect you to different web pages. These are all part of the web page, and everything on the web page belongs to the website.
If you can see how the umbrella concept works with a website and web page, then think of the internet in the same way, with websites, email services, and databases under the larger umbrella of the internet, a giant, accessible information depository. You can find almost any type of information, from weather reports to recipes and videos of cats playing with yarn balls.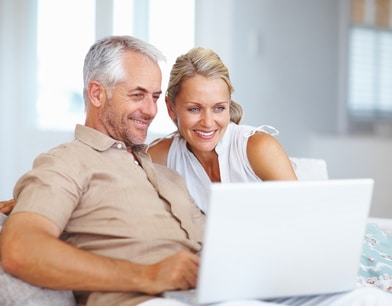 How to Access the Internet
Having an internet connection is the first step to signing on at home. To establish this connection, you'll need to schedule an installation and sign a contract for the service, both of which can be done through your local providers.
Nowadays, most of the top internet providers will offer a router that uses Wi-Fi. Wi-Fi is wireless internet, meaning you do not need to use a dial-up connection through your telephone. The best part about this is that you won't have to worry about missing calls while using the internet if you do not have or want a cell phone. With a wireless internet router, you can use a computer or laptop anywhere in your home, not just one particular desktop computer near the internet cable.
A "browser" is what you use to access the internet at home. Google Chrome, Firefox, and Internet Explorer are all browsers that allow you to surf the web. Most computers and laptops will already have one installed. When you click on the browser, it will often take you up to a search engine like Google, or Bing, which is a great place to start exploring.
Search engines function like the card catalog to the internet. For example, if you search the term "dog," you'll find information about dogs, different breeds, grooming techniques, and even photos of dogs themselves. By typing in something more specific, such as "dog toys", you'll begin to narrow your search, coming closer to the information you were looking for.
Why Use the Internet?
The internet is like a giant, interactive encyclopedia. It has tons of information, but what makes it special is the interactive nature of it. The internet is capable of much more than providing information. Through the web, you can purchase goods, play games, arrange services, pay bills, edit photos, and even keep in touch with loved ones.
Here is a small sample of what can be done through the Internet:
Grocery Shopping
Ordering Household Goods
Banking
Check Out Library Books
Send and Receive Emails
Watch Movies and Television
Check the Weather
Keep Tabs on the News
Check Sports Scores
Play Video Games
Reading the News Online
If you're tired of waiting for the portion of the 10 O'Clock News where they finally get to the weekly weather report, the internet is a great way to access the specific parts of the news that you'd like. Whether you want information on Moscow's political climate or your favorite pizza parlor's operating hours, you can likely find this information on the internet.
The internet is a great resource for getting the specific information you need. And if you aren't sure of which websites to trust, most of your favorite news channels have their own websites. Most newspapers also have their own websites with the same articles that run in the print edition. If you already subscribe to a newspaper, it's likely that your subscription includes online access.
Watching Videos Online
Television and movies are streamed on the internet as well. Many people, seniors included, are ditching that additional cable bill and subscribing to services like Netflix and Hulu. With streaming services, you can watch an expansive variety of TV and movies whenever you want, no need to leave the house to purchase a DVD, or even wait for the next one to come in the mail. All of the movies and shows are available the second you lift your remote. Most streaming services also offer an option to have live tv as part of your package, so if you do enjoy watching the news and live sports, you can still view these programs.
Libraries on the Internet
Your local library also likely offers many of its services online. Via the internet, you can browse the books your library has in stock and place items on hold. In addition to these normal functions, your library likely has a wide variety of documents, research tools, and even books available for virtual loaning. Most libraries offer digital copies of your favorite books so that if you have a kindle, tablet, or even laptop that you enjoy reading from, they are available instantly without having to wait for somebody to return a physical book copy.
Staying in Touch
Sometimes it isn't easy to get together with friends, relatives, and loved ones. Whether that's because of a global pandemic, a several thousand-mile drive, or mobility issues, the internet can help you keep in contact. Social media sites such as Facebook are great for finding old friends and relatives with whom you've lost contact. To find people, just search their name (and location if you have it), scroll through the pictures until you find who you're looking for, and send a request to be friends. Once you're friends, there is an instant messaging feature through which rapid conversation is possible.
You can also share photographs and articles with each other publicly or in your private instant messages. If you share something outside of a private message chat, all of your Facebook friends will be able to see whatever you sent your friend. You can also post an article or image for no one in particular— it will be displayed for all of your friends to see. This is a fun way to get conversations going in the comment section with multiple friends— even if they do not already know each other. Social media websites are great for bringing people together.
Video Chatting Online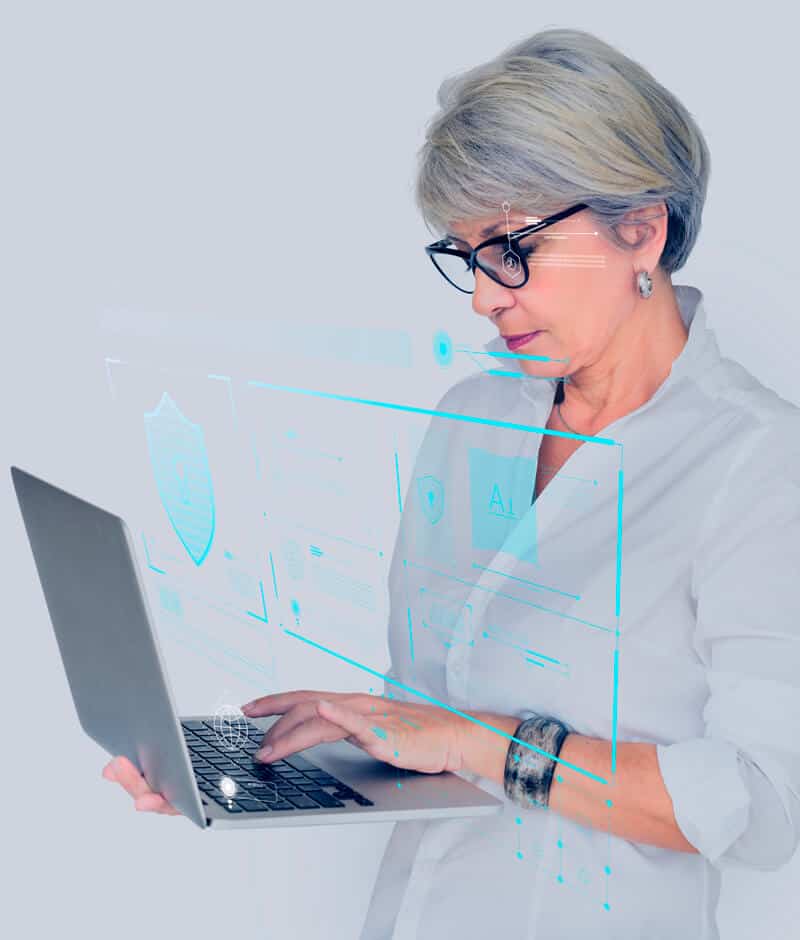 Another fairly recent development in online communications is live video chatting. Social media websites like Facebook offer video chatting, but there are also stand-alone free sites like Zoom and Skype that are designed specifically for video chatting. Usually, once you accept the terms and conditions for a video chatting site, they will access the camera on your smartphone, laptop, or tablet.
Using this camera, you can place calls to your loved ones and see live videos of them right on your device. Especially in times of social distancing, video chatting is a great way to keep in touch. It almost feels like the person is right there speaking to you.
Is There Free Internet for Seniors?
While there are not any free internet services specifically designed for seniors, there are some ways to receive substantial discounts on one's internet service.
Lifeline, a program offered by the FCC, offers up to a $9.25 monthly discount on internet service for low-income individuals. If you currently receive Medicaid, SNAP, SSI, or a Veteran pension, then you will likely qualify for this program.
Additionally, in the wake of COVID-19, many internet providers such as Spectrum Internet® and AT&T are offering free internet packages for households with children enrolled in schooling from home.
How Seniors Can Stay Safe on the Internet
It seems like there are so many great things we can do through the internet, but many people wonder: Is the internet safe? It's true, cybercrimes against seniors have increased five times since 2014. But there are definite precautions you can take to help ensure your experience does not compromise your data
Don't respond to emails or social media messages from people asking for money or favors. If you are interested in donating to a charity, then go to the official website of your preferred charity and do so there as opposed to through some third party.
Always log out of your account when finished browsing a website.
Try not to use the same password for every online account, as this makes it easier for hackers to access your information. We'd recommend keeping a physical list of each of your usernames and passwords that you use on different websites.
Consider investing in anti-malware software for your home computer.
Banking on the Internet
Knowing that internet safety is a real concern in the 21st century, it may be hard to imagine performing banking online. Fear not, though, as any reputable bank will have extreme security measures in place. This goes for companies that you might be paying online bills to as well, such as your internet bill, household utilities, and credit card companies. Most companies have solid cybersecurity measures in place to ensure that your information is kept between you and them.
Recap
The internet is a great resource. Whether you are looking to be more productive, watch television, or purchase a pair of shoes, the internet has something for everybody. This guide is just a start. If you have specific questions, a local resource like a library, friend, or family member can help you. Additionally, if you're willing to look, the internet itself has the answers to almost any question you could have about it. Enjoy your exploration online— whether practical, for pleasure, or, as for most of us, for both.
Frequently Asked Questions About Seniors and the Internet