Cox Internet for Seniors

Headquartered in Atlanta, Cox Communications is a telecommunications company offering high-speed Internet packages that would prove quite useful for any age group, especially so for older folks. Among older adults, Cox is a favorite due to their reliable Internet connection that can help them feel independent. Especially these days, staying well-informed and connected to the outside world has never seemed more important.
Currently, the largest cable Internet service provider in the U.S, Cox can deliver that high degree of reliability, but do they have the right Internet service for your needs? Read on to learn more about Cox's Internet options, particularly as they relate to the older set.
An Overview of Cox's Internet Offerings
Cox is a Cable Internet Servicer that harnesses their existing cable lines to provide a blazing-fast Internet connection. Unlike DSL connections, cable-based Internet ensures that you get consistent Internet service and far higher speeds. This is doubly important for independently-living older adults who need to keep their home security devices, medical alert systems, and medication dispensers connected to the Internet 24/7.
You can order Cox services either online, over the phone, or in a Cox retail store. Even if you don't particularly like making online purchases, you don't have to worry about losing out on a great internet-only deal. Why? Because regardless of the purchasing platform, you will receive the same price. Also, for added peace of mind, the company offers a 30-day money-back guarantee.
Especially since Cox's connection speeds are ideal for streaming video, I would recommend choosing their Gigablast plan, which costs $99.99 a month. If you're looking for more than just the Internet, then I'd recommend you check out their affordable bundle offers, which include TV, home automation, and landline services. No matter which of these plans you choose, you'll save through bundling as opposed to purchasing one utility alone. You also have the option of renting out Cox's Wi-Fi equipment, which eliminates dead zones in your house and maximizes your Internet speeds.
Did You Know: All of Cox's plans for home-use offer 1.25 TB data per month. If you want unlimited or an additional 500 GB, this can be purchased for an extra monthly charge.
Cox Complete Care
When it comes to Internet service, we're often faced with issues such as damaged wires, malware, worn-out outlets, and just plain-old spotty connections. To help sort out such issues, Cox offers a 24/7 tech support package (Complete Care) for an additional $10 per month. If you do not subscribe to this deal, you might have to end up paying around $75 per in-home service call.
Cox Internet Plans and Features
According to the Pew Research Center, older adults are more likely than ever to use the Internet. Be it for food delivery, streaming videos, or shopping online, they are accomplishing many tasks through the world wide web. To make this essential service more accessible, a good idea is to look into Cox's bundled services that come with significant savings.
For instance, Cox offers cable services, home security, home automation, and landline phone services, all of which can be mixed and matched into Cox packages. To make the most of bundling, it's best to get an idea of which additional services you'd like. For example, if you already have a cell phone, perhaps you can skip the landline.
To make it quicker and easier to compare Cox's Internet plans for older folks, we've put together a quick comparison chart below, which includes packages, features, and pricing:
Cox Internet Plans, Pricing, and Features
| | Cox Internet Starter 10 | Cox Internet Essential 30 | Cox Internet Preferred 150 | Gigablast | Cox Internet Starter 10 | Cox Bronze Bundle | StraightUp Internet (prepaid) |
| --- | --- | --- | --- | --- | --- | --- | --- |
| Download Speeds | 10 Mbps | 30 Mbps | 150 Mbps | 940 Mbps | 10 Mbps | 150 Mbps | 25 Mbps |
| Special Features | N/A | N/A | N/A | N/A | Home Automation Features | 140+ TV channels, landline, and home automation features | Free wi-fi modem, no credit check, no annual contract |
| Number of Internet devices | No more than two | 3-5 (light Internet use only) | 5-7 (with heavy Internet usage) | More than nine (with heavy Internet usage) | No more than two | 5-7 (with heavy Internet usage) | 3-5 devices |
| Pricing with Easypay | $29.99 per month (with one-year service agreement) | $39.99 per month (with one-year service agreement) | $59.99 per month (with one-year service agreement) | $99.99 per month (with one-year service agreement) | $ 49.98 per month (with one-year service agreement) | $ 129.99 per month (with a two-year service agreement) | $50.00 per month (no contract required) |
Note: The exact cost of Cox's Internet packages will vary slightly, depending on your location.
Cox also offers more than 500,000 Wi-Fi hotspots across the nation; however, this service is available only for Internet Preferred 100 plans and higher. Cox even has all-in Internet packages, priced between $59.99 and $119.99 per month and featuring fast speeds, Panoramic Wifi, Cox Complete Care, and a fixed bill amount for two full years.
Safe Browsing: Since older adults are more susceptible to virus and malware attacks, in addition to identity theft, most of Cox's Internet plans include access to an Internet security suite backed by McAfee.
Cox also offers some add-ons that can be paired with any of its existing Internet packages.
Elite Gamer: If you are a hard-core gamer (what does age have to do with it?), then you can choose this add on that ensures less lag, jitter, and ping spikes in your online gaming. This service costs $4.99 per month or $6.99 per month if you have your own modem.
Contour Stream Player: For $5 per month, you can stream your favorite cable content on apps such as Netflix, Prime Video, YouTube, straight to your home television. This is a perfect option for those who don't have a smart TV.
Month-to-Month Payments: If you don't wish to stick to a long-term service agreement, then just pay $10 extra per month, and you can kiss your contract goodbye.
Best Cox Plans for Seniors
Currently, Cox does not offer a plan specifically designed for older adults; however, this does not mean they don't have options befitting this demographic. Here are my picks for the best Cox Internet plans for seniors.
Cox Internet Starter 10
Priced at $29.99 per month, this is Cox's most affordable Internet plan. Offering download speeds of 10 Mbps, this plan won't be good for handling high-definition video streaming or online gaming; however, for the user purely looking for a basic Internet connection for emails, weather, and general research purposes, Cox's Internet Starter 10 plan is a solid choice. This plan also offers free McAfee Internet security, in addition to access to Cox Wi-Fi hotspots.
Cox Internet Gigablast
In terms of speed, Cox's Internet Gigablast plan is light-years beyond the Starter 10 plan. Offering up to 940 Mbps in download speeds, this plan has the stuff to handle the most data-intensive of online tasks. Video chatting, online gaming, HD video streaming can all be accomplished, even simultaneously, without any noticeable blips in service. This plan would be ideal for seniors who often have guests and family visiting, as it can also support more devices than the previous plan.
StraightUp Internet
Requiring no credit check, no hidden fees, no deposit, and––my personal favorite––no annual contract, Cox's StraightUp Internet is a simple service plan for the senior who wants to keep it straightforward. Offering up to 25 Mbps download speeds, this plan will suit the casual Internet user who's not bent on streaming video and gaming online.
Cox Internet Equipment
Sure, if you already have a modem-router (of a third party brand) at home, you can sync that with your new Cox connection. Otherwise, here are the two Wi-Fi devices that can help you get the most out of your Cox Internet plan:
Panoramic Wi-Fi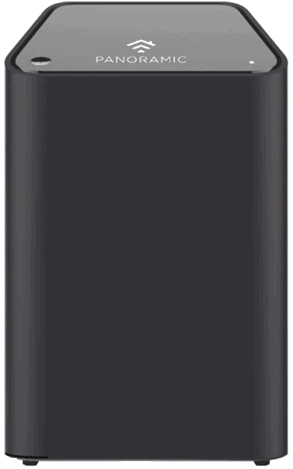 This all-in-one modem and router can be rented for $10.99 per month. The benefit of using this device is that it automatically picks out the best WiFi frequencies for optimal speeds, and you get free and proactive system updates and upgrades. Cox even has a Panoramic Wi-Fi app that can be synced with your all-in-one device to set Wi-Fi rules, pause devices, and track who's using your connection.
Especially with reports stating that online crimes against older adults have increased five times since 2014, it helps that this device comes with free access to personalized Advanced Security. By scanning your network of connected devices for threats 24/7, this device ensures that you are kept safe from all kinds of cyberattacks.
Panoramic WiFi Pods
If you have an extra-large house and are experiencing dead zones, a Panoramic Wifi Pod can help augment your in-home connection. Once plugged into an outlet, with its "mesh network" technology, it will extend the strength of the Internet connection to every nook and cranny of your home. Available for purchase at $129.99 per pod, it comes with a 30-day money-back guarantee and a one-year hardware warranty for exchange. This device is compatible only with the Panoramic Wifi Gateway.
Recap
Cox's Internet services are truly versatile in terms of their abilities, from their basic plans to the full-featured high-speed connections. Their prepaid options are especially good for older adults who aren't on a fixed income. When budgeting, however, be sure to take into account the extra activation fees, taxes, and surcharges that are levied with each of their plans. Reading over all paperwork and pricing details before agreeing to anything is always a good way to avoid financial surprises.
You may find you (and your finances) are better off sticking with Wi-Fi streaming instead of cable and your cell phone service instead of getting a landline installed. There is also great merit in choosing Cox's TV and Internet bundles for extra savings and features. AT&T is another company that does affordable Internet and TV bundles. Again, do some research and cost comparison to see what saves you the most without compromising overall quality.
Frequently Asked Questions About Cox