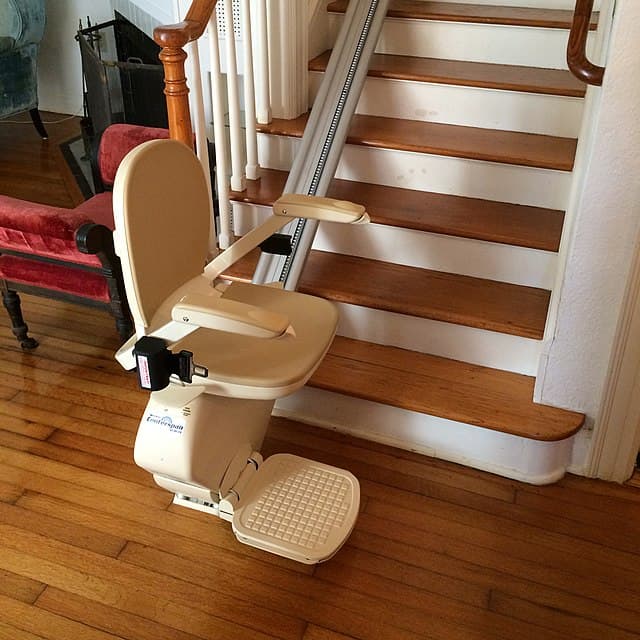 Stair Lifts for Seniors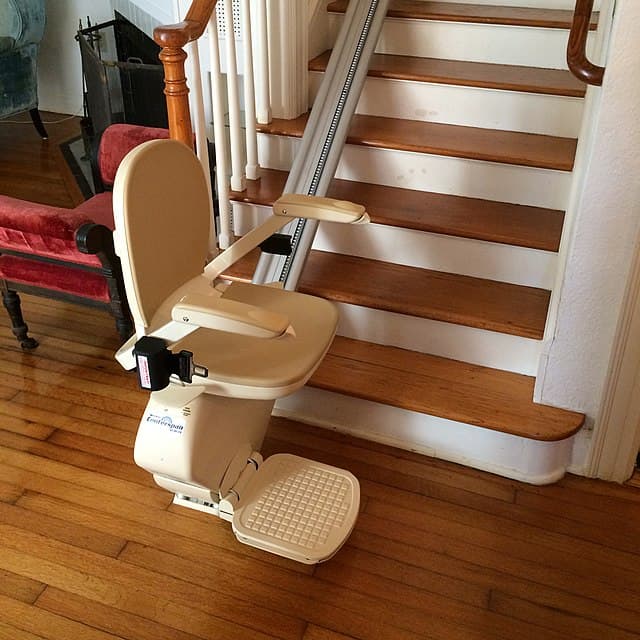 As we age, one of the hardest hurdles to overcome is waning mobility. Whether it's joint issues, hip pain, or other health issues that put us at an increased risk for a fall, there are a number of conditions that can affect our ability to get around as we get older. Thankfully, there are solutions to help us from canes and walkers to mobility scooters.
Yet also as we age, there is an increased desire to remain in our homes. One AARP study showed that 90% of seniors hope to age in place, so for anyone feeling this way, know you're not alone. The problem is, the architectural decisions we make in our 40s and 50s may not be suitable for mobility limitations in our 80s. Stairs, in particular, present a source of risk and can turn a fall into something potentially deadly. Many older adults explore stair lifts to make their home more livable as mobility becomes an issue. In this article, I'll look at the ins and outs of stair lifts and give some helpful tips on what older adults should look for in the buying process.
What Is a Stair Lift?
At its most basic definition, a stair lift is a chair on a rail that runs up a staircase, enabling an older adult to travel between floors of a home safely.
There are a number of different types of stair lifts, in addition to add-ons and configuration, but the premise is the same across the board. Let's take a look at the different types of stair lifts on the market today.
Straight Rail Stair Lifts
A straight rail stair lift is the most common type of stair lift on the market because it's designed for the types of stairs most common in homes. With a straight rail stair lift, the rail is attached to the treads of the stairs by legs and are spaced approximately a foot apart. One thing to keep in mind with straight rail stair lifts is that the railing doesn't rely on wall installation, so there isn't any risk to the structure of the home when they're installed. There are a number of seat and power options with straight rail stair lifts, which I'll cover more later on.
Curved Rail Stair Lifts
It's a common misconception that a stair lift needs to be built on a straight line. With a curved rail stair lift, the rail is mapped to the unique curvature of a staircase; as a result, however, the planning and installation process can be a bit more expensive since it requires more unique customization and a potentially longer rail. The important thing to remember is that there is likely a stair lift option available even for curved or otherwise atypical staircases.
Wheelchair or Platform Stair Lifts
While not the most common in residential homes, due to the amount of space they require, wheelchair or platform stair lifts take the standard seat-style stair lift but add enough room for a wheelchair to be carried up stairs. These stair lifts can necessitate more power than traditional curved or straight rail stair lifts as well, and are therefore most common in commercial buildings, hospitals, or assisted living facilities and nursing homes. They can also be significantly more costly, compared to more common residential stair lifts.
Outdoor Stair Lifts
An outdoor stair lift can take the form of any of the other stair lift types we just mentioned. They can be installed to accommodate wheelchairs, curved staircases, or simply go up a straight staircase. The main difference is that outdoor stair lifts require weather-proofing measures to shield the power supply (as well as the chair surface or platform) from the elements. Once again, outdoor stair lifts come with a higher price tag for these considerations, and as a result are not often seen in residential properties.
Is a Stair Lift the Right Choice for Me?
Now that I've broken down the general types of stair lifts available, you may be considering if a stair lift is right for you. Before making this decision, however, there are a few considerations to make.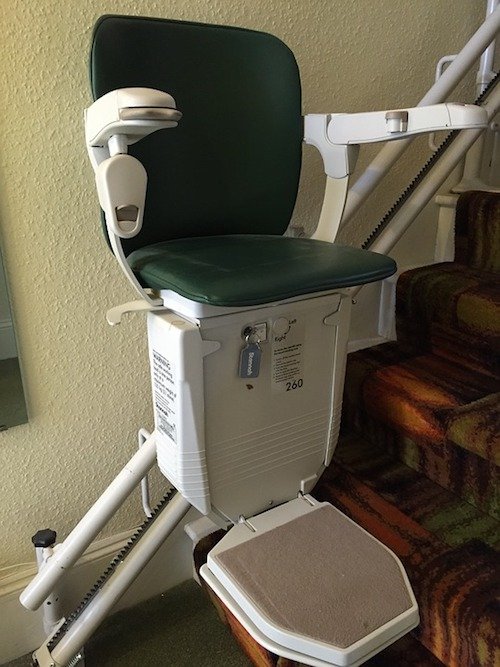 Assessing Mobility Concerns
The first of those considerations is: do I need a stair lift? Of course, this question seems obvious, but the answer may not be immediately apparent. One thing to keep in mind when weighing this question is not just current mobility needs, but potential future mobility concerns as well. For older adults deciding to remain in their homes for as long as possible, a stair lift could be a way of avoiding a fall before it occurs and, in turn, enabling a longer home stay.
Choosing a stair lift after a fall might make the decision easy, but you should also consider a stair lift as a preventative action to avoid a fall. Likewise, if you have the first stages of an injury—a doctor suggests you may need a hip replacement within a few years—a stair lift could be a good preventative option to reduce strain on your body before issues become more severe.
For How Long Will I Need a Stair Lift?
Stair Lifts can be installed preventively, or in the wake of a serious fall or debilitating diagnosis. Stair lifts can also be temporary solutions; however, for an older adult that has an operation or a temporary condition like a broken bone, it may be important to have a stair lift installed, but after a few weeks or months of recovery, the stair lift may just be sitting there unused. For these instances, it's important to know that stair lifts can be rented. There will still be a cost of installation and a fee for renting the device, but for someone who only needs a stair lift for a short amount of time, it may be cheaper in the long run to rent instead of buy.
Note: Not every stair lift provider offers an option to rent. So if you're considering a short-term stair lift option, shop around to find a dealer in your area that provides this service.
Will a Stair Lift Fit in My Home?
One important thing to remember about stair lifts is they're custom made to fit all types of stairways, whether they're curved or straight. Since stair lifts aren't wall mounted, there doesn't even need to be a wall present to anchor the rail. The biggest concern when it comes to installing a stair lift is the width of the stairs. Generally speaking there needs to be a minimum of 30 inches for the chair to comfortably travel up and down the stairs with a person on board. Many stair lifts also have seats that fold up to keep the stairway clear, and some can even turn around the corner at the top or bottom of the stairway to remain out of sight and out of the way when not in use.
The Stair Lift Buying Process
Now that I've gone over the types of stair lifts and some important considerations to make before deciding if they're right for your needs, let's take a look at what the stair lift buying process entails.
Assessment
The first step to purchasing a stair lift is having a professional assess your home to determine if a stair lift can be installed. An expert can also tell you which type of stair lift will work best for a given space. Thankfully, many stair lift dealers will provide a free in-home consultation which can also be used as an opportunity to get any specific questions answered. These assessments will often include price estimates, with the stair lift sales team assessing your budget to see what makes sense price-wise.
Design
Because no two staircases are the same, more often than not stair lifts are custom made based on the unique specifications of your home. Some stair lift dealers and manufacturers even offer augmented reality imaging which enables them to show you how the stair lift will look within your space. Also during the assessment and design phases, customers can determine specific add-on components or features that they may want for their stair lift.
Installation
Once the stair lift has been selected and designed to fit the space, the final step is installation. It might be instinctual to think that you or a handy member of your family has the know-how to install a stair lift, but this is a task best left to professionals with an intimate, factory-level understanding of the product. By choosing a professional installer with the stair lift dealer, you're given the assurance in knowing everything is functioning the way it's supposed to, which helps ensure your safety.
Pro Tip: Another consideration to make before choosing a stair lift is the potential impact it may have on the value of your home. Stair lifts can be removed, but since they're anchored to the stairs with screws, they may cause holes in wood or damage carpeting.
How Much Does a Stair Lift Cost?
There is no set price when it comes to stair lifts since everyone's homes and requirements are different. Broadly speaking, a stair lift will cost somewhere between $2,500 and $15,000. That's a wide price range, but there are certain factors to keep in mind when making an estimate for yourself. Longer stair lifts are more expensive than short ones, for example, and curved stair lifts are more expensive than straight rail ones. If you anticipate needing a stair lift to cover a long, curved staircase, the price could be on the higher end.
A Quick Note: One reason curved stair lifts are more expensive is they require two separate motors: one that moves the chair and one that adjusts the height of the chair to keep it level as it goes up and down the stairs.
There are also certain add-on features that may add to the price of a stair lift. Let's take a minute to explore some of these additional features.
Power Supply: Stair lifts can run on batteries, and receive a charge when they're docked. A chairlift can have two charging points, one at the top of the stairs and one at the bottom. A stair lift can also be hardwired to receive continuous power. The type of power the stair lift receives can impact price.
Retractable Elements: Stair lifts can have retractable seats, armrests, and footrests to keep them out of the way when not in use. Also, since the rail needs to extend beyond the top stair, that piece of rail can also be made retractable to fold out of the way when the chair isn't in use.
Seat Belts and Harnesses: Seat belts are standard on stair lifts to ensure safety, but they can also be upgraded to be made retractable, or replaced entirely with harnesses that better support the body.
Different Seat Types: Customers can select seats that swivel for easier dismount, seats with adjustable heights, and more customizations.
Controls and Sensors: Stair lifts can also be made more tech-friendly, featuring motion sensors that can detect obstacles on the stairs and stop the lift from going up or down, manual shutoff buttons, and remotes that can call the chair up or down.
How Do I Pay for a Stair Lift?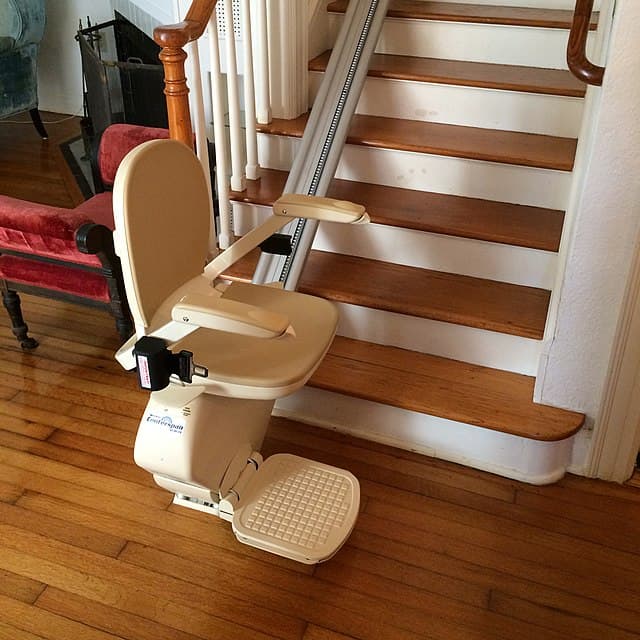 Stair lifts can be a big expense, especially for an older adult on a fixed income. Before deciding on a stair lift, it can be valuable to consult an elder law professional who can offer an overall picture of your financial health and help determine what options may be available to you. There are some Medicare Advantage plans that can help defray the cost of installing a stair lift, as well. Additionally, there are assistive technology programs available through Veterans Affairs associations as well as non-profits like the United Cerebral Palsy Association. While everybody's financial picture is different, it's important to know that options are available.
Stair Lift Recap
While stair lifts can be a big investment, they can also be a major tool for retaining independence as we look to stay in our homes as we get older. There are a number of ways to help assist our mobility as we go about our days, but mobility scooters aren't equipped to handle stairs. Stair lifts provide a safe way to enjoy every square foot of our homes for as long as we can.