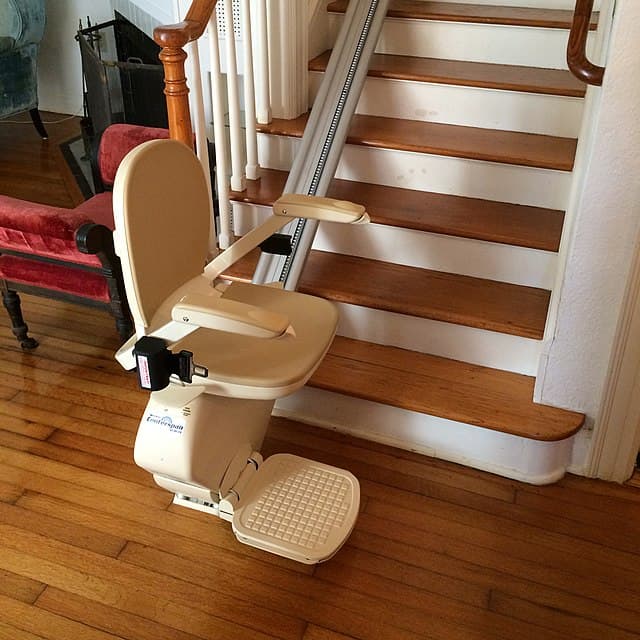 How Much Does A Stair Lift Cost?
Here is a question I'm asked quite often by older adults and their caregivers: How much does a stair lift cost? The truth is, there isn't one straightforward answer, as mobility aids like stair lifts come in all shapes and sizes. So, when determining the cost of a stair lift you need to take into consideration the unique needs of the older person and the type of staircase that needs to be installed.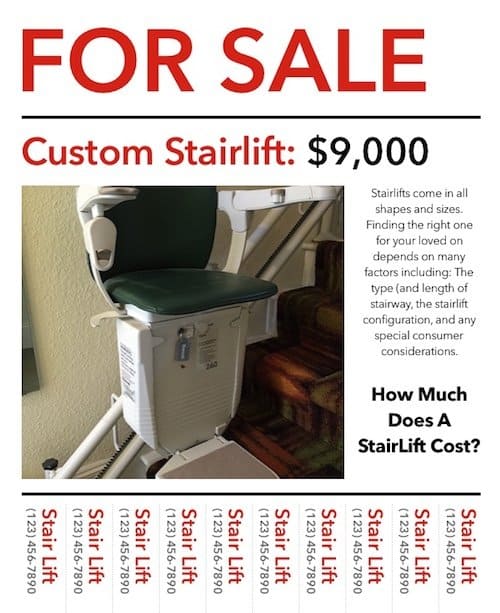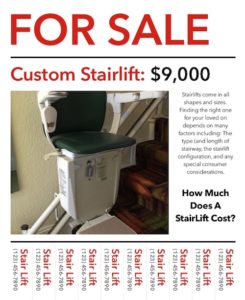 What to Consider When Purchasing a Stair Lift
If you're interested in buying a stair lift, here are three primary factors to consider:
The type of stair lift involved (straight rail, curved rail, or outdoor stair lift)
The configuration of your home's stairway (it could be narrow, curved, straight, short, or long)
Any customizations required, based on budget and user's height, weight and extent of mobility
Whether the installation is included in the stair lift cost
As a general rule, older adults should plan on setting aside somewhere between $2,000 and $7,000 for a professional straight-rail stair lift and $7,000 to $15,000 for a curved-rail stair lift. The more customized the lift, the more expensive it gets.
Remember: Always account for the cost of removal/installation of the stair lift, in case you end up moving homes in the future.
What Is a Stair Lift?
A stair lift is a motorized chair that helps older adults move up and down the stairs of their home unaided. Older adults can comfortably and securely be seated on this chair, which will take them up and down the steps on-demand with the help of power-operated motorized gear. It's also often called a stair chair, a chair lift, or a stairway lift.
Some stair lifts are meant to move in a straight line, while others can navigate bends, and still others can be used on uneven outdoor terrain. You just need to find the one that best fits your mobility needs and living situation.
Made of aluminum or steel, a stair lift can be controlled using buttons on the armrest, or sometimes even a remote control allowing multiple people to use the lift. Usually, these machines also have a battery back-up which will activate in case of a power cut.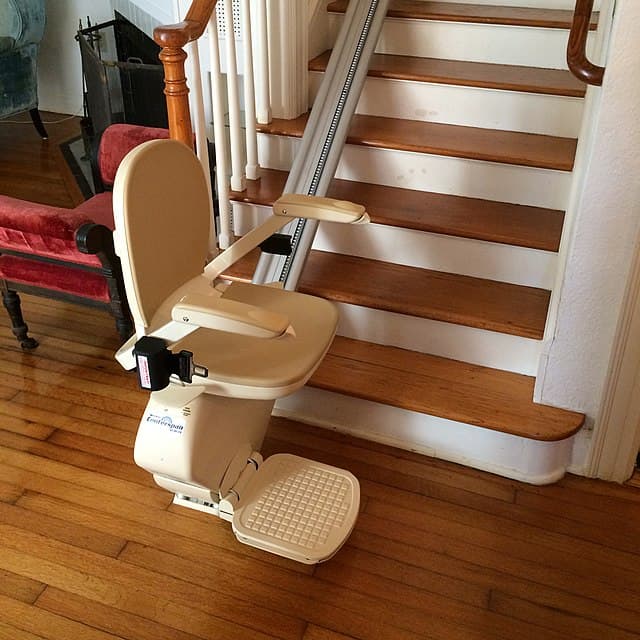 Who Should Use a Stair Lift?
As you approach your golden years, you may find it difficult to climb up and down your stairs. In fact, limited mobility is said to be the most common disability among older adults in the US. You can't just stop accessing parts of your home because you are unable to navigate the staircases. Consider purchasing and installing a chair lift for yourself or the older adults in your care who typically use a walking cane or walker to get around. It allows those with prosthetic joints or significantly reduced mobility to access every bit of their multi-level home without having to depend on caregivers. These stair lifts also are a much more sensible option than paying through your nose for moving to a single-story home or an assisted living facility.
Types of Stair Lifts
While stair lifts are an invaluable tool for older adults, they're also an expensive investment. So, I went ahead and conducted some research on the different types of stair lifts. This information can help you compare and shop for the machine that will minimize your effort and risk of falls when negotiating a flight of stairs.
Different Types of Stair Lifts
| | Straight Rail Stair Lift | Curved Rail Stair Lift | Outdoor Stair Lift |
| --- | --- | --- | --- |
| Average starting price (incl installation) | $2,000 | $7,500 | $5,000 |
| Water, Temperature and Dust Resistant | No | No | Yes |
| Used For | A straight flight of stairs without any turns | Stairs that have a turn, curve, or change in direction | Stairs what are located outside of your home |
Note: For those who use wheelchairs, there are heavy-duty lifts that even carry your assistive devices with you on the lift.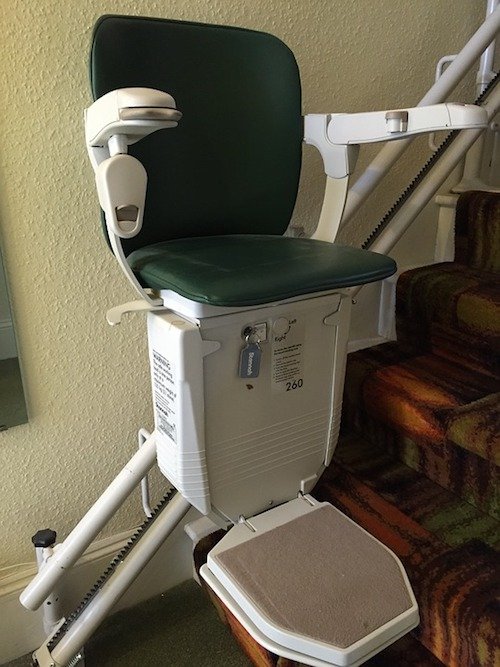 Straight Rail Stair Lift
Need help getting to a bedroom on the next floor or the basement, via a staircase that goes straight up or down? The straight rail stair lift is perfectly suited for such scenarios. Straight rail stair lifts are standardized products that get installed much faster than their counterparts. These are also easier to resell since they're a one-size-fits-all solution.
Curved Rail Stair Lift
If your stairway follows a curve, then you need to get a curved rail stair lift. The tracks of these stairlifts will have to be specially customized to your staircase specifications. For this reason, cured rail stair lifts take a lot more time to install. For a precision fit, photos and measurements of your stairs will need to be taken into consideration before installing the stair lift. Some brands such as Acorn Stairlifts, also offer modular curved rails that can be installed much more quickly.
Outdoor Stair Lift
This third kind of stair lift is a variant of the curved and straight rail stairlift, except it can be used in outdoor scenarios. Typically, it is installed onto staircases of patios, decks, and docks. Its unique feature is the ability to withstand harsh weather (rain and extreme temperatures), salty air, and the like.
Did You Know: Many brands, such as Stannah Stairlift and AmeriGlide, offer pre-owned lifts at a discounted price.
Stair Lift Installation
Most reputable dealers have installation professionals in all major markets to serve buyers, wherever they may be. Although there are DIY (do it yourself) stair lift projects, we recommend that you get a professional to do the work. Stair lifts are extremely complex machines and should only be handled by those who are technically skilled.
Oftentimes, in order to save costs, older adults choose online retailers who offer stair lifts with DIY installation. Ultimately, they get stuck with a stair lift that neither fits their staircase nor works as expected. Just imagine the risk a faultily installed stair lift poses to your life.
Before making a purchase, here are some questions to be answered about installing a stair lift:
Is the structural integrity of the stairway conducive to a stair lift project?
Do you have proper electrical requirements satisfied?
Do you have the proper permitting (if required)?
Do you know how to accurately test the equipment once installed?
What if you have a problem in six months? Who would you call?
If you do not wish to worry about these issues (and more), we recommend that you have a professional do the work. Also, for what it's worth – We make the same recommendation for walk-in bathtub installations. With heavy-duty, costly equipment, it's better to be safe than sorry.
Trained technicians will visit your premises and attach the stair lift to the stair treads with clamps. There is usually little or no need for home modifications to be made to accommodate this mobility-enabling device. All you need to ensure is that an electric outlet is available near the lift.
What to Look For In A Stair Lift
Buying a stairlift is a high-involvement purchase, especially since one in four older adults in the US end up falling, every year. So, look for a dependable stair lift brand that has world-class engineering and design. Strong warranties and industry-leading customer service are an added advantage. Here are some of the other product features to keep an eye out for:
Folding Footrest – So that the stair lift doesn't take up too much space when not in use, you should be able to fold the footrest. Some brand models let you do that without bending, with a power option, where the footrest automatically folds when the seat is lifted.
Swiveling Seat – When exiting from the chair, it's safer to face the landing than the open stair. A swivel seat feature allows the user to rotate the seat away from the open stairs for a much safer exit from the stair lift. There can be a power option for this too.
Customizable Chairs – So that the sitting experience is comfortable, the chair should have generous padding and adjustable seat height and armrest width.
Seat Belt and Safety Sensors – Just like the seat belts in your car, the stair lift will have seat belts to keep the user firmly secured in the seat. Some brands even offer safety sensors to detect the presence of obstructions in the path of the stair lift.
My Favorite Stair Lifts
After much hands-on research with different stair lifts in the market, I have put together a list of four options that rank high when it comes to the safety and convenience of older adults. Here is a quick snapshot of their salient features, so you know what to choose:
Bruno Elite Curved Indoor Stairlift – From the industry-leading manufacturer, Bruno Independent Living Aids, this is a curved lift that can be custom-built for your home. The base variant of this curved indoor lift starts at $9500 and can carry older adults weighing up to 400 lbs. This stair lift has all of the usual suspects for comfortable and safe movement: a folding footrest, swivel seat, seat belts, and diagnostic display.
Acorn 130 Straight Stairlifts – If you want to go from one floor to the next, without having to climb each step of the curve-free staircase, this battery-powered stair lift is a great option. This device can be used by older adults weighing up to 280 lbs and has five safety sensors to stop the stair lift in case any obstruction is detected. This price of this unit will vary depending on your in-home stair layout.
The Starla Straight Stairlift by Stannah – This is a really slim stair lift, with optional foldable chairs, ensuring that the device doesn't take up too much space on your stairs. This straight stairlift can take a load of up to 350 lbs and comes with a seat load sensor that detects when the older adult is comfortably seated on the chair. Only when the user is safely seated does it allow for the stairlift to operate.
AmeriGlide Horizon Plus – Outdoor Stair Lift – Retailed at $2568, this outdoor stair lift stays well protected from the outdoor elements thanks to its waterproof seats and insulated electronic components. This is a DIY installation stair lift. If you still want professional support, the costs start at $575 for just installation and $725 for installation and measurement.
Bruno Elite Curved Indoor Stair Lift
Acorn 130 Straight Stair Lifts
The Starla Straight Stair Lift by Stannah
AmeriGlide Horizon Plus- Outdoor Stair Lift
Price
$9500 – $12000+
Customized quote on request
Customized quote on request
$2,568
Type
Curved
Straight
Straight
Outdoor
Warranty

Yes

Yes

Yes

Yes

Maximum weight
400 lbs
280 lbs
265 lbs to 350 lbs
308 lbs
Unique features
Custom-made
5 safety sensors to detect obstructions
Seat-load sensor

Automatic hinged rail option

Footrest safety sensor

Waterproof and insulated seat

Diagnostic display

Yes

Yes

Yes

Yes

Folding footrest

Yes

Yes

Yes

Yes

Battery-powered

Yes

Yes

Yes

Yes

Remote control

Yes

Yes

Yes

Yes

Swivel seat

Yes

Yes

Yes

Yes

Installation included

Yes

Yes

Yes

No
Stair Lift Recap
Turns out that 90% of older adults want to stay in their own homes as they age. If you are one of them, consider buying a stair lift to avoid staircase related accidents, while enabling an independent lifestyle. When choosing a stair lift model from a vendor, be it Bruno, Ameriglide, Stannah, or Acorn, be sure to consider the mobility and specific needs of the user and type of staircase. Consider feature upgrades such as power folding rail, power swivel seat and power folding footrest for enhanced safety or convenience.
In case a new stair lift feels like too much of an investment, or if you do not plan to stay in the same home for too long, I would also suggest renting it out or purchasing a professionally refurbished device that is certified and/or warranted by the original manufacturer.
Frequently Asked Questions About Stair Lifts