Best Overall Unlocked Phone
Alcatel GO FLIP 3
See Pricing
What We Like ↓
Most Durable Unlocked Phone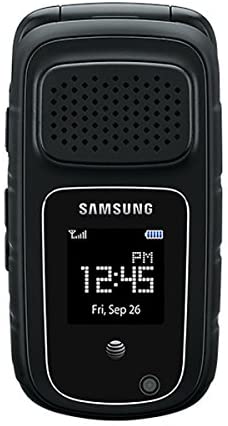 Samsung Rugby 4
What We Like ↓
Palm Phone
What We Like ↓
If you're overwhelmed and tired of the options presented by major cellular carriers, then you might want to consider an unlocked cell phone. While they come in many shapes and sizes, unlocked phones are defined by their ability to be used on a plethora of networks. Not only does this mean you can avoid long-term contracts, but you can also change networks at will without any extra fees.
So why exactly do locked phones exist in the first place? Well, many wireless carriers sell phones at discounted prices. In order to recoup these losses, a cellular provider will "lock" their devices so that you have to stay with their service for the length of your contract, which will likely last for about two years.
Unlocked phones, however, aren't restricted to one particular network. Most will support a variety of GSM carriers such as T-Mobile and AT&T, but some other solid choices include Mint, Cricket, MetroPCS, and Boost Mobile. With the phones on this list, you'll have your pick of the litter.
Top Unlocked Cell Phones for Seniors
Alcatel GO FLIP 3 — Best Overall Unlocked Phone
Samsung Rugby 4 — Most Durable Unlocked Phone
Palm Phone — Best Compact Phone
iPhone SE — Best Unlocked Smartphone
Snapfon ezTWO — Best Senior-Specific Features
Pros and Cons of Unlocked Phones
For the uninitiated, here is a rundown of the benefits and drawbacks of unlocked cell phones.
Pros of Unlocked Phone
Can be used on a wide array of networks and carriers.
Not beholden to long-term contracts.
Often inexpensive, both in terms of devices and service.
Cons of Unlocked Phones
No promotional discounts from traditional carriers.
Can be more expensive for heavy data and minutes users.
Less customer support.
What To Look For In An Unlocked Phone
Much like a traditional, locked phone, there are some key attributes you should consider when looking for an unlocked phone. Here's what we looked for when it came to testing out these phones.
Variety of Carriers: The primary draw of an unlocked phone is that you can use it on the network of your choice, with no strings attached. With this in mind, we looked for phones that had a wide range of carrier compatibility.
Affordability: With unlocked phones, you won't have the benefit of device discounts that often accompany long-term contracts. So we looked for devices that are not only affordable but also well-worth the relatively higher cost of entry.
Smart Features: These days, a no-contract phone doesn't have to have the feature set of simple flip phones. We chose devices that have advanced capabilities, including voice assistants, Bluetooth, and even emergency monitoring.
Manufacturer Warranties: Despite the burden of long-term contracts, they often come with access to 24/7 support and protection for your devices. So we looked for unlocked phones that offer stellar customer service and warranties, ensuring a degree of longevity for your cell phone.
Buying an Unlocked Phone: Due to their lack of commitment to specific networks, unlocked phones can be purchased just about anywhere, from online retailers to brick-and-mortar stores.
The Best Unlocked Cell Phones for Seniors
After weeks of research and hours upon hours of testing, we've compiled our list of the five best unlocked cell phones for seniors. Here is our list:
#1

Alcatel GO FLIP 3

- Best Overall Unlocked Phone

What We Like Most:

Simple Design
Smart Features
Long-Lasting Battery
Hearing Aid Compatible

View Packages

Overview

The Alcatel GO FLIP 3 combines the simplicity of a traditional smartphone with the advanced features of a smartphone, making it our favorite unlocked device for seniors.

For starters, its bright 2.8-inch screen makes it easy to read emails and phone numbers. Its backlit keypad also makes it easy to type with its large, tactile buttons. There's also a small external screen, allowing you to screen calls and messages without even opening your phone.

What's more, the GO FLIP has Google Assistant built-in. With this software, using only your voice, you can make phone calls, schedule reminders, and ask questions, all hands-free. In a pinch, this phone can also be used as a Wi-Fi hotspot. In our tests, this phone also lasted easily through an entire day on a single charge.

Cost: The price of a GO FLIP will vary depending on where you purchase it; however, from T-Mobile or MetroPCS, the device will cost you $100.

Pros

Classic Design
Intuitive Menus
4GB Internal Memory
Large Screen
Voice Commands
Hearing Aid Compatible
4G Network Compatibility

#2

Samsung Rugby 4

- Most Durable Unlocked Phone

What We Like Most:

Rugged Design
Wi-Fi Connectivity
GPS Functionality
Push-To-Talk Capability

Overview

As the name implies, Samsung's Rugby 4 is one heck of a durable phone. Rated IP67 waterproof and MIL-STD 810G compliance, this handset is sure to hold up in a variety of environments.

In terms of design, this phone features a classic clamshell form, with a large internal screen and a small external screen. Buttons are large and evenly spaced, and despite this phone's heavy-duty build, it only weighs five ounces.

Although this phone won't give you access to an app store, you can certainly use it to browse the web and send emails. We also appreciated the dedicated GPS button, which came in handy while driving for turn-by-turn directions. Push-To-Talk was also a handy feature, allowing us to communicate seamlessly with other PPT devices, almost like a walkie-talkie.

Cost: The Rugby 4 can be purchased from a variety of retailers, starting as low as $100.

Pros

Durable Design
Push-To-Talk
Wi-Fi Connection
3 MP Camera
External Screen

Cons

Somewhat Plain Appearance
No Video Calls

#3

Palm Phone

- Best Compact Phone

What We Like Most:

Plans Starting at $5 per Month
Small Size
IP68 Water-Resistant
Simple Interface

Overview

When we think of smartphones, we often envision large touch screens that crack easily and are difficult to navigate. The Palm Phone, however, shakes up this formula, with its tiny profile and full set of smartphone features.

Firstly, we loved the size of this device, roughly the size of a credit card (though a bit thicker), making it easy to slip in your pocket or fit in the palm of your hand. Despite this, the Palm Phone has a large, bright 3.3-inch screen that made it easy to navigate through apps and send messages.

Speaking of apps, the Palm Phone runs on Android's operating system, meaning you'll have access to thousands of apps available on their app store. Some of our favorites include the Kindle e-reader and Skype for video calls.

Cost: The Palm Phone will run you about $249, plus the cost of your service plan.

Pros

Waterproof Phone
Compact Design
Smart Features
Simplified Layout
App Store
Video Calls
GPS Capabilities

Cons

Relatively Costly
Limited Battery life

#4

iPhone SE

- Best Unlocked Smartphone

What We Like Most:

Simple Interface
High-Quality Camera
App Store Access
Great Battery Life

Overview

It's easy to assume that seniors have no interest in smartphones, but studies show that nearly half of those aged 65 and over currently own a smartphone. And while the iPhone SE isn't as advanced as their most recent models, it still provides a thoroughly solid smartphone experience at a fraction of the cost, not to mention it can be used on nearly any network.

In terms of call quality, the iPhone SE did not disappoint. Each of our test calls displayed crystal-clear audio and reception. We also loved that the iPhone SE allowed us to place video calls to our friends and loved ones.

Of all the phones on this list, the iPhone SE captured the best photos. Both people and landscapes came through with vibrant, accurate colors, making this phone a great way to share pictures with loved ones.

Cost: An unlocked iPhone SE can be purchased from a variety of retailers both in stores and online. Expect to pay around $400 for the phone itself.

Pros

Great Camera
App Store Access
Solid Audio Quality
Voice Assistant
Good Battery Life

Cons

Relatively Expensive
Complicated For Some

#5

Snapfon ezTWO3G

- Best Senior-Specific Features

What We Like Most:

Large, Tactile Buttons
SOS button
Hearing Aid Compatible
Affordable Service Plans

View Packages

Overview

Available on a number of different networks, the Snapfon ezTWO offers a simple design that is easy to operate. Its loud speaker, rated M3/T3 in terms of hearing aid compatibility, delivered clean audio with little to no distortion.

One aspect that separates the ezTWO from the competition is its emergency SOS button that will both sound a 120 dB alarm and send text messages to present contacts. This could be a handy tool for older adults who lead an active lifestyle.

Additionally, if you subscribe to Snapfon cellular service, you can add on sosPlus Mobile Monitoring (starting at $15 per month) for access to first responders who are familiar with your medications, health needs, allergies, physician, and emergency contact information.

Cost: The Snapfon ezTWO will run you about $29.99 plus the cost of activation.

Pros

Affordable Plans
Carrier Flexibility
SOS Button
Mobile Monitoring
Powerful Speaker
Simple Design
Recap
With an unlocked device, you'll have to make little in terms of commitments. After you purchase your phone and SIM card, you'll be able to change carriers at will, allowing you the time and space to find the correct fit for your needs.
To start your journey, we'd recommend checking out options online such as Amazon and Walmart, as these retailers have ample device options, including those listed here. From there, you'll have no trouble finding the right phone for you.
Frequently Asked Questions
Do unlocked phones work on all networks?

Networks can be broken down into two broad categories, GSM (AT&T and T-Mobile) and CDMA (Verizon). In most cases, unlocked phones will only work on one of these network types. Since there are more GSM networks in the United States, we'd recommend choosing a phone compatible with this type.

How do I know if my phone is CDMA or GSM?

On most devices, you can check this by going to your settings. If your device has a MEID or ESN number, then it's a CDMA phone. If it has an IMEI number, then it's a GSM device.

What is a SIM card, and what does it do?

A SIM card allows mobile subscribers to access the features of their cell phone or mobile device. It's almost like your phone's passport, allowing it to be recognized by other devices and send and receive calls and messages, in addition to accessing internet services.