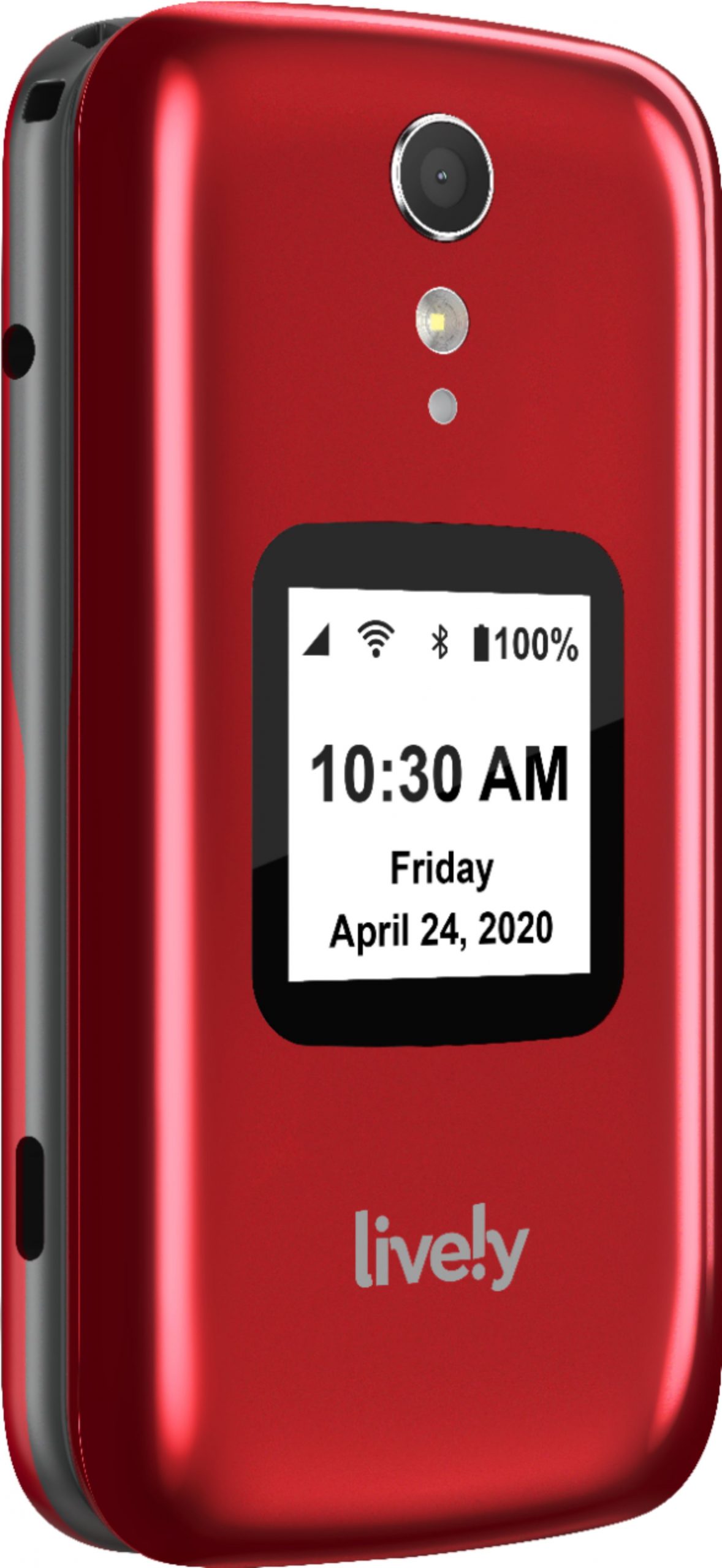 Lively Flip
See Pricing
What We Like ↓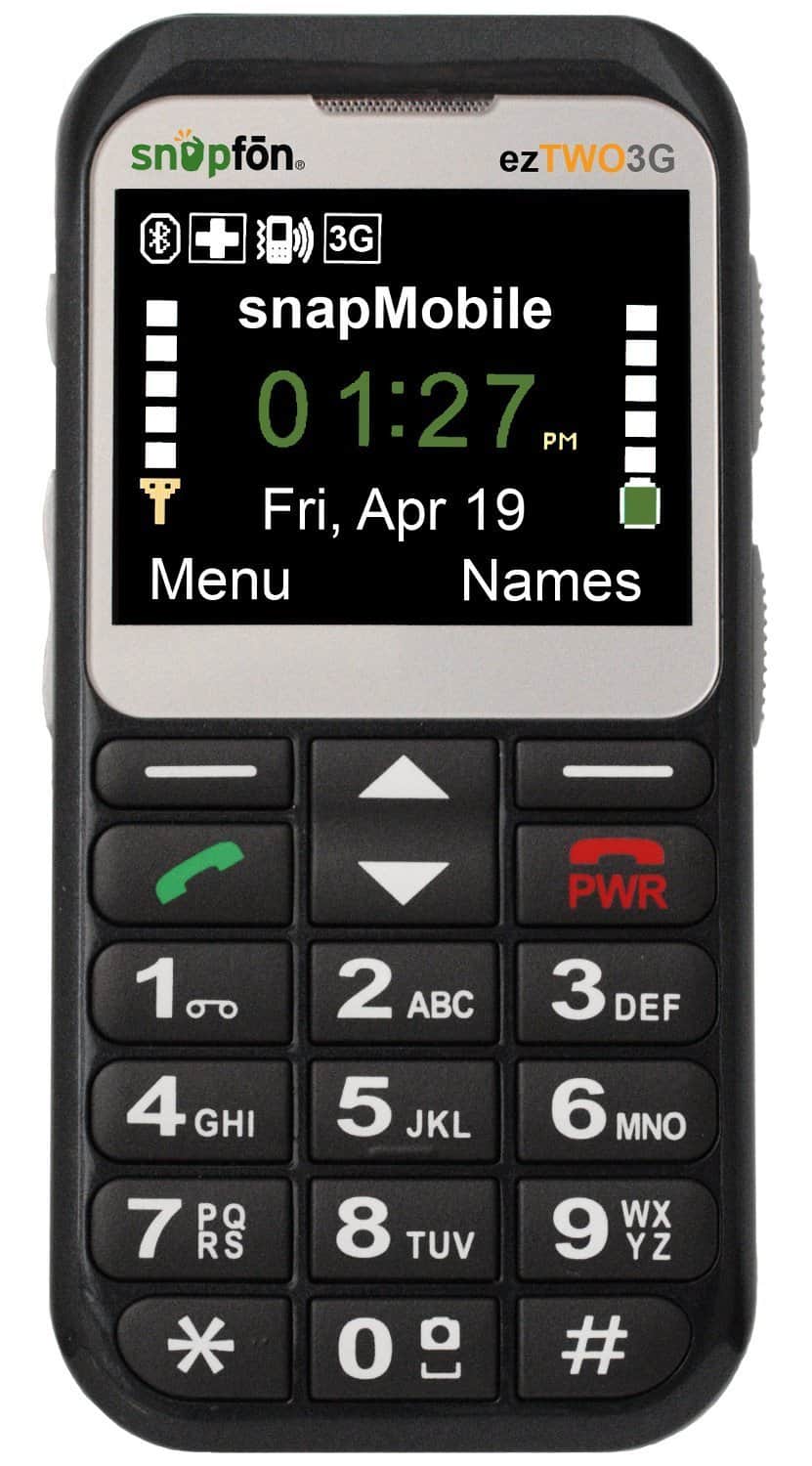 Snapfon ezTWO3G
See Pricing
What We Like ↓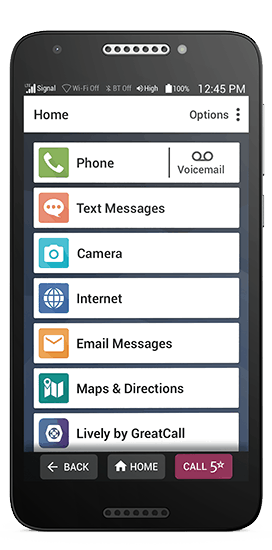 Jitterbug Smart2
See Pricing
What We Like ↓
Cell phones are one of the best ways for seniors to stay connected with their loved ones and the outside world at large. While landline phone services tend to be more affordable, these services are bound to use only inside the home, and they often interfere with your home Internet connection. Cell phones, however, can function just about anywhere, even in rural parts of the country.
According to the Pew Research Center, among those aged 65 and older, over 80 percent of them own a cell phone. However, many of these people are not aware of the high costs of traditional cell phone carriers. In addition to charging overage fees and hidden bills, these providers often require users to lock into contracts of one to two years.
Luckily, there's a better option for those of us not looking for such costly commitments, and that is a prepaid cell phone.
Prepaid Versus Postpaid Cell Phones
The main difference between prepaid and postpaid—that is, traditional—cell phones is in the contracts. Postpaid plans from carriers such as Verizon or T-Mobile require you to lock into contracts at a minimum of one year. Should you exceed the amount of call time or data usage within your monthly allowance, you'll either be charged an overage fee or receive throttled data usage, meaning your service will be slower.
While varying depending on the carrier, prepaid cellular plans allow you to choose your monthly allowance of talk time, messages, and data. Essentially you only pay for what you need, making it an excellent option for seniors who don't need all the features of unlimited plans that have become standard across the cellular industry.
Here are some other key differences.
Prepaid and Postpaid Cell Phone Comparison
Prepaid Cell Phone Plans
Postpaid Cell Phone Plans

No long-term contracts required
Pay only for the services you plan to use
No overage charges
No credit check required
Best suited for casual phone users

Options including unlimited talk, text, and data
Most modern handsets available
Best suited for heavy phone users
What to Look For in a Prepaid Cell Phone
When it comes to prepaid cell phones, there are a lot of options available on the market. We had our work cut out for us to figure out which ones were best for seniors. Here's what we looked for in our testing.
Simple Plans: Our favorite part of prepaid phones is their simple billing process—you get what you pay for. So we looked for cell phones that worked on networks free of overage charges and other unexpected fees.
Call Quality: While today's best smartphones offer the functionality of a computer, digital camera, and telephone—all combined in one device—we think it's most important for phones to make calls. All of the phones on this list tested highly in terms of call quality and clarity of sound.
Data Functionality: Here at The Senior List, we know that older adults are far from Luddites. In fact, many seniors own smartphones and can benefit from their varied feature sets. With this in mind, we looked for prepaid plans with the option of data usage, allowing you to browse the web and use other apps.
No Extra Fees: If you're looking for a prepaid cell phone plan, then you're likely hoping to save some money. So we looked for phones that worked on networks that won't surprise you with extra fees and overage charges.
Senior Features: From large buttons to hearing aid compatibility, today's phones are equipped to suit the needs of the older set. While the features vary across the following devices, they all have several aspects that cater to seniors, simplifying their use and bolstering their functionality.
The Best Prepaid Cell Phones for Seniors
After weeks of testing devices and reading through the fine print of prepaid cellular plans, we've come up with a list of the five best prepaid options for seniors. Some of them provide a simple cellular experience while others have advanced features like touch screens and triple-camera arrangements. Regardless, there's sure to be a device here to suit your needs, one that will come with no long-term contracts or commitments.
Without further ado, here are our picks for the best prepaid phones for seniors.
What We Like Most:

Voice dial
Great speaker
Easy navigation
Magnifier with flashlight

Overview

From GreatCall, the manufacturer known for its popular Jitterbug phones, comes the Lively Flip, a modern flip phone that combines the functionality of a traditional phone with the features of a medical alert system.

With its large buttons, 3.2 inch screen, and voice command capabilities, the Lively Flip is easy to use for those with manual dexterity issues. Due to its classical design, we also found it was a breeze to pick up this handset and use it. In terms of call quality, this device impressed us with its powerful speaker, and it even worked with hearing aids, causing no excess noise in the process.

This phone also features an 8MP camera, one of the highest resolutions we've seen on a flip phone. The photos we took, while not as crisp as those from a smartphone, were plenty good enough for sharing memories with loved ones via picture messaging.

We also appreciated the dedicated urgent response button located on the bottom of the phone. When we pressed this button, we were immediately connected with an IAED-certified response agent who assessed our situation and—in the event of an emergency—would have contacted proper help, be it a loved one or first responder.

Device Cost: The Lively Flip can be purchased for a one-time cost of $49.99, plus a one-time activation fee.

Plans: Through GreatCall, you can build your own plan for your Lively Flip. These plans can include talk and text but no data. They start as low as $14.99 for 250 monthly minutes and go up to $39.99 per month for unlimited minutes and messages. Regardless of your plan, you won't be required to lock into long-term contracts, and you cancel at any time without incurring extra fees.

Pros

Built-in SOS button
Keep your existing number
U.S.-based customer service
Built-in magnifier and flashlight
No contracts, no cancellation fees
Simple, easy-to-use cell phone designed for seniors

Cons

Low MP camera
No data, text and call only
Must use GreatCall text and talk plans

#2

Snapfon ezTWO3G

- Most Affordable Prepaid Phone

What We Like Most:

Large, Tactile Buttons
SOS button
Hearing Aid Compatible
Affordable Service Plans

Overview

The Snapfon ezTWO boasts a simple design with large buttons, a powerful speaker, and a straightforward design, all of which make it simple to operate. It's also rated M3/T3 in terms of hearing aid compatibility. Starting at $29.99, it's also highly affordable.

While its brick-like design is not likely to win any beauty contests, what it provides is unparalleled ease of use. Dialing numbers on the ezTWO's oversized keypad was easy, and navigating its bright screen went off without a hitch.

This phone also offers an emergency SOS button that will sound a 120 dB alarm and send text messages to preset contacts. You can also add on sosPlus Mobile Monitoring (starting at $9.95 per month) for access to first responders who are familiar with your medications, health needs, allergies, physician, and emergency contact information.

Device Cost: Starting at $29.99, this phone can be purchased from Amazon and a number of brick and mortar retailers.

Plan: Since the ezTWO is an unlocked phone, you can use it with just about any wireless carrier. We'd recommend using Snapfon's service options, which allow you to build your own plan of talk, text, and data. These plans start at just $10 per month for 100 minutes, making this phone ideal for the person who uses their phone infrequently. Unlimited talk and text plans start at only $30 per month, making these plans a budget-friendly option.

Pros

Affordable Plans
Carrier Flexibility
SOS Button
Mobile Monitoring
Powerful Speaker
Simple Design

What We Like Most:

No annual contracts
No cancellation fees
Keep your existing phone number
U.S.-based customer service

Overview

When we think of prepaid phones, it's tempting to assume that they all have only the basic features. The Jitterbug Smart2, however, has an advanced feature set that rivals those of the most advanced smartphones on the market.

First, let's get the basics out of the way. The Smart2's 5.5 inch screen made it a breeze for us to navigate through its features. In terms of call quality, we were also pleased with the audio delivered, both on our end and that of the person we called. The speakerphone on this handset also delivered surprisingly loud audio without distortion.

In terms of smart features, we also made video calls with this phone. When connected to Wi-Fi, our calls came through with crisp video and audio quality. We were also impressed by this phone's 13MP camera, which delivered photos that could rival a traditional digital camera.

Additionally, like the Lively Flip, the Smart2 can also be used as a medical alert device. On the bottom right-hand corner of its touch screen, there was a dedicated 5Star button. When pressed, we were immediately connected to an agent at one of GreatCall's monitoring centers.

Device Cost: The Jitterbug Smart2 can be purchased from GreatCall for $74.99 plus the cost of activation.

Plan: With GreatCall, you can build your own plan for your Smart2 phone. Plans start as low as $17.48 per month for 250 minutes and 100MB of data. A plan with unlimited talk, text, and data will cost $59.99 per month.

Pros

Simplified screen
Large, clear font
30-day return policy
No long term contracts
13MP camera with LED flash
Medical alert feature included in all plans

Cons

Needs to be charged nightly
Some complaints about initial set-up difficulty
Must use GreatCall phone, text and data plans

What We Like Most:

Plans start at $15/month
Change your plan anytime
U.S.-based customer service
Discounts for AARP members

Overview

With its large 6.49 inch display and battery capable of lasting up to 40 hours on a single charge, Consumer Cellular's ZMax 10 is a high-powered prepaid cell phone that packs in just about any feature you could imagine.

First thing's first, the call quality on this handset did not disappoint. In each of our test calls, the audio was sent and received with unparalleled clarity. Additionally, with this phone's M3/T3 hearing aid compatibility rating, we were able to make calls, even while using hearing aids.

Another big draw of this phone is its triple rear camera system. Using a 16MP, 2MP, and 8MP camera, this phone delivered photos of exceptional quality. This quality also was seen on this phone's front-facing camera, which delivered a great picture in video calls. The ZMax10 operates on Android's system, meaning we also had access to thousands of free apps in the android store.

Device Cost: When purchased from Consumer Cellular, the ZMax10 costs $120.

Plan: With Consumer Cellular, plans for the ZMax will start at $15 per month for 250 minutes of talk time. However, since the ZMax is a smartphone, you'll likely want a plan with data. These will start at $25 per month and include 500MB of data, in addition to unlimited talk and text.

What we love most about Consumer Cellular is that their devices come with no overage charges. For example, if you sign up for a 250-minute talk plan, going over this allowance won't incur extra fees. Instead, you'll be automatically enrolled in the next tier of minutes.

Pros

Discounts for AARP members
Get data plans for as low as $5/month
Choose between AT&T or T-Mobile network
iOS, Samsung and Motorola phones available
Two flip phone options for users looking for basic phones

What We Like Most:

Plans start at $15/month
Change your plan anytime
U.S.-based customer service
Discounts for AARP members

Overview

The Doro 7050 offers a simple, no-frills flip phone that's perfect for a person who simply wants to make calls and send the occasional message.

Its well-spaced, backlit keys provide an easy way to navigate this phone and type out messages. In our tests, our calls came out loud and clear on both ends, even when hearing aids were in use.

Additionally, this phone features Bluetooth technology, allowing you to make and receive calls hands-free. It can also be paired with compatible hearing aids for a fully integrated experience.

Device Cost: Through Consumer Cellular, the Doro 7050 will cost a one-time payment of $50.

Plan: With Consumer Cellular, plans for this phone start at $15 per month for 250 minutes of talk. You'll also receive discounts per line when signing up for more than one line of service.

Pros

Discounts for AARP members
Get data plans for as low as $5/month
Choose between AT&T or T-Mobile network
iOS, Samsung and Motorola phones available
Two flip phone options for users looking for basic phones
Recap
When it comes to prepaid phones, there's a whole world of options. When deciding on a device, be sure that it works with your provider of choice. In terms of no-contract providers, we recommend GreatCall and Consumer Cellular, as both of these companies are well-versed in the needs of older adults. Once you've decided on a provider, you can usually find a lengthy list of device options right on their web page.
Choosing a cell phone can be a complicated process, but if you go with a provider that doesn't lock you into contracts, you'll likely save yourself a lot of time and money.