A question we get asked a lot is "will Medicare pay for a walk-in tub?" Unfortunately the short answer to that is no, in most cases, Medicare will not pay for a walk-in tub. However, Medicare is not your only option. Read on to find out other ways to get financial assistance with the cost of a walk-in tub.
Why Won't Medicare Pay for a Walk-In Tub?
Although walk-in tubs are very helpful, Medicare doesn't classify them as durable medical equipment (medically necessary, durable, and not useful to someone who isn't sick or disabled.) As such, Medicare won't usually contribute to the cost of a walk-in tub, or its installation.
RELATED: ALL ABOUT WALK-IN TUBS [What you need to know before buying]
Are There Any Exceptions?
In very rare cases, Medicare might cover the cost of a walk-in tub. The user must have a medical prescription spelling out the reasons they need a tub, and the extra features that they need too. Medicare needs to be completely satisfied that the tub is a medical necessity.
However, even in these cases, assistance comes in the form of reimbursement after the purchase and is not guaranteed. As such, we recommend making sure you can cover the cost of the tub in case Medicare doesn't decide in your favor.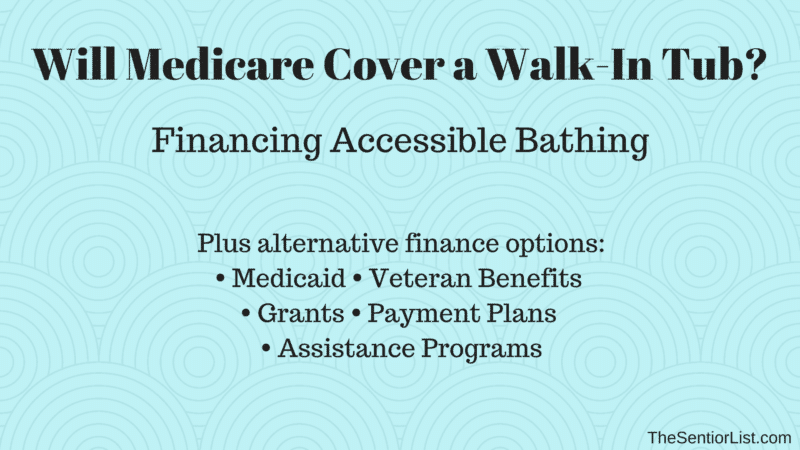 What Are The Other Options For Reducing My Cost Of A Walk-In Tub?
Learning that Medicare doesn't cover walk-in tubs can be disappointing. After all, for many people, a walk-in tub is a helpful piece of equipment, one that makes bath time much safer and promotes independence. Unfortunately, walk-in tubs are also fairly expensive, with the most basic wheelchair-accessible models starting at around $3000. There are other models for around $2000, depending on your mobility needs.
RELATED: HOME SAFETY – WHAT IS A STAIR LIFT?
Let's take a look at other ways to ease the financial burden of purchasing a walk-in tub.
Unlike Medicare, Medicaid is much more likely to pay for installation of a walk-in tub. For example, California has a Medicaid program that helps nursing home residents make the transition back to their home – this might include modifications such as installing a walk-in tub. In some states, Medicaid covers environmental modifications or specialized medical equipment in the home.
To find out what is available in your area, you can call Medicaid toll-free on 877-267-2323.
Some veteran benefits might cover the cost of a walk-in tub. Specifically, home modification grants are a viable option for older veterans, as they cover a range of home modifications such as putting in a tub. Veterans may also qualify under the home and community based services program, or may be eligible for extra assistance above and beyond their veterans pension.
For more information about veterans benefits, you can call the Department of Veterans Affairs toll-free on 877-267-2323.
The US Department of Agriculture offers a grant (the USDA Rural Repair and Rehabilitation Grant) to seniors living on a low income in rural areas. Seniors can apply to use this grant to cover home modifications, including the cost of a walk-in tub.
The best way to start the application process is to contact your local USDA service center. You can find a map of service centers in each state here.
RELATED: DOES MEDICARE PAY FOR MEDICAL ALERT SYSTEMS?
Financial assistance programs
If you find your local Medicaid program won't cover a tub, and you don't live in an area covered by the USDA grant program, it's worth checking for other financial assistance programs in your area. Many states offer non-Medicaid programs to help seniors with medical care or home modifications.
To get started, check out this list of programs by state. 
Some walk-in tub manufacturers offer payment plans to help spread the cost of purchasing a tub. While shopping for tubs, it's worth asking if payment plans are available. Before signing up to any plan, be sure to read the small print carefully and be clear on how much you will have to pay, how often, and for how long.
If you need help with the cost of a walk-in tub, check out the options listed above. Although Medicare doesn't cover walk-in tubs (generally), there are several other ways to get help, and hopefully ease the burden of purchase and installation.