If you or a loved one has mobility issues, then the bathroom likely poses several safety concerns. There's the issue of the toilet, which can prove challenging to seat oneself upon if your loved one has arthritis or joint issues. Then there's the matter of wet surfaces, which increase the likelihood of slips and falls. What's more, a fall in the bathroom is twice as likely to cause an injury when compared to falls in the living. Luckily, there are some steps you can take to fall-proof your bathroom.
Of course, you can try to wipe up any spills or condensation that collects on the floor. You can also install grab bars for increased support by your shower and toilet. An additional method that I can't recommend enough is investing in a walk-in bathtub.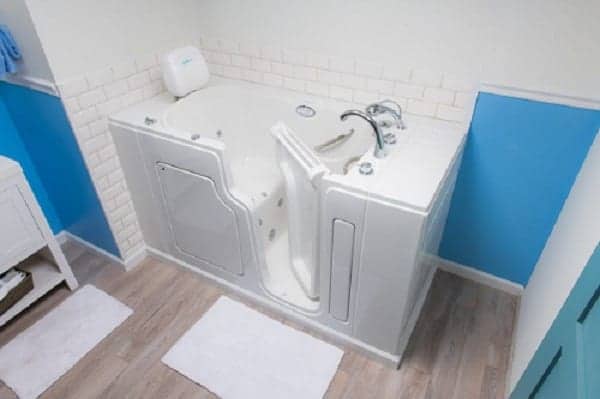 Through their combination of door-based entryways and low step thresholds, walk-in tubs prevent you from having to step over high tub walls. Not only is this high step painful for the many folks with osteoarthritis. It also presents a significant danger source, as a slip is likely to occur during entry or exit. What's more, walk-in tubs also feature many additional features in terms of both safety and luxury.
But with the many different walk-in tub manufacturers, models, and add-on features, it can be overwhelming to figure out which tub is right for you. Moreover, a walk-in tub is no small home renovation, nor are they the cheapest devices available, so you'll want to start by doing your research.
In this Senior List guide to walk-in tubs, I'll walk you through all the things you should consider before purchasing and plunging into your new walk-in bathtub.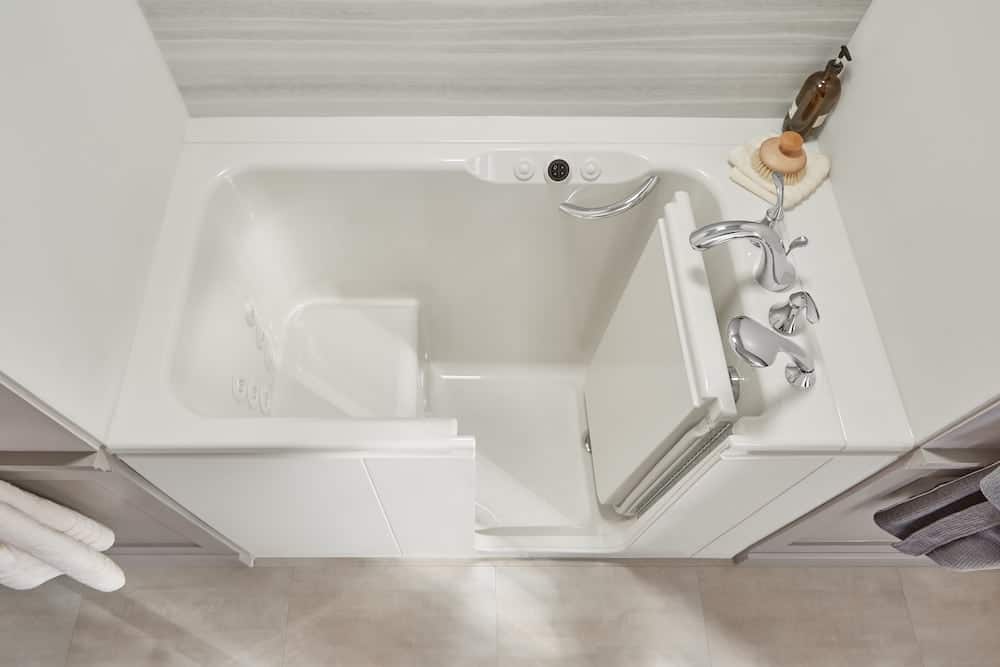 Tips for Buying a Walk-In Tub
There's a lot that goes into purchasing a walk-in tub for your home. These questions are designed to help you through the process, from choosing a model to basking in your new, luxurious unit.
#1. Do Your Research
There are many different types of walk-in bathtubs offering a breadth and depth of features and functionality. Before heading to the store, take time to research various products and their pricing online. If possible, head to the store for an up-close-and-personal look.
Here are the main types of walk-in tubs:
Walk-In Air Baths: Don't let the name fool you. Much like a traditional bathtub, this type of walk-in unit still uses water. The air, however, refers to this tub's array of jets that pump air throughout the soaking bath, giving the bather a massage-like effect.
Deep Soaking Tubs: This type of walk-in tub is deeper than other models, allowing you to completely submerge your body while still in an upright, seated position.
Walk-In Whirlpool Tubs: Similar to walk-in air baths, Whirlpool tubs feature a system of massaging jets; however, this variety of jet blows out water, reheating and circulating water throughout the bath, almost like a hot tub.
Bariatric Walk-In Tubs: Designed for people over 300 pounds, bariatric walk-in tubs are designed with wider doors and deeper soaking areas, perfect for those of us who feel cramped by the traditional units.
To make matters more complicated, the features described in these models are not necessarily mutually exclusive. There are certainly bariatric tubs that feature air jets and whirlpool jets. This is just to give you an outline of the basics.
#2. Purchase Directly a Manufacturer
While walk-in bathtubs can be viewed, purchased, and even installed through a brick-and-mortar retailer, I always recommend speaking directly to a manufacturer. American Standard, one of my favorite walk-in bath brands, has a helpful customer service team who can walk you through the different models and point you towards the best option for your safety and comfort needs. What's more, they have a nationwide network of installers who can come directly to your home to complete the process after your purchase.
FYI: Many walk-in tub manufacturers will either cover the cost of installation or include it in your pricing estimate, taking away some of the guesswork on your part.
#3: Set Up an In-Home Consultation
Due to the nature of walk-in tubs, most companies offer free in-home consultations. Kohler, for example, will send a specialist to your house for an in-home consultation. During this time, they'll assess the limitations of your bathroom. For example, some walk-in tubs are too large for smaller bathrooms. Others, however, can be adjusted to fit nearly any space.
Something else that an installer will do is review the types of models that will suit your preferences. Most likely, the in-home consultation will conclude with a price quote, one that includes the cost of the tub, the additional features, the installation, and even the removal of your existing tub.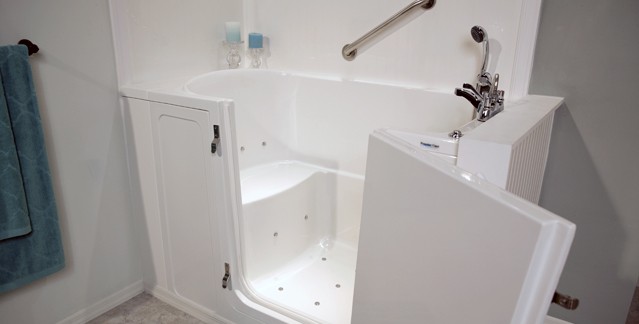 #4. Know Your Safety Needs
Any walk-in tub will feature a low entry threshold, a sealed door, and one (if not more) grab bars. What you'll need to ask yourself, though, is if you or your loved one would benefit from additional safety features. These will most likely come at an additional cost.
Some common walk-in tub safety add-ons:
Anti-Scald Technology: A walk-in tub can only be filled once the door is closed, and the user is seated inside. If you've ever stepped into the shower only to find out (painfully) that the water is too hot, then you'll understand how tricky the filling process could be. Luckily, many walk-in tubs feature anti-scald technology, preventing the water from getting too warm, and keeping you safe from burns.
Water Purification: Safe Step, a leading manufacturer of walk-in tubs, includes water purification systems in several of its tub models. This feature works two-fold. On the one hand, it can oxidize water, allowing your tub to clean itself essentially. On the other, it can actively filter water while you're in it, allowing you to cleanse yourself without the need for walking to the toilet and risking a fall.
Easy Locking Handles: A walk-in bath would be nothing without a properly strong and durable seal on its door. Unfortunately, operating this locking mechanism can sometimes require a good deal of strength. With this in mind, some walk-in tubs feature an easy locking mechanism, minimizing the force required to give your tub the proper seal.
Additional Grab Bars: Sure, most walk-in tubs feature at least one grab bar. But really, can you have too many? Most manufacturers will give you the option of installing additional grab bars both in and around your tub.
Non-Slip Surfaces: It's tempting to assume that walk-in baths completely erase the risk of falls. This is not the case. Luckily, many units include, as an added feature, textured walls, seats, and floors to help you maintain your footing while entering and exiting the tub.
#5: Know Your Luxury Wants
Sure, safety is what's most important, but if you're going to shell out for a walk-in tub, then it's worth considering adding on some luxury features. Depending on the model, a walk-in tub can be finely crafted to soothe each of the five senses.
Here is a closer look at walk-in tub luxury features:
Handheld Showerheads: For easier rinsing with greater tactile control, a handheld showerhead makes all the difference. Especially for users who have difficulty reaching certain parts of their bodies, a handheld showerhead can optimize reach.
Massage Systems: Whether powered by air or water jets, a massage system is the ultimate way to turn your bath into a spa-like experience. These systems also can help maintain the warmth of your tub, in addition to melting away any tension or sore muscles.
Aromatherapy: Though less common than other features, aromatherapy is available in select models. Using your favorite fragrance or essential oils, this type of tub can help diffuse a pleasant aroma throughout your bath, aiding in relaxation.
Chromotherapy: Chromotherapy, the practice of using color to treat a variety of ailments, is available in select units. In terms of a walk-in tub, chromotherapy consists of a series of lights that will change color and aid in relaxation. Even if chromotherapy seems a little new-agey for you, it undeniably creates a calming mood.
Heated Surfaces: Much like a heating pad, heated chairs and backrests can be built into your walk-in tub, just one more way in which they help to break down tension.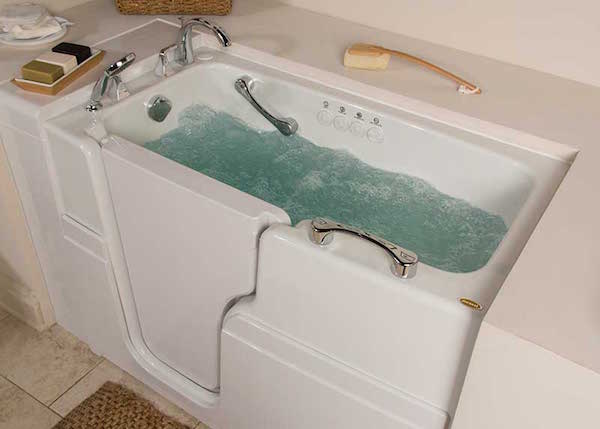 #6: Don't Forget the Drain
Sure, with all the features available in walk-in tubs, it's easy to forget about one of the most important features––the drain! Since a walk-in tub's door must remain closed during use, a user must remain inside of it until all of the water drains from it. Considering the average walk-in tub consumes about 50 gallons of water, this could potentially be a long time.
This is why you should look for a model with some sort of quick-draining technology. Otherwise, you'll be left sitting in lukewarm water.
A Note on Drainage: Most walk-in tub manufacturers have different names for their own rapid draining technology. Mostly, these features are the same, so you'll just want to make sure there is some form of accelerated drainage.
#7: Set a Budget
Walk-in tubs range from basic to luxury with price tags to go along with them. Aligning your needs and wants with your budget is an important part of the walk-in tub buying process. This is all information that you should discuss with your walk-in tub consultant. Just keep in mind that most walk-in tubs cost between $4,000 and $8,500, not including the cost of installation.
Added Value: If you live in a 55+ or retirement community, adding a walk-in tub can increase the value of your home. Elsewhere, however, this won't likely be the case.
#8: Consider Warranties and Return Policies
Just like any expensive piece of equipment, a solid walk-in tub should last you for life. So be sure to inquire about warranties and return policies. Every company handles this aspect slightly differently, so be sure to understand exactly what you're getting when you make your purchase.
Some manufacturers cover the entire walk-in tub system, whereas others offer warranties for specific components such as the door seal, tub frame, or system of water jets. If a company offers piecemeal warranties such as this, be sure to identify which parts they guarantee for life and which ones have a warranty expiration date.
#9: Consult a Plumber
The last thing you want is to deal with the hassle of purchasing a walk-in tub that doesn't work with you or your loved one's current bathroom setup. Depending on how the plumbing is wired, projects can range from simple and straightforward to a complete tub relocation. Knowing what to expect early in the process can help you adjust your wish list and budget, as necessary.
Recap
Studies show that older Americans are more likely to live alone than those of any other nation. Moreover, many of these folks wish to remain in their home. To those people, we at The Senior List salute you! However, our goal is to help you age in place safely. When planned and installed carefully, a walk-in tub can be another way to prevent injuries in your home, not to mention that they'll likely give you the most enjoyable baths of your life.
Walk-In Tub Frequently Asked Questions
How do I clean my walk-in bathtub?

Due to their systems of water and air jets, many walk-in tubs can actually clean themselves. You can fill your tub, throw in some bleach, add dish detergent, and turn on the jets for 15 minutes or so. When you drain the tub, it should be clean and ready for continued use.

Will Medicare cover the cost of my walk-in tub?

For most people, walk-in tubs are not considered durable medical devices and, therefore, won't be covered, even partially, by Medicare.

How much should I expect to pay for a walk-in tub?

A walk-in tub will likely cost you somewhere in the ballpark of $5,000. With that said, this number varies based on the specific model, additional features, and the laboriousness of the install process, so be sure to get a firm quote from your retailer, lest you be surprised when it comes time to pay the bill.