These days, a person looking for senior housing has more options than ever before. There are independent living facilities, adult care homes, assisted living communities, and many more options.
Simply put, the senior population is exploding. After all, the Baby Boomer generation got its name for a reason. It's also true that improved healthcare and a better understanding of diet and exercise are contributing to the nation's longevity.
It is already proving impossible for the eldercare housing industry to construct (or convert) enough brick-and-mortar structures into senior housing. That's not to mention the practical problems in finding and training sufficient staff. Today's seniors are also becoming more of an economic force than ever before. This makes them of special interest to anyone involved in any branch of the eldercare industry, especially housing.
A Growing Demand for Alternative Senior Housing
Few seniors have ever been thrilled at the idea of moving into anything that could be described as a facility. Aging in place, that is, continuing to live in the home of one's own choosing, has generally been seen as the ideal. Now that retirees have the sheer numbers and the money, they have gained leverage and are beginning to wield it.
In recent years, I have seen a dramatic increase in the number of innovative housing structures that allow seniors to live independently. Most importantly, these settings provide the safety and security that you need in your later years.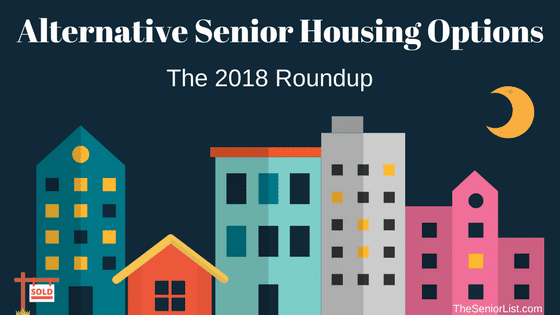 What Is Independent Living?
Often referred to as senior living or retirement communities, independent living refers to any type of senior community in which people live independently in a residential setting. While these settings take many different forms, they generally consist of private accommodations with some shared community facilities.
For example, a client of mine recently moved to an independent living community in Portland. Essentially an apartment complex for those 55 and over, this community featured private apartments and kitchens with shared facilities such as a pool, theater, tennis courts, library, and beauty salon. What's more, this community also hosted regular outings and events.
How Much Is Independent Living?
Unlike nursing homes and assisted living facilities, there is little data when it comes to the costs of independent living communities. Generally, however, these communities will cost somewhere between $1,500 and $6,000 per month. The price will vary widely depending on the community, its amenities, and its location in the United States.
Types of Independent Living
Cohousing
Elder cohousing consists of private homes built around some shared spaces such as greenery and clubhouses. Each of the community members is financially independent, but they share responsibility for running the neighborhood and are all engaged in decision-making.
There is often a common space –– a separate house or apartment that includes a kitchen, laundry facilities, dining room, and game room –– where the residents could meet to share meals or discuss community issues. Sociability and shared community responsibilities characterize this arrangement, and it frequently has a strong ecological (eco-housing) ethos.
Green Housing
The term, coined by age care specialist Bill Thomas some 16 years ago, refers to a new model of nursing home or memory care unit that is anything but a warehouse. Instead, each Green House allows only a few residents, who share a home-like atmosphere, hindered by as few restrictions as practicable.
As a result, the residents get the personal attention they each need while reducing the stress for their healthcare providers. Ultimately, a happier and healthier atmosphere is generated, and all feel respected.
Micro-Communities
These communities are a form of homelike residential/assisted living care. As the name suggests, these are small communities that are suitable for those who wish to avoid a larger, more crowded assisted living facility. This would also be an appropriate choice for a resident whose personality or medical condition requires special attention.
Multi-gen Housing
This type of living situation involves a minimum of three generations of family members all living under the same roof or on the same property. As of 2019, about 20 percent of Americans, approximately 64 million people, were sharing a home with family, and those numbers are on the rise. Historically, this style of housing can be achieved when:
The living space in the main house that is augmented by adding onto or converting existing space.
An "in-law" apartment is added over the garage.
A separate tiny home has been built on the property.
Niche Senior Retirement Communities
This type of senior housing consists of a niche community composed of seniors, or sometimes a broader age range. The members occupy separate or attached homes, or even an apartment building. The binding factor is a shared interest or trait. It could be birdwatching or carpentry, music or cooking, sexual orientation or shared religion, golfing or bridge. You name it, and it may already exist or is simply waiting for someone to initiate it.
The amount of assistance available for seniors will vary from one community to another, though generally, once one loses one's mobility or develops a serious condition, that person will need to move to a place that offers the appropriate medical care.
Naturally Occurring Retirement Communities (NORC)
Dr. Michael Hunt of the University of Wisconsin-Madison coined the term NORC in 1984. To qualify, a community must contain at least 40 percent of residents who are 60+ years of age. All of them must still live in their own homes, and not require home nursing treatment. At the very best, this type of senior housing breeds camaraderie, activity, and positive social interaction that benefits all.
University-Based Retirement Communities (UBRC)
More college and university campuses are offering housing for seniors, ranging from independent to assisted living. This is often an attempt to shore up income due to inconsistent enrollment and budgeting cuts. As strange as it sounds, retiring on a college campus definitely has its perks.
Depending on the campus, seniors might have separate housing or share an apartment building with college students. Enticements include free or discounted classes, access to first-rate medical care, and a vibrant, stimulating, and safe atmosphere.
Village Movement
This type of senior housing is another means of achieving aging in place for retirees, while also positively impacting their neighbors. Neighbors form a village when they agree to take on the responsibility of assessing, coordinating, and ultimately delivering the necessary services to each member of the village.
These include medical, home repair, grocery shopping, pet walking, and so on. A board of directors, chosen from the village, manages the non-profit organization. Each member pays membership fees. These are based on how many services that person is using and go back into running the village.
Villages make it possible for a senior to remain in their own home. Furthermore, this approach relies heavily on volunteerism and seems to engender a sense of community, drawing all involved closer. There are reportedly more than 200 villages in the United States today.
Final Thoughts
Despite having the support of one's community, older adults may eventually have no choice but to leave their homes. However, recent changes in the senior housing sector have made this transition more appealing than it once was. And, if a kinder and deeper understanding between the generations should emerge along with these new communities, then so much the better.