Benefits of retirement life on a college campus
We know that where you live during retirement is one of the most important decisions you will make, and with so many choices available for senior living, depending on your goals and preferences in retirement, it can be that much more difficult. UBRCs have emerged as a popular option among people who are interested in lifelong learning and love the campus environment. The specific amenities of each university-based retirement community vary, but in general, here are some of the key benefits we think a college campus offers in your retirement.
Housing
If you're thinking that living on a college campus means going back to dorm life, the good news is that college retirement communities include individual housing units specifically for seniors. Each UBRC is different, so some may have apartment-style living, while others have small neighborhoods with townhomes, duplexes, or single-family homes near campus.
Health care
We know that access to health care is an important part of your decision-making process. Many of the college- and university-based senior housing programs include a continuum of care, offering convenient access to providers and clinics for those who are more independent, as well as assisted living services for people managing chronic health conditions or who simply need more help. Depending on which college campus you choose, you could also be near a world-class academic medical center or teaching hospital that can provide a higher level of care, and access to cutting-edge research, including the ability to participate in clinical trials.
Activities
Just like their college-age counterparts, seniors who live on a college campus have access to a wide range of activities, including:
Participation in school sporting and athletic events
Alumni events (being an alumnus or alumna of the institution is not required)
Fitness center/recreation center membership and classes
Performance arts and cultural events
Mentoring and volunteer activities
Participating in these activities and being around college students can even be good for your health; research has established significant benefits of intergenerational connections.
Academic engagement
Most UBRCs allow retirees who are living on campus to enroll in college classes, which is not only a great way to learn something new and expand your horizons, but it may even be helpful to prevent or delay dementia as you age. You can also check if the UBRC you are considering is affiliated with a college or university designated as a lifelong learning institute. These institutions offer a diverse range of non-credit courses and educational activities for an older generation of college students who are there to learn and not just to get credit toward a degree — although anyone interested in a degree is still welcome to enroll in traditional courses.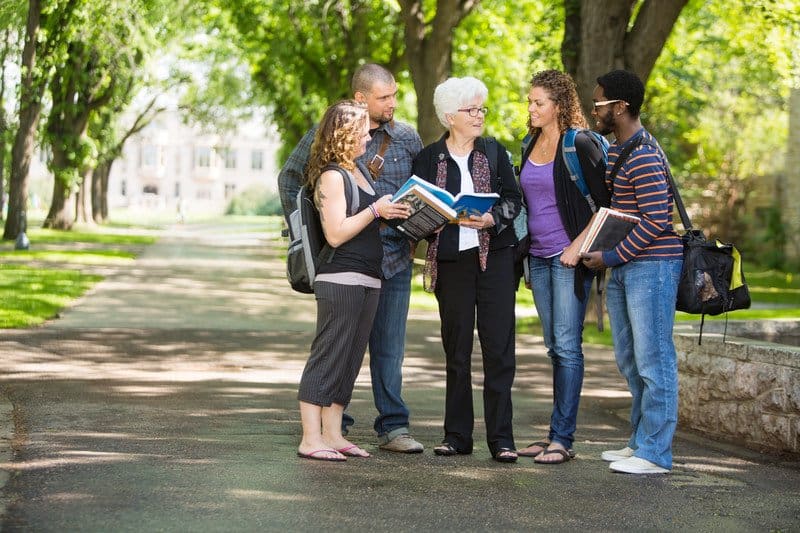 Transportation
There may come a time when it is no longer safe for you to drive. While we understand how hard it can be to lose the freedom that comes with having a vehicle and driver's license, university-affiliated retirement communities include most of your daily activities within walking distance, as well as a robust (and often free) shuttle transportation system to get around.